Jim Beam Homegrown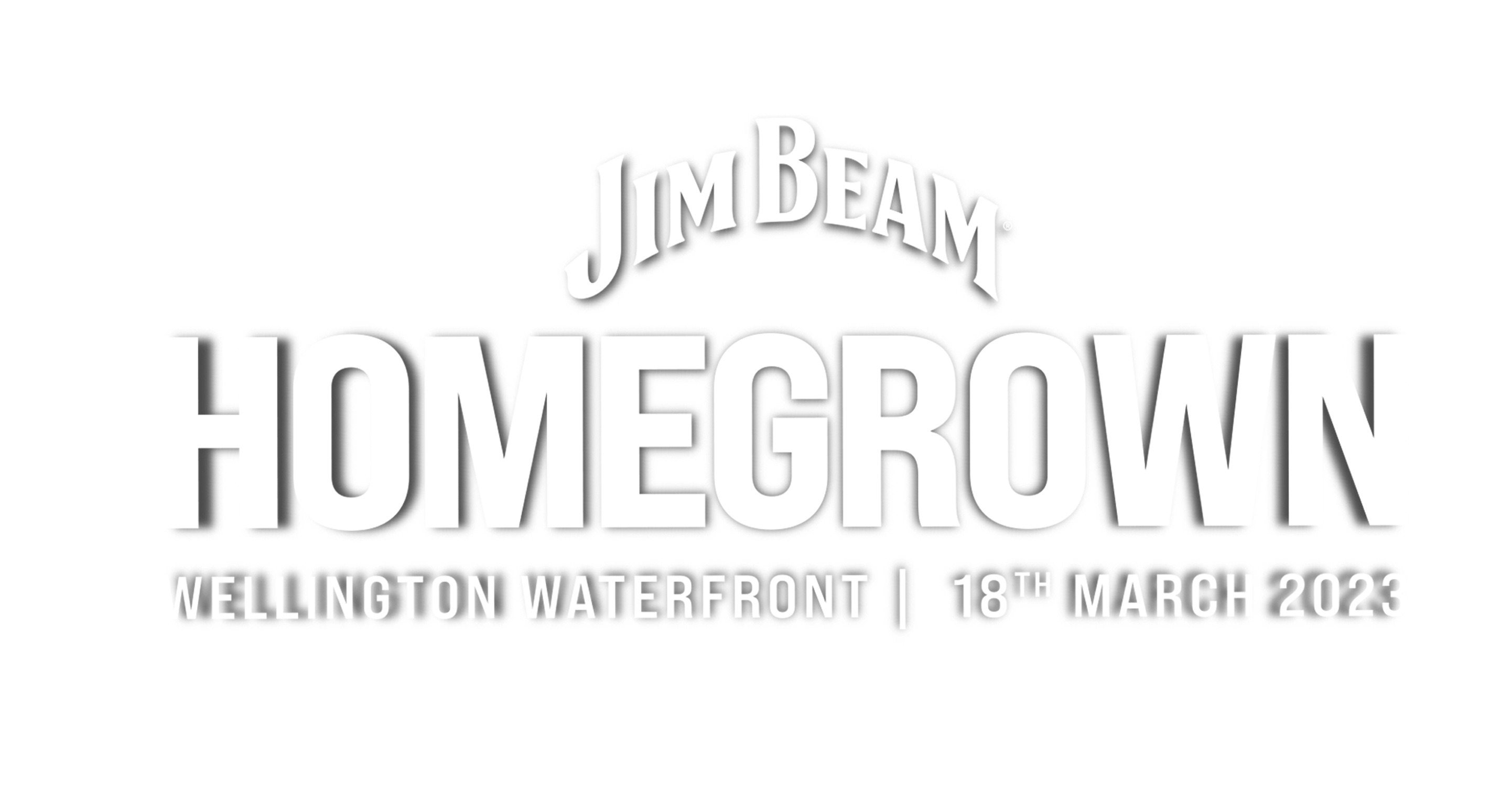 Ben C
Celine D
Rachel S
Mackenzie M
Jazmyn G
Niusha A
Leia W
Sam R
Leana M
Madison B
Valentina B
Jack N
Georgia R
Caleb W
Norton S
Emily B
Emma H
Natalya H
Grace K
Nathan W
Lock in March 18th, 2023! We're back and we can't wait to party with you! Wellington waterfront will once again be going off with 5 stages and over 40 of Aotearoa's favourite acts.
Heads up: Lots of loyal Jim Beam Homegrown fans kept their tickets from our Covid cancelled 2022 event, so there are far fewer tickets available this time around! DON'T MISS OUT!
Jim Beam Homegrown is Kiwi Music's Biggest Party! The festival brings together thousands of New Zealand music fans and over 40 of Aotearoa's best bands and DJs celebrating all music genres from; Reggae, Roots and Hip Hop to Rock, Pop, Electronic, and Drum & Bass across 5 massive stages. With carnival rides, heaps of delicious food options, and interactive experiences, Jim Beam Homegrown is the perfect way to send this summer festival season off with a bang! Jim Beam Homegrown is unique in that you can come and go from the festival at any time with our free-flow stages dotted across the beautiful Wellington Waterfront, allowing you to enjoy everything the capital has to offer. At Jim Beam Homegrown everyone is treated with respect and Aroha; nothing is a problem – we can't wait to see you!
IMPORTANT MESSAGE FOR 2022 TICKET HOLDERS
The great news is nothing is required from you! Just bring your current ticket from 2022 along to exchange for a wristband on event day - woohoo! (refunded tickets will be void)
FREQUENTLY ASKED QUESTIONS
Homegrown FAQs
When are tickets on sale?
Tickets will be on sale upon our first line up announcment. You can join the waitlist for Jim Beam Homegrown 2023 here.
Payment plan and ticket security info!
Payment plans are available at the checkout when you purchase your tickets, allowing you to pay your ticket off in easy instalments!
The Ticket Fairy are the exclusive authorised ticketing agent for Jim Beam Homegrown 2022. Be cautious purchasing tickets from any third-party platforms or social media, as duplicate or invalid tickets will result in us denying you entry to the festival, without refund.
If you do not purchase a ticket directly from The Ticket Fairy we cannot guarantee that your ticket is genuine. Never purchase from ticket resellers such as Viagogo, Trade Me or Facebook Marketplace, as these retailers are known sources of fraudulent tickets.
If you need any help with your Ticket Fairy account please email [email protected]
Do names on tickets need to match ID?
Yes, your tickets do need to match your ID. The Ticketfairy will be able to assist if you need some help with your tickets.
If you have just miss-spelt your name (i:e Jim instead James) you can email [email protected] If you want to transfer your ticket or re-sell your ticket, click here
Photo Identification is the only accepted form of ID for 18+ wristbands. Here are the accepted forms of photo Identification:


NZ Drivers licence (current)

Passport (current)

Kiwi Access card
How do I resell my ticket?
Reselling your ticket is easy through Ticket Fairy: click here for more information.
It is important to resell and buy tickets through Ticket Fairy as the ticket gets re-issued in the new owner's name to prevent scamming and fraud.
If you want to sell your ticket to your friend this will still need to be done via Ticket Fairy's ticket resale portal so all information can be updated.
Do I need an 'Under 18' Ticket?
Jim Beam Homegrown is an R16 event. If you are Under 18 years old, you must have an under 18 ticket to enter the festival. You cannot enter the festival on an over 18 ticket.

If you are under 16 years old you can attend on an Under 18 ticket, but you must attend and stay with a legal parent or guardian for the entire day. Your parent or guardian will need to purchase an 18+ ticket. Children under 5 years old are free, but please keep in mind that this is a music festival environment.

Please note, you will be required to enter a few extra details at the checkout when buying your ticket. You will be required to supply a contact for your legal parent or guardian and agree to some specific terms around personal responsibility.
Can I have my tickets on my phone?
Yes, you can have your tickets on your phone. Please make sure the screen brightness is turned up for scanning!
Save the trees, people.
When is the line-up released?
Our Jim Beam Homegrown 2023 line-up will be announced late September/early October. Follow our Facebook and Instagram to stay up to date!
Can I smoke on the waterfront?
Technically, Waitangi Park and the waterfront are smoke-free. Please dispose of your butts thoughtfully.
Lost Property can be handed into and picked up from the Information tent on the promenade. Lost property can be collected from the information tent. All lost property will be handed over to Wellington Central Police station after the event.
What happens if the event is postponed because of COVID or the weather?
If the event cannot run due to weather events which means the event cannot be run safely, it will be postponed to the following day, Sunday March 19th. If the event looks like it will not be able to run due to COVID-19, the event will be postponed to within 12 months.
· All postponement announcements will be made via the Homegrown festival App, announced on our Facebook and Instagram pages and on our website by 9:00am on the morning of the event (Saturday, 18th March 2022)
Intoxicated People — Intoxicated people from either drugs or alcohol will be refused entry to the event. If you are over 18, you can purchase alcohol at one of our bars. Please drink responsibly and go the distance.

Fake Wristbands — Anyone found with a fake or copied wristband will be handed over to the police. Homegrown will treat all offences as fraud and may prosecute accordingly.

Fence Jumping — Anyone caught trying to bypass our security fencing and access the event without a legitimate wristband will be intercepted and handed over to the police. These offences may be treated as trespassing, or a serious security threat and you may be prosecuted accordingly
Sexual Harassment or Discrimination — In order to create a safe and inclusive festival culture we will not tolerate any form of sexual harassment, be it verbal or physical, nor any discriminatory act including homophobia, racism, transphobia, ableism, xenophobia, or sexism. Anyone found to be in violation of this is subject to immediate removal from the festival site. The offender's festival wristband may be revoked, and no refund will be issued.
How does my 2022 ticket work/roll over for 2023?
No additional work is required from you to access Jim Beam Homegrown 2023.
All tickets for 2022 that were not refunded will be valid for the March 18th 2023 event — just rock up on the day with your ticket and exchange it for a wristband. We will keep you updated with everything via email if anything changes. Thanks for your support!
I purchased a U18 ticket in 2022 but will be over 18 at the 2023 event — do I need to do anything?
No — keep your same ticket along and just bring your valid ID on the day, we will sort the rest.
Is the event wheelchair friendly?
There is wheelchair access at every stage and disabled toilets in every area. Part of our focus is to make the site as accessible as possible.
If you have had an experience with us in the past where you have struggled to access parts of the festival, please let us know by emailing [email protected] so we can endeavour to fix it.
Ben C
Celine D
Rachel S
Mackenzie M
Jazmyn G
Niusha A
Leia W
Sam R
Leana M
Madison B
Valentina B
Jack N
Georgia R
Caleb W
Norton S
Emily B
Emma H
Natalya H
Grace K
Nathan W