Since its invention in the mid-1900s, video gaming has grown to become a global giant, sprouting various technological and creative initiatives that only continue to grow in popularity. As of 2021, video gaming is not a male-dominated avenue, but that has not always been the case.
Ethnic, racial, and gender stereotyping has been a prevalent theme in the video game sector since its shift into mainstream entertainment during the 1970s. With the arrival of the cathode-ray tube amusement device, developed and patented by Thomas T. Goldsmith Jr. and Estle Ray Mann in 1947, came a brand new avenue for entertainment that currently stands at almost a $100 billion global industry value. Multiple studies have since pointed out that the influence of video games can mold self-perception with real-time, real-world implications. This article looks at gender stereotyping within video games and the stories behind some of the most iconic female protagonists.
Game developers crunch a variety of factors before deciding upon primary elements within video games. This is done by conducting specific research in the form of surveys, game testing, and professional advice. However, the success of a game cannot be predicted accurately until after its release; after which one can approximate its success for the intended demographic – which, until recently, has been believed to be predominantly (hetero) male.
Unlike physical sports, where criteria are decided by gender, age and ability, video gaming is all-inclusive and requires no more than a console and a keen liking for electronic entertainment. However, video games remained a male-dominated area for many years. While this factor worked in favor of the video games being sold at the time, it also posed obstacles for any game looking to break this stereotype. One such famed instance is the release of the Tomb Raider franchise. Game developers behind this record-breaking game series were, on multiple occasions, accused of sexualizing fictitious female protagonist Lara Croft, a multi-lingual, combat-trained archeologist. While the game was met with both backlash and praise, what stood the test of time was ultimately the premise and playability. Tomb Raider's sexualization has been a continued conversation, with some arguing that her design and shape were possibly one of the main reasons Croft held on to her title as a globally-renowned female protagonist in a game that boasted hand-to-hand and military combat, with Lara being a singular force capable of taking down entire armies.
Not many games can compare to Tomb Raider's success, and lesser have stood the test that is the dismissal of toxic masculinity stereotyping in games.
The Ratio
A survey conducted in the USA between 2006 to 2020 showed that 41% of gamers were women for the year 2020, with all other percentages staying within the 40 percent to 50 percent mark. Another survey dedicated to the distribution of male versus female protagonists in video games for the years 2015 to 2020 was conducted, displaying rates that have leveled out greatly over each passing year. In 2016, a mere 2 percent of protagonists were females, compared to 41 percent of males. Numbers for 2020 stand at 23 percent of recorded male protagonists and 18 percent of female protagonists.
While these numbers can be seen as highly irregular when stacked up against the ratio of male and female gamers, only recently has there been a call-to-action in reciprocation. After its 2019 edition, electronic entertainment trade expo E3 received mass displeasure for its biased distribution of gender representation. A study conducted by Feminist Frequency pointed out that out of 126 games featured during this event, only 6 games presented female protagonists.
The Tomb Raider Franchise
Looking towards famed franchise Tomb Raider and its continued popularity as a single-player looter/shooter, it is no secret that the appeal for the game could have something to do with the availability of a strong, female protagonist – albeit in clothing that is more flattering than practical. What should not be discounted, however, is the overall playability of a game. The Tomb Raider franchise, as of its latest release in 2018, hasn't shied away from public opinions and continues to shatter the metaphoric ceiling. First developed by Core Design and published by Eidos Interactive in the year 1996, the first Tomb Raider game quickly gained popularity for its feminine take on Indiana Jones – boasting multi-level story-driven gameplay complete with controllable camera movements, advanced character motion, and interactive puzzles. While the game garnered mass appeal, selling approximately 7 million copies across the globe and holding on to its title of the best-selling Tomb Raider game until its reboot in 2013, a variety of sexual content began surfacing with regards to Croft in the game.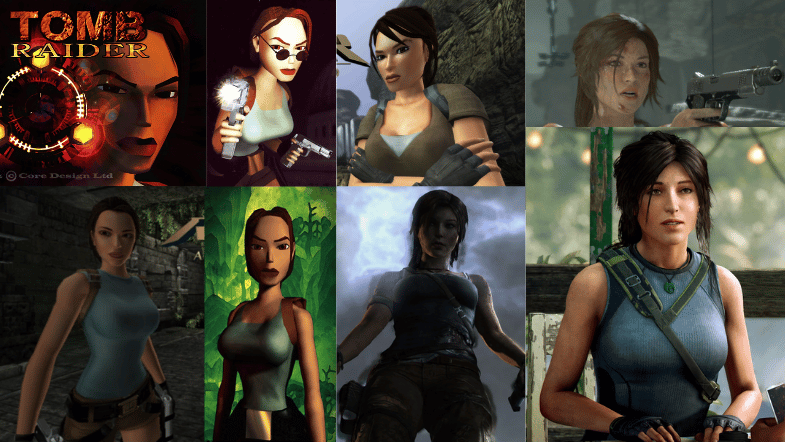 Images via Tomb Raider Wiki – Fandom
One such notoriety is infamously known as the Nude Raider, a fan-made patch that when loaded onto the original game file, undressed Lara Croft for the entirety of the game. Tomb Raider (1996) had no sexual content within the game, to ensure their younger audiences had a fair gameplay experience. Upon catching wind of the Nude Raider patch, Eidos Interactive ensured the removal of all online content, further issuing cease and desists to the patch owners. Following this, game developer Core Design went on to include a code similar to that of the patch in the sequel (Tomb Raider II), which when activated made Croft blow up instead.
With its mass popularity and ever-growing fanbase, Tomb Raider has consistently been a conversation about female empowerment and representation versus harnessing the male gaze and its marketability. Various reviews began to surface after the Tomb Raider 2013 reboot (of the original 1996 game), with some heavily disappointed gamers pointing out the lack of sexualization of their presumed childhood crush. While the set-up of all Tomb Raiders games followed the same exploration and combat structure, the reboot added persona to Croft, making her a character to relate to more than admire. As of 2020, two more games have followed the 2013 reboot – namely the Rise of the Tomb Raider (2015) and Shadow of the Tomb Raider (2018) and each game has been a step above the last. However, the success of these games wasn't without criticism. For its 2018 movie adaptation, Swedish actress Alicia Vikander faced slander for her portrayal of Lara Croft. In an article on Philly Voice, Vikander was called out for not having as much 'sex appeal' as her precursor, Angelina Jolie. The article further drew attention to Vikander's physical attributes but has since been edited to exclude these comments. Vikander was reported being under a strict regiment before the film was shot to ensure she looked the part but faced major criticism for her arguable lack thereof. A sequel to Tomb Raider 2 was announced for March of 2021, with Vikander maintaining her role as the archeologist/combatant, but has been delayed indefinitely.
With upwards of 15 standalone games under its belt, one can safely say that the Tomb Raider franchise is all-in-all a shining success.
Women in Game Development
A 2017 article by Chella Ramanan of The Guardian brought gender ratios within the gaming industry to light.  Citing various studies and surveys conducted in the UK, Ramanan points out that the majority of game developers are white hetero middle-class men. This can be attributed to the severe gender bias for playable characters within games. The article further highlights all efforts towards evening this ratio out, from educational programs to working culture.
Schools and universities have taken the initiative to call in women from various parts of game design and development. It is a firm belief that while opportunities make up for half of a child's motivation towards pursuing a career of their choice, the other half looks to seek inspiration from existing role models. Diversity within video game worlds begins with having a diverse team behind the curtains. While the ratio of men and women within game development is far from what it should be, many trailblazing women have created a space for themselves.
An article on Online Education by Jocelyn Blore traces the roots back to why the gender gap is prevalent within games, pointing out five parameters (expectation, education, domestic responsibility, role models and civility) that affect this bias. Over the last decade, a notable shift has taken place. Having identified both the male-female gamer ratio and game development ratio, women that have garnered success for their work in video games have received credit and praise. Gender-specific online harassment is being called out as it happens and game developers are extending their efforts by organizing courses and workshops in various institutes to give equal access to any child interested in technology and gaming.
Gender in the Best-Selling Games of 2020
2020's biggest video games delivered above and beyond expected. Among regular best-sellers FIFA and CoD, The Last of Us: Part II, Marvel's Avengers and Cyberpunk 2077 secured spots for their mass appeal and state-of-the-art playability. Cyberpunk 2077, however, has been called back for large-scale issues with the current version. As for gender representation, each game made it a point to move away from the hetero-male central character trope, which had no effect on their success in sales and popularity.
Marvel's Avengers
 Having played Marvel's Avengers, one can safely say gender is not a boundary, a bias, or even a thing to notice. Centered around the origin story of female protagonist Kamala Khan (aka Miss Marvel), players get to play with every member of the Avengers. Power levels depend on how frequently and proactively one upgrades their players, and the storyline is a powerful addition to MCU's game adaptations. Marvel's Avengers charted as a best-selling game in the US, UK and Japan within a week of its release.
Platform: PlayStation 4, Xbox One, PlayStation 5, Xbox Series X and Series S, Google Stadia, Microsoft Windows
Get the game: Official Website
The Last of Us: Part II
 Our staff reviewed The Last of Us: Part II (here) and highlighted the female protagonist Ellie's playability, personality and development. The second installation to The Last of Us franchise brings in not one, but two main characters – both women in their 20's and noticeably opposite in build, being and brains. This detail didn't hinder TLOU2's ratings, selling over four million copies across the world.
Platform: PlayStation 4
Get the game: PlayStation Network Store
Cyberpunk 2077
 Cyberpunk 2077 is a unique game allowing for players to customize their storyline and characters more than has been possible in any game before. Players are able to create a character unbound by gender, allowing for minute customizations to their physical appearance. This includes voice and genitalia modifications. 13 million copies have been sold worldwide, after its callback during late 2020 owing to unforgiving glitches within the game.
Platform: PlayStation 4, Xbox One, Google Stadio, Microsoft Windows
Get the game: Official Website
Apart from 2020's best selling games, here are some other titles that deliver unbelievable gameplay unaffected by the gender of playable characters.
A Plague Tale: Innocence
 Developed by the French company, Asobo Studios, this action/adventure horror game is one that will stay with you. A full 180-degrees from traditional looter/shooters, A Plague Tale follows the story of Amicia De Rune, a French noble, whose family is torn apart by English forces and the arrival of the Black Plague. The timeline for this game falls in the mid-1300s and boasts visuals and playability unique to that era. Amicia, teenaged and equipped with a slingshot and guts of steel, has to protect her ever-wandering brother, Hugo – who suffers seizure-inducing headaches of unknown origin. A Plague Tale: Innocence sold one million copies within the first year of its launch in May of 2019.
Platform: PlayStation 4, Xbox One, Microsoft Windows
Get the game: Official Website
Little Misfortune
 This Indie title has been garnering praise for its lovable design and morbid storytelling. Players that find appeal in point-and-click adventures have this game on the highest shelf. You follow the story of Misfortune Ramirez Hernandez, an 8-year-old girl with a wild imagination, who follows the voice of the narrator (who she names Mr. Voice) on a journey to find eternal happiness. Within the first five minutes of gameplay, players will find out this game is not as it looks, discovering grim details about Misfortune's life and her surroundings. Developed by an independent Swedish studio, Killmonday Games, who also gave us Indie's lifeblood Fran Bow, Little Misfortune is within the same universe and has discreet and on-the-nose easter eggs from its predecessor. Little Misfortune came out during September of 2019 and offered a free demo during the early part of its release, gaining mainstream popularity which led to reviews and gameplay videos from popular streamers.
Platform: Nintendo Switch, PlayStation 4, Android, Linux, Xbox One, iOS, Microsoft Windows
Get the game: Official Website
Beyond: Two Souls
 Featuring Elliot Page as the female protagonist Jodie and Willen Dafoe as co-star (Nathan Dawkins), Beyond: Two Souls is an action/adventure sci-fi game with combat that parents Detroit: Become Human, another smashing success from developers Quantic Dream. The premise is interesting, following Jodie throw her childhood and young adult years, not in that order, as she discovers, accepts and masters life with her ghost counterpart, Aiden. Beyond: Two Souls is possibly one of the last charting titles for the dying genre that is couch co-op but still boasts gameplay and cinematography that rival today's releases. Its debut in July of 2013 was followed by over one million sales within the first three months and multiple awards and accolades within the video game industry.
Platform: PlayStation 3, PlayStation 4, Microsoft Windows
Get the game: Official Website
The Future of Video Gaming & Gender Neutrality Looks Bright
The next decade shows promise for the video gaming industry's shift to a more equal representation of characters. From 2020's releases it is already evident that female protagonists have proven to be majorly successful without any unsolicited sexualization. 2021's most-anticipated titles include the Horizon Zero Dawn sequel, Horizon Forbidden West where players continue to play as the female hunter, Aloy. Zero Dawn has been a smashing success, becoming a best-seller in UK within a week of it's release.
Various other titles, both continuations and new franchises, are set to make their 2020 debut, allowing for major character customization and above all else, inclusivity. Here's to hoping the terms girl-gamers and guy-gamers are soon replaced simply by gamers.