The unprecedented COVID-19-induced lockdown last year confined us within our homes letting us either thrive or languish in the abundance of free time thrown at our disposal. As most people began embracing and exploring their hobbies, Sneha Thomas took it one step further and turned her leisure interests into a full-fledged business!
Based in Mumbai's coastal town of Vasai, Sneha started That Thought in Lockdown (stylized as ThatThoughtInLockdown) in August of last year as the majority of citizens continued to stay nestled at home. As the name suggests, a thought that sprouted during the lockdown led Sneha to create and sell handmade gift items across India. The company provides a variety of customized items including Painted Bottles, Dreamcatchers, Fridge Magnets, Nameplates, boxes, and more! Being a self-taught artist and a constant learner, she – with the help of her brother – is open to experimenting with new requirements from her clients, thus creating items that aren't in her listed catalog.
The Ticket Fairy discussed in detail with That Thought in Lockdown's Sneha Thomas the actuality and fallacies of running a small business. 
Sneha's natural inclination towards all things Arts and Crafts as a kid kickstarted the creation of That Thought in Lockdown now, during her adult years. Post high school, her parents' attempt to develop her artistic skills didn't match her creative satisfaction, leaving her to pursue a completely different career path altogether. 
"I noticed people around me were getting stressed due to the restrictions of not stepping out of the house and it was somehow affecting me as well. That's when I thought to myself "what am I doing?" I have time in my hands now. What I always wanted was to start something on my own and do what I love. So, with that thought in mind, post my working hours, I thought of doing my craft and starting my own business that I always dreamed of and hence the name ThatThoughtInLockdown – a name that will always bring in the positive part out rather than concentrating on the sad part of life."
With her day job as a Marketing professional, all orders Sneha receives are smoothly managed and done after her work hours or during the weekends. "Because craft is something I love doing, I don't get tired sitting late at night. But it would not have been possible without an understanding husband who lets me do what I love and does not pressure me to manage our household. I believe if you love your job you can never be tired of it."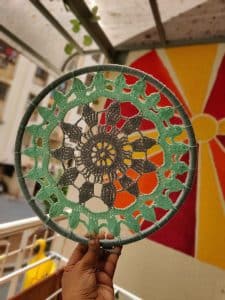 However, a lot has changed since the inception of That Thought in Lockdown. Sneha was under the impression that "people who generally appreciate your art would want to buy things from you anytime." Soon this perception did a 180 once she realized the reality of running a business. She says, "whenever you start, you need to market your products and work a lot on your target audience. This is a continuous process that will never stop. The more you engage your target, the more is the chances of your product to be sold."
In addition to this, running a small business has its fair share of challenges. For Sneha, pricing remains a highlighting factor. "As I mentioned earlier, we not only provide things that are on our page but also create things (based on their client's unique requirements). When they ask for an estimated price range, you anticipate certain things and give a budget. However, sometimes products go out of stock or the budget (of raw commodities) goes up, then there is hardly something that you earn in hand. We don't believe in getting our prices changed once we've promised an estimate."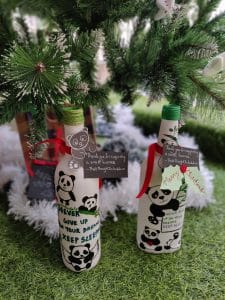 In defiance of these, Sneha's love for creativity and the appreciation she receives for her work overpowers the initial obstacle they are currently facing. The "thought of not being dependent on anyone, and being my own boss – that too in a field I love" is a driving factor that keeps That Thought in Lockdown going. When asked about the future of the brand, she says, "future is not predictable but I believe that hard work always pays off. So stay positive, work hard and make it happen. Maybe the future has way more things than you desired." 
"If you love something, don't stop doing it. A lot of things will come your way, don't be demotivated. Once you survive through it, it would be the best decision of your life," advises Sneha to any up-and-coming small business owner.
This interview has been edited and condensed for clarity.
Find Sneha Thomas Online – Here
You May Also Like: