Slowly but surely, the world outside India is gradually getting back to live entertainment and large gatherings. However, India continues to struggle to get a slippery grip on its negligent healthcare system, the repercussions of which have rippled throughout industries – ones that thrived on socialism and the outdoors. As India's 'jhol + jugaad' (finding the easy way out) approach to this viral threat continues to lay waste to livelihoods that once thrived regularly, we zero in on one such beloved industry – that of live sound engineers. We take a glaring look at how lockdown silenced the loud ones.
The live sound industry is one that depends on large gatherings of people. With a complete halt on live entertainment, everything within the realm of 'live', from pro audio, lighting, etc to pre and post-production, the new normal became one that had more questions than answers. Engineers, specialists, and technicians like myself faced a never-seen-before challenge. One of brutal endurance, wondering what to do, how to earn, contemplating career choices, and otherwise optimistically hoping everything returns to its original state – normalcy – a term that suddenly became more subjective than ever. What even is normal anymore?
Unforeseen international events of this scale can leave you dumbfounded, just like those helpless bystanders in a blockbuster science fiction movie – clueless and panicked – but in our case, this Godzilla is microscopic. Yes, size matters! COVID-19 is a huge biological calamity that is still mysterious in nature. It continues to evolve, while we simultaneously attempt to (metaphorically) mop a bathroom while showering in it. The world has not seen anything of a mass scale such as this for a while, the last magnanimous events being the plague, the Spanish flu and AIDS, and maybe a couple of Nicholas Cage movies.
For a lot of those who invested years of their lives into making a career within the events industry, it becomes exceedingly difficult to quantify the losses that came along with lockdown. Specialized roles such as sound engineering, light design, visual arts and the like took hit after hit. It was as if someone pulled a carpet from under them and subsequently cut off their motor skills. You're on the floor, you can't move your legs, and you're almost certain you never owned a carpet. It was just yesterday that the crowd was cheering, the lights were glaring, the screens were staring and the speakers were blaring. Poof! Suddenly, all gone.
In the coming paragraphs, we delve into the minds of a few professionals – touring sound engineers and proprietors and owners of live sound rental and reinforcement companies, to take a look at how the lack of public gatherings has affected them and those around them, monetarily and mentally. These are people who work tirelessly behind the scenes at music festivals, huge concerts, conferences, weddings, basically anywhere there's a public gathering with 50 to even 50,000 people. They are a few of many who specialize in giving you a great aural experience, applying their technical know-how in the physics of sound, in different capacities, to ensure that you really FEEL whatever you hear.
Without events happening on a regular scale, after completely shutting down during the initial months of lockdown, freelancers in touring and live sound roles have lost their primary source of income. One such industry professional is Anupam Roy, who travels as the Monitor Mix Engineer with prominent Bollywood music director Pritam's live act. "The impact has been of apocalyptic proportions, to say the least!" he exclaims. Another touring engineer, Sigmund Quadros, FOH + Monitor Mix Engineer for artists like Band of Boys and Viveick Rajagopalan, who you also might have seen manning the sound console for one of the stages at 'Goa Sunsplash', a Reggae Music festival, says, "The consequence of the lack of touring is a major void in acquisition and execution of work, and effectively the bank balance."
A big name in the audio industry, Ashish Saksena, a very well-known face in the studio circuit in Mumbai, Front of House (FOH) Engineer for Shankar Ehsaan Loy and FOH + Monitor Mix Engineer for Bollywood's swooning crooner KK and young star Ayushmann Khurrana says that he had some savings and investments which helped him tide over the worst. "For me, work completely stopped from March '20 and I was homebound for 8-10 months. Virtual shows started for a while but stopped abruptly due to the second wave of COVID. They've only recently resumed, but are very limited," he shares.
For a professional with a flourishing career in a specialized or niche job such as this, the sudden cancellation of all shows in the near and slightly distant future can feel like the Titanic hitting that ominous iceberg. "The change in lifestyle seems like walking on eggshells, trying not to risk any funds as one would do in the better days of yore," reminisces Sigmund, who has barely managed to adjust to the drastic change in income and lifestyle. Anupam adds, "I did have some savings at the start (of the pandemic), but they were not designed to last for more than a year of zero income. It's been a tough year!"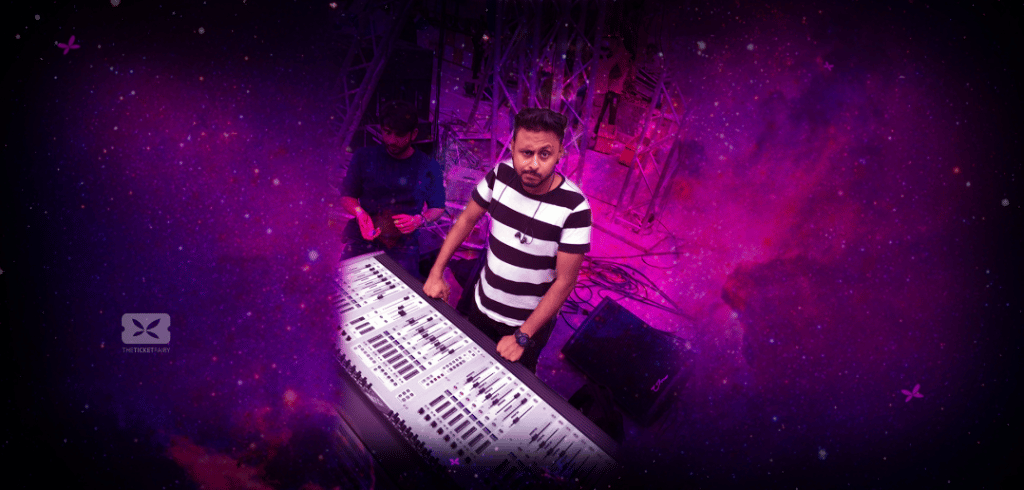 Anupam Roy prepping the console at a soundcheck
Financial effects aside, a crisis of this scale can break the shell of security in one's mind about their own skill and ability to support themselves, or in many cases, an entire family. "My only source of income had stopped indefinitely. The situation was a tough one, mentally. Touring life in pre-COVID times was rollercoaster!" exclaims Abhinav Patankar, FOH Engineer for Indian rap sensation Divine & Gully Gang, 'folktronic' duo Hari & Sukhmani and a few more independent and commercial artists. "Our daily dose of dopamine was the loud PA system sound, mesmerizing lighting, pyros going off on massive stages, the energetic crowds and traveling to new places and meeting new people. This created a huge void in our lives, not only financially, but also mentally and emotionally."
In times like these, with uncertainty looming, it is only human to ponder about what lies ahead. Given the unpredictability and volatility of the COVID-19 virus, events and gatherings the world over seem to be slowly opening up, but again, the virus doesn't seem like it wants to relent. So, the "new normal", which is still pretty malleable at the moment, is only going to be what you can turn it into. Abhinav continues, "A friend and I together started a company called Infinity Tech, which consults, designs and deploys everything to do with AV solutions." He has also done some live streaming gigs, on occasion, as have Ashish Saksena and Sigmund Quadros, the latter joining a specialized live streaming venue called 'The Circuit', started by Band of Boys' Sherrin Verghese, where there have been online streaming gigs and private performances as well, almost regularly, except for times when strict lockdown measures were implemented in Mumbai.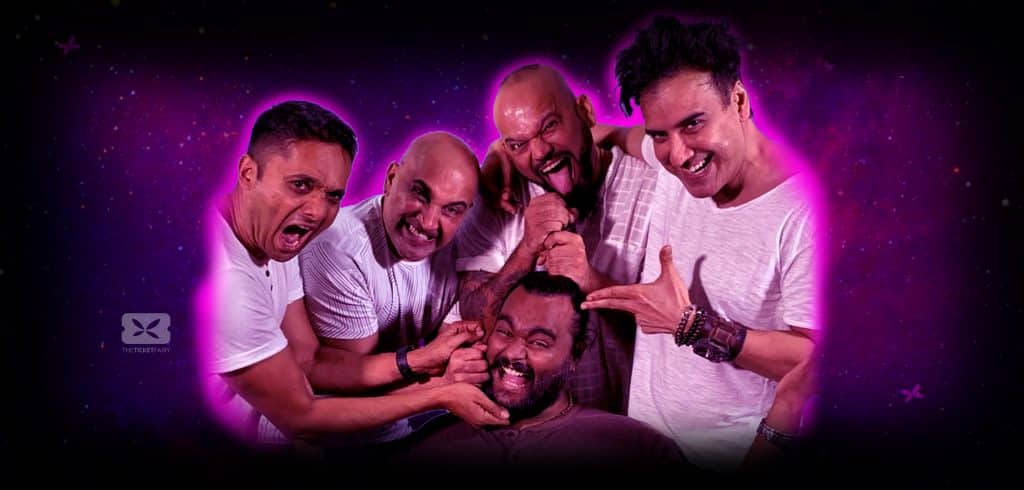 Sigmund Quadros having a hearty laugh with his artist 'Band of Boys'
You've now got a gist of what some of these hired guns have had to endure. For primary earning members supporting their family, the pressures and responsibilities can be a huge ask. On the other hand, for owners and proprietors of sound rental companies, the challenge was to stay afloat on a much larger scale. Their entire team of sound engineers, technicians, loaders, back-office staff etc operated as an extended family, the sound industry itself being one that is extremely close-knit. For owners, the challenge was to ensure their team was cared for, a team essential to the unique and renowned services they provide. Large or small, these companies depended on their employees as much as their employees on them.
One of the biggest equipment rental companies in Kolkata, 'Friends of Shiva' (FOS), started off by late music scene legend PC Mukherjee, renowned for the quality of their work, are one of those companies that employ a large number of skilled technicians in various departments, specializing in sound, lighting and video systems. "We have never before experienced such a situation nor the uncertainty that comes with it, uprooting work and income," says Kyle Mukerjee, who now heads the company. He continues, "Even though we weren't prepared for such a setback, we are in a position to pull through these trying times. It can be said that the frequency of work is perhaps better in Kolkata as compared to other states and the situation is improving gradually."
But how does one manage such a drop in the frequency of work? Significant damage has been sustained by many gear rental vendors. A scroll around Facebook groups will tell you the whole story. Many smaller vendors have not been able to fight the lack of income and cover their deficit, so over the past 9-10 months, there has been a lot of pro audio and lighting gear up for grabs – going for distress rates online. The hole in the live rental industry continues to grow as vendors make all attempts to stay afloat, even if that means they must sell high-quality equipment that would otherwise guarantee a steady income.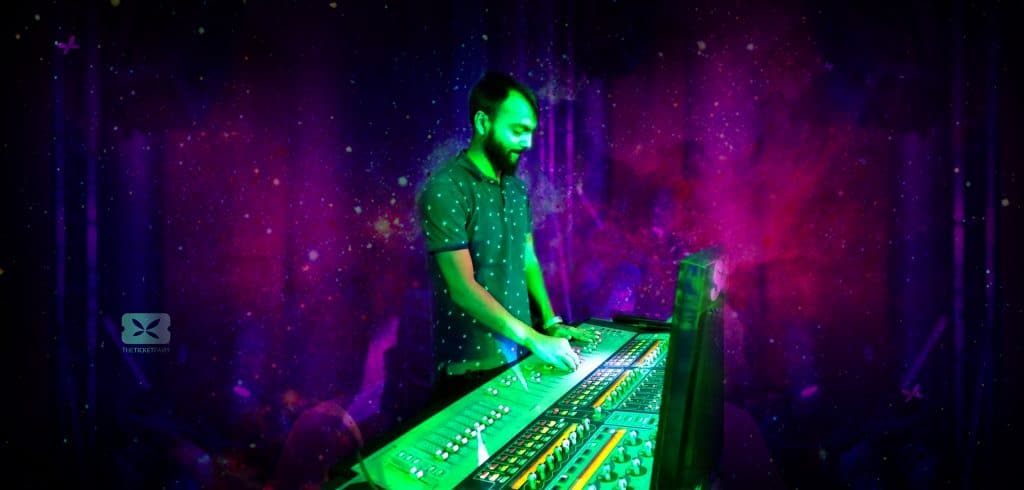 Kyle Mukerjee, head of 'Friends Of Shiva' manning the console
"It's a heavy load when you have to manage a business as the overhead costs are constant," Kyle adds. "We treat our employees well and respect the service and loyalty they deliver to the company. They've been understanding and supportive and that leads to the company moving forward together. We are proud and blessed to say that since the pandemic started in 2020, we haven't released a single member of our staff." A rare light in the darkness within the industry during the pandemic. He continues, "We allow our staff to take on other work outside the company when we don't have work so that they can bring in that extra bit of revenue to support their families."
It's relieving to hear such a story of survival, even though time has been pretty unkind to the majority. A really valuable lesson that can be learned here is that, in times ahead, we are going to need to be able to adapt to this volatile "new normal". And the key to that is mutual understanding and keeping our eyes and ears open to those that need support and opportunity. It's a time to rebuild. But where do we begin? How do we begin? And imperatively, when do we begin?
"It's difficult to predict a timeline as none of us have enough knowledge regarding this subject, but the more people get vaccinated, the better are the chances of getting back to normal, ponders Kyle. "We are hoping that the frequency of events will slowly start increasing and the situation will slowly improve by November this year, and then most likely, by 2022, concerts and outdoor events can resume in full swing with proper precautions and responsible planning."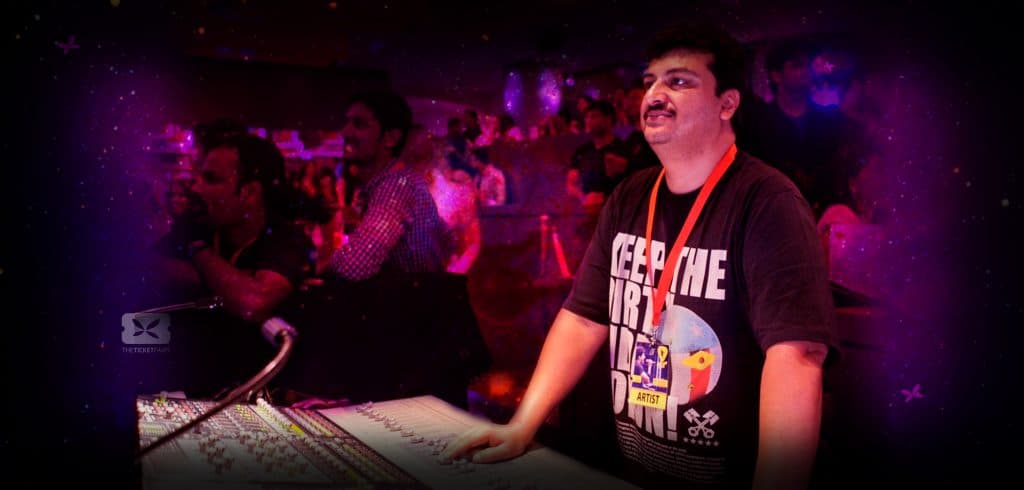 Ashish Saksena at the Front of House
Coming in with a reality check, Ashish Saksena considers that his artists may not travel for gigs this year at all. He adds, "Generally, the feeling is that things will start looking up after the monsoons, September or October onwards. I feel that it'll take a long time for normalcy to return and I don't think that will happen for another year or so." Similarly, Sigmund strongly hopes that things will change. He appropriates, "I don't see anything getting on the floor very soon, given the population density and the rate at which vaccinations are being administered. It's unfortunate, but it's the uncomfortable truth ab out being in India."
As analytical as he gets on the sound console, Anupam Roy believes that events and gatherings won't realistically resume until the vaccine rollout is at 70-80% of the total population. He suggests, "Even then, it'll take a year or more to get back to pre-pandemic numbers. There is an ongoing theory of 'pent-up demand' in many circles, so I may be wrong, of course. People are fed up and scared at the same time. But, government regulations will be conservative, and therefore, so will the rate of concerts and number of people allowed per gathering."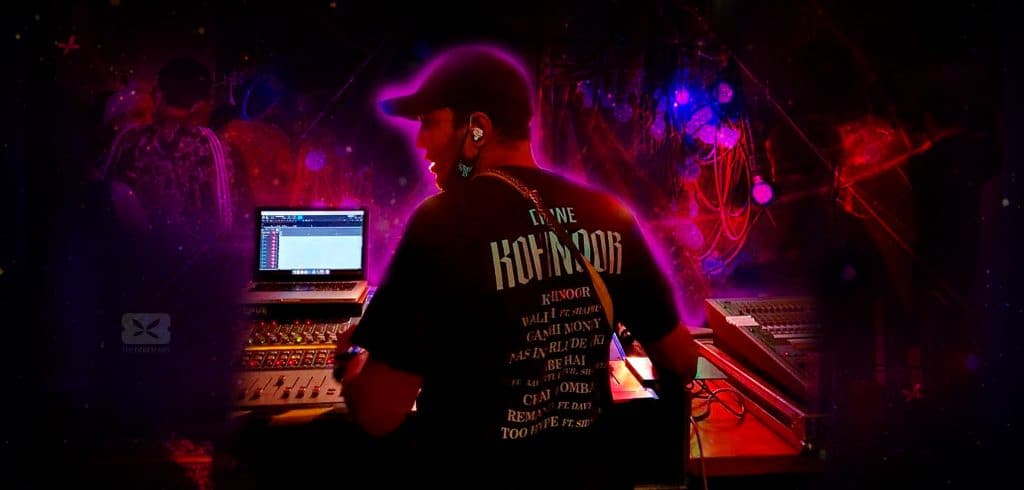 Abhinav Patankar on the job for DIVINE at Imperfecto, Delhi
Abhinav Patankar, on a more optimistic note, says, "Fact is that most of our industry survives off of private events, which are mostly weddings and corporate events. The wedding season should kick in post the monsoons (August – September), and concerts, festivals and public shows will probably start in full capacity by January or February 2022. I'm going to keep my fingers crossed and hope I'm wrong!"
He also appreciates, that in all its grimness, the lockdown was a much-needed break from the unhealthy lifestyle of compromised sleep, odd eating hours, no diet consistency, after parties, etc., and other stresses that are part and parcel of the touring schedule. He compliments, "I had great fun spending time with my family, which was rare since I've been on the road for most of the last few years. Also, the need to generate income became a primary necessity, which would otherwise be a distant thought, otherwise, as opposed to financial dependence on events and gatherings."
These are important voices. Important experiences from individuals that are essential to our livelihood. Every song you hear, every film you watch, every show you attend has an intensely talented team of specialists behind the scenes, striving towards quality – the type that keeps us forever improving and refining entertainment. When the pandemic hit, these specialists were overcome with a scenario that could not be predicted, one that shut down entire industries and wiped out multiple sources of income.
So where do we go from here? With no fear of sounding monotonous, the answer, my friend, is blowing in the wind – try to avoid traveling if it's not for essential or emergency purposes, because the less we come in contact with others, the safer we make the world for ourselves and for everyone around us. Also, wear your mask, carry your sanitizer, USE your sanitizer, wash your hands! Some of us have had these habits for the last 8-10 years (by some of us, I mean ME!) and at least by now, 15 months and counting, I think we all need to get on to the same page and develop a common goal – to get rid of COVID. Get vaccinated and encourage others around you to do the same.
For a lot of your friends, family or acquaintances working in the world of live entertainment and show business, this is easily one of the tougher times for occupations in modern history. So, as far as possible, lend your ear to listen, lend your shoulder to cry on. Be accessible to those around you, and be attentive towards those who might need your help. Only our humanity is going to take us forward. Stay safe, stay sane!