Art taken to the next level in all departments! That's what it was all about! A landmark presentation of a live performance. It was a pleasure to be a part of the crew at 'The Five Elements of Tabia' shoot. Let me give you a behind-the-scenes view of my experience of working with Simba Uproar x Prabh Deep from the inside.
A gloomy Sunday morning, it's 5.55am! My 5th alarm, which has Deftones' Chino Moreno screaming his lungs out to wake me up from my 2-hour power nap, is buzzing away just like my sleepless head on this work-loaded weekend. Up and away, checking the time while navigating (only to measure my ETA), and reaching Famous Studios just about gracefully late, at 8.05am. Disclaimer: Being a stage manager in the past has made be extremely aware and paranoid about timings.
Maybe one day, some 1000 years in the future, optimistically, shoots will run on time in this country. I went with the predisposition that things will be running late, and didn't know what to expect. You can never predict any variables at a shoot. To my pleasant surprise, the scene was far better than I thought.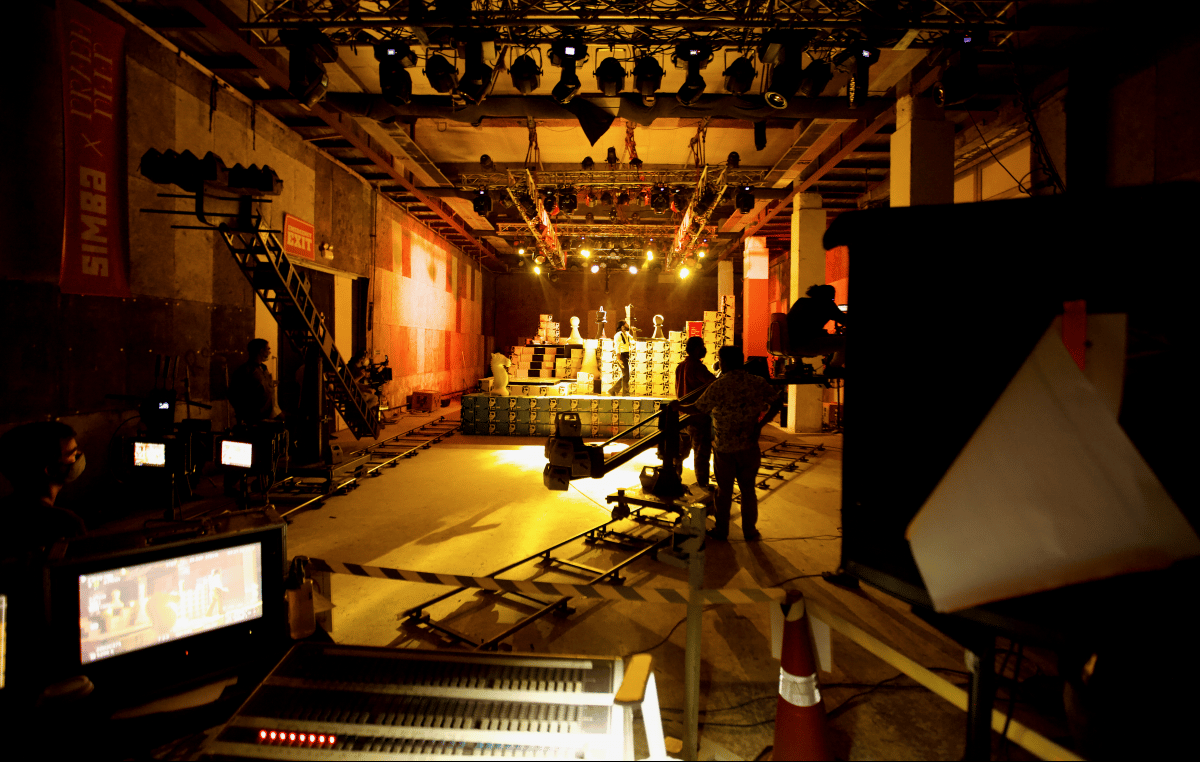 Prabh Deep getting into show mode (Photo: Mo Joshi)
As a sound engineer who has worked at music festivals, conferences, shoots, etc. you name it, be it with sound vendors or independently, let me just brag on behalf of every fellow sound technician and crew out there, that we are always the first ones to reach, and (most of the time) the last ones to leave. But, wait a minute, the lights were up and ready! The stage was set, the cameras were being assembled. There was hope. As I least expected, the sound team had reached last, a few minutes before me and had just finished loading in. Mumbai monsoons are a reality, not an excuse, alright! In about just less than half an hour, all our cables were patched in and we were rearing to go, awaiting the venue's electrician, who took quite a while to locate! It was probably the churning effects of that early morning chai.
Engaging now in my favourite activity – WAITING (*snarls with spiteful sarcasm*), I stepped out for a smoke and saw walking in another sleepless soul such as myself, the light designing maestro Naveen Deshpande, who was prepping the lights in the wee hours of the morning, and had just returned to Famous Studios after freshening up. Work ethic max! And a few moments after him, the director Angshuman Ghosh arrived, by which time the sound console and all other equipment was powered and good to go (I presumed).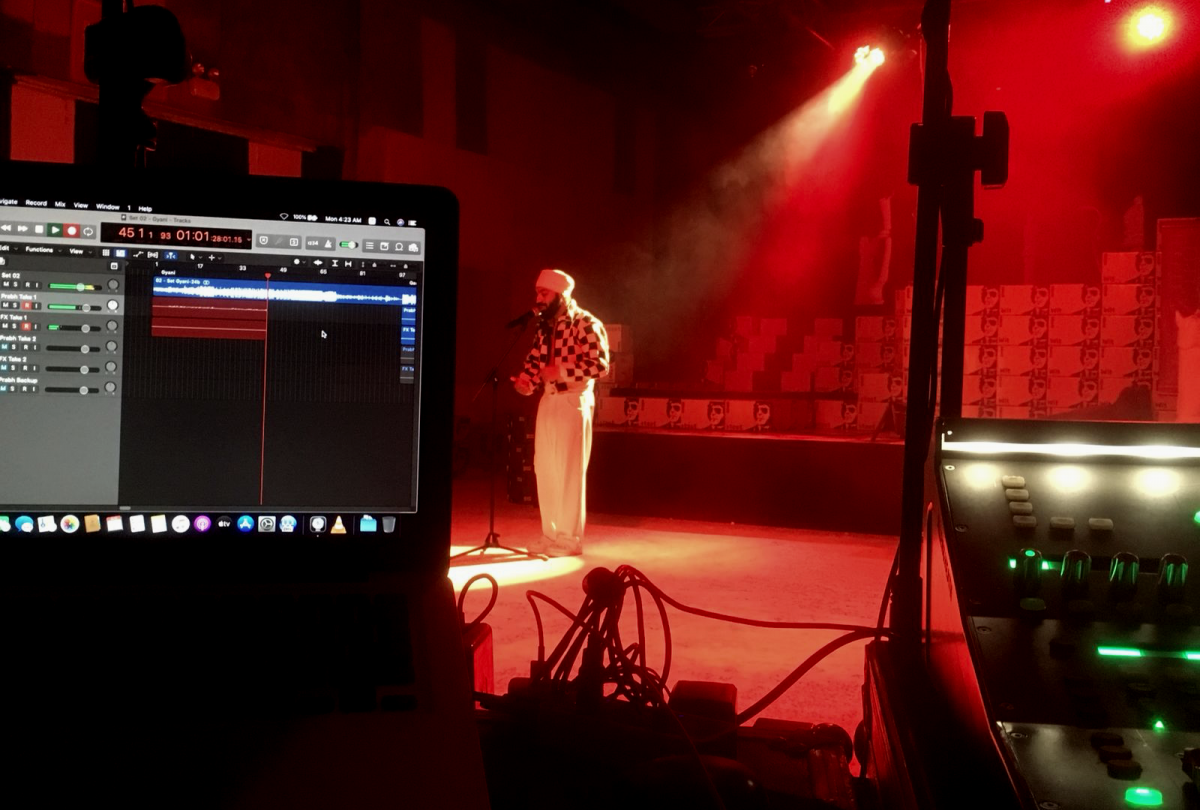 View from the sound console (Photo: yours truly)
We were using a Shure QLXD wireless microphone system with the trusty SM58 capsule, Sennheiser G4 In-Ear Monitoring system, both mic and monitors hooked up to Circle wireless combiners and antennae. An Allen & Heath SQ6 digital mixing console, mainly for its class compliant multi-track recording capability (as a MacOS 10.15 Catalina user, compatibility is a concern), and Logic Pro X to run playback and record Prabh's vocal microphone along with a separate stereo channel with some lush reverb from the board itself.
But, a slight hurdle. The console was password protected by whoever used it the previous night. After attempts at troubleshooting and trying to contact that damned soul, and even after re-installing the firmware didn't work, I had to settle for running the show without fader control. I could only use knobs, which was mildly annoying. It took about 15-20 minutes after that to get things going. I had to check levels on microphones and music, setup reference speakers for us, In-Ear Monitors (IEM) for Prabh, director-sahab, DOP Quais Waseeq and first AC Suraj Dande. By 9.30am I was ready to go. Finally, with my mind at ease, I went outside for another smoke and caught up with the Azadi Records and FourByFour Experiences teams a.k.a. 4Z4DI Entertainment. And halfway through coffee, the man of the hour Prabh Deep rolled in, straight out of an Innova.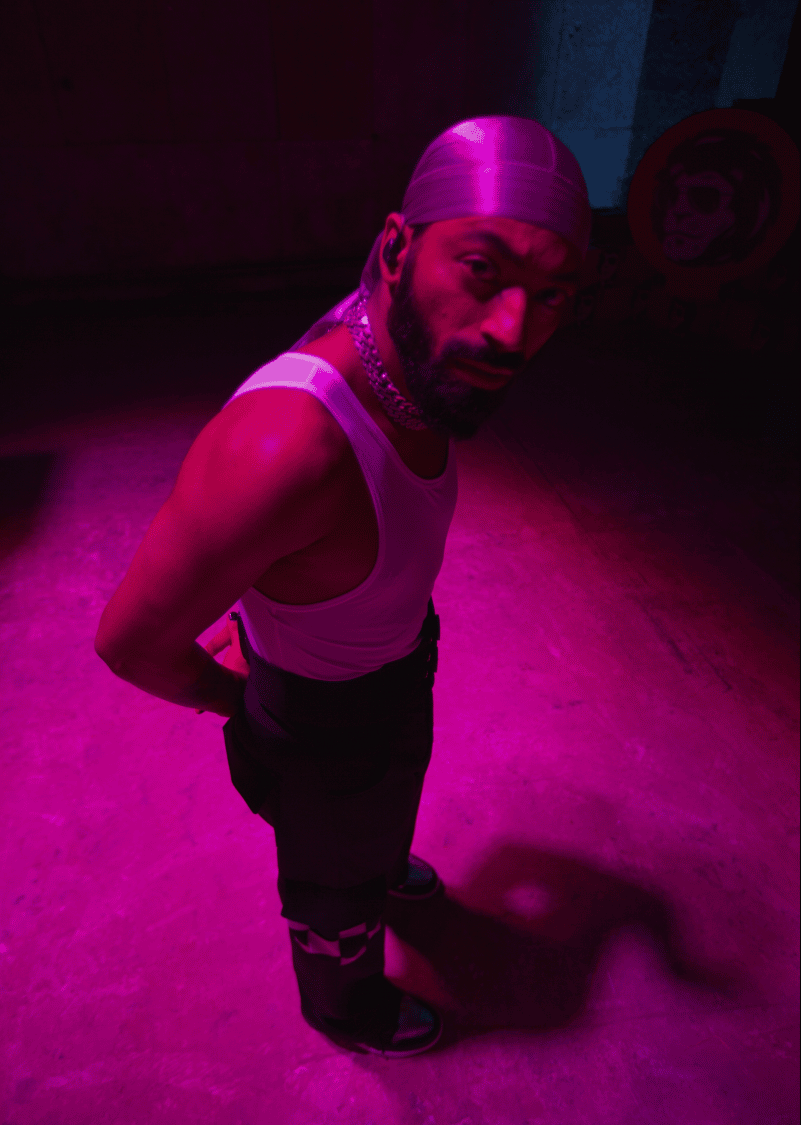 Prabh Deep in his avatar for the first set of 'The Five Elements of Tabia' (Photo: Mo Joshi)
Always super focused on his work, he went and checked out the progress of proceedings, and indicated that we should start our soundcheck. A couple of minor changes in track and vocal levels in his IEM, and we commenced a rapid rehearsal, checking the song 'Paapi', with all teams, lights, camera and sound, working in unison, cued in enthusiastically by the director Mr. Ghosh.
Suddenly, a short prospective mental glimpse of how epic the edited video can potentially look just flashed in my head, as Naveen Deshpande started working his magic on the lights with his double Avolite Pearl console setup. It's important to stress how important a part the lights play, especially when planned and executed with a view on both large grandiose and slick intricacy. I am talking about not only how the lights move and change according to the mood of the song, but also every rhythmic pulse and subtle musical nuance is taken into account with extremely elaborate lighting movements.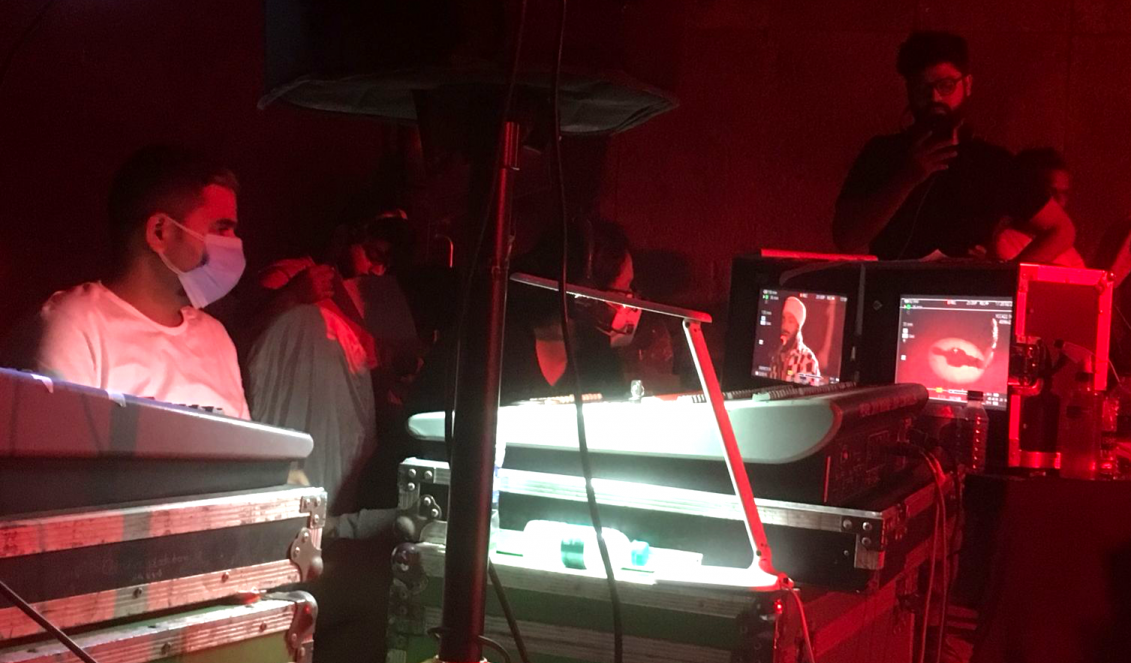 Sitting in their respective positions, (L-R) lighting designer Naveen Deshpande and director Angshuman Ghosh perfecting frames (Photo: yours truly)
Apart from this particular project, I have witnessed Naveen work for artists like Pentagram, Bhayanak Maut, etc., with artists I've mixed at events, stages I've managed, clubs, etc., and on every occasion, I celebrate one major fact – "THAT DUDE WAS A DRUMMER!" As soon as we started shooting and even half way through what was looking like a drowsy day, the sheer precision and the movement of the lights kept us all wide awake. At moments, the crew found ourselves applauding both Prabh's and Naveen's performances together!
'The Five Elements of Tabia', as the title and the aesthetics of the video portray, technically for us were 5 different changes in camera movements, positioning, a tweak or few with light positioning, and of course mini run through of the combination of all these changes with playback happening. And during such breaks, in a completely different setting, Prabh was going through his own visual metamorphosis to be one with the mood along with all the technical and aesthetic changes that amalgamated into what you are now watching.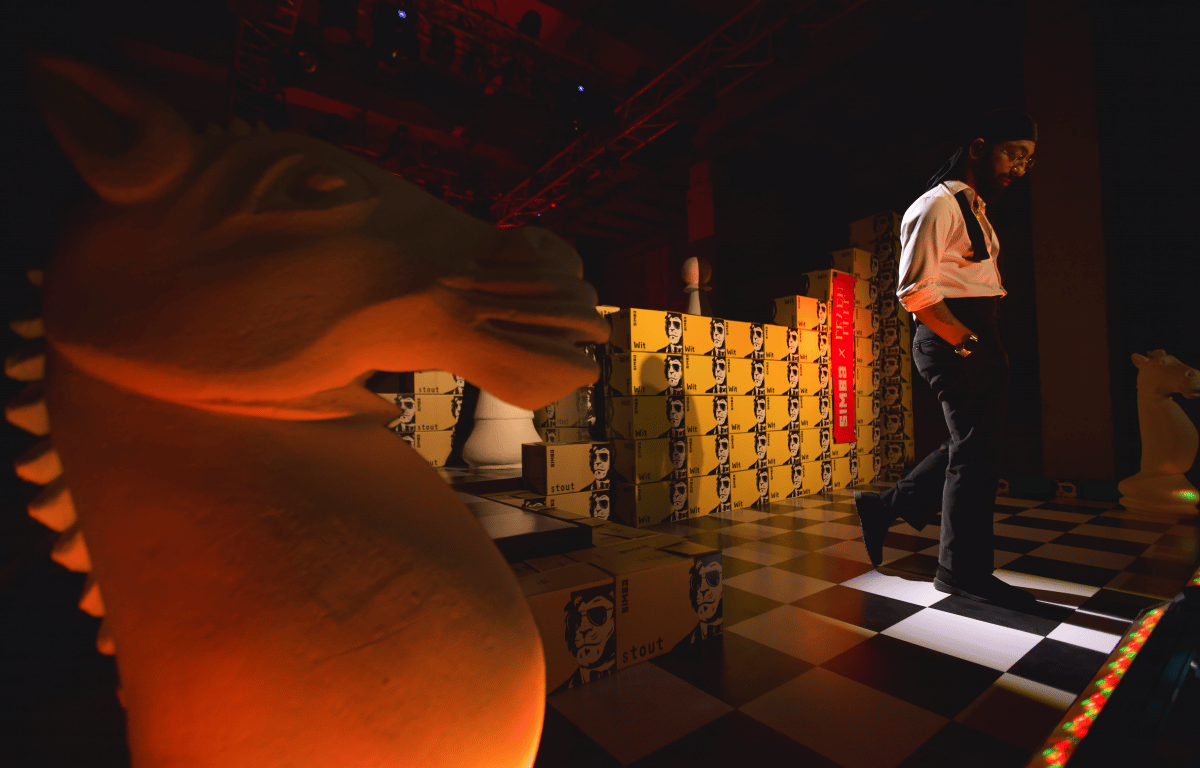 Prabh Deep getting a feel of the stage (Photo: Mo Joshi)
The shot caller behind this transformation process was director Angshuman Ghosh, whose attention to detail is what contributed to the optical treat that is 'The Five Elements of Tabia'. At one point of time, maybe around 8-9pm at night, during a break between sets, probably a coffee break for Naveen, I casually played a beat I produced to check how it sounds on our mini mono PA system. About 30 seconds into it, Mr. Ghosh kindly told me pause that and to stick to the next set's playback, so it maintains our mood and focus, so as to stay in the feel of the music at hand. Thinking about it, he was absolutely right. So, I put my attention disorders aside, and complied happily. He was allowing me to bum some of his tobacco and filters, so I couldn't say no!
Speaking of focus, all the focus was on one man, the centre of this collaborative effort – Prabh Deep. Calm, collected, focused, self-aware and extremely conscious of his performance and delivery on the microphone. As a sound engineer, it's really great to work with an artist who is so concerned about every little detail of his sound, and from interacting with him, in this and past instances, I relate with and appreciate his need for perfection. After the first rehearsal run of the day, after we set his IEM levels and eventually did a test recording, his first stop after getting off stage was the sound console straight away.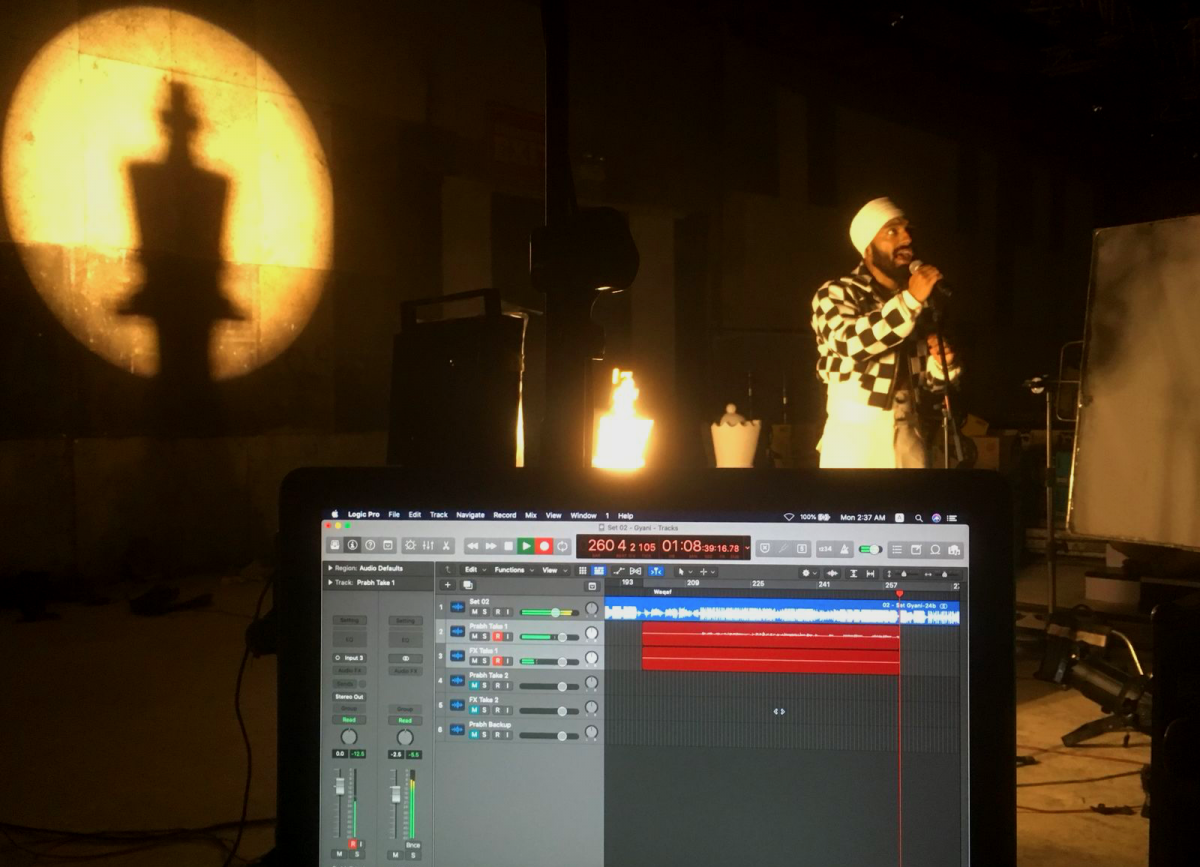 Another sound guy POV (Photo: yours truly)
We played back the recorded audio to check how much ambient sound his mic was capturing, namely the smoke and haze machines, the camera trolley movement, our reference speakers and the communication between director and camera crew. Huddled with producer and Azadi Records head Mo Joshi and me, he gave his word of approval, and then rushed into his vanity van to get into the first look. The audio that you hear on the stream mixed and mastered by Prabh Deep himself. So, yes, believe me when I say it, he takes his sound very seriously!
I've just started watching the premiere on YouTube right now, and from the off, I can't believe how beautifully it's all come together! Got to compliment the tight editing work from Keshav Bhugra, who was also the Assistant Director of the shoot. The smooth transitions really struck a great balance, bringing out the best in the director's vision, the camera work, the lighting and the amazing set design by Rahma Aamina Javeed and Priyanka Poulose.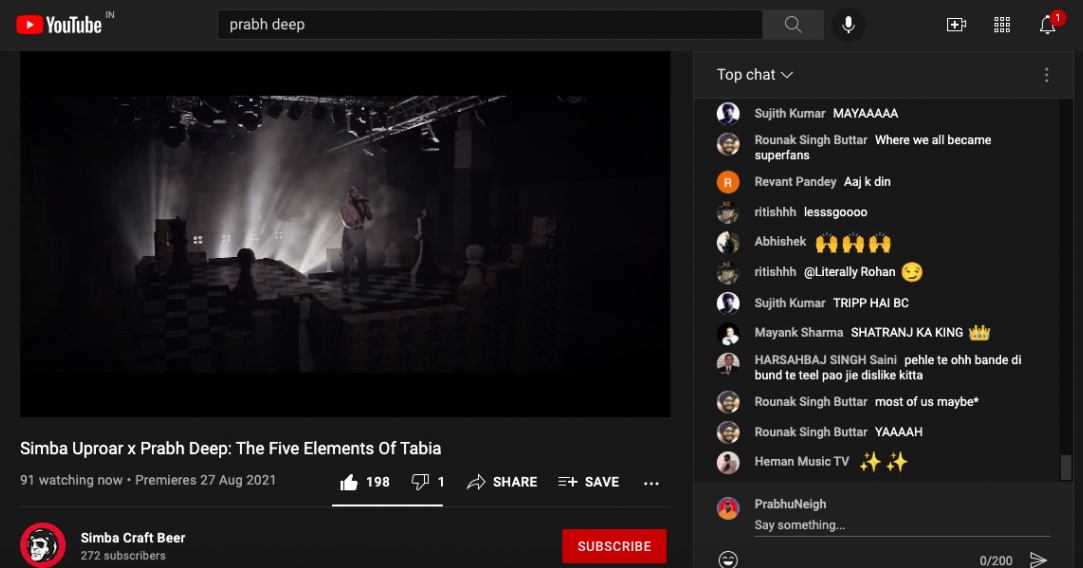 Passionate fans in the comments section during the premiere
Let me take a minute here to compliment Prabh Deep on his relentless work ethic. From years of experience, I can say that it's the toughest job for someone with vocal duties to deliver the appropriate amount of energy, along with delivering the vocals, be it singing or rapping, with consistent articulation. The KING did this staying up on his feet most of the time for the super extended shoot duration of 18-19 hours. And he was absolutely on point – mind, body and voice. To keep him motivated and on his game, one could hear director Angshuman Ghosh intermittently pumping him up with positive encouragement and guiding his expressions in a few shots now and then. 'Twas a combination of two brilliant creative forces.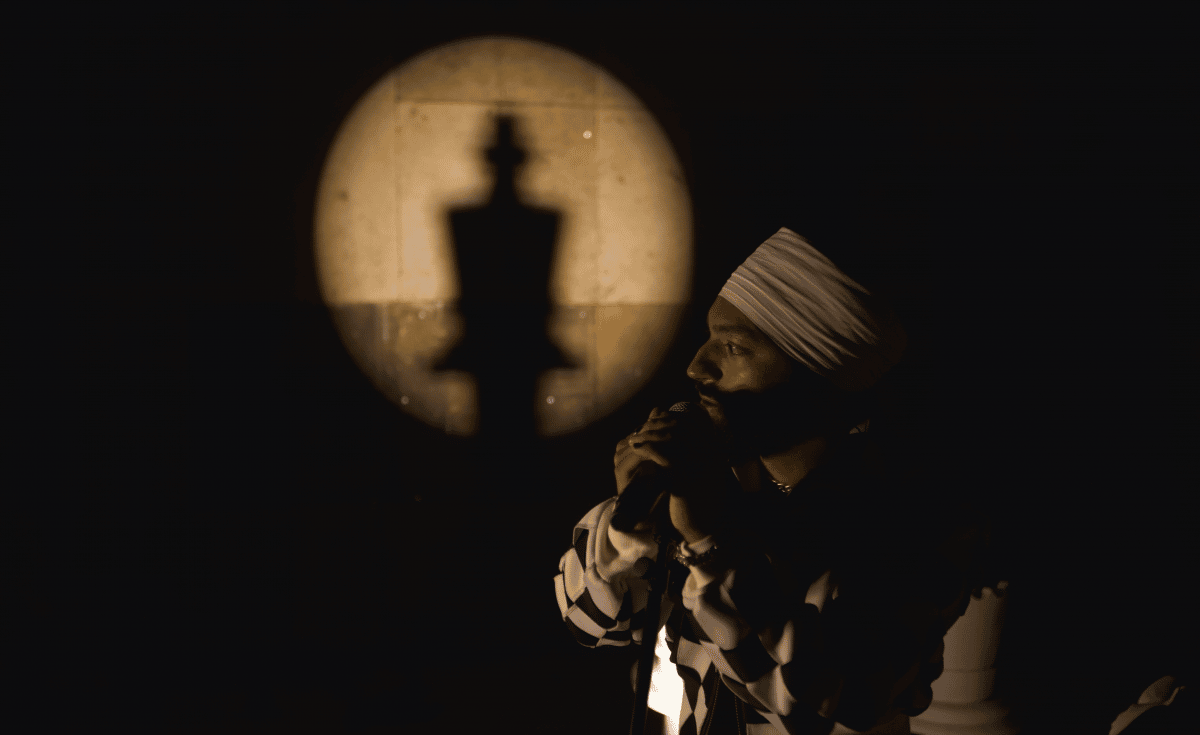 The KING (Photo: Mo Joshi)
At approximately around 5am, it was a wrap! All the smokers went out for the customary puff-puff. Like Parikrama once said, "But, it rained." It seemed like a great time to open up a pint of Simba Wit (thank you Prasad), and book an Über. With everyone departing to one by one to reach a comfortable pillow at home or hotel, I finally took my leave as all the equipment dismantling procedures had started. Said my goodbyes to Himanshu Vaswani and Prasad Iyer of 4Z4DI Entertainment, who were supervising the final teardown.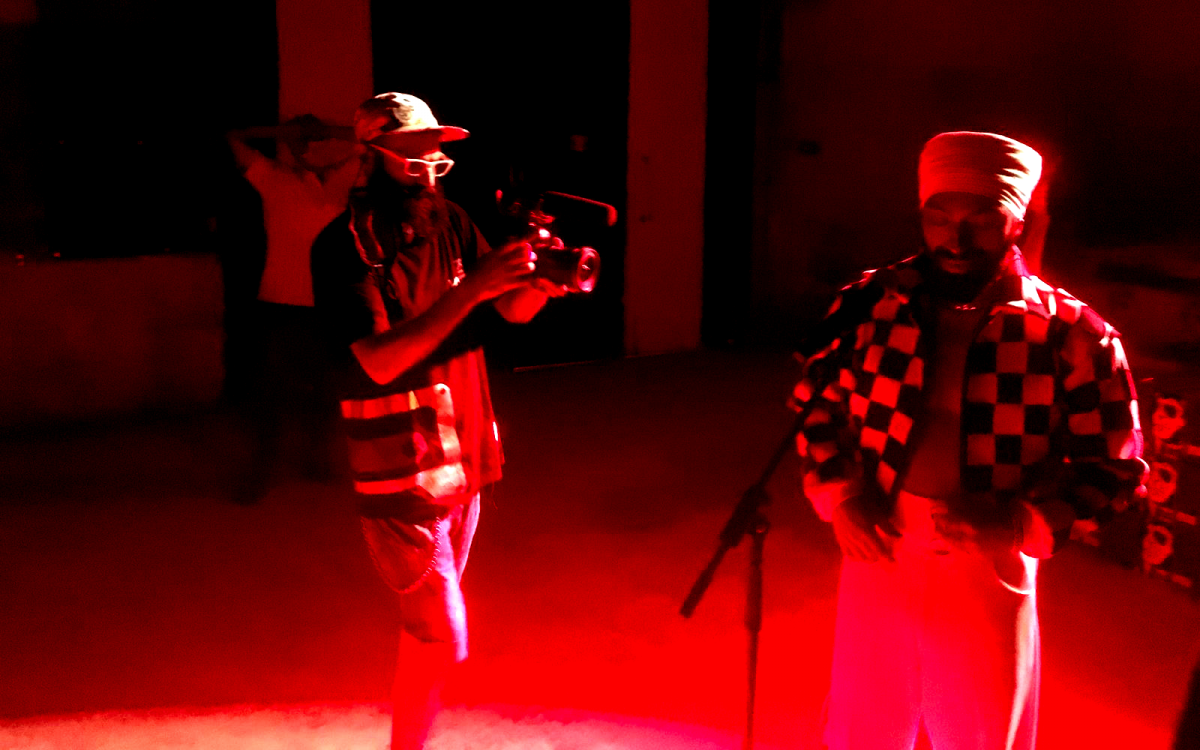 Mo Joshi getting a few quick clicks and BTS footage of Prabh Deep while the lights and camera crews ready the next shot (Photo: yours truly)
I was back at home on Monday morning at about 7am, I think! At this time on the previous day, I was just getting into the elevator, rushing to get into my taxi. I had experienced and been a part of one of the most unique live streamed productions that I've seen so far.
I've already watched it twice! It's the independent musician in me that hopes, that one day, many more artists will take risks like Prabh Deep and will be backed by names such as Simba Uproar to achieve such extravagance. A great coalition that delivered a professionally produced performance, combining the creative, technical, musical and logistical prowess of a bunch of talented people! Truly grateful to be a part of it. Now, on to the next…
Stream the video below or watch on YouTube –
Featured Image clicked by Mo Joshi and illustrated by Pradnya Wagh