Hovering around Central Europe and encircled by one of the most bizarre boundaries in the world, Croatia has been home to Europe's best and arguably one of the global favourites for boutique music festivals.
Since the early 2000s, its sunny coastline that is captured by the blue Adriatic Sea has hosted festivals and brought musicians from all over the world, but despite hosting festivals for a decade, Croatia didn't attract many international visitors until the country's inclusion in the European Union in 2013.
Their addition to the EU meant that they could attract festival-goers from the rest of the continent and beyond. From then on, Croatia has become Europe's premier destination for festivals, with its stunning weather and crystal-clear water welcoming fans from every corner of music.
From the plethora of festivals on offer, one festival that has lit up the eyes of the people from the bass music land is Outlook Festival. The festival started in 2009 in Tisno, and 12 years later, it has become a yearly pilgrimage for sub frequency lovers.
Outlook Festival has been hosting massive line-ups for more than a decade with its unique stage sets, including abandoned forts, tunnels, moats, and boat parties, coupled with the finest sound systems.
After ten years at Fort Punta Christo in Pula, which they called 'The Last Dance,' Outlook Festival was ready to move to Garden Resort, Tisno, before the pandemic hit, ravaging the live events industry worldwide.
[youtube https://www.youtube.com/watch?v=wMXohsMiIrE?start=1]
After hitting a blank last year, Outlook festival has announced its 2021 edition at Garden Resort, Tisno, the place where the festival took birth 12 years ago and naturally, the festival is now called 'Outlook Origins' which will be a 5-day spectacle on a spectacular cliff-top fortress by the sea in the historic city of Sibenik.
The festival's explosive lineup brings big hitters like Chase & Status, Shy FX and Children of Zeus for its iconic opening show followed by the biggest names in the Bass music like Calibre, Fabio & Grooverider, Kahn, Parly B, Djinn, Mungos Hi-Fi, while labels like Metalheadz, Sofa Sound Bristol, Dispatch Recordings, The North Quarter and White Peach Records will host their trademark showdowns.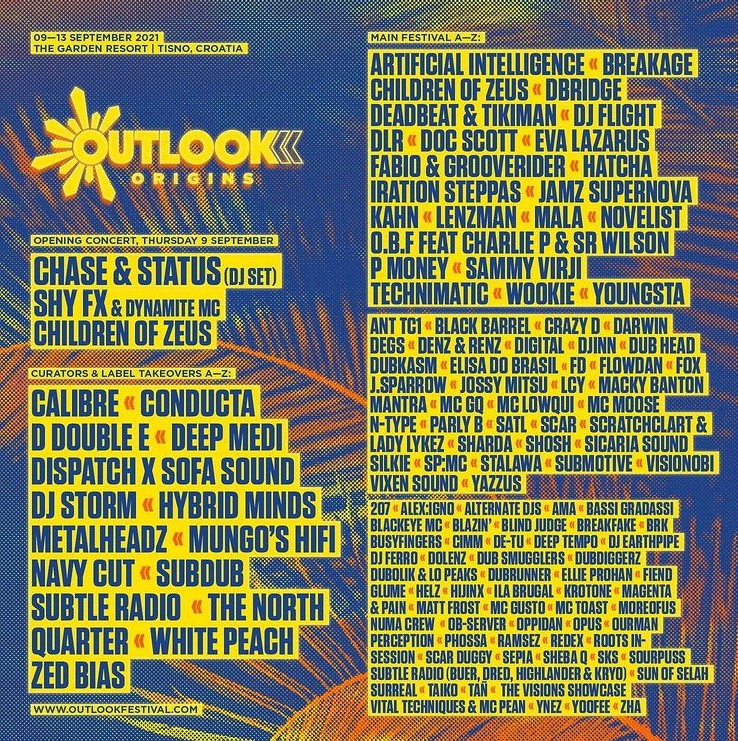 With some of bass music's finest selectors, the Outlook boat parties will make their return for 3 long hours of sonic explorations, To make things interesting, the line-up announcement is just the first out of many with more artists, after-parties sunrise sessions that are yet to be revealed.
The festival is set to take place between 9th to 13th September 2021, and the countdown to the 5-day sound system dreamland has officially begun.
For more info, visit Outlook's Official page.