No matter what stage of our lives we are in, we all need a helping hand. Similarly, senior citizens too need one. However, they may need assistance dealing with health issues, receiving meals, mental and emotional help, among others. By helping senior citizens in need, you will bring them joy and ease their pain. It will also make you feel good because of your kind gesture. We've listed ten ways/charities you can support or reach out to elderly people in need. Some of these also rely on volunteers, if you cannot donate, you may offer your time and skills if you wish to.
Feed a grandparent through a community kitchen – Manavlok
Manavlok is the abbreviation for Marathwada Navnirman Lokayat and was started in 1962. The word 'Navnirman' means Creation and 'Lokayat' denotes people's opinion. It was started by Dr. Lohiya "with an aim to solve the socio-economic problems of the community and it symbolizes a new idea or an experiment in rural development".
The organization is actively involved in river rejuvenation, desilting of dams, providing seeds and fertilizers to the farmers, and shows a better way of living to farmers thereby rejuvenating their trust and improved knowledge on farming.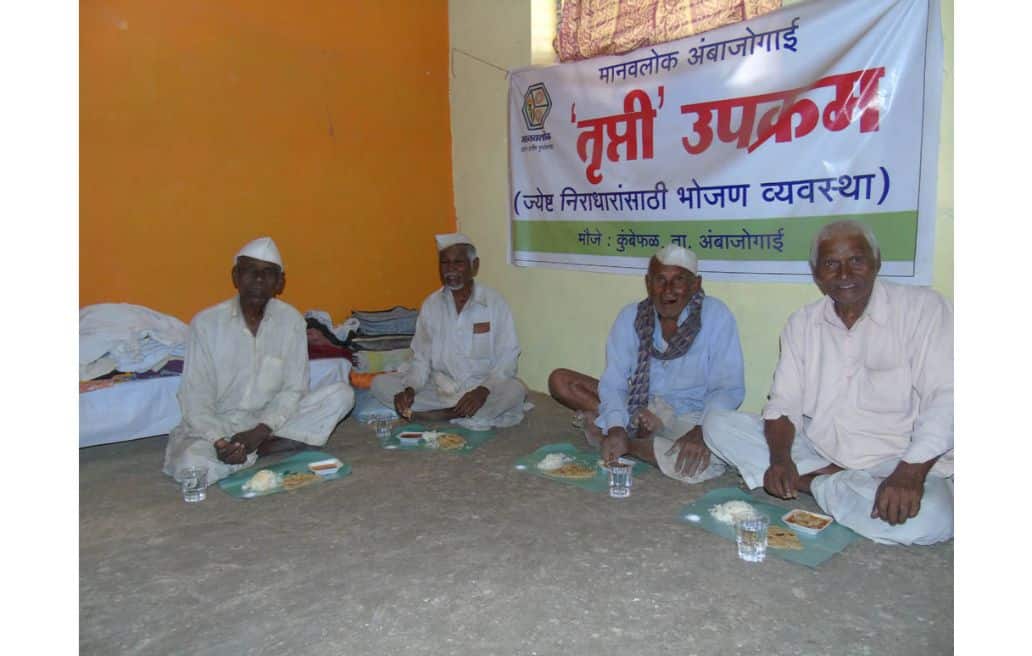 Image acquired from MANAVLOK.
Manavlok's community kitchen has given senior citizens the security they deserve after a lifetime of providing for their families and themselves.
The community kitchen for elderly citizens started from their community kitchen's project which provides meals for people of all age groups and the beneficiaries in this program are senior citizens who have been ignored by their families. The program has been implemented in five villages of Ambajogai district (Maharashtra, India) and about seventy-five senior citizens are served two meals a day.
Donate to Manavlok's Community Kitchen: HERE
Agewell Foundation
According to Agewell Foundation, they are "committed to make a coordinated effort with compassion and understanding to transform social attitudes towards senior citizens" as it "makes an effort to create the infrastructure to empower every older person."
As mentioned on their website, they help provide –
food to poor & destitute older people,
medicines to poor ailing older persons,
healthcare equipment & accessories to needy old people living in slums
Support to the homeless, dejected & deprived older persons during winters
Support to the people living in distress conditions
Offer free income generational training to older persons
Manage free Helplines & Employment Exchange for retired old people
Donate to AgeWell Foundation: HERE
Donate or Volunteer to drive seniors from to and fro – Neighbor Ride
After the Howard County Office on Aging conducted extensive research and surveyed senior citizens, the two options that were their top concerns were health care and a lack of transportation. Neighbor Ride (Columbia, United States) was founded in 2004 to "address these concerns with a safe, friendly and reliable means of senior transportation designed to strengthen connections and help older community members live the life they love."
Neighbor Ride has been connecting Howard County seniors to the people and things that matter most to them since 2004 and the Neighbor Ride network community's volunteer drivers, as well as ride coordinators, ensure their riders can get safely and reliably from point A to B and back.
In addition to this, they do not charge caregivers or family members to take the trip with the elderly. All they have to do is register with Neighbor Ride and they can accompany the seniors at no charge.
For more information, Visit the Neighbor Ride website: HERE
Donate or Volunteer at Neighbor Ride: HERE
Sponsor the food and medical needs of a poor senior citizen – Abhoy Mission
Close to 1000 senior citizens receive health care, medical allowance, and ration items from the organization – Abhoy Mission. A group of like-minded individuals from Tripura (India) joined forces to do some philanthropic work. Started in 1988 in the state, after three years, they got their group registered as 'Lian ll Tripura Scheduled Castes, Tribes & Minority Upliftment Council'.
However, the name of the organization was changed to 'Abhoy Mission' in 2008. The organization runs a 'Sponsor a Grandparent' program that aims to provide social security and dignity to the poor. Their purpose is to provide the same to the destitute and incomeless senior citizens residing in slums and rural areas in western Tripura district by covering the monthly ration kit expenses of an underprivileged senior citizen.
Donate to the 'Adopt a Grandparent' program: HERE
HelpAge India
HelpAge India is a secular, not-for-profit organization in India that was set up in 1978. According to their website, it works for "the cause and care of disadvantaged older persons to improve their quality of life" and was recently honored with the 'UN Population Award 2020'.
HelpAge became the first and only Indian organization to be awarded it for "its exemplary work in the field of ageing, relief efforts work during the Covid 19 pandemic and recognition of the organization's outstanding contribution to population issues and efforts in the realization of older persons rights in India."
The organization works through twenty-six State Offices across India to run numerous programs on-ground by addressing elder needs, advocating for their rights, and also takes action against Elder abuse. Its programs focus on direct interventions in the areas of Healthcare, Livelihood, Disaster Response, Advocacy, and Awareness as well as helplines for the elderly, senior citizen care homes, daycare centers, and physiotherapy.
Donate to HelpAge India: HERE
To volunteer at HelpAge India, fill in your details on the website: HERE
Volunteer or donate to Meals on Wheels
Meals on Wheels San Antonio (Texas, United States) is a public-private partnership whose mission is to help and "promote the dignity and independence of seniors who are in need of nutritious meals, companionship, and Alzheimer's care." They prepare and deliver nutritious meals (with the help of volunteers) each weekday to older and disabled individuals.
The meals are delivered to 3,400 neighbors that live throughout Bexar County and South Central Texas. Meals on Wheels San Antonio provides services such as  Meal Delivery, Emergency Meals,  Nutrition Information, Senior Center Meals,  AniMeals – Pet Food Delivery, Friendly Visitor – Senior Friendship, Comfy Casas – Home Safety, and Grace Notes – Alzheimer's Choir.
Donate to Meals on Wheels: HERE
To volunteer at Meals on Wheels, visit the website: HERE
Sponsor the food expenses of poor senior citizens in an old age home – Neptune Foundation
Established in the year 2010, Neptune Foundation is a registered trust under the Bombay Public Trust Act, 1950. It is under the Neptune Group and undertakes activities like Mobile Creches, Rehabilitation Projects, Old age Home, and Anna Daan.
According to Give India, the organization has built an old age home in Ahmednagar district's Village Kalungan (Maharashtra, India) to protect the neglected old.  Donate to this program to help the destitute elderly citizens with access to a safe shelter and care in their golden years and the funds will help in covering the cost of groceries, vegetables, milk, cooking gas, toiletries, cook and kitchen helper for one senior citizen.
Donate to Neptune Foundation for  the grocery expenses of the elderly who live in the old-age home to help them with nutritious food: HERE
Support Vulnerable Elderly – Give India
According to Give India, studies showed that seventy percent of senior citizens in India face different kinds of abuse such as verbal, physical, emotional, and financial while also living with deteriorating health conditions they cannot afford to treat.
Give India's Mission: #EldersLivesMatter ensures that the elders are not alone, sick, and hungry by providing one senior citizen in need with rations, toiletries, nutritional supplements, and essential medicines through the INR 1,000 (USD 13.69) monthly donations. Moreover, in addition to this, if required, it may also include accommodation expenses.
Donate to provide monthly basic essentials to one elder: HERE
Volunteer or Donate to Shepherd's Centers of America
Shepherd's Centers of America is a network of over fifty-five hard-working affiliate centers across the United States who offer enriching services to over 165,000 individuals every day. The organization supports services such as "transportation, handy helpers, friendly visits, grocery shopping, and respite care to help older adults remain living in their own homes and communities."
register to become a Volunteer at Shepherd's Centers of America: HERE
Donate to Shepherd's Centers of America: HERE
Help the elderly see with cataract surgery – HelpAge India
Cataracts are one of the major causes of blindness in India with nearly 12 million elders in the country suffering from cataract affected blindness and cannot afford treatment. HelpAge conducts cataract eye surgeries in twenty-one states and enters into agreements with identified hospitals after thorough due diligence of infrastructure and implementation capability of the institution.
The organization provides the hospitals with a  grant for a specified period of time during which a pre-agreed number of cataract surgeries are to be conducted. Each monthly donation a person makes is utilized towards part cost of conducting one cataract surgery.
Donate to make cataract surgery possible for poor elderly people: HERE