Doing away with virtual ceremonies, Television's biggest night of the year – the 2021 Emmys returned with a live event at the Microsoft Theater in Downtown Los Angeles.
The popular Netflix show and awards-season favorite 'The Crown', NBC's 'Saturday Night Live', 'The Mandalorian' streaming on Disney+, 'WandaVision' – the first-ever Marvel Studios project nominated for an Emmy, and 'The Handmaid's Tale' were up for over 20 awards! However, 'WandaVision' ended up winning three Emmys out of its twenty-three nominations.
In this somewhat predictable affair, Netflix became the biggest winner of the night as its big-time nominee 'The Crown' took home eleven awards in total. All eyes were on 'Ted Lasso' as it bagged several awards and HBO's 'Mare of Easttown', 'I May Destroy You' and 'Hacks' made their presence known where most of the praise only went to a few series.
Mj Rodriguez of Pose, nominated for best actress in a drama, breaks ground as the first trans woman to be nominated in a lead acting category and she is also the third trans person overall to be nominated. Michaela Coel became the first black woman to win an Emmy for writing in a Limited Series and the Governors Award recipient Debbie Allen encouraged a new generation of artists to take a stand.
The 2021 Emmy Awards Kicks off with a friendly start
After a 'pandemmy' show last year, things were quite interesting at this in-person ceremony. Check out the highlights from the 2021 Emmy Award Show hosted by Cedric The Entertainer for the first time ever. He opened the night with a karaoke rendition of "Just a Friend" by Biz Markie that put everyone in a great mood as many of the guests attending the ceremony sang along. Cedric The Entertainer was aided by Rita Wilson, LL Cool J, and Lil Dicky.
[youtube https://www.youtube.com/watch?v=stunxvGDqTM]
Women sweep emmy Directing drama and comedy categories
According to Deadline, Female directors hit another milestone at the 2021 Emmy Awards when The Crown's Jessica Hobbs won Outstanding Directing For a Drama Series and the 'Hacks' Director Lucia Aniello won Outstanding Directing For a Comedy Series, respectively marking the first time women have swept both directing categories in the same year.
[youtube https://www.youtube.com/watch?v=JWXfkjZUr4M]
Hobbs is being recognized for directing the Season 4 finale of Netflix's The Crown, and Aniello, who is the co-creator of 'Hacks' won for directing the HBO Max comedy's pilot episode.
[youtube https://www.youtube.com/watch?v=A8rpEleV4xs]
Jessica's win marks only the fourth time in sixty-seven years that the Emmy Award in the Outstanding Directing For a Drama Series category has been won by a woman. Lucia is the fifth woman ever to win the Outstanding Director For a Comedy Series Emmy making her only the seventh overall female director to top the category.
Debbie Allen Accepts Governors Award at the Emmys with a powerful speech
[youtube https://www.youtube.com/watch?v=criM_6HKL0w]
The multi-hyphenated choreographer, director, producer, and actress Debbie Allen was the Governors Award recipient at the 2021 Emmys. She was presented the award for her numerous contributions to television, her commitment to inspiring marginalized youth through the performing arts and mentorship, and her philanthropic endeavors.
She had a message for women and young people worldwide while accepting the honor: "From Texas to Afghanistan … it is time for you to claim your power, claim your voice, sing your song, tell your stories," Debbie said, alluding to the ongoing humanitarian crisis in Taliban-conquered Afghanistan as well as the recent anti-abortion legislation in Texas.
As reported by People, Allen's honor was introduced with a video recapping her life and career voiced by Gayle King before Jada Pinkett Smith, Grey's Anatomy's Ellen Pompeo, Director Ava Duvernay, and Michael Douglas who were holding canes in tribute to her Fame character and repeatedly tapped them on the floor as she made her entrance to a standing ovation.
"I am trembling with gratitude and grace," Debbie, 71, said in her emotional speech. "I'm trying not to cry and be equal to the situation, because it's been many years in the making — taking a lot of courage to be the only woman in the room most of the time. A lot of courage and creativity and faith to believe that I could keep going, and I have."
She thanked "everybody who's given me an opportunity to become Debbie Allen," including one of her most famous dance pupils, late Lakers icon Kobe Bryant and after waiting so long for this recognition, Allen made sure she had plenty of time to give her speech, "Honey, turn that clock off. I'm paying no attention to it, turn it off." "Turn it off," she said to the producers, upon seeing a countdown clock indicating how long she had to speak.
'The Crown' royally sweeps the Emmys
Netflix drama 'The Crown' was the big winner of the 73rd Primetime Emmy Awards taking home seven awards. The show won in these seven categories at the main ceremony – Outstanding Drama Series, Lead Actor in a Drama, Lead Actress in a Drama, Best Supporting Actor, Best Supporting Actress, Outstanding Directing for a Drama, and Outstanding Writing in a Drama.
In addition to this, they also won four awards at the Creative Arts Emmys announced last weekend for – Outstanding Single-Camera Picture Editing for a Drama Series, Outstanding Guest Actress in a Drama Series, Outstanding Cinematography for a Single-Camera Series (One Hour), and Outstanding Casting for a Drama Series taking home a total of eleven Emmys this year
Last Week Tonight's John Oliver Pays tribute to norm macdonald and the writing team dedicate their win to adam driver
[youtube https://www.youtube.com/watch?v=u1etyxiQuT8]
Last Week Tonight's John Oliver continued its Emmy streak by snagging its sixth straight win in the Outstanding Variety Talk Series category by beating 'The Daily Show With Trevor Noah', 'Jimmy Kimmel Live!', 'The Late Show With Stephen Colbert' and 'Conan' who were nominated in the category.
The Brit thanked his producers and HBO as well as his staff and said: "I think like many of us in the room I was rooting for Conan so this is bittersweet. Thank you, Conan for 30 years of inspiring comedy writers."
"This is an award for late-night comedy, no one was funnier in the last 20 years than Norm Macdonald on late-night comedy," John paid tribute to Norm Macdonald, who died earlier this month." "So if you have any time in the next week, do what I did and spend some time watching YouTube clips of Norm and Conan, because it doesn't get better than that."
[youtube https://www.youtube.com/watch?v=uUPBWApqnLE]
The show also won the Outstanding Writing for a Variety Series award and one of their writers made it clear that the show wasn't done giving a hard time to the 'Star Wars' and Marriage Story star Adam Driver by saying: "And finally, we would like to dedicate this award to Adam Driver."
"He knows what he did, and we know what we'd like him to do," the show's writer said from the Emmys podium, and John could be seen nodding in the background.
This might confuse you if you're not a regular viewer of 'Last Week Tonight', however, as reported by Entertainment Weekly, "over the past year a running gag has developed of Oliver regularly making horny-but-surreal references to Driver, often in the midst of unrelated monologues" such as referring to Adam as "human wall" or daring the actor to "crush my ribcage, you load-bearing behemoth."
RuPaul breaks the record for the most Emmy wins by a person of color
[youtube https://www.youtube.com/watch?v=1fX_19_Dy8I]
The host and producer, RuPaul broke the record for the most Emmy wins by a person of color as "RuPaul's Drag Race"- the most-awarded reality competition show at the Emmys, was named 'Outstanding Competition Program at the ceremony. As per Variety, RuPaul had tied the record for the most-awarded person of color at the Emmys with cinematographer Donald A. Morgan during the Creative Arts Emmy Awards where the show won four awards in total.
He broke another record that evening by winning Outstanding Host for a Reality or Competition Program for the sixth year in a row and he had also already made history by breaking the record in the category last year.
'I Will Destroy You' star Michaela Coel dedicates Emmy win to survivors of sexual abuse
[youtube https://www.youtube.com/watch?v=7FI6kwRFRtU]Sir Patrick Stewart presented the award to Michaela Coel who won the Emmy for Outstanding Writing for a Limited or Anthology Series or Movie for her deeply personal HBO's 'I May Destroy You' and the star dedicated her win to survivors of sexual abuse.
"Write the tales that scare you, that make you feel uncertain that isn't comfortable. I dare you. In a world that entices us to browse through the lives of others to help us better determine how we feel about ourselves and to in turn feel the need to be constantly visible, for visibility these days seems to somehow equate to success," Coel said.
"Do not be afraid to disappear from it, from us, for a while and see what comes to you in the silence," Michaela added.
Ted Lasso dominated the Comedy Categories
Ted Lasso won big at Emmys 2021.
The Apple TV+ Original series – Ted Lasso dominated the Comedy categories at this year's Emmys by winning – Outstanding Comedy Series, Outstanding Lead Actor in a Comedy Series, Outstanding Supporting Actor in a Comedy Series, and Outstanding Supporting Actress in a Comedy Series.
Meanwhile, Jean Smart took home the Outstanding Lead Actress in a Comedy Series for Hacks and 'Saturday Night Live' won the Emmys for Outstanding Guest Actor in a Comedy Series and Outstanding Guest Actress in a Comedy Series.
Mj Rodriguez made Emmy history as the first out trans woman nominated for lead actress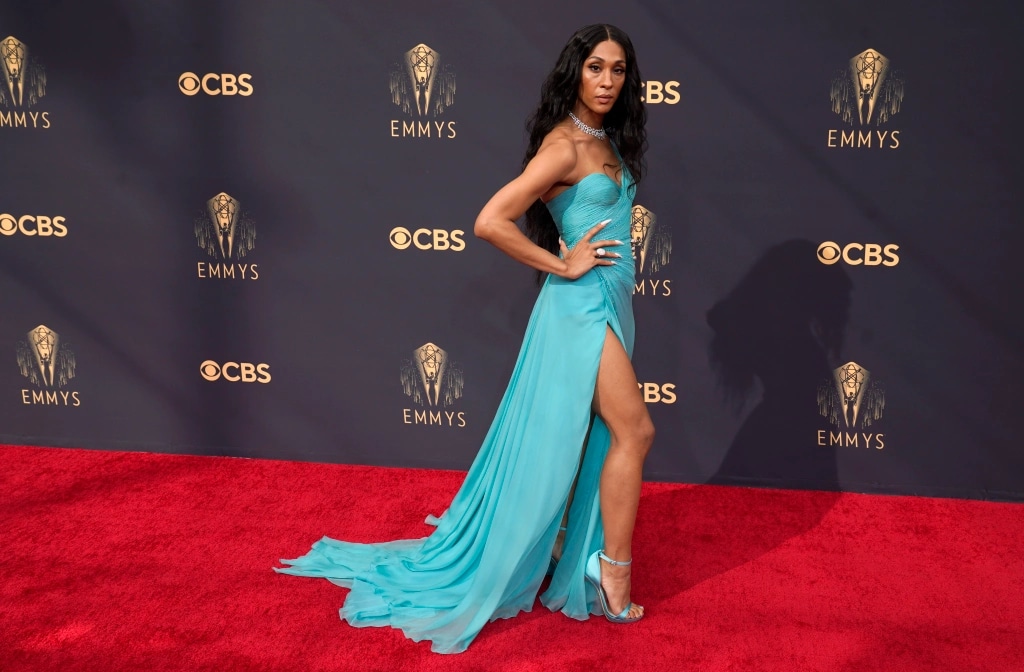 MJ Rodriguez arrives at the 73rd Primetime Emmy Awards on Sunday, Sept. 19, 2021, at L.A. Live in Los Angeles.
Mj's Emmy Nomination for the Best Lead Actress in a Drama is one for the books not only for her but the entire LGBTQIA+ Community. She became the nominee because of her powerful portrayal of Blanca Rodriguez – a warm mother figure who takes displaced teens under her wing in the House Evangelista on the show 'Pose' that navigates the AIDS crisis, racism, homophobia, and more issues in 1980s New York City.
"For me being recognized by my peers and by my colleagues, it just means the world for me," Rodriguez told Entertainment Tonight.
This is not the first time "Pose" has made history as in 2019 Billy Porter became the first openly gay Black man to win an Emmy in the lead actor category.
"It's kind of surreal — I never thought that I would be in the category with all of these other amazing women I get to share the space with," Rodriguez, 30, told The Post. "And it just goes to show that not only the Academy sees me — but the world sees me, and they respect my womanhood."
Kerry Washington honors Michael k. Williams
[youtube https://www.youtube.com/watch?v=vB1fxCdIu1A]
The 'Scandal' star Kerry Washington paid tribute to the 'The Wire', 'When They See Us' and 'Lovecraft Country' actor Michael K. Williams who was nominated for Outstanding Supporting Actor in a Drama Series in July. The actor who portrayed Montrose Freeman, a father with a complex and secret-filled past in HBO's 'Lovecraft Country' passed away just two weeks before the 2021 Emmy Awards.
Washington who was there to present the Emmy for the category, took a moment to honor Williams, saying "Michael was – crazy to say was – a brilliantly talented actor and a generous human being." Kerry said the amazing actor "left us far too soon" while holding back tears. "Michael, I know you're here, because you wouldn't miss this. Your excellence, your artistry will endure. We love you."
Most Wins at the 2021 Emmys
The winners that snagged the most Emmys are –
The Crown – 11
The Queen's Gambit – 11
Saturday Night Live – 8
Ted Lasso – 7
The Mandalorian- 7
Love, Death & Robots – 6
RuPaul's Drag Race – 5
Mare of Easttown – 4
Netflix won 34 creative arts Emmys
Creative Arts Emmys are given out to behind-the-scenes personnel and were presented in three ceremonies on September 11-12. These honored outstanding artistic and technical achievements in a variety of television program genres which included guest performances in weekly series, as well as exceptional work in the animation, reality, and documentary categories.
With the help of 'The Queen's Gambit' (nine wins) and 'The Crown', Netflix garnered thirty-four Creative Arts Emmys while Disney+ took home the second-most awards – thirteen wins. HBO and HBO Max followed right behind with ten awards and NBC's 'Saturday Night Live' scored seven pieces.
Seth Rogen called out the Emmys for covid-19 protocols
[youtube https://www.youtube.com/watch?v=–40TEbZ9Is]
Seth Rogen announced the first Emmy of the night for Supporting Actress in a Comedy to Hannah Waddingham. He called out the Emmys for the lack of Covid-19 Safety protocols, saying, "Good to be here at the Emmy Awards. Let me start by saying there is way too many of us in this little room. What are we doing? They said this was outdoors. It's not."
He added, "They lied to us. We're in a hermetically sealed tent right now. I would not have come to this. Why is there a roof? It's more important that we have three chandeliers than that we make sure we don't kill Eugene Levy tonight. That is what has been decided."
"This is insane. I went from wiping my groceries to Paul Bettany sneezing in my face," Rogen continued. "So, that's a big week! If anyone's gonna sneeze in my face, Paul, I want it to be you."