"Oh my God, your Malayali accent is so sexy. Say it again!" If you've heard this, there's a good chance you recognize Steffy Sunny and her videos that are making rounds on Instagram. A resident of Delhi and an up-and-coming comedic digital creator, she recently rose to internet fame by creating relatable content that encapsulates the witty reality of a Malayali household.
I spoke with the hilarious Steffy Sunny in what could be summarised as the most entertaining call of my life. We talked about her creative muse, interaction with her followers and celebrities, future plans, and more!
https://www.instagram.com/reel/CSbwhakI4l-/
Other than the occasional Malayali accent videos, Steffy is best known to play the 'Malayali mother' character. This character laid the foundations of her content, all thanks to her mother! Steffy's refusal to join her mother to church one day caused bickering between the two, which was also the theme of her first video. Her mother is the direct muse of her creations. "I'll do random mischief at home, it backfires, my mom yells at me, and I convert that incident into a video," she jovially reminisced. 
The muse, however, remains unbothered with her creations. "She does watch my videos, but her reactions are normal. And by normal, I mean she asks, "will you get money doing this?" Then I have to try and explain how I can monetize it. When I tell her that my videos hit a million views, she'd simply go, "entha? Onnu pokunundo evidunnu" (What? Could you get going?)." These reactions are apt, expected, and satisfactory, according to the creator herself. 
With time, the interactions on her videos increased, and Steffy felt the need to up her creative ante. She diverged from observing not just her mom but also other Malayali aunts and relatives. She would befriend them to inculcate their mannerisms and slang while keeping her mother's powerful voice. "I often pick up slangs that my mother or my grandmother uses. Belonging to a typical Christian Malayali middle-class family, these are words we hear almost on a daily basis."
She has proudly shown her videos to her relatives in Kerala. "While my mother is quite monotonous with her support, my aunt (her mother's sister) is super helpful! I told her that I wanted to create videos, and she instantly said, "edi, ende nighty itondu poyiko!" (Girl, take and wear my nighty for it!)."
https://www.instagram.com/reel/CRyjGR2nwq0/
Steffy tasted the essence of going viral with one of her 'Malayali mother' videos (see above). Still pretty unbothered by the blow-up, she continued enjoying the process of doing what she loves. But soon enough, her first Malayali accent video spread like wildfire, garnering millions of views within days; her videos circulated on WhatsApp; friends and family reached out to her sharing the big news! "I was inspired by Sulochana KC (who started the trend) and thought of adding my twist to it. But I did not expect the blow-up at all. I did it only because it was trending back then. I am overwhelmed with messages from people who loved it," recalled Steffy.
Many renowned celebrities from Kerala and outside were amongst those who reached out to Steffy. The likes of Poornima Indrajith, Maya The Drag Queen, Sreenath Bhasi, Shyam Prakash, to name a few. "This was something different! I was so happy to have received their messages, have some of them follow me, or them telling me that my videos cracked them up. Getting appreciation from people of all spectrums made me feel content."
She talks about one fun incident of meeting some followers in person in her hometown of Delhi. "I saw three people here who were repeatedly staring and pointing at me. My friends were amused by it and invited them saying, "Yes, this is her!" I was quite embarrassed but felt novel at the same time," Steffy recollects while still being quite shy about it. The high rise to fame was not devoid of criticism. She talks about having to deal with criticisms with her Malayali accent videos, with some people entitling it as 'mockery'. "I try my best to not offend people through my acts. I go to lengths to keep it entertaining only." It initially bothered her to witness the backlash but was comforted seeing the support pouring in for her under the same critique post. "Seeing the support made me want to channel my energy into working hard, focus on my bettering my content," she says while also discussing her future prospects.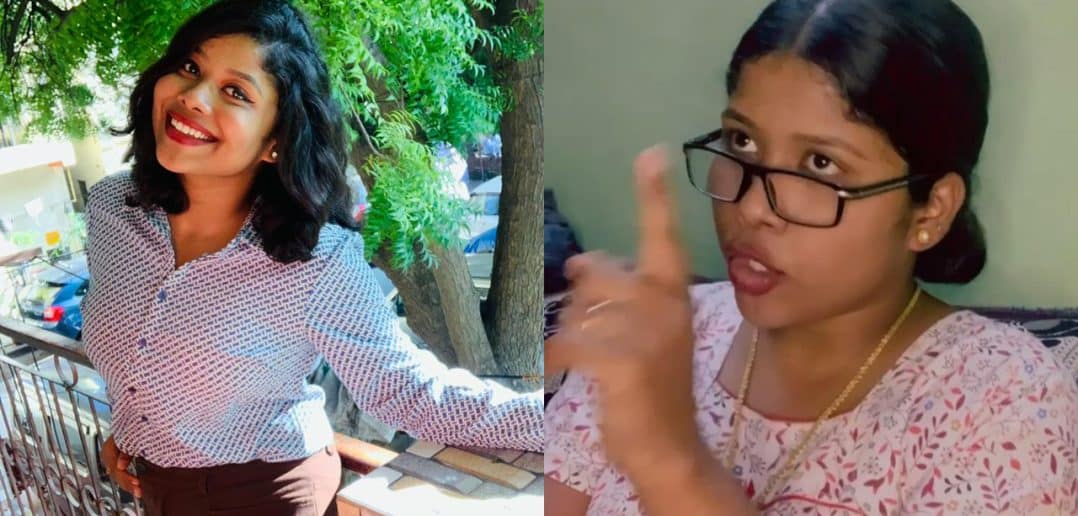 Steffy Sunny playing the 'Malayali Mother' character.
Like most up-and-coming digital creators, Steffy balances her day job and content creation simultaneously. "By god's grace, I am balancing it quite well. I try my best to upload two videos a week. I need those two videos to be powerful and perfect, and not post something for the sake of it," says the chirpy creator. She acknowledges that turning content creation into a full-time gig will take longer. "I will totally be on board to do it full-time. But that will only happen If I am confident in myself, enough to feel that I can do this on my own."
As we neared the end of the conversation, I asked her to part by sharing her advice for up-and-coming content creators. In the words of Steffy Sunny herself: "I will ask those starting to upload content on the internet to not focus on numbers or be demotivated if their content doesn't hit their desired reach. Because I believe it takes the fun and passion out of creating content. Even I had to struggle quite a bit in the beginning to reach the little milestone I am at now. And I thoroughly enjoyed this growing process because I get appreciation from people who view and relate to it."
Follow Steffy on Instagram: HERE