In the life of an avid music or podcast listener, long hours of listening with continuous use of headphones, earphones or earbuds can lead to extreme ear fatigue and also in the long run can cause you to lose your hearing. So how does one satiate the need to listen longer without deafening themself? The smartest, simplest and most compact solution would have to be a wireless Bluetooth speaker, which is just big enough for you to feel what you hear, and mobile enough to carry around. We've put together a list of the top 10 affordable portable Bluetooth speakers for you to pick and choose from, aiming at fulfilling your sonic necessity and your wallet's elasticity!
Amazon Echo (4th Gen)
Price (Approx.): $135

The new 4th Gen version of Echo by Amazon is quite the prize where sound quality is concerned, as its powered by Dolby Audio. Apart from that, the biggest boon with this range of products is the brain – Alexa. Amazon's brilliant AI is progressing every minute with the scope to add personalization to tasks which can range from playing music, online shopping, playing audio through other audio devices like home theatres or portable headphones, etc., home appliance controls like your air conditioner, TV, geysers, etc., and a lot more. If you are open to digitizing your way of life, an Alexa-powered Echo device is the best companion to walk you into the future!
JBL Flip 5
Price (Approx.): $150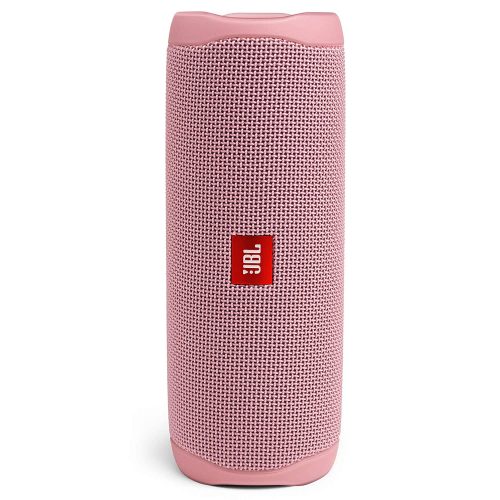 One of the most popular and great sounding affordable Bluetooth speakers in the market right now is the JBL Flip 5. Over the years, JBL have experimented and attained what you can call a signature sound with the Flip series of speakers – punchy bass, great body and a clear treble section which is surprisingly not at all harsh and does not distort when played at loud volumes. This speaker has enough headroom to host a house party on, adding value with a PartyBoost pairing mode to either convert into stereo or link multiple compatible JBL portable speakers. It brags of having 12 hours of playing time and is IPX7 Waterproof, which means that you can enjoy your listening experience even in the rain or wet surroundings like the beach or poolside.
Bose Soundlink Color II
Price (Approx.): $155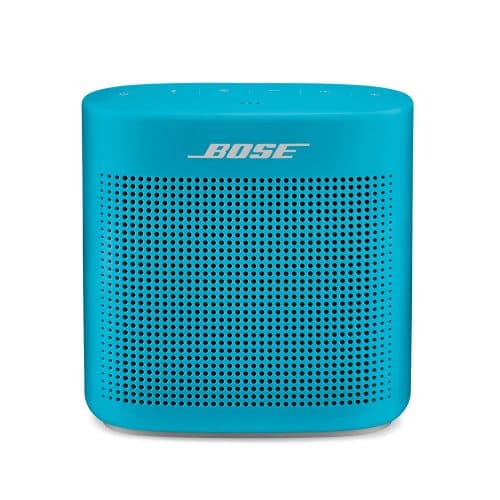 Considering the name Bose, which one often associates with a hefty price tag, the Soundlink Color II, for a reasonably priced water-resistant portable speaker, is packed with features that make it quite a steal. A comfortable size good enough to fit into a backpack, it perfect if you're on the go and can't live without superior sound at hand. It's been designed in a way that give you enough of low-end punch without vibrating too much, making it stable at the edge of the table. It's enabled with a microphone that helps you send voice commands to Siri or Google Now and other such voice assistants. Featuring a long seamless Bluetooth range of 30ft. and voice-prompted quick pairing capability, it allows you to shift between devices quickly. The company has also developed the intuitive app 'Bose Connect' which helps you customize your own listening experience from your phone or tablet, allowing you to future product features and install software updates.
Portronics SoundDrum L
Price (Approx.): $95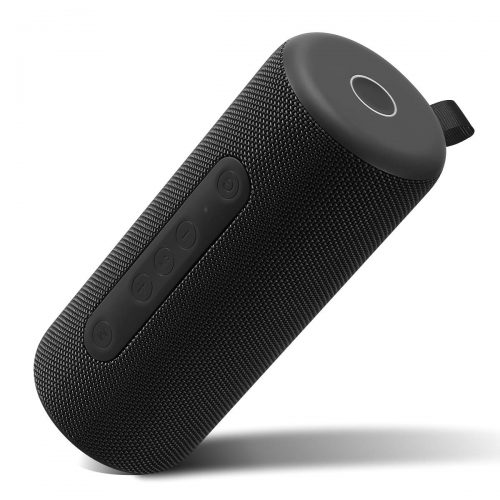 Packed with features in a classy looking chassis, the Portronics SoundDrum L allows the provision of connecting an aux cable as well as a USB pen drive slot securing your need to party at low-network locations as well. It offers you the option to adjust the bass and treble according to your taste and liking with a built-in equalizer button. You can also pair 2 SoundDrum L speakers to create a wireless stereo listening experience. What's more, it comes with a microphone to enable you take calls or access your voice assistants on your phone or tablet and is IPX6 water resistant. To sum it up, a great economical choice packed with features under $100.
Sony SRS-XB23
Price (Approx.): $150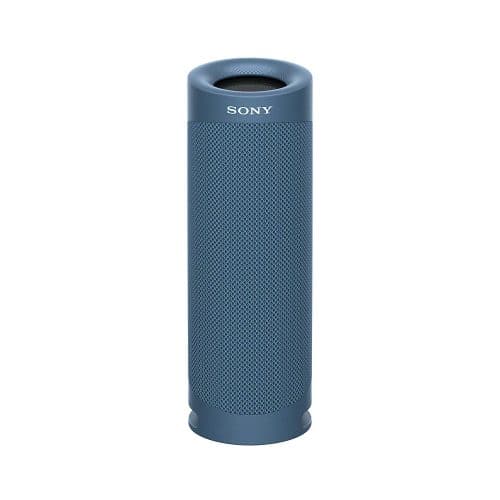 Sony's Extra Bass range stretches across various product categories and is known for quenching the thirst of listeners with an affinity for low end. Their SRS-XB23 portable speaker is built with apocalyptic durability in mind. With an IP67 rating, it boasts of being waterproof, rustproof, dust-proof and washable! For those who like to party, it can last for 12 hours, and 10 hours in Extra Bass mode. Never lose that rumble! The speaker is equipped with a microphone for answering calls or communicating with your phone's voice assistance software. The Party Connect feature can prospectively connect 100 compatible wireless speakers being able to play the same song seamlessly and simultaneously from all of them. You can use the 'Sony | Music Center' app to control your music and customize settings, add playlists, etc.
boAt Stone 1200
Price (Approx.): $95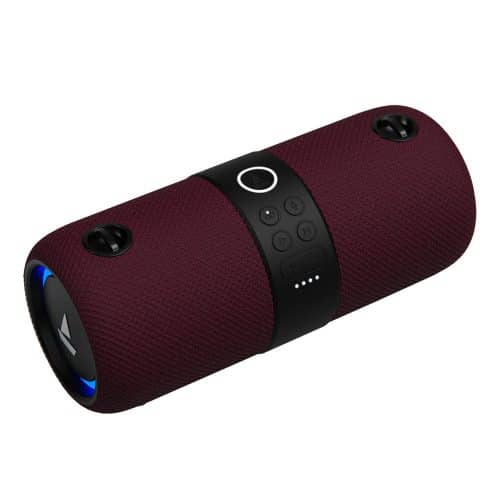 A powerful portable stereo speaker that's got LED lights to brighten up the vibes, the boAt Stone 1200 is a nifty device to have. It can last for up to 9 hours without, and 7 hours with the LED lights on. It comes with a strap for carrying convenience, which you can choose to use or not. Additional to Bluetooth playback, one can also connect an aux and USB into it and it also comes with FM radio. It has soft-touch buttons that allow you to toggle between songs and volume levels, has TWS (True Wireless Stereo) and can be paired with other compatible speakers for expanding the listening experience. Like most of the other speakers on this list, it also has a microphone that allows you to talk hands-free or use Siri or Google Now, and is a great deal for a modest price.
Infinity Fuze 100 by Harman
Price (Approx.): $40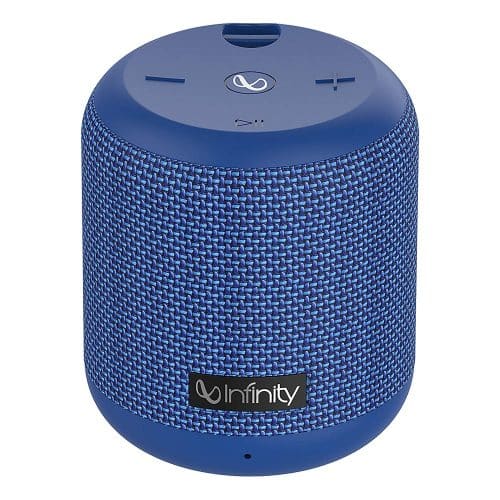 Unlike most of the other speakers in this list, the Infinity Fuze 100 is way more compact in size, is ideal to take into the shower or even kept nearby a pool with its IPX7 water resistance. Overall, the brand Infinity, which is a collaboration between Harman Kardon and JBL, is aimed at bringing high quality sound at whopping low prices. This petite portable speaker has Deep Bass mode which can be activated and deactivated by pressing the plus and minus volume buttons simultaneously. It comes with most of the features that are present in it's bigger-sized compatriots in this list – dual pairing capability, built-in microphone for handsfree calling and accessing voice assistance software like Siri or Google Now, thick durable fabric body for dust protection and 9 hours of playtime – only at a better price and a smaller size. Completely worth it!
Tribit Stormbox BTS30
Price (Approx.): $95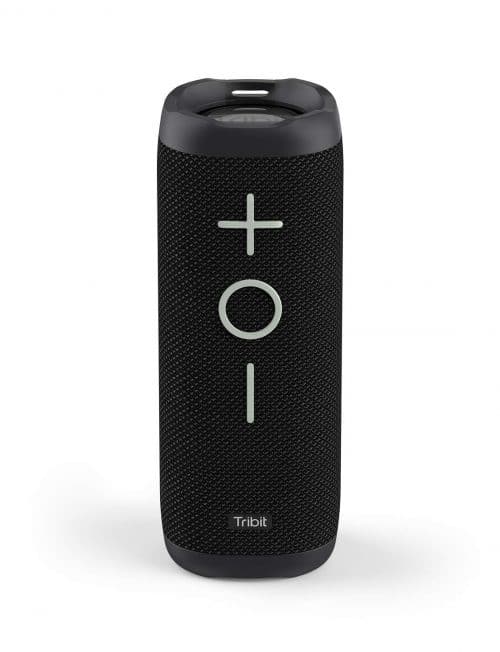 Really meant for the rock-star lifestyle, the Tribit Stormbox BTS30 portable speaker boasts of 20 hours of playing time, is IPX7 waterproof and can last for up to 30 minutes submerged underwater to a maximum depth of 3ft. Really intent on livening up the party, it has an exclusive XBass activation button, which makes the low end extra punchy for those who like the boom-boom. Another notable feature is that it is a 360-degree projection, which can be useful in an open and a closed environment. It's designed with a durable fabric body to withstand dust, sand, rain, dirt and the likes. Like many of the speakers on this list, it can be paired with compatible speakers of the same brand. But, mainly, it is also Alexa compatible and can be used as an additional speaker if you already have any Amazon Echo device. All this under $100. A real banger!
Amkette Boomer FX Plus
Price (Approx.): $50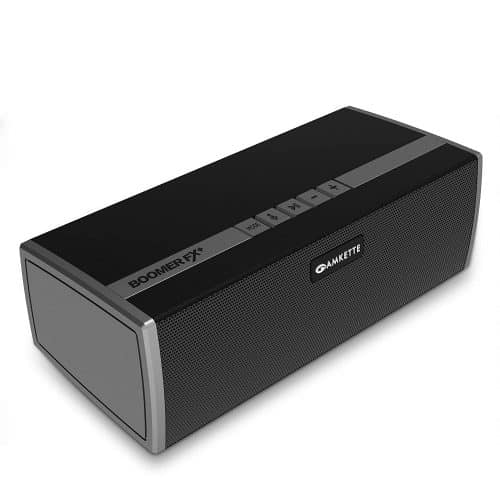 A feature-heavy portable speaker long-lasting playback time of 16-20 hours and a USB port in case your phone runs out of battery, the Amkette Boomer FX Plus is loaded with twin drivers for superior clarity and a separate bass radiator for superior bass. The acoustically optimized design ensures the delivery of punchy music without excessive vibrations. Additional to the USB slot which can be used for playback and charging, it also has an aux input, SD card slot and FM radio. What can be seen as a value add is that it also comes with a dedicated Voice Assistant button. Like many products above, the option of pairing with compatible speakers is also available. A huge bargain where price and features are concerned. Definitely a good decision if you want to spend sparingly.
Zebronics Zeb-Music Bomb X
Price (Approx.): $75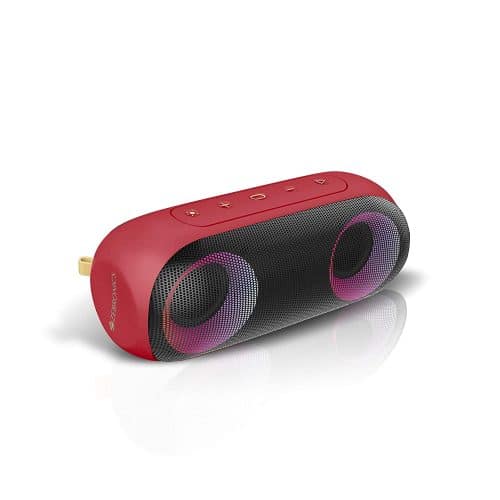 With a great build, snazzy looks and some fancy LED lighting options, not to forget great clarity when it comes to sound, the Zebronics Zeb-Music Bomb X speaker can give you a playback time of about 20 hours if run at a decent volume level. This is not the speaker you want if you desire deep and boom-y bass, but sounds punchy enough even when pushed up to 80-90% of its headroom. It has 9 RGB LED light modes to set the vibe for your house parties. You can also use it in the shower or a beach or poolside because it is IPX7 water resistant. It has dual drivers for more clarity, multiple source playback options besides Bluetooth such as an aux input and a micro SD card reader and comes with a metal hook which can be attached and detached to clamp it on to your bag or belt.
All the portable speakers in the list above have many common features and it totally depends upon you to make your decision by evaluating what your priorities are as you choose what suits your pocket or your desire for great sound or maybe a mixture of both. There's a range of options to choose from, and bear in mind that the prices listed are the MRP. Many online stores or even electronics stores or malls have special offers and discounts going on practically all year round. So, don't wait for those offers to expire, go and make your pick, now!
P.S.: Click below to explore other affordable wireless audio products –
Top 10 Affordable Wireless Bluetooth Headphones
Top 10 Affordable Wireless Bluetooth Earbuds
All product images from - Amazon.com