World-renowned painter Frida Kahlo's works are getting a larger-than-life immersive experience in her hometown of Mexico City. The "Frida: La Experiencia Inmersiva" or simply "FRIDA" opened its gates on what would have been the painter's 114th birth anniversary on July 6th, 2021.
Fans of Frida can now relish the 45 minutes screening of some of her best works at Frontón México. The show reproduced 26 paintings by Frida animated on the walls and floors with the help of more than 90 projectors and 50 speakers for 360-degree visual coverage. The initiative comes following the vast success of the Van Gogh immersive experiences set across multiple venues. 
Avant-garde screening of Fridas paintings
"I believe that Frida was very avant-garde and modern, so this fits perfectly. She was a woman ahead of her time," said the painter's great-grandniece, Mara de Anda, to AFP. She states the motive is "to get to know Frida's paintings, which have been around the world, but with a little bit of familiarity and intimacy."
Frontón México, an art-deco entertainment venue in Mexico city – features Girl with a Death Mask, Me and My Parrots, The Two Fridas, The Broken Column, and more! The screening incorporates narrations from Frida's personal letters and journals along with Mexican music she listened to while working. 
According to Cocolab, "FRIDA is an immersive, multi-sensory experience that takes the work of artist Frida Kahlo and presents it on a monumental scale accompanied by music, scenography, sculpture, interaction and digital animation."
Celebrating the life of Frida Kahlo
The phenomenal exhibition took almost two years in the making, largely impeded due to the pandemic. It intends to serve as a connection to the people who revere the late celebrated painter. The screening will walk one through the childhood, ailment, relationship of Frida, with some never before heard information.
"You can also listen to the music she listened to, you can see details of her work, [and]you can also find out family secrets," said another great-grandniece of Frida.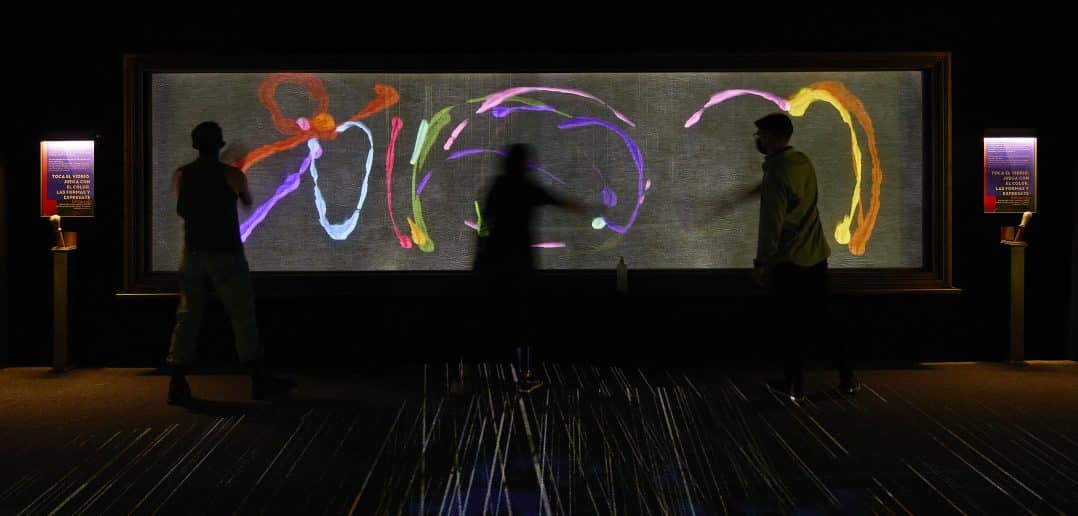 Image Acquired Via Cocolab.
The exhibition includes two interactive activities for the visitors. "Free Stroke" lets the public run amok with their digital designs on a screen with large brushes, whereas "Fantastic Creatures" gives them an option to select characters from Frida's paintings they relate with the most. The texturous and permeable wall of the exhibition attempts to heighten the immersive experience for its visitors. 
FRIDA is open to visitors from Tuesday to Sunday, from 10 AM to 7 PM. Ticket prices range from USD 280 (INR 20,674.78) to USD 300 (INR 22,151.55) and are listed until the end of this year. Find it here.
This article is part of TFword's Where In The World Series, find the previous article from the series below!
Feature Image Via Razon.