The spooky season is here with Halloween right around the corner. Some of us may have already started doing a horror movie marathon or playing scary video games. For others, it's time to transform our homes into haunted houses with scary sounds, frightening lights, eerie decorations, and getting ready for trick-or-treating. Today there are a gazillion stores to choose these spooky products from.
Take a look at some of these stores selling spooky products for Halloween ranging from accessories, stickers, masks, props, decor, etc.
Fleurir by Shiuli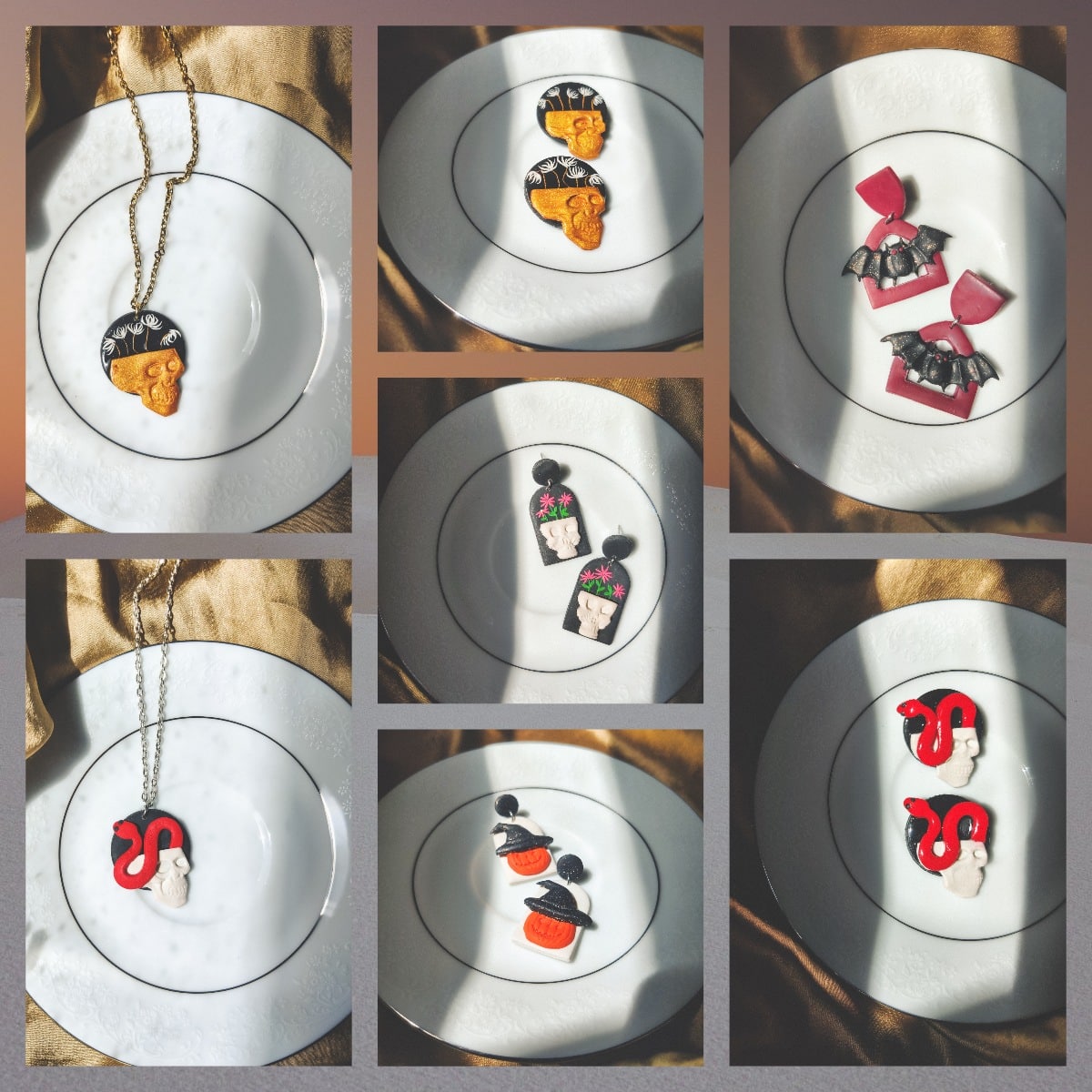 Based out of Bombay, India, Fleurir by Shiuli is a one-woman army behind the business of handmade polymer clay jewelry. Shiuli is a Learning and Development professional. Much like many of us who utilized the time on our hands to learn new skills, express ourselves in unique ways, Shiuli started FBS during the lockdown. Shiuli crafts jewelry and accessories handmade with polymer clay.
"Polymer clay is a manmade clay that is extremely durable when baked. I experiment with various styles and techniques, but I particularly enjoy working with highly detailed pieces," the owner of Fleurir by Shiuli, Shiuli, who runs this business said.
As part of the Halloween launch, FBS is offering five styles wherein you can find earrings, necklaces, and brooches that range from Jack-o'-Lantern to bats and other spooky elements. They are crafted with a special FBS touch.
All the products at FBS are made of polymer clay, and each product is crafted in small units only to ensure the exclusivity of your pieces. Shiuli added, "the Halloween range features superior quality metal elements to ensure your pieces will last you a long time."
Excluding shipping, Fleurir by Shiuli's Halloween-related products are priced anywhere between INR 300-600 (USD 4-8.01) and can be bought directly from the FBS website.
Find Fleurir by Shiuli on Instagram: HERE
Check out Fleurir by Shiuli's website: HERE
Stationery Moon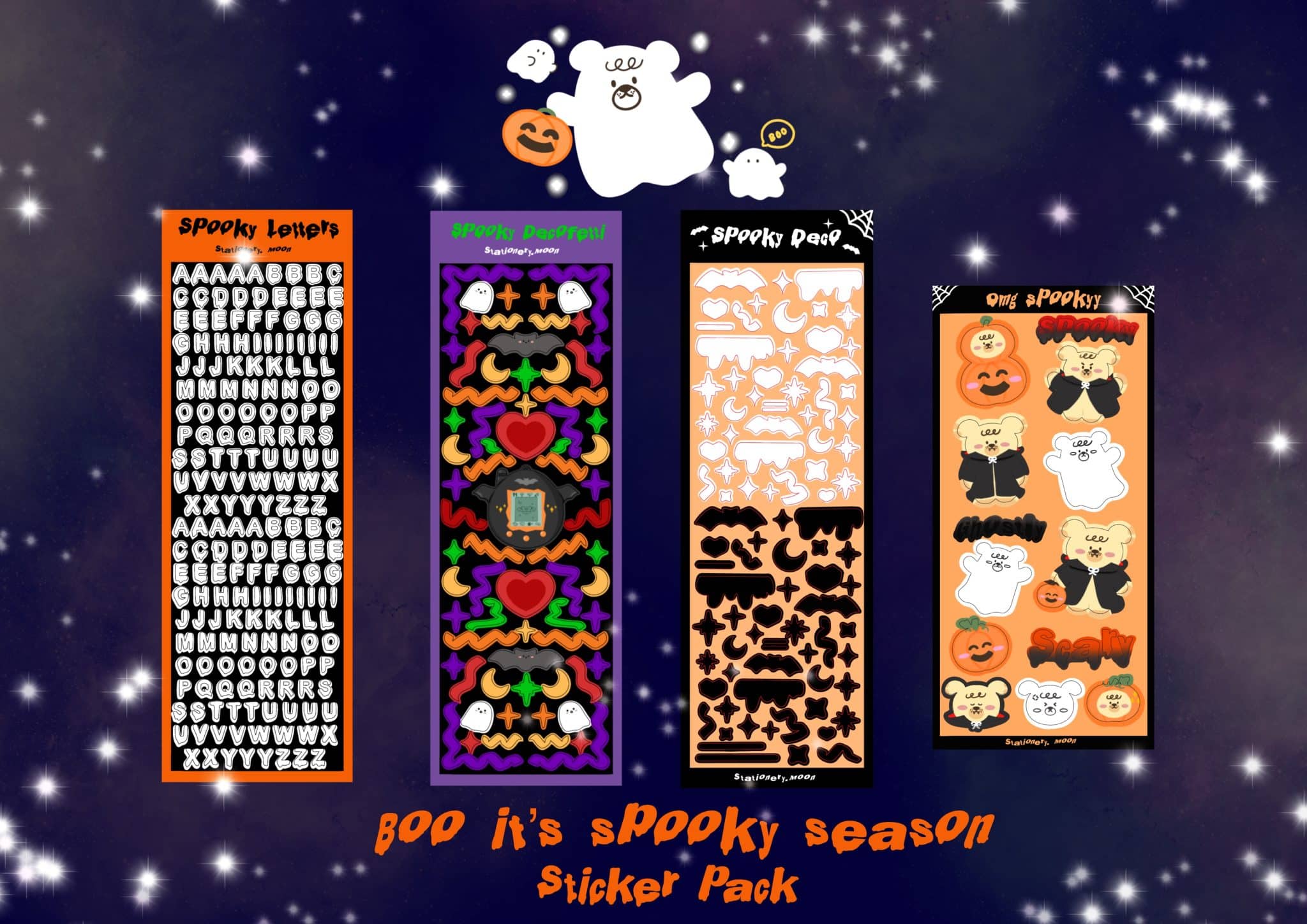 Lirica Machado, the owner of Stationery Moon, started this small venture out of her sheer love for art and stationery. "I must say this small business means a lot to me and every order fills me with joy. Since I've graduated from university now, I'm happy that I can pursue running this shop full time now," said Machado, whose small business is now ten months old.
However, things might not stay the same for Stationery Moon but change in the future as Lirica expressed her wishes, saying, "I dream to branch out this small dream of mine and introduce more self-illustrated products in the future."
All the designs at Stationery Moon have been illustrated by her. "I usually find inspiration from surroundings, things I love, my favorite artists, and mood boards I create for myself," she said of her products. The products available for sale at Stationery Moon are Stickers (Holographic and Non-Holographic), art prints, acrylic keyrings, enamel pins, washi tape ( decorative tape), and she will be introducing handmade resin keyrings as well!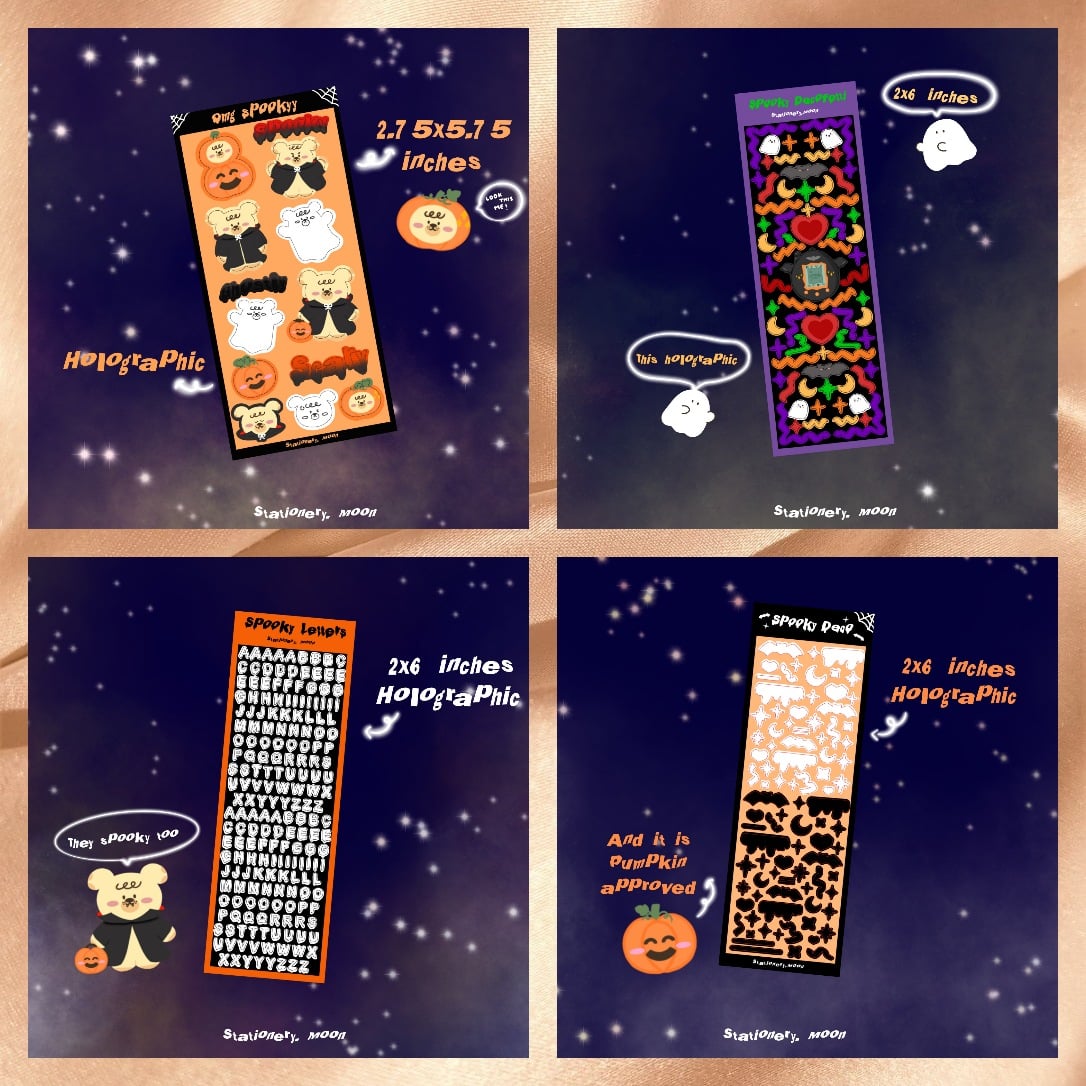 The Halloween-themed products available at Stationery Moon are stickers along with a complimentary art print. These stickers come in four designs, two being small decoration stickers (popularly known as deco stickers), alphabet stickers, and a sticker sheet consisting of Lirica's original character which is a puppy named Tommy dressed up as a vampire, ghost, and a pumpkin (popular Halloween symbols).
All the stickers will be sold as a kit and not individually. Since Stationery Moons products are stickers, they are made of sticker vinyl paper and are laminated with a waterproof holographic laminate. At the moment, Lirica does not offer any custom-made products, however, she said, "maybe next year I'll be able to put out some slots for customs like art commissions or resin pieces."
"All the sticker designs are actually made from a small poll that I did on Instagram and picked the most popular choices," the owner of Stationery Moon explained.
The spooky sticker set will be sold for INR 280 (USD 3.72) (4 holographic sticker sheets + art print + a freebie sticker) and it will be available for pre-order (till all the slots get filled). You can purchase it on the Stationery moon website as well as the store's Instagram.
Find Stationery Moon on Instagram: HERE
NJ Party Shop
NJ Party Shop caters to the customers who are looking to celebrate their birthdays or baby showers, anniversaries, etc. Some of the party supplies they offer are DIY stuff, balloons, banners, and more! They are catering the entire party supplies across all the occasions.
"Be it a birthday, baby shower, bachelor/bachelorette party, anniversary, pre-wedding, farewell, welcome-party, baby-welcome, you name the occasion and we have the party supplies for it," said Nikesh, the co-owner of NJ Party Shop.
https://www.instagram.com/p/CUmFgDJKSz6/?utm_source=ig_web_copy_link
Other than that, NJ Party Shop is also into seasonal and festival occasions like Valentine's, Diwali, Halloween, and Christmas. They have physical stores in Pune, Mumbai, and Hyderabad, as well as a website wherein they have their e-commerce and they deliver party supplies pan India.
Jiya Lalwani is the CEO of NJ Party Shop, a brand that was started in 2017. It has been almost close to 4-5 years since its inception.
The spooky products for Halloween at the store include scary masks, eye masks, superhero masks, Joker masks, Dracula masks; witch caps, blood bandages, blood tablecloth, blood glass, blood sword headbands, costumes, props such as toy weapons like a trident or a knife, big and scary toys that work on a sensor, and LED musical toy. It also includes paper decor such as 'Happy Halloween' flag banners, buckets, and baskets, trick-or-treat baskets, and so much more exciting stuff!
"This year we are also providing Halloween treats because there was a lot of demand for it last year. Therefore, there has been a new category added – 'spooky chocolates'," said Nikesh, who is also the head of Digital Marketing at NJ Party Shop. "The way they are shaped is into a skeleton or a pumpkin," he added. Apart from this, NJ Party Shop also offers makeup which includes black lipstick, fake blood, fake teeth, fake blood-making spray, etc.
Speaking of the Halloween products, Nikesh said, "You know when we started selling Halloween related products, we thought the mask is something that is prominently going to do well but what we realized over a period of time is that people, especially girls, want to go to the Halloween party also but at the same time, they want to look beautiful."
He continued, "And not everyone is comfortable wearing a mask, after a while, it starts getting uncomfortable. So, that's why people have started using this makeup, they've started using these scary tattoos, that actually look like real wounds." The three main components that these products are made of are paper, plastic, and rubber.
According to Nikesh, who looks after the marketing operations, NJ Party Shop "is a mix of 2-3 worlds." He said this as they import these products. Few of them like the paper items are manufactured or customized, while others are bought/purchased locally from wholesalers. They also have in-house designers, the printing happens in-house.
https://www.instagram.com/p/CU9Nlj8KldZ/?utm_source=ig_web_copy_link
"Sometimes, we do customize as per the client's requirements because our target audience consists of kids, so for kids, they have their school parties, parties in their societies then followed by adults who from the 30th/31st have these disc or lounge Halloween nights," said the co-owner.
"This audience comes to us and we also have these restaurants and lounges coming to us. Sometimes, they look for big decoration items, customized decor so for these kinds of customers we do the customization part."
He said their in-house designers try to understand the requirements of the customers along with them. They also have a tie-up with a few of these restaurants and pubs that don't want to do the decor themselves. NJ Party Shop "has a tie-up with the event planners and then they get the stuff from us. We provide them (the restaurants or pubs) with the event guy who can do the set-up part," Nikesh explained.
Every product has a price of INR 50 (USD 0.67) onwards. It starts from INR 50, then you have the toys that go up to INR 3000- 4000 (USD 39.99 to 53.33). The costume would start somewhere from INR 400-500 (USD 5.33 to 6.66) and go up to INR 2000 (USD 26.66) whereas the props and accessories would be somewhere in the range of under INR 1000 (USD 13.33).
People residing out of Pune, Mumbai, and Hyderabad can purchase at NJ Party Shop's physical stores. But those looking to purchase outside these locations can either buy them from their website, and NJ Party Shop will deliver them via courier across any city in India. "In case they are not comfortable with buying on the website, they can always call us or WhatsApp us," Nikesh said. The orders of these customers are taken on Whatsapp.
NJ Party Shop also provides small consultation to people who want to understand what all they would need while celebrating different occasions. Speaking of these consultations, Nikesh said, "In those cases what we do is we ask them to send their venue photos, what the entire look is like, what are the lights and accordingly suggest them decor that would best go for their parties."
NJ Party Shop is into B2C – that is they directly deal with retail and they are also into wholesale.
Check out the NJ Party Shop website: HERE
Find Halloween Costumes, Scary Masks, And Decorations on the NJ Party Shop website: HERE
Contact NJ Party Shop on this number: +91-8411902826
Ayka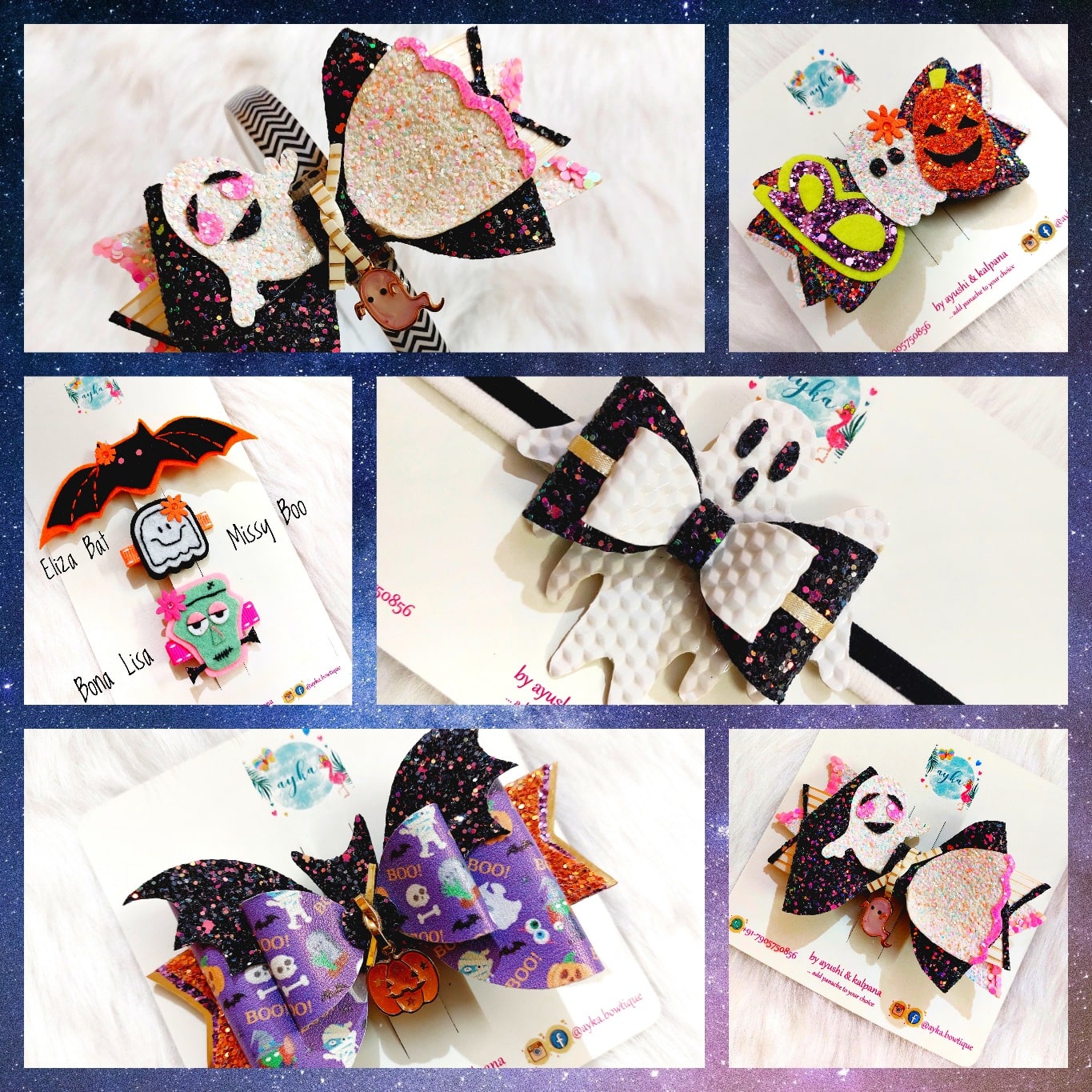 Ayka stands for Ayushi and Kalpana i.e. twinkling of Mother-Daughter duo. It is a "house of premium handmade hair accessories and bracelets for Kids and Chicks" said Ayka. Ayka is based in Varanasi, Uttar Pradesh, India. They make their products "using premium quality raw materials procured from India & Western countries with the motive of adding panache to the choices of Moms, kids and Girls" said Ayushi.
Their Halloween-related products include Hair Accessories such as Hair Bows, Hair Clips, Baby Headbands, Hair Bands, etc. Ayka said, "they are made to perfection keeping the theme of Halloween giving them the cute, quirky, and spooky look of Jack – O'- Lantern, Ghost, Skull, Bat, etc."
The Halloween Hair Accessories at Ayka are handmade using premium faux leather, non-shredded leatherette, felt fabric, and non-tarnished metal charms.
When asked whether they custom-make Halloween-related items/products for customers, they answered: "Yes, we make our designs, and we take custom orders of Halloween Hair Accessories. We make these products in all the variants: Snap Clips, Alligator Clips, Hair Ties, Soft Headbands, and Hair Bands".
The prices of Ayka's spooky products for Halloween are ranging from INR 220/- to 550/- (USD 2.93 to 7.33). You may buy Ayka's spooky products for Halloween via their Instagram and Facebook Direct Messages, or contact them on their WhatsApp number (+91-7905750856) and Email ([email protected]).
Contact Ayka on WhatsApp: HERE