There's something special about the form that Brooklyn-based Bastard Jazz Recordings has taken since its humble beginnings in the early 2000s. The 20-year journey has been full of musical richness. The carefully-curated roster encompasses artists whose musical sensibilities range from hip hop to funk, soul to disco, and house to a unique selection of international sounds from across the globe. We wanted to understand how Bastard Jazz has been functioning independently for the last 20 years, and so we had a chat with label founder Aaron Schultz and some artists on Bastard Jazz.
Schultz reminisces how he was incredibly inspired by the Trip-Hop, Downtempo, and Nu jazz scene coming out of the UK and Europe at the time. It seemed like the ideal time for him to release these sounds in the United States as these genres were in a very nascent stage there. He also added that the label grew out of staying in this one lane, but it was definitely the "genesis", or the first spark that ignited the label. Some of the early signings on the label included young producers from the US working in this kind of downtempo sphere – a producer from LA named Saru, a production duo from Brooklyn called Mujaji, whose kitchen floor Schultz lived on for six months while he was between apartments in New York City, and a producer named Jugoe out of Cleveland, who now lives in Chicago. 
There's obviously been a lot of thought given to define the sonic space Bastard Jazz operates in. If you take a look at the roster now, talent ranges from Hong Kong's hypno-tropicalia duo Blood Wine or Honey to Naples' producer and songwriter LNDFK, and Mumbai-raised songwriter Kumail to Japanese producers Aru2 and Kzyboost. "It's very attractive to me when an artist already has a coherent vision for their music, and how they want to present their music put together before they come to us with their demos," said Schultz when asked about what stands out for him when taking a first glance at an artist. "Musically, it's really on a case-by-case basis, but I'm always intrigued by artists who take inspiration from the past but are very forward-thinking and don't fit neatly into any one box." 
There wasn't much rolling for a few years until in 2013 when Schultz's friend and former business partner Erik Schneider added some structure to the label. Bastard Jazz has seen steady growth since then, moving into doing full album campaigns and artist development, along with fixed budgets for projects, and more strategic planning when it came to releases.
One of the things the label has always been dedicated to is its commitment to producing vinyl even today. "Vinyl has always been integral to the Bastard Jazz identity – so much of our fanbase are DJs, collectors, audiophiles, and vinyl enthusiasts," added Schultz, when asked where this unrelenting urge to produce vinyl comes from. He also further explained the dedication even vinyl enthusiasts have, and the feeling of owning your own collection. "The real tactile sensation of holding a record in your hand, and reading the liner notes while listening to it on your home turntable can bring about a closer connection with that artist than just passively streaming something." He also added how vinyls are something you own and treasure, saying they "still get a thrill out of walking into a record shop in Paris, London, Singapore, New York, Mumbai, Tokyo, etc., and seeing one of our records on the wall."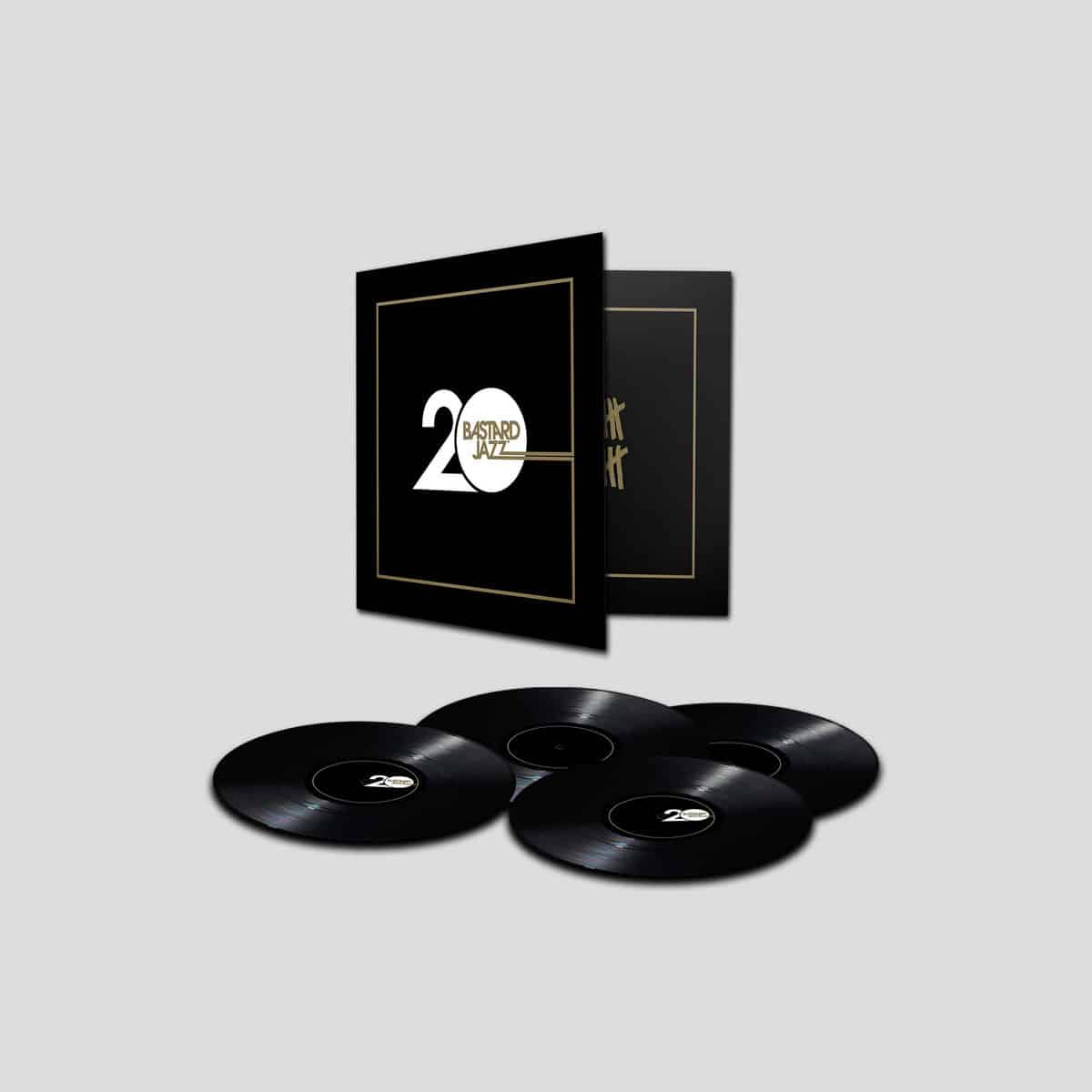 The '20 Years of Bastard Jazz' vinyl. More details on Bastard Jazz Recordings' Bandcamp.
Lucky for Bastard Jazz, matters became serious in a time when streaming was really picking up, and following 2013, they were transitioning from doing one-off 12"s or 7" vinyl singles & EPs to full album campaigns. They went through a major period of growth around 2017, when Spotify's user base doubled in one year, and the vinyl resurgence started to really kick in around the same time! Even to celebrate their 20th anniversary, they are releasing a special compilation and a DJ-friendly 4xLP titled '20 Years of Bastard Jazz'. The compilation will include the Australian act The Goods featuring Steve Spacek, label stalwarts Potatohead People, Pittsburgh producer Buscrates, along with some past catalog hits from LA producer Captain Planet and Chico Mann, and Manatee Commune, to name a few. 
All artists on the label have been having a good time. Brooklyn-based DJ and producer Bad Colours said, "Working with Aaron and the team has been an absolute breeze. They've been very trusting of me as a new artist to deliver, and I've been super happy with what we've accomplished in a short amount of time. Breaking a new artist isn't easy, and they've done an amazing job getting new eyes and ears on my project." 
We also heard a longer story worth sharing from LA producer Captain Planet, who has known founder Aaron Schultz for a long time. He said, "It's hard to separate my feelings about working with the label from my deep friendship with Aaron. Since we first met back around 2005, I always saw him more as a peer and fellow music fanatic, rather than a business head. He would be involved in creative conversations and I would ask him for feedback on new material, and we would of course have tons of fun DJ-ing together and hanging out. So it really developed into being best friends, with the label as a fortunate way for us to work together." He also added, "I have a ton of respect for the focus and integrity of the music that Aaron curates for the label, and truly I often feel inspired to make something just to continue being a part of the Bastard Jazz team, and to keep pushing the whole label project forward, not simply my own Captain Planet thing." 
Bastard Jazz Recordings will be hosting a 20th Anniversary Celebration event at Upstairs at Ace Hotel in Downtown Los Angeles on 14th November 2021. Follow them online for the latest updates and music releases:

Website
We wish Aaron and the entire team at Bastard Jazz Recordings the best of luck for the future, and hope to see them growing and finding more talent worldwide! 
All images in the feature image and article provided by Bastard Jazz Recordings.