From being the driving force behind India's budding electronic music landscape with Jalebee Cartel in the early 2000s, to pioneering the country's Techno scene since 2011, Arjun Vagale's inspirational twenty-year career comfortably places him as one of the most celebrated artists from the Indian subcontinent.
Arjun's soul-piercing brand of Techno has attracted interest from labels across the world. The Techno pioneer has released his music on imprints like Suara, Octopus, SCI+TEC, and Quartz Rec parallelly with releases on his Indo-Spanish label, Odd Recordings.
After spending a quiet 2020 which he said was used to create some of the finest music he has written, Arjun Vagale has made a sensational return. For his debut full-scale release, he has landed a surreal 10-track album on Techno Pioneer Jeff Mills' Axis Records. 'Exit Fragments', he says, is a depiction of his roots, features 10 enthralling cuts of mind-bending Techno with tracks like 'Stigmata', 'Torcido 2305' and 'Rene' exemplifying the dark and sonically rich sounds he has been pushing over the years.
[youtube https://www.youtube.com/watch?v=VH64IscmFyE]
We were keen to know his thoughts on the album. We sat down with the celebrated producer to know more about his views on'Exit Fragments', his Asymetrik alias, the Indian Techno scene and more!
Congratulations on the release of the album. It's your first album release and it's on Jeff Mills' label; how do you feel about that?
Thank you very much! Well – it is hard to describe how I feel… But, to put it simply – I'm honored, proud, excited & satisfied. I've been at it for 25 years now, so this is a monumental milestone for me.
What had you decide to release an album, vs the typical EP or single?
To be honest there was no real plan to write an album. All through the pandemic, I just wrote music, in waves of creativity.  One particular month, I wrote 90% of the tracks on this album, and after listening back to it a few weeks later; there was a very logical sonic connection between these tracks – and that's when the album idea struck.
Having given it a listen, one can almost imagine Jeff Mills playing it. When you created it, did you have him in mind? Was it planned together, or did you send it to him when it was done?
I'm so glad you feel that way 🙂 But no, there was no plan to send it to Jeff or Axis – but I did draw a lot of inspiration from early 90's Techno – fast, minimalistic and raw. In hindsight, Mills & Axis were subconscious influences for sure.
Knowing that any techno DJ worth their salt will check out an Axis release, who is the DJ that you just can't wait to get it into their hands (or who has gotten it on promo)? (besides Jeff)
I've been lucky enough to have most of my hero's play or at least listen to my music – but I think the best feedback I got was from Laurent Garnier! He's been supporting my music for a while now, but his e-mail to me after he heard the album was just so beautiful – I had a smile of my face for a few days 🙂
Having pioneered India's electronic music scene with Jalebee Cartel and now being the flagbearer of Indian Techno, you are arguably the most successful electronic music acts in the country. How would you like to describe your journey so far?
Thank you for that compliment, but I can't take all the credit – there are a lot who came before me, and ignited that fire. Its hard to sum up 25 years of work in a few lines but I'd say its been a long road with no shortcuts, a path of hard work, dedication, setbacks, perseverance and patience. But I wouldn't change a thing! Its taught me so much about life.
People outside India are often fascinated to learn that techno is quite big here, why do you think it's resonated so well with the Indian audience?
I don't think Techno is a flavor of the month type thing in India – a lot of us have been pushing it consistently for many years now, and like any genre, it is having its over-ground moment – which is fine, but I'm waiting for it to go back underground haha. In truth, the Indian audiences are some of the best in the world, to play for – extremely responsive and enthusiastic.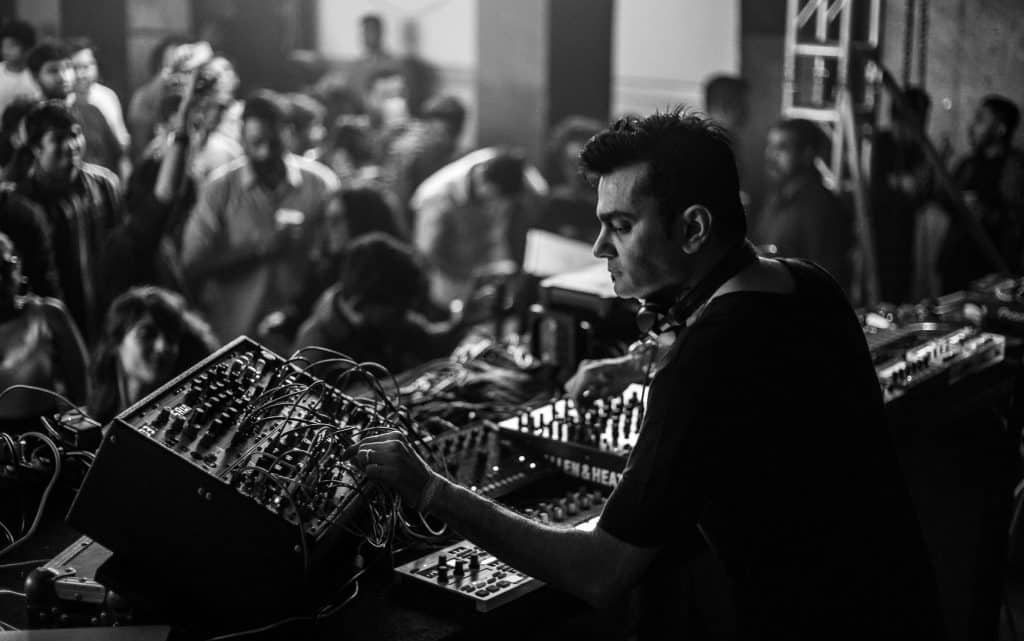 As a long-time stalwart of the Indian scene, how do you think your sound has evolved over the years?
I'm a firm believer in evolution – I think it is essential for any artist. We all start from nothing, and with each experience, we learn, and grow. Growing up in India, we didn't have access to a lot of western music – heck most people didn't know what acid house was till the early 2000's! So my sound evolved as I discovered more, and dove deeper down the rabbit hole. Once I started playing & travelling Internationally, the world opened up, and I was absorbing as much as I could.
You mentioned that 'Exit Fragments' is a representation of your roots. Can you tell us more about it?
In my early years of playing music, as a DJ in India, we had to play everything – we were entertainers, not educators. But my love for strange, raw, weird sounds kept me going, and I remember even when I was a Resident DJ, I'd work the crowd so that they trusted me – then I'd throw in that tribal Danny Tenaglia tune or an obscure Detroit techno record. Those moments were special, and I longed to play a night of just that sound. Eventually as the scene grew, we started throwing our own parties, and played whatever we wanted. But it was a long road to get to that point. Today the kids think they are entitled to "gigs" and play only what they want and stick within that tiny little box. We didn't have that privilege.
The artwork of the album is intricate and quite fascinating. What was the idea behind it? Who created it?
The artwork was commissioned to this amazing artist / designer called Aniruddh Mehta who runs Studio Bigfat in Bombay. We've worked together on a project many years ago and became friends. I've always wanted to do something with him again, and was waiting for the right project – and I'm glad we came together on this one. I'm a bit of a control freak, but for this album, I wanted to give him complete creative freedom and just be inspired by the music. He absolutely nailed it.
You had mentioned a few years ago that your move to the United States in 2014 was to understand the scene and whether it worked for you. How influential was the move according to you?
I had an absolutely amazing time in the US. I was lucky enough to be invited by Victor Calderone to play for one of his bigger Governors Island parties, and subsequently I did a remix for him that did really well. We became friends and did quite a few gigs together. He introduced me to the NYC crew, and they are now like family – they really took care of me and had my back. Its tough for a brown-skin-Indian-accent-techno-DJ to make it in the US market, but every experience I had from LA to SFO to El Paso to Miami were amazing. Unfortunately we had to come home for medical reasons – but I cherish my memories of NYC!
You Odd Recordings imprint is in its fifth year and it has had a great 2021 with its releases so far. What are your thoughts on the development of the label since its inception?
ODD was my second label, so I was going into it with some experience. The idea of the label initially was to give ourselves a platform to put out our own productions. My label partner Ramiro & I had a few goals, but we didn't think it would blow up in the first year of existence. We had 3 really big tunes, all hitting high positions in the charts, and suddenly everyone took notice. We were one of the top 30 selling Techno labels on Beatport for a few years too.  As I mentioned, I'm a bit of a control freak, so initially Ramiro & I did everything – I even made all the artwork for the first 8-10 releases. The success got us bigger artists / better demo's and it kind of just went into auto pilot. Soon after we brought in a label manager to help us with admin work, but we are still very hands on and run it like a professional record label. I have to give credit to our distributors AmpSuite – Keith is an amazing person to work with and he really believed in the music we were putting out. Teamwork makes the dream work!
Lastly – What do you think is in store for the future of India's techno scene and its artists?
I think the world has finally recognized that there is some serious talent in Asia – and India has become a key date is most DJ's calendars. The next generation of Indian producers are also super focused and have a sharp vision of where they want the scene to go. I think its safe to say, once we get done with the pandemic, things will gain serious momentum. There are crews scattered all over the country, and are locally building their own movement at a grassroots level – when you put all that together as a cohesive scene, its actually pretty powerful.
Throughout his 20-year career, Arjun Vagale has ensured that the quality of his productions never dips below excellent while always staying true to his roots. 'Exit Fragments' is a testament to his name being described as "Asia's finest Underground Music Exports."
Buy Arjun Vagale's Debut Album 'Exit Fragments' – HERE