Leading ticketing and event marketing company continues to dominate event technology with the launch of their new NFT functionality. Ticket Fairy's TFNFT made its debut during the much-anticipated NFT.NYC annual event on Tuesday 2 November 2021.
Ticket Fairy's brand new NFT functionality premiered at Universal Poetry, an immersive audio-visual experience  in New York's Hammerstein Ballroom, as part of NFT.NYC's 4 day yearly programming. Universal Poetry was hosted by independent record label Monstercat, alongside etherium-powered NFT marketplace Universe.xyz.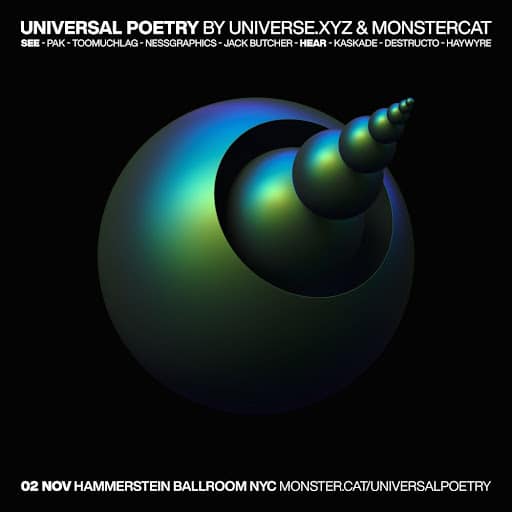 Events such as NFT.NYC function as essential networking and discovery avenues, making it easier for like-minded collectors to engage with both local and global talent, exchange information, and gain exclusive access to special events.
What are NFTs again?
NFTs, or 'non-fungible tokens' are still fairly new to the mainstream consumer market. Simply put, the term non-fungible means 'to be unique and not interchangeable with any other item'. Within the realm of blockchain, this translates to a potentially game changing shift in consumerism and goods exchange. Being early days for non-fungible tokens, the application exists mainly within the arts – making it all the more exclusive for those that collect NFT art and engage with the community.
Community is the foundation of the NFT market today. Collectors not only have access to niche forums and ownership of limited edition art pieces, they can also attend private events taking place throughout the year, essentially making their non-fungible tokens invitation cards for these events.
How does TFNFT work?
The TFNFT feature is set to cater to the unique requirements of any events that want to leverage NFTs as a form of whitelisting for ticket purchase, rewards or proof of attendance. The functionality supports passwordless Web3 login as well as Metamask, Coinbase, Rainbow, and all other popular wallet browsers, allowing users secure access to Ticket Fairy's TFNFT events.
This state-of-the-art set-up allows organizers to verify NFT ownership within a set of whitelisted communities before gaining access to purchase tickets. Organizers further have the option to issue proof of attendance tokens directly to attendee wallets upon gaining physical entry to the event. The TFNFT ecosystem is set to vastly expand over the coming months to provide powerful ways for events to integrate NFTs into their communities.
About the Universal Poetry event
Hosted by Monstercat and Universe.xyz, Universal Poetry took place on 2 November 2021 in New York's famed Hammerstein Ballroom. The event combined NFTs, technology and music, and featured private performances from electronic music bigs Kaskade, Desctructo and Haywyre.
The primary collection featured for the night was titled Lost Poets, and was NFT artist and curator Pak's first physical gallery event. Pak drew inspiration from the Library of Babel, debuting his Lost Poets collection – 'a series of NFT collectables that manifest over time as a strategic game.'
Holders of Universe.xyz's Polymorphs and Lobby Lobsters and Pak's Poets were invited to attend and bring guests to this one-night-only event. Tickets were hosted exclusively on Ticket Fairy.