The earth is home to many outlandish and never-known-before places, sites, and experiences that we may or may not know. Over the course of 2021, we discovered many new and exciting places which were previously unheard of!
Our compilation includes scenic and obscure places, as well as enthralling experiences that you could immerse yourself into across the world! From partaking in a scripted murder game in China to scuba diving through an underwater sculpture park in Cyprus, take a look at ten destinations we discovered in 2021.
1. Ain Dubai: World's Largest Ferris Wheel Opens in Dubai
Located in the man-made archipelago of Bluewaters Island, Ain Dubai claims to be a premium, luxurious experience set at Dubai's most exciting entertainment hub. The name means 'Dubai Eye' in Arabic, and it is a 250-meter wheel that takes roughly 38 minutes for one rotation. It obliterates the iconic UK's London Eye by being twice its size, as well as the Singapore Flyer. Ain Dubai offers a staggering 360-degree view of the city. The scenic beauty can be witnessed from the 48 capsules on the wheel. The opulent 48 enclosed capsules on Ain Dubai accommodate 1,750 passengers in total or 40 passengers in each. Currently, each cabin welcomes up to 10 passengers due to COVID-19 restrictions. The air-conditioned cabins are made of glass, letting the passengers view the breath-taking Dubai skyline as well as other picturesque landmarks such as The Palm, Dubai Marina, and Burj Al Arab Jumeirah.
Read about Ain Dubai in detail – HERE
2. Scripted Murders – A Popular Pastime in China
Young people in China are flocking to clubs to play a game that can be translated as "scripted homicide" wherein the murders are fake but the money – real. In the game, they play different characters, spending hours solving fake murders and this macabre entertainment is expected to generate over USD 2 billion (INR 148991000000) in revenue this year, by one count. Scripted homicides are known as 'jubensha' in Chinese. As per the New York Times, it requires the players to gather in a group to discuss a fake murder or other crime, and each of them is assigned a character from a script. The script includes one player who plays the murderer and then they engage in an elaborate role-playing game wherein they ask questions of the host and each other. This goes on until they have determined which one of them has done the deed.
Read about 'Scripted Murders' in detail – HERE
3. Unique Music Festival Experiences
There is no doubt that all music festivals are surreal or in most cases a memorable experience to music lovers. However, some go beyond showcasing the talents of musicians – they attempt to take their audience on a special journey that leaves them with a beautiful and unforgettable experience. At 'Night Nation Run', Night Nation Run has given people a unique experience to celebrate both music and fitness, all in one event! Not only do attendees participate in a fun run, they also support a good cause and experience a music course filled with amazing live DJs, Light Shows, Bubble Zones, Neon and Black Lights. Meanwhile 'Florida Keys' Underwater Music Festival' hosts underwater music festival started as a way to raise awareness about coral preservation, hundreds of divers and snorkelers have flocked for the festival at Looe Key Reef. Divers and music enthusiasts equipped with musical instruments play along to the ocean-inspired pre-selected playlist that is streamed live from underwater speakers as well as broadcast live on the local radio station WWUS 104.1 FM. 
Find out more unique music festival experiences – HERE
4. The Dangerous Fireworks Festival of Yanshui, Taiwan
Yanshui, a small district in southern Taiwan, celebrates one of the world's most dangerous festivals. Called the Yanshui Beehive Fireworks Festival, it is the third-largest folk celebration in the world. Festival-goers and thrill-seeking visitors don themselves in homemade fire protective gear from head to toe to participate in this annual religious tradition. Scores of bottle rocket fireworks are launched into the crowd of people who are braced to be hit by the rockets for good luck. Each wall launches one at a time, driving the crowd into a frenzy. One by one, thousands of rockets are fired until the previous one subsides. The participants frolic across the field caused by the massive adrenaline rush of getting hit with beehive rockets, surrounded by the sound of firecrackers and music. The event goes on until sundown post which the crowd retires following a low-key fireworks display.
Read about Yanshui Beehive Firework Festival in detail – HERE
5. Mexico Opens Immersive Exhibition for Frida Kahlo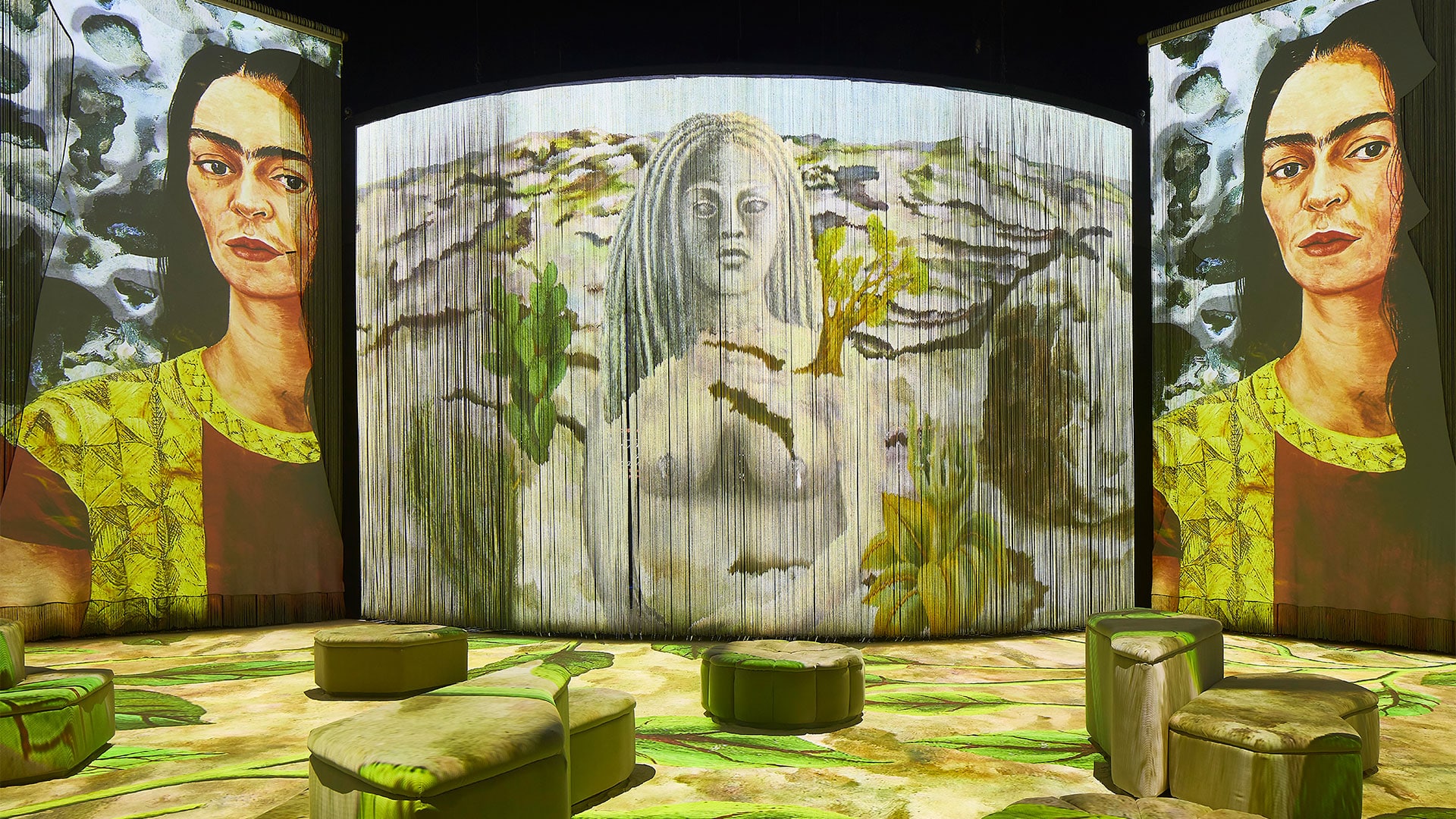 Image Acquired Via Cocolab.
World-renowned painter Frida Kahlo's works are getting a larger-than-life immersive experience in her hometown of Mexico City. The "Frida: La Experiencia Inmersiva" or simply "FRIDA" opened its gates on what would have been the painter's 114th birth anniversary on July 6th, 2021. Fans of Frida can now relish the 45 minutes screening of some of her best works at Frontón México. The show reproduced 26 paintings by Frida animated on the walls and floors with the help of more than 90 projectors and 50 speakers for 360-degree visual coverage. Frontón México, an art-deco entertainment venue in Mexico city – features Girl with a Death Mask, Me and My Parrots, The Two Fridas, The Broken Column, and more! The screening incorporates narrations from Frida's personal letters and journals along with Mexican music she listened to while working.
Read about
Frida: La Experiencia Inmersiva

in detail – HERE
6. The Sex Pilgrimage Islands of Italy
The Aeolian islands in north Sicily, Italy, is one of the world's most frequented archipelago known for its impeccable beauty. Of the seven islands, Stromboli and Filicudi are addressed popularly as "fertility atolls" and have become a sex pilgrimage site. Located in the Tyrrhenian Sea, these volcanic islands in the Mediterranean are said to have aphrodisiac powers. People believe that the scenic beauty of the two islands – covered in grottoes, libido-inducing flora, and the constantly erupting volcano makes it a sensual place. Titillated tourists from around the world visit the islands to enjoy each other's company in the enticing environment. Locals widely attest to the aphrodisiac influence of Stromboli and Filicudi and reckon it to be a 'sex pilgrimage' for those seeking a new partner or a sexcursion. An owner of a local seafood restaurant, said, "So many singles who meet here for holidays end up falling in love and return to celebrate their wedding or their child's birth."
Read about
the Sex pilgrimage islands

 in detail – HERE
7. Museum Honoring Electronic Music Opens This Month
The Dutch city of Amsterdam will open a museum that will pay homage to the international culture of electronic music. Our House, which will be "the world's first modern museum" dedicated solely to electronic music, will have six exhibitions and 15 installations such as photo galleries, interactive vinyl players, documentaries, flyers, drum machines and a closing 4D audiovisual experience called "The Culture Ride." Jans Jeroen, former art director of ID&T – a company that has been responsible for festivals like Electric Zoo and Tomorrowland – is the brainchild behind the project and his 'Our House' showcase will take you on a journey into the history of electronic music, right from its origins in the Chicago ghettos in the 1980s until today.
Read about '
Our House'

in detail – HERE
8. Underwater Museum Allows Divers to Explore WWI Shipwrecks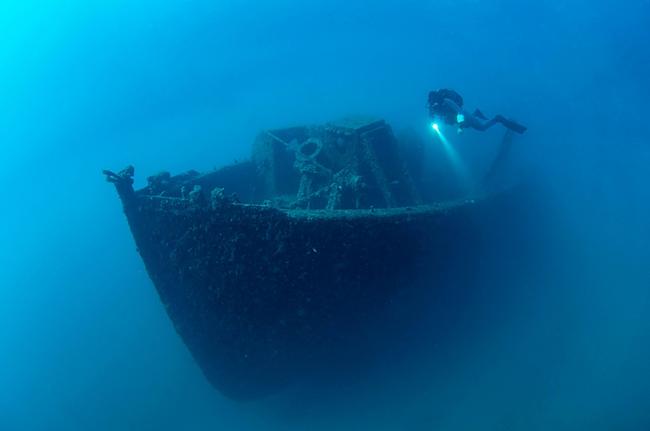 As part of efforts to draw tourists to the region, tourism officials have transformed the century-old wrecks of the British and French ships sunk during the battle for Gallipoli in the Dardanelles Strait into a "museum under the sea." The area of the "underwater museum" that has been opened to the divers at the bottom of the Dardanelles Strait in western Turkey had been closed to the public as it is dotted with mines and unexploded ordnance. It had also since been marked off by divers. The divers who visit will be allowed to venture down to see the fourteen ships that sank in 1915 when Ottoman and Allied forces faced off on the Gallipoli peninsula. These ships included the HMS Majestic, a 421-foot British battleship. Some of the wrecks are in relatively shallow waters of less than twenty-five feet. while others are deeper at around sixty to a hundred feet, and one sunken ship HMS Triumph rests 230 feet below the surface.
Read about
the underwater museum

in detail – HERE
9. Cyprus Inaugurates New Underwater Sculpture Park
The island nation Cyprus recently inaugurated the Mediterranean Sea's first Underwater Sculpture Park on August 2, 2021. Located at the coast of Pernera beach in Ayia Napa, Cyprus, The Museum of Underwater Sculpture Ayia Napa (MUSAN) features 93 sculptures. MUSAN is an underwater museum built with figures and botanical sculptures representing the relationship between man and nature. It features ginormous, hybrid trees weighing up to 13 tons, children playing hide-and-seek, and other figures. The result resembles a dense forest entryway to its many characters installed. Strategically placed in one of the most overfished spots in the world, some of the artwork will interact with nature overtime to oust the barren land. Scuba divers, free divers, and snorkelers can access this majestic temperate area for free throughout the year. Reservation is based on a first-come-first-basis and can be booked through the local dive centers. 
Read about MUSAN
 

in detail – HERE
10. New Techno Exhibition Launches In MUSEION, I

taly
A Techno-focused exhibition has begun at the Museion gallery in Bolzano. Named TECHNO, the exhibition will run until March 2022 and be curated by the director of Bolzano's MUSEION gallery, Bart van der Heide. Split into themes like Freedom, Compression, and Exhaustion, the exhibition will explore the roots of the genre right from its early days to its modern-day presence.  The exhibition, which is a 'long-term' program, will aim to cover the links between humanity, music, ecology, technology, and more. The first edition of the 'TECHNO' exhibition will dive deep into the communities and subcultures built around the genre. It will also focus on the local Techno scene of the South Tyrol province, which is the byproduct of the genre's communal spirit. Other contributors to the TECHNO exhibition include Paul Chan, James Richards, Matthew Herbert, Yuri Pattison, and Samuel Kerridge.
Read about TECHNO
 

in detail – HERE
Explore new places and experiences through TFword's 'Where in The World' Series – HERE
Find all the articles from TFword Roundup – HERE
Feature Image Via Pexels.