Australia is known for its rich history of aboriginal culture. Many collectives have been set up in recent years to sustain the indigenous art and culture of the land. One of the collectives is Maruku Arts, a not-for-profit art and craft corporation running for over 30 years. It is an Aboriginal-owned social enterprise, preserving and teaching the art and culture of the Anangu people.
Maruku quite literally means "belonging to black". The collective is owned and operated by Anangu (Aboriginal people from the Western and Central Deserts of Australia). It is based in Uluru, the southwestern Northern Territory of central Australia. The place is revered by indigenous Australians. 
Maruku Arts represents over 900 Anangu artists. These artists live in remote communities across Anangu lands, and earn their livelihood and sustain their art-form by working at Maruku. "Our purpose is to keep culture strong and alive, for future generations of artists and make culture accessible in an authentic way to those that seek a more in-depth understanding," reads their website.
They offer tours, workshops, demonstrations, traditional ceremonies, and exhibitions to promote the art created by the descendants of the original Anangu inhabitants. As of now, Maruku constitutes a warehouse based in the Mutitjulu community, a retail gallery at Uluru-Kata Tjuta National Park Cultural Centre, and a market stall in the town square of Yulara.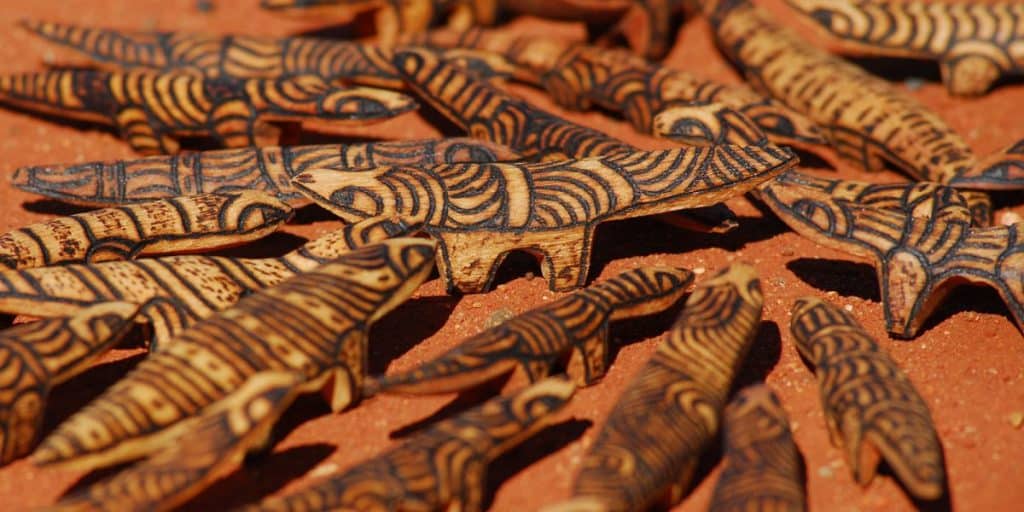 Image acquired via Maruku Arts.
The family and artist-friendly collective present a myriad of activities for its visitors. The visitors can partake in their most renowned dot-painting, punu-making workshop (a traditional wood carving practice that decorates the intricate details with the burning technique. Boomerangs, spears, shields, and animal figures are the most common punu items), cave art tours, and traditional tool and bush medicine demonstrations.
Every art workshop is taught by Anangu artists from over 20 communities. The art symbolizes their ancestral heritage dating back to over 40,000 years. Through Muraku Arts, the centuries-old tradition, art, and culture are kept alive and disseminated to people from across the world.