Manipur is a northeastern state in India known for its affluent culture and diversity. Its capital city of Imphal city houses a one-of-a-kind market. Ima Keithal or Nupi Keithal, a 500-year-old market run wholly and solely by women since its conception. Operating since the 16th century, it is one of the state's most notable facets.
Ima Keithal (Mother's Market in English) is Asia's largest all-women-run market. According to BBC, it could easily be a novelty across the world. The market sustains until today with over 5000 women traders and vendors working under a union. A variety of textiles, handcrafted decors and utensils, fresh produce, seafood, meat and more, can be found at Ima Keithal, an all-encompassing market. 
The inception of Ima Keithal
The market is locally known as Nupi Keithal or Khwairamband Bazaar. Studies report that the enforcement of Lallup-Kaba led to the formation of Ima Keithal. Back in the 16th century, men of the Meitei community in Manipur served a mandatory army service in faraway areas. The onus of maintaining the flow of cash in the family fell on to its women. They began selling hand-weaved garments or self-cultivated vegetables by setting up makeshift markets.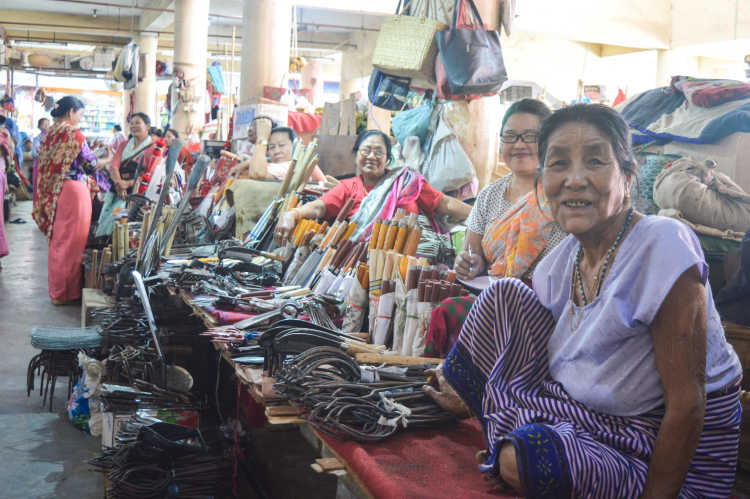 Image Acquired From The Optimist Citizens.
These markets evolved into a much grander establishment over time. It operated completely under the dominion of women vendors until the Nupi War (Women's War) in the 20th century. British colonizers imposed economic and political reforms to their benefit by exporting large amounts of crops to British battalions. The exports left the local people of Manipur to starve due to insufficient rations.
Women traders revolted against this injustice by setting up rallies and roadblocks. In return, Britishers ordered the selling of Ima Keithal buildings to foreigners and other buyers. But the women of Ima Keithal didn't accept the order laying down and stood fiercely against the order until its cessation. The establishment and its women have time and again proved to be the pioneers of Manipur's socio-political development. 
Customs, Economy and Effects of COVID-19
A major tourist attraction in recent years, Ima Keithal is a hub that sells everything – handicrafts, textiles, fresh fruits and vegetables, toys, fish, spices, utensils, and so much more! According to customs, only married women are permitted to run and sell at Ima Keithal. Most women here are between the age of 45-75. Under the union, vendors get the benefit of a credit system to run and sustain their shops. Many of them come from distant places with their products daily and sell them at a very affordable rate.
In 2020, Covid-19 left an insurmountable impact on Ima Keithal. The market remained shut for nearly 11 months and cost a total loss of INR 38 billion (USD 49 million). The government exempted license fees from the vendor for a year to cope with their losses. "The government took the decision considering the hardship faced by the women vendors during the pandemic as the markets remained closed for nearly a year. "Extremely glad to re-open Ima Keithel, Imphal from today with Covid situation significantly improving," said Manipur Chief Minister.
You May Also Read:
Feature Image Via The Better India.