It is no secret that Las Vegas' nightlife is legendary. The vibrant city is renowned worldwide for gambling and the plethora of options available for fine dining, shopping, entertainment, and nightlife. Bars and clubs are one of the main attractions of Vegas. Its nightlife is characterized by elaborately designed spaces, star DJs, celebrity hosts, bottle service, and all-night dancing.
If you're in Las Vegas and are looking to have some fun at nightclubs or bars that offer incredible views, exemplary hospitality, excellent music, hand-crafted cocktails, delicious food, and amazing drinks, we've compiled a list of seven venues where you will be guaranteed to have the time of your life.
Discopussy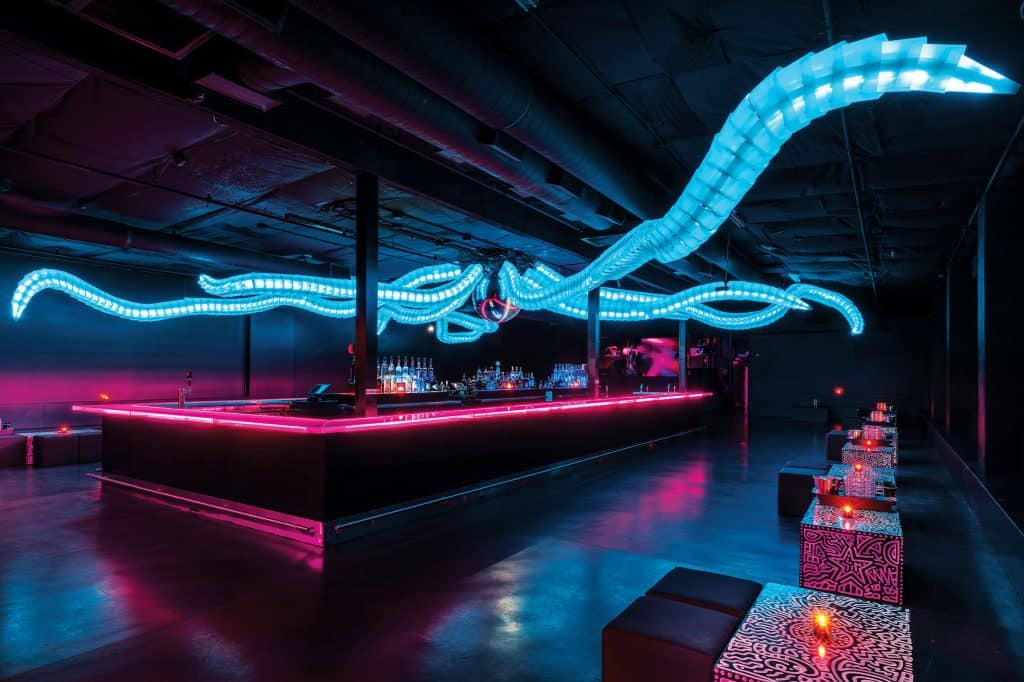 If you crave music like you crave air, Discopussy is the right place for you! All you need to remember is that all roads lead to the dance floor at this venue. Housed in their old school, covert 6,500-square-foot space with a capacity of 500, Discopussy serves as an excellent alternative to the superclubs on the stretch of Las Vegas Boulevard South.
Disco-Octopus, gigantic tentacles sprawling and moving over the entire ceiling of the club – with the 'Pus having a light show for you is an eight-tentacled beast made up of 10,000+ laser-cut components. It is custom-built and one of a kind. Discopussy states: "Nowhere else in the world that you can find a Disco-Octopus, let alone one that will dazzle your senses with dancing whimsical light." Discopussy has good vibes, remarkable service, and amazing music to offer!
Read more about it: HERE
Notoriety
"Notoriety, the state, quality, or character of being widely known" according to Notoriety is billed as "Las Vegas's premier new live performance venue." It is located in downtown Las Vegas on the world-famous Fremont Street and Las Vegas Boulevard.
The venue "will feature 7 individual performance theaters ranging from 60 to 250 seats, two 5,000 sq. ft. performance bars, a 4,500 sq. ft. Members only VIP Lounge and event space," as per their website. If you're in Las Vegas and would love to experience some of the most talented musicians, singers, comedians, and performers, Notoriety is the answer to discovering the undiscovered.
Visit the Notoriety website: HERE
We All Scream
We All Scream is a collision of candy-colored clubland. It is a sensory overload of club, music, art… and how could we ever forget – ICE CREAM! We All Scream is a 10,000-square-foot destination. It has a capacity of 1,000 revelers. The venue's design is "innovatively divided between a rooftop dance floor, a back-alley patio, and a 1950s ice cream parlor, with sass," as per the venue.
If you're someone who takes your nightlife, DJs, and quality of sound seriously, then you can't go wrong with We All Scream. When you enter the venue, "you'll find yourself greeted by rich dark woods, brass fittings, and drugstore ephemera, it's a veritable warren of wonderment. A stairway to the rooftop reveals a pulsing dance floor, flaunting dynamic lighting and a precisely tuned sound system – a spectacle," states We All Scream.
Find the We All Scream website: HERE
The Usual Place
The Usual Place says it's "not your average neighborhood bar". It is a beautiful bar & performance venue located next to Public Us on the Northwest corner of Fremont and Maryland Pkwy. The venue has fairly large parking on the south side of the building.
Visit The Usual Place website: HERE
AREA15
Billed as "A Wanderland of Art, Music & Amusement," you must leave your expectations at the door at AREA15. This venue is an intensely surreal yet deeply familiar immersive playground where everyone has a part to play, and "everything you see, feel and touch is a festival for your imagination," according to AREA15.
You are guaranteed to have the time of your life with the multiverse of attractions and events that await to entice and enthrall you at AREA15 and the mélange of restaurants, bars, and shopping diversions that invite you to revel and indulge.
If you enjoy immersive experiences, AREA15 is for you! The veil between reality and ultimate possibilities dissolves at this venue. "Will it be a VR or sensory immersion, zip line race, or zombie hunt? Perhaps an immersive art experience, or a panoramic skyline jaunt, complete with cocktails?" states AREA15. Area 15 is a family attraction. It is also a playground for adults!
Check out the AREA15 website: HERE
Park on Fremont
Located in the heart of Downtown Las Vegas, Park on Fremont's front patio boasts views of in-your-face neon downtown hustle. It gives way to a 5000 square-foot wooden haven of calm. Inside you will find a refreshing enclave of dark wood, comfortable banquette seating, and eclectic art. Park on Fremont offers an innovative menu for dining and drinking.
If you don't want to stay indoors, you can burrow further. "If you explore our secret back patio, you'll find lush foliage woven through the walls and objects d'art, creating an ethereal tranquility in a dreamlike location," states Park on Fremont. Their tempting menu includes avocado egg rolls, the brown sugar bacon peppercorn burger, and their famous loaded garbage fries.
Park on Fremont says they're alcohol aficionados. The bar's beers on draft are sourced from as close as 500 feet away and around the world. Their cocktails are created by Park on Fremont's inventive mixologists. Park on Fremont states: "we have a special line of shareable drinks to get your taste buds in a tangle."
According to Park on Fremont: "The tasteful abundance of art and nature results in the surreal experience of a secret garden in the very heart of #DTLV – a temporary respite from our city of loud, bright, and neon."
"When you seek a moment of calm in your Vegas, we're here for you."
Find the Park on Fremont website: HERE
Commonwealth
Commonwealth is more than just an alcohol emporium. It is a 6,000-square-foot, double-decker tavern with iconic rooftop views. It has a spacious dance floor. "We're a rendezvous for those who understand the true magic of Downtown Las Vegas," states Commonwealth. They are magnificent and meticulous in aesthetic with elegant crystal chandeliers.
Each night they deliver a consummate mix of the local clubhouse, bangin' dancefloor, and stylish scene, and the priceless experience at Commonwealth is all thanks to their impeccable hospitality. You can dance your hearts out and drink the night away with their handcrafted cocktails. These ever-changing cocktails are lovingly prepared by their bartenders.
If music is your vice, Commonwealth has got you covered as they offer a "rooftop dance floor, iconic Downtown Vegas views, DJs – national and international – curated by music lovers, for music lovers."
Check out Commonwealth's website: HERE
Featured image adapted via We All Scream, Notoriety, The Usual Place, AREA15, and Commonwealth
You May Also Like: