Chalfest Party on the Hill, a two-day festival, will take place this weekend between July 22 and 23 at France Lynch grounds, Stroud in Gloucestershire, England. Tickets for this event are powered by Ticket Fairy.
Chalford's local residents founded the festival in 2017. It is a not-for-profit organization that is wholly run by community volunteers. During the festival, a variety of well-known performers, international and local music artists, stand-up comedians, dance groups, and choirs showcase their talent.
This event will be held for the first time since the pandemic. Tickets purchased for the postponed 2020 and 2021 events are also valid, as per the organizers. In anticipation of Chalfest 2022, here's all you need to know about the festival, including the musical performers, sustainability initiatives, children's entertainment, and other offerings.
Chalfest is committed to fostering a feeling of community. Via this one-of-a-kind event, they seek to create a genuine sense of community identity in Chalford. One of their goals is to impart knowledge and support learning for individuals of all ages. Volunteers of all ages can take part in work-experience programs that involve designing the venue's décor and also curation the food menu. Designer and illustrator based in Stroud, Ruth Hickson, illustrated the festival's site map.
The venue will have three live music stages: the main stage, the upstage, which hosts musical and entertainment performances, and the John Green Stage, which is named in honor of the late musician John Green.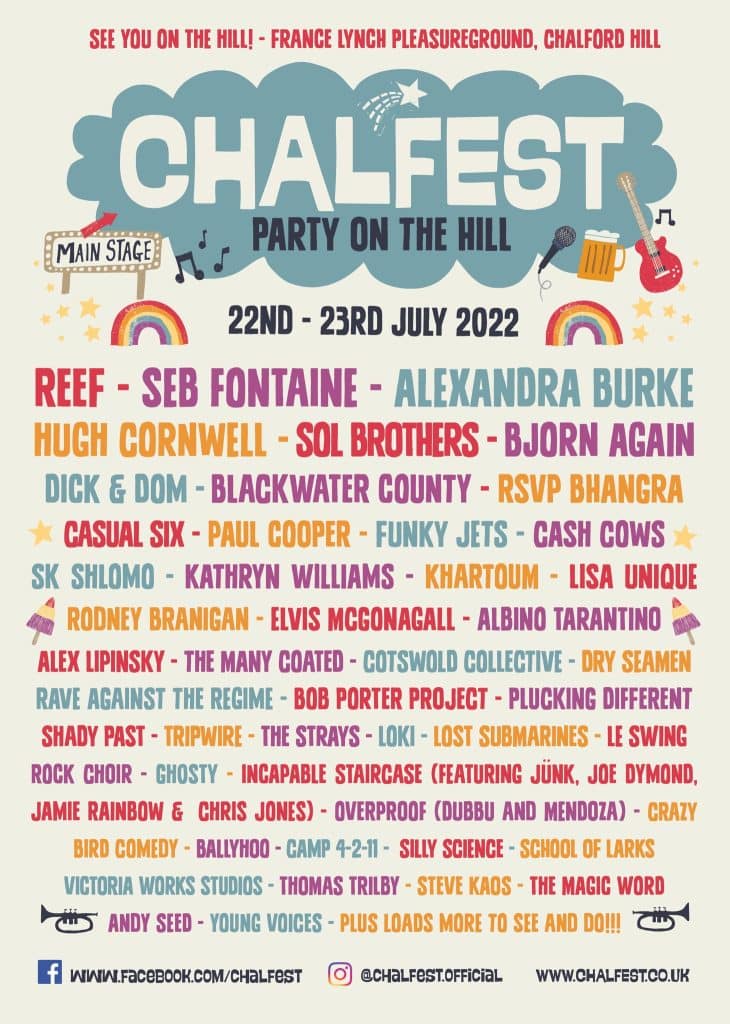 Musical acts performing during the festival include English rock band Reef, English electronic music producer and DJ Seb Fontaine, musician Hugh Cornwell, Abba tribute group from Australia Björn Again, DJ and music producer Andrew Galea aka Sol Brothers, punk and pop group Black Water County, Bhangra group RSVP Bhangra, record-breaking beatboxer SK Shlomo, Rave Against The Regime (a group that does remixes of classic dance music), DJ Lisa Unique, and many more.
Brass bands, crochet, arts and crafts workshops, singing and dancing competitions, and a tea tent are just a few of the festival-related activities that will be taking place at the Green Village. At the designated market, you can get locally made goods as well as glitter or henna tattoos and colorful floral headbands.
Visitors can relish several culinary delights here, including six bars selling cocktails, Pimms (gin-based fruity spirit), Proseccos, lager, and beer. Chalford's Victoria works studios will host workshops in various arts and crafts. Printing a Chalfest tote and creating a festival flower crown, colorful bracelets, necklaces, and earrings are activities made available at the workshops.
Children attending the event can engage in arts and crafts, dance lessons, fun science workshops, live performances, interactive storytelling, and much more.
Chalfest features a lot of ecological initiatives in an effort to be as environmentally friendly an event as possible. They attempt to adhere to the principle of 'Leave No Trace,' taking a page from other green and sustainable festivals around the world. The majority of attendees, participants, and producers are based in the area, minimizing their travel. Compostable drinking cups, washing stations, and recycling bins will be provided at the venue. Additionally, shuttle bus services are available to and from the venue.
As announced by the festival's official Instagram, the only process to get tickets is to register on Ticket Fairy's waitlist.
The official website for Chalfest is accessible by clicking here
You May Also Like: