It is often said that all good things come in threes, and music enthusiasts in Mumbai city are preparing for just that this week! Independent record label Azadi Records, in collaboration with arts and entertainment company nrtya, presents 'City Takeover' in Mumbai, India. This event will take place on Thursday, September 22, 2022, and will be fanned across three exciting venues that are within proximity to each other. It will showcase a large talent pool across multiple musical genres. Tickets for City Takeover – ????? are powered by Ticket Fairy.
Here are some details about the City Takeover – ?????, which will feature twelve artists across Khar Social, Pandora, and Veranda over the course of one spirited evening!
Now in its fifth year, Azadi Records, an independent music label based in New Delhi, India, was founded in 2017. Its purpose has always been to bring to light relevant and diverse stories from a variety of artists who are frequently overlooked by the mainstream media. Azadi Record's first major release was rapper Prabh Deep's debut album Class-Sikh, which was released in 2017. Azadi represents a field of talented artists from various genres of music, including rapper Ahmer, singer-songwriter Ali Saffuddin, hip-hop artist Tienas, and legendary DJ and music producer DJ Uri.
nrtya positions itself as an "Independent music label showcasing Indian independent music." They are also full-fledged artist management, art, and events label company. nrtya is at the forefront of hosting the Art Market, Sunwind Sundays, Culture Showcase, and regular gigs with local indie musicians.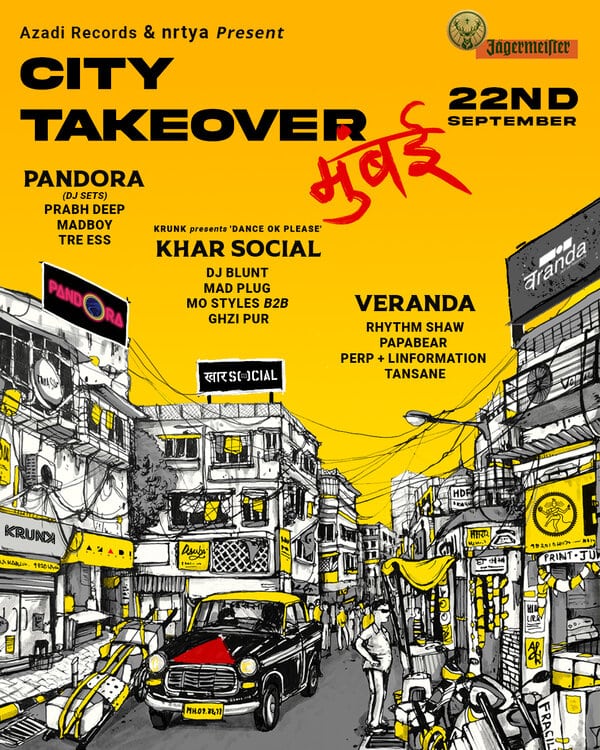 City Takeover venues are staples for hosting live music gigs and serving as cultural and art spaces in Mumbai. The Socials, run by Impresario Entertainment & Hospitality Group, celebrated its twentieth year of operation in August 2022.
'Dance OK Please,' a weekly Thursday session at Khar Social presented by artist and booking agency Krunk Live, will feature DJs and music producers Blunt, MadPlug, and Azadi's co-founder Mo Joshi B2B with GHZI PUR for the City Takeover event.
Club Pandora, on its website, describes itself as a "theater of electronic music." The nightclub accommodates VIP areas, an amphitheater, dance clubs, and a bar with cocktail stations. Hitting the stage at Club Pandora will be rapper Prabh Deep, one-half of electro-funk duo Madboy/Mink – Imaad Shah, and rapper-producer Sumit Singh Solanki, best known as Tre Ess.
Veranda on Pali Hill in Bandra, Mumbai, provides an intimate atmosphere for the performers and attendees – an ideal venue for the artists performing at the City Takeover event. The evening's lineup includes talented guitarist Rhythm Shaw, musician Samarth Bahl aka Papa Bear, drummer and music producer Linford Dsouza – best known as linfomation, singer-songwriter Urmila Sivadas aka Perp, and Sharan Punjabi, who goes by Tansane.
We reached out to one of the evening's artists, Papa Bear, for some thoughts on the upcoming show and his set. He shared, "I think the gig is born out of the association that we've developed with nrtya this year. We've been curating some good stuff at Veranda. City Takeover especially is so cool because there are parallel events happening throughout the city, and it worked out in a way where Brave Cave (artist-led music label), got the opportunity to curate some cool acts at Veranda."
Speaking of the acts on the lineup and his set, Papa Bear mentioned, "We are really happy to provide the vibe for the evening. My set is going to be just me and my songs, like how I produce them, so it's going to be like an electro-acoustic set. I'll be singing and playing guitar live over my produced songs. It is always cool to do this because I get to perform the songs like how I imagine them in the studio live, so that's going to be really cool." Keep an ear out for songs from Papa Bear's upcoming EP!
Meanwhile, rapper Prabh Deep, who will be performing a live DJ set as part of the takeover, revealed on Instagram, "Yooooo, playing a DJ set in front of an audience for the first time. Playing tunes that inspire me on a daily. Also, playing some demos from my next album(s). See you Mumbai. It's gonna be F U N K Y."
Club Pandora and Khar Social are both within walking distance of each other, and Veranda is less than two kilometers away from them. Tickets for each venue and all-access tickets for all venues involved are available to ensure you don't miss out on your favorite acts.
? Khar Social ? Club Pandora ? Veranda
Get your tickets for 'City Takeover' on Ticket Fairy HERE!
You May Also Like: