From Hardwell releasing his much-awaited 'REBELS NEVER DIE' album to LOCUS Tulum announcing its return next year, here's last week in electronic music.
Hardwell's New Album, 'REBELS NEVER DIE', is Out Now
Hardwell has released 'REBELS NEVER DIE', one of the most highly anticipated albums of this year.
The fourteen-track album has been released through his record label Revealed Recordings, founded in 2010. Hardwell, a two-time world's number 1 DJ voted by DJ Mag, began dropping some songs as singles in April this year. The first release of his sophomore album 'REBELS NEVER DIE' was track 2 titled 'INTO THE UNKNOWN,' while the last one before the album finally dropped on September 9 was 'SELF DESTRUCT,' which he shared in August.
The 'Apollo' hitmaker is currently on his 'REBELS NEVER DIE' world tour, which he announced earlier this year, saying: "I am back. And now I'm gonna show you who I truly am," on Instagram. Hardwell calls the album the "most personal music" he has "ever made." "I've put my heart and soul into this project."
Read more about it HERE
Fred Again.. Announces New Album 'Actual Life 3'
Artist and producer Fred again.. revealed details about his third album, 'Actual Life 3 (January 1 – September 9 2022)'. The record will be out on October 28 via Atlantic. In anticipation of the release, Fred again.. previewed 'Danielle (smile on my face)', the first single from 'Actual Life 3' which samples 070 Shake's 'Nice To Have.'
"I been so excited to drop this song ever since playing it in boiler room. And it represents a really important part of AL3 to me," he said about 'Danielle (smile on my face)' in an Instagram post. "Someone messaged me recently saying that they felt like a song of mine had given them a safe place to hide for 3 minutes at a time. And that's exactly how I felt about Danielle's song for the last year."
This will be the third and final installment of the British producer's 'Actual Life' series. The previous two installments – 'Actual Life (April 14 – December 17 2020)', the debut record, and 'Actual Life 2 (February 2 – October 15 2021)', were released in 2021.
LOCUS Festival To Make A Return Next Year
After the success of its debut Tulum edition early this year, the drum and bass experience in paradise is set to make a return in March 2023. LOCUS Festival is coming in with its second edition in March 2023. It has been a mainstay in drum & bass, hosting carefully curated parties with the most stellar lineups for over two decades.
After its tremendously successful debut in Tulum, LOCUS Festival is all set to make its return during the first week of March 2023, starting from the 2nd until the 5th of March. Registrations for the festival have already begun, and you can register yourself for the festival – HERE for an exclusive early bird pre-sale.
Read more about it HERE
Trance Duo Infected Mushroom Release New Album 'IM25'
The imperious Israeli duo Infected Mushroom, who are known for transforming the global trance sound, have announced their 14th studio album, 'IM25' on Monstercat Records.
When the world was ravaged by the COVID-19 pandemic, which shut down live shows, the duo took advantage of being off the road and released a mini album called 'More Than Just A Name' in 2020 on Monstercat Records. For the duo's 14th long release, Infected Mushroom has returned to Monstercat to release 'IM25' LP. Having gained the support of fans and critics alike from every corner of electronic music.
Speaking about their release, Infected Mushroom said, "Celebrating 25 years of creation with a brand new studio album – full of surprises, special collaborations and a big INFECTED sound." The album is the next chapter in the duo's love for dropping jaws and making listeners lose their minds while tuning into the greatest psy-trance band of our generation.
Read more about it HERE
Bass Music Duo Ivy Lab Announces New Album
Ivy Lab has announced their 2nd studio album with a tune called 'Balaclava'. Four years after their debut album, Ivy Lab has announced its second studio album called 'Infinite Falling Ground,' which they say is their most expansive body of work to date.
Written over the last six months, they have also teamed up with audio-visual artist Lakehills, whose creativity and experience they say compliments their haunting narrative of the forthcoming album. To give us an early glimpse of what's to follow, the duo have released the first single from the album called 'Balaclava'. They also announced an audio-visual tour following the release of their album.
Read more about it HERE
Amnesia Reveals Full Line-up for 2022 Ibiza Closing Party
The Chemical Brothers were announced as the headliners of the Amnesia Ibiza Closing Festival 2022 last month, and now Amnesia has unveiled the full line-up for its closing party, set to take place on October 15, 2022.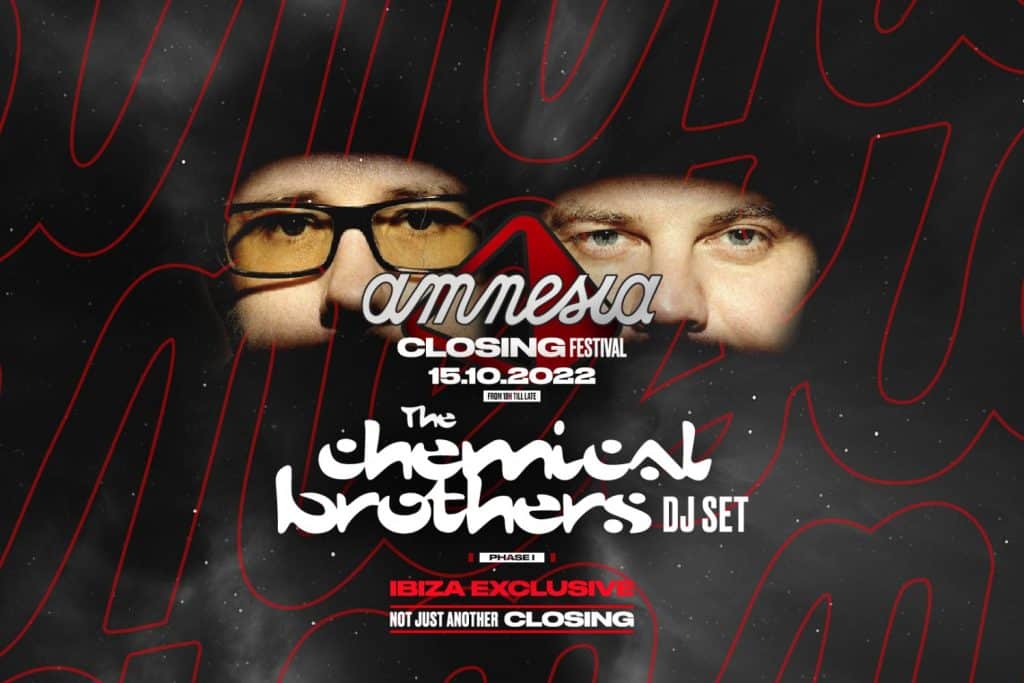 Joining The Chemical Brothers on the terrace will be Cuartero, Eats Everything, Jamie Jones, Marco Faraone, and Vintage Culture. Additionally, there will be a spectacular b2b with Mar-T and CAAL, and a face-off with Paul Woolford and his alias Special Request.
Niza Kraviz, Kobosil, and Luca Donzelli will take over the Main Room from 6 PM. Tickets to attend Amnesia Ibiza Closing Festival 2022 are out now!
You May Also Like: