From Dua Lipa, Lizzo, and Jack Harlow, among others, headlining the iHeartRadio Jingle Ball Tour to Ed Sheeran unveiling dates for his first North American tour in five years, here's this week in pop music.
Justin Bieber Postpones All 'Justice' Tour Dates to Next Year
Due to health concerns, Justin Bieber has officially canceled his upcoming Justice World Tour dates until next year. Although no specific details have been revealed about the postponement, the remaining shows could resume after March 2023. As per a statement, "The Justice World Tour ended with Rock in Rio. All remaining dates of his world tour postponed to next year."
The news comes following the initial cancelation of twelve dates running through October 18. Earlier this year, Justin revealed that he suffers from Ramsay Hunt syndrome and the facial paralysis it causes. "After getting off stage, the exhaustion overtook me and I realized that I need to make my health the priority right now. So I'm going to take a break from touring for the time being. I'm going to be ok, but I need time to rest and get better," he said after his last show at Rock in Rio.
Taylor Swift Unveils Complete Tracklist for New Album 'Midnights'
'Midnights Mayhem With Me,' Taylor Swift's TikTok video series to unveil her album tracklist, has announced all 13 tracks of her upcoming album 'Midnights'. Set to drop on October 21, 'Midnights' is Swift's 10th studio album. Her last records were 'Folklore' and 'Evermore,' both released in 2020.
Announcing the tracklist on Instagram, the "willow" singer said, "What keeps you up at night? Only 13 more sleepless nights before Midnights (and its 13 stories) 🌌✍️" The highly anticipated album will feature Lana Del Rey on track 4, 'Snow On The Beach'.
Find the complete tracklist below –
1. Lavender Haze
2. Maroon
3. Anti-Hero
4. Snow On The Beach
5. You're On Your Own, Kid.
6. Midnight Rain
7. Question…?
8. Vigilante Shit
9. Bejeweled
10. Labyrinth
11. Karma
12. Sweet Nothing
13. Mastermind
Paramore Announce 2023 South American Tour Dates
Following the release of their latest single 'This Is Why,' Paramore is back on the road again! The Grammy Award-winning band is two performances into their Fall 2022 tour. With their highly anticipated album scheduled to drop on February 2023, Paramore has announced tour dates for South America in 2023. 
"(h)ola South America. We're coming back. Stay tuned for more information on when tickets go on sale," the group wrote on social media. They will head to South America next March: Peru (March 2), Chile (March 5), Argentina (March 7), Brazil (March 9 and 11), and Colombia (March 14).
Coldplay Postpones Shows in Brazil Due to Chris Martin's Lung Infection
Coldplay announced plans to postpone their forthcoming shows in Rio de Janeiro and São Paulo after frontman Chris Martin contracted "a serious lung infection." The ongoing world tour is part of their Music of the Spheres tour, which kicked off in March 2022 and will run until July next year.
"To everyone in Brazil who was looking forward to these concerts, we're extremely sorry for any disappointment and inconvenience, and we're so grateful for your understanding at this challenging time where we need to prioritise Chris' health," read their statement. "We're optimistic that Chris will return to good health after the prescribed medical break and we look forward to resuming the tour soon."
Tickets will be valid for the rescheduled shows in 2023.
Ed Sheeran Announces North American Tour Dates
After five years, Ed Sheeran will finally make his return to North America in 2023. His "+ – = ÷ x Tour" (called the Mathematics Tour) will see him play in major stadiums in Florida, Georgia, Pennsylvania, Ontario, Massachusetts, Michigan, Seattle, and more.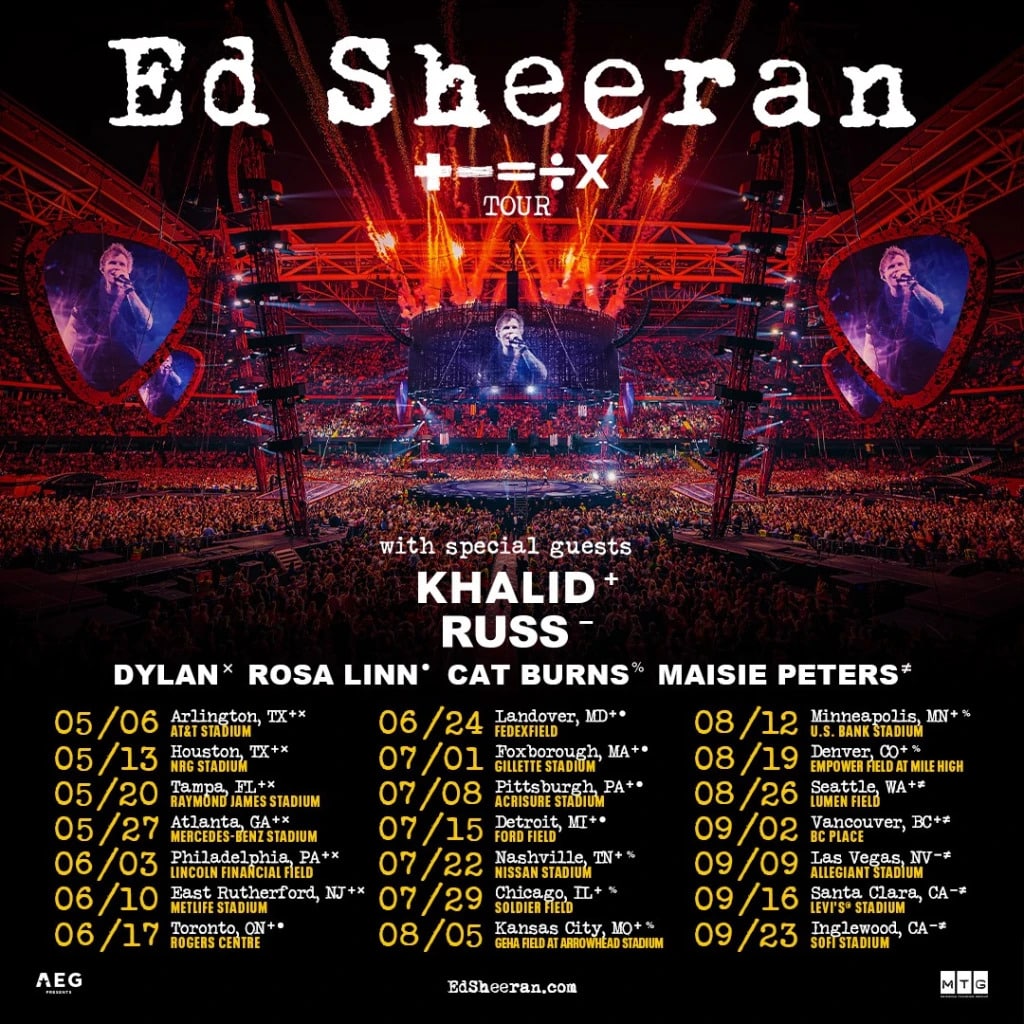 The North American leg of the tour will begin on May 6, 2023, at AT&T Stadium in Arlington, TX, before concluding it on September 23, 2023, at SoFi Stadium in Inglewood, CA. Sheeran will be joined by Khalid, Russ, Dylan, Cat Burns, Maisie Peters, and Rosa Linn. "Big shout out to some of my favourite artists who'll be joining me. Can't wait to be back x," he wrote on Instagram.
Find the complete details HERE
Lizzo, Dua Lipa, Demi Lovato & Jack Harlow, and More Headline 2022 Jingle Ball Tour Lineup
"This is the time of the year when the biggest artists in music come together to celebrate the holidays with their fans from coast to coast, culminating with a two hour broadcast television event on The CW Network," said a representative of iHeartMedia while announcing 2022's Jingle Ball Tour Lineup.
Jingle Ball Tour will hold 11 shows in 11 cities this holiday season. The star-studded roster of performers includes Dua Lipa, Lizzo, Jack Harlow, Sam Smith, Anitta, Dove Cameron, Bebe Rehxa, Pitbull, Charlie Puth, Backstreet Boys, Black Eyed Peas, Demi Lovato, The Kid LAROI, Khalid, Tate McRae, Lewis Capaldi, and more. The tour will stop in Dallas/Ft. Worth, Los Angeles, Chicago, Detroit, New York, Boston, Philadelphia, Washington, D.C., Atlanta, Tampa and Miami/Ft. Lauderdale.
New Music and Videos out this week –
You May Also Like: