Drum and bass extravaganza Mayhem Open Air will descend on the lawns of Addington Raceway and Events Centre in Christchurch on November 26, 2022! One of the most ambitious stage designs ever made in Aotearoa will host performances by drum and bass artists Whiney, P Money, Mollie Collins, Tsuki, and more. Mayhem Open Air kicks off at 4:00 PM, and event planners SUB180 will also host an afterparty on the same day! Tickets for the event are powered by Ticket Fairy.
Mayhem Festival New Zealand announced its return in September 2022 for what is sure to be an epic night of bass! Addington Raceway & Events Center will be the venue for the Mayhem Open Air, with a maximum attendance cap of 3000 people. It is a premier multifunctional racing and events venue in New Zealand and dates back to the 1930s, which was initially conceived to host harness racing events.
A stellar lineup of local and international performers has been assembled by SUB180 for one of their biggest shows ever. The stage for the event has been produced by the stage designer of the British Boomtown festival, renowned for its elaborate and unique set designs.
Commencing at 4:00 PM, Mayhem Open Air is plugged with hourly performances from some of the finest artists in the drum and bass scene. Kicking off the event is Christchurch-based Georgia 'Geo' Wallace, who was recently added to SUB180's One Eighty Artists roster.
He will be followed by a Deep Notion b2b set with CSM, for the first time in Christchurch. Following the announcement, CSM expressed on social media, "Another show added to the schedule and this one is looking huge! B2b with my bro @deep_notion for the second time ever, this time on a much bigger stage 🤤 .Cannot wait to share the stage with such amazing internationals in the dnb capital of NZ 😈"
UK-based producer of jungle and DnB Ben 'Crossy' Cross and hip-hop DnB performer Trafic MC will also perform at Mayhem Open Air as part of their multi-city tour of New Zealand. Following their performance will be DJ and music producer Dom Boyle from the UK, under the alias Tsuki. Tsuki was previously nominated for a drum & bass award as Best Newcomer in Drum & Bass.
The show will conclude with hour-long sets from the likes of musician, producer, and radio host Mollie Collins, currently on a five-week tour of Australia and NZ, followed by grime and DnB duo Whiney and P Money. The pair have put out several tracks together, including 'Dead In The Eye,' which amassed over one million streams as of November 2022. Their energetic single 'Sorry I'm Not Sorry' was also included in the FIFA 2023 soundtrack.
Final release tickets are still available, swipe them via the Ticket Fairy HERE!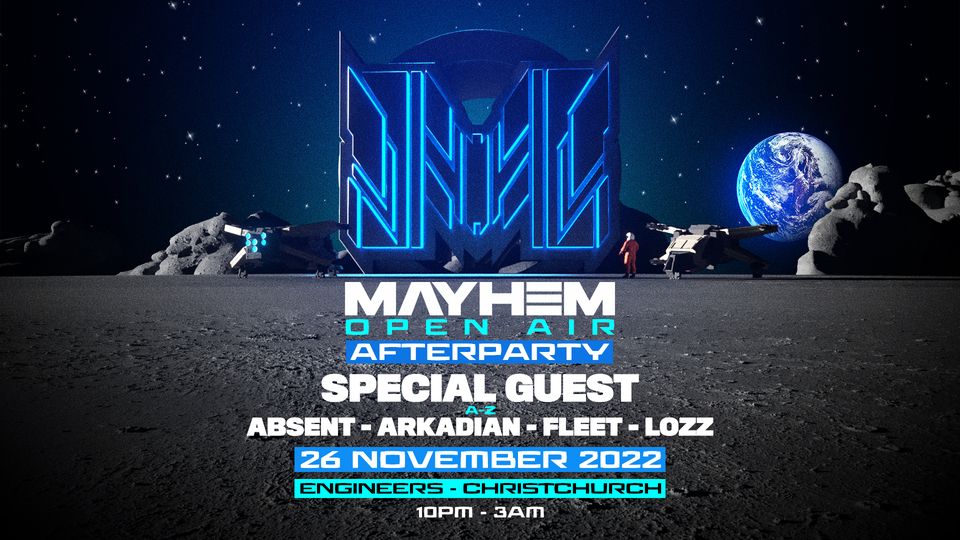 Mayhem Open Air will continue into the evening with an afterparty held at Engineers Bar in Christchurch, Absent, Arkadian, Fleet, Lozz, and a special guest performer will amp up the evening until the wee hours of the following morning!
In anticipation of his performance, DJ and music producer Absent shared via Instagram, "So unbelievably gassed to announce I am making my @sub180nz debut and what a party it will be, I have the honor of playing the after-party for @mayhemfestivalnz !! Get your tickets now from the ticket fairy and I'll see you there 🔥"
Click here for passes for the afterparty at Engineers Bar, Christchurch
Check out Mayhem Open Air's Website HERE
Check out Addington Raceway & Events Centre website HERE
Find the artists performing at Mayhem Open Air: Whiney | P Money | Mollie Collin | Crossy | Deep Notion | TraficMC | Tsuki | Geo | CSM | Fleet
You May Also Like: