From Red Hot Chili Peppers' guitarist John Frusciante announcing an electronic album to Liquid Drum & Bass 4 Autism releasing a 50-track compilation to aid autistic children, here's this week in electronic music
Alison Wonderland Launches Record Label, FMU Records
Alison Wonderland is the latest electronic artist to establish their own record label. Named FMU Records, Alison's newest venture has rolled out its debut track 'I Surrender' by Jon Casey and Dabow alongside its launch. "THE FIRST EVER RELEASE ON MY RECORD LABEL IS OUT RIGHT NOW!!!! And it's a banger. WOWOWOWWOWWWW shout out legends @joncaseybeats & @Dabowmusic. I'm feeling very proud and grateful," wrote Alison on social media following the release. 
Keeping with the announcements, she also revealed plans to release her musical alias Whyte Fang's debut album on FMU Records on March 31, 2023. The imprint will have a formal public debut at an undisclosed venue towards the end of March, which will also be an album listening party for Whyte Fang's forthcoming record. 
Liquid Drum & Bass 4 Autism Releases 50-Track Compilation to Aid Autistic Children
Non-profit organization Liquid Drum & Bass 4 Autism has released its second charity album. Titled 'USA vs. UK: A Friendly Exhibition,' the 50-track compilation record features tracks from Pyxis, Marble Elephant, Random Movement, Scott Allen, Seathasky, Buzz Rave, Suiz Eye Doctor, among others. 
We've been able to continue funding our autism efforts in Greece and New York!" wrote the organization on social media. "It's much more than just music, this initiative helps train and equip families affected by autism."
100% of the proceeds will go directly to the treatment of autistic children in 'underserved, rural communities.' Liquid Drum & Bass 4 Autism released their debut compilation, 'Redefining The Spectrum,' in 2020, with over 40 tracks. 
Buy 'USA vs. UK: A Friendly Exhibition' HERE
For more information, visit their official website – https://www.liquiddnb4autism.org/
Ultra Music Festival adds David Guetta, Charlotte de Witte, Marshmello, and more to 2023 line-up
Phase two of the line-up for Ultra Music Festival is here! With over 100 acts, the 2023 edition of the festival will feature the likes of Alesso, Tiësto, Charlotte de Witte, David Guetta, Marshmello, Afrojack, Vini Vici, Gareth Emery, Andy C, Dr Phunk, Nicky Romero, and many more!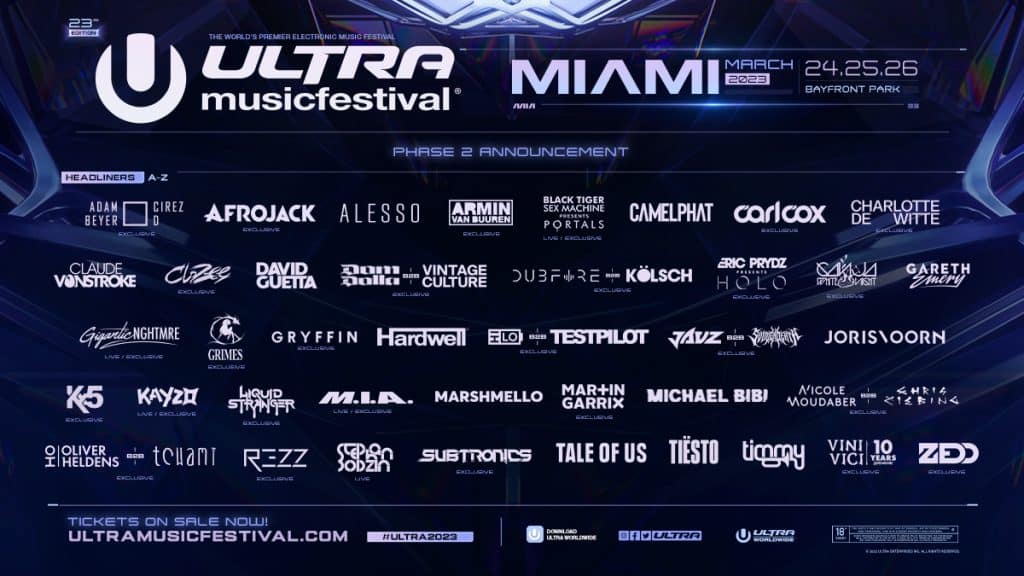 The news comes following a star studded phase one line-up announced back in October. Swedish House Mafia, Armin van Buuren, Carl Cox, CloZee, Eric Prydz, Grimes, Gryffin, Martin Garrix, Zedd, REZZ are some of the artists who were part of the initial line-up. Ultra Music Festival is set to be held on March 24-26 at Bayfront Park in downtown Miami.
Martin Garrix & JVKE Release New Song for MARVEL SNAP
Superstar Martin Garrix and rising talent JVKE teamed up for a MARVEL SNAP project. Together, the musicians have released the track 'Hero' in collaboration with Nuverse, Second Dinner and MARVEL Entertainment. The animated video for 'Hero' was broadcasted during this year's The Game Awards, where MARVEL SNAP was nominated for Best Mobile Game of the Year.
"I'm super honored to be a part of this project with MARVEL SNAP," Martin Garrix said. "I love exploring new territories with my music, and I'm really excited the song is finally out today.''
Red Hot Chili Peppers' Guitarist John Frusciante to Release Double Electronic Album
John Frusciante announced the forthcoming release of two solo albums, I and II. Due to arrive in early 2023, the double electronic albums will be out via Acid Test Records' sub label Avenue 66. 'I' (pronounced 'one') will feature seven tracks on vinyl, and 'II' (pronounced 'two') includes songs for CD and digital formats. These will be Frusciante's 12th and 13th albums, respectively. 
"After a year and a half writing and recording rock music, I needed to clear my head," Frusciante wrote about the record. "I listened to and made music where things generally happen gradually rather than suddenly. I would set up patches … hearing one sound morph into others, making changes to a patch only after having listened for quite a while, gradually adding elements, and finally manipulating the sounds on the fly."
You May Also Like: