In addition to being a beautiful and aesthetically pleasing place to visit, Argentina's capital city Buenos Aires also offers an assortment of wonderful experiences. The city teems with historical monuments, local markets, museums, and fine-dining restaurants; and if you enjoy live music, then you can add one more stop to your itinerary while you're traveling to Buenos Aires – attending music festivals.
The unique and incomparable moments at music festivals in different countries or cities are ones to cherish forever. We've compiled a list of five upcoming music festivals in Buenos Aires you should attend:
Lollapalooza Argentina 2023
Lollapalooza, one of the biggest music festivals in the world, is returning to Buenos Aires this year at Hipódromo de San Isidro from March 17 – 19, 2023. The three-day event will see some of the most renowned artists in the world take the Lollapalooza stage in Buenos Aires. The stunning line-up includes Drake, rock band Blink-182, Lil Nas X, Dutch DJ Armin van Buuren, Rosalía, Billie Eilish, and Tame Impala. 
Among those scheduled to perform at this event are Australian electronic dance music producer/DJ/singer Alison Wonderland, Omar Apollo, German DJ/producer duo Claptone, Kali Uchis, French music duo Polo & Pan, British multi-instrumentalist, producer/DJ and singer-songwriter Fred again, alternative rock band Wallows, English singer Suki Waterhouse, and German disco and house music producer – Purple Disco Machine.
Festival Electro Tango Buenos Aires Argentina
Mark your calendar for four days of fun at the Festival Electro Tango Buenos Aires Argentina on February 9, 10, 11, and 12. This four-day event is set to take place at Galpón B. Here, you can dance your hearts out to some of the hottest electro-tango orchestras and party to the tune of the finest international DJs. Enjoy performances from talented dancers, exhibitions, tango book fairs, and much more! This festival will also have a bar, a workshop, and buffet.
The line-up for this year includes tango music group Otro Aires, DJ Tango Isabelle, Mariano Godoy, electronic tango music project Tanghetto, and San Telmo Lounge. Electrotango Argentino singer-songwriter Lilí Gardés, Nazarena Caceres, and Tomi Lebrero, among many other exciting names, are also set to take the Festival ElectroTang Buenos Aires stage this year.
Festival Nuevo Día
A wonderful list of artists will head to the Teatro Vorterix for Festival Nuevo Día on April 16, 2023. Witness music from rock bands Las Ligas Migores, Buenos Vampiros, Fin del Mundo, Revistas, Mujer Cerba, Dum Chica, and El Club Audiovisual live at the upcoming festival.
Primavera Sound Buenos Aires
Primavera Sound Buenos Aires was held in 2022 for the first time. Some of the most popular artists headed to Argentina for the festival, including Travis Scott, singer-songwriter Mitski, Charli XCX, Lorde, and Phoebe Bridgers.
Arctic Monkeys, singer-songwriter and producer Caroline Polachek, Raveena, and indie pop band Japanese Breakfast, among many others, performed at the inaugural edition of Primavera Sound Buenos Aires in Argentina. The dates and line-up for the 2023 edition of this music festival are yet to be announced. Keep your eyes on their Instagram account to catch the latest updates!
Festival Ciudad Emergente
Starting as a cultural festival to celebrate rock in 2008, the Festival Ciudad Emergente offers a new experience to its attendees each year. From mind-blowing music and dance performances, to scrumptious food, visual arts, and sports, there is something for everyone here!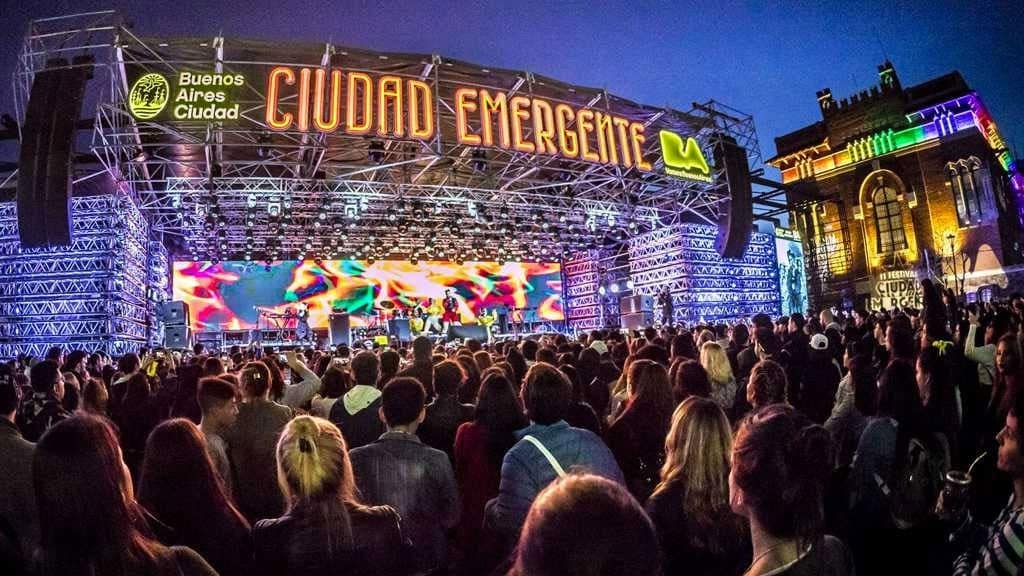 Whether you're a fan of theater or technology, you don't want to miss this if you're in Buenos Aires! You can discover new artists as well as their new projects. At this aesthetic event, everyone's artistic abilities are on display!
You May Also Like: