Globally renowned hard rock band Papa Roach will take over The Trusts Arena with alt-rock band The Used as part of their 'CUT MY HEART INTO PIECES' 2023 Tour.
Following a flood of fan requests to bring the band to New Zealand, NZ's top radio Station, The Rock, and Papa Roach added a special self-promoted concert to the 'CUT MY HEART INTO PIECES' 2023 tour. The concert was previously to be hosted at the EventFinda Stadium, and now has been moved to The Trusts Arena in Auckland. Get your tickets to this highly-anticipated event via The Ticket Fairy now!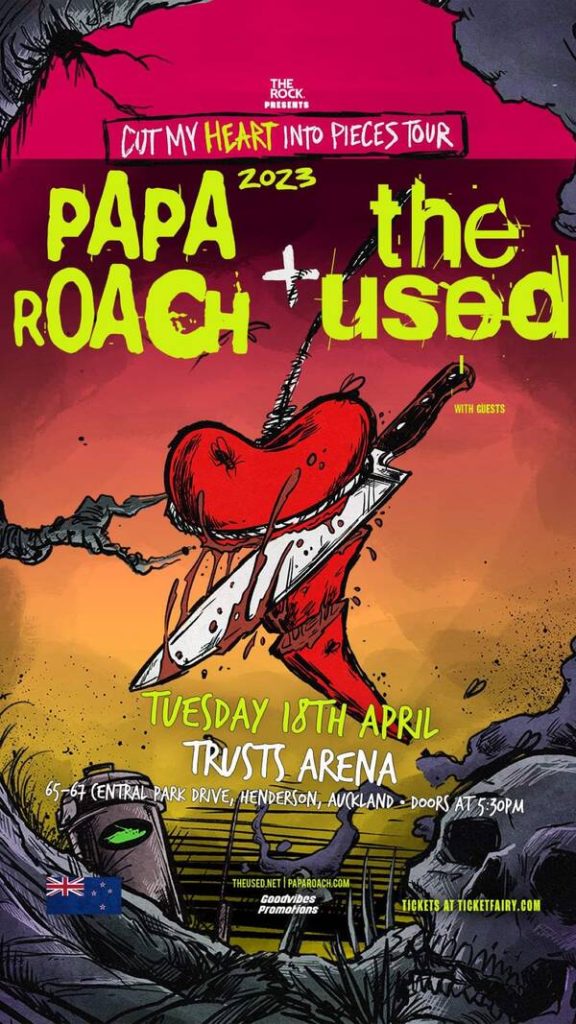 PAPA ROACH + THE USED | CUT MY HEART INTO PIECES (NZ) will kick off at 5:30 PM on Tuesday, April 18. Both seated and floor standing tickets are available for purchase.
Additionally, attendees also have the option to purchase VIP passes for Papa Roach and The Used individually. VIP Passes include special collectibles and merchandise from the bands, namely signed CDs, limited edition art prints, keychains, tote bags, and a lot more.
Papa Roach, consisting of members Jacoby Shaddix, Jerry Horton, Tobin Esperance, Tony Palermo, has been at the fore of the hard rock scene since 1993. The band's biggest hits include 'Last Resort,' 'Scars,' and 'Between Angels and Insects,' with upwards of 900 million plays on Spotify against 'Last Resort' alone! Papa Roach is no stranger to crazy tour schedules and massive audiences, having concluded the Rockzilla Tour early this year, before the CUT MY HEART INTO PIECES tour begins. With 11 studio albums sprouting various chart-topping hits, Papa Roach is easily among hard rock's finest exports.
The Used, consisting of vocalist Bert McCracken, bassist Jeph Howard, drummer Dan Whitesides, and guitarist Joey Bradford, first debuted during 2001. Since then, the band has spawned eight studio albums