Snuggled within a fifteen-minute radius from the coastline and sandy beach comes The Beat Goes On… (TBGO), a micro-festival that features a fiery outburst of music, art, and live performances. Fanned out over three days at a campsite in Bridgend, Wales, TBGO is slated to take place from May 26-29, dishing out over sixty artists showcasing acid, techno, house, drum & bass, jungle, reggae, dub, psy, trance, and more! Get your tickets to The Beat Goes On… from The Ticket Fairy.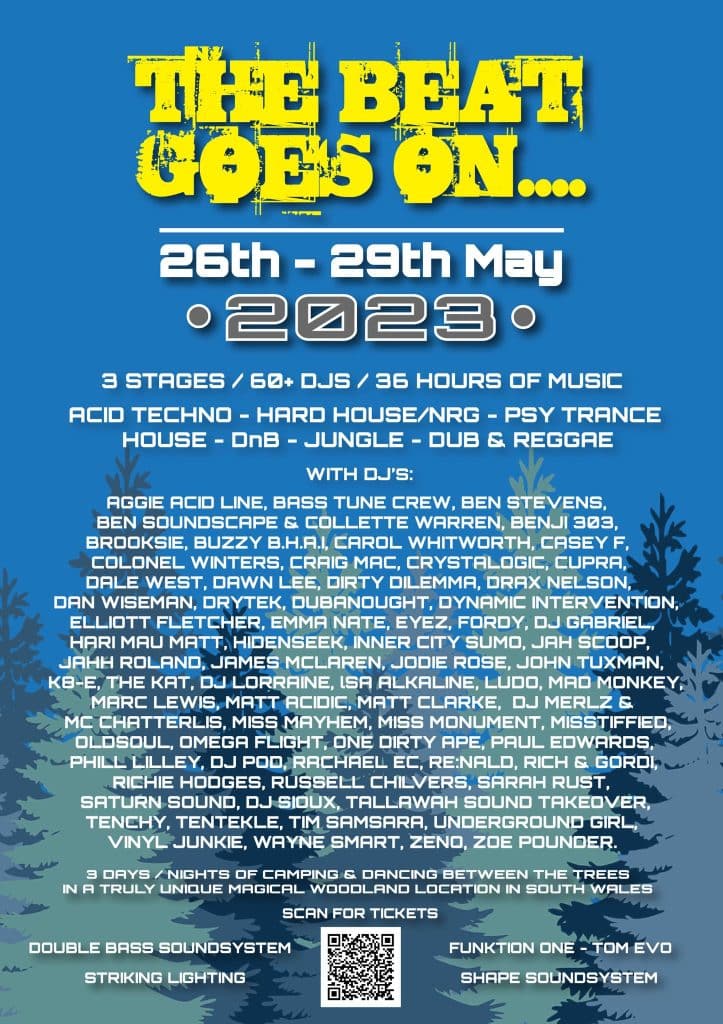 The Beat Goes On is set to erupt with 36 hours of nonstop pulsating music, keeping attendees on their feet for three days and nights. A plethora of electronic artists are slated to congregate at the festival, showcasing the very best and latest in underground music. Confirmed for this spectacle are Belgium's Bass Tune Crew, UK-based acid and techno DJ Benji 303, Bristol-based acts Dirty Dilemma, gypsy, swing, and DnB artist I Am Nomadika, Swansea's Open Format DJ Sioux, Brighton techno aficionado Zoe Pounder, and minimal, hard house, and funky techno DJ and producer John Tuxman to list a few.
Spotlighting such a massive talent pool and producing the finest live sessions in DnB, hard house, and sweet reggae dancehall vibes. TBGO will assemble three stages sprawled across the venue. The exact location will be sent to ticketholders via email a week prior to the festival. The organizers have made an effort to propel the motto of 'Respect This Space And Leave No Trace.' Single-use plastic is banned for the event, and the food vendors onsite will dish out bites and beverages in compostable material.
In addition to the music, exquisite sound systems, sandy dance areas, campsite, and marquees, attendees will experience spectacular artwork exhibits, light and laser showcases, 3D sculpture works, and displays crafted from produced scrapped, re-cycled material and repurposed waste. Arts and entertainment company Luak Fire Tribe will also put on a theatrical performance.
For more updates, visit The Beat Goes On Facebook 
For tickets and more information, click here to visit The Ticket Fairy
You May Also Like: