For the first time ever in New Zealand, Australian-Samoan hip-hop and rap musician Youngn Lipz will make his debut performance at The Factory in Hamilton on June 3, 2023. Tickets to this hip-hop spectacle can be purchased via The Ticket Fairy! The party will run from 7 PM – 11 PM and is strictly for ages 18 and above.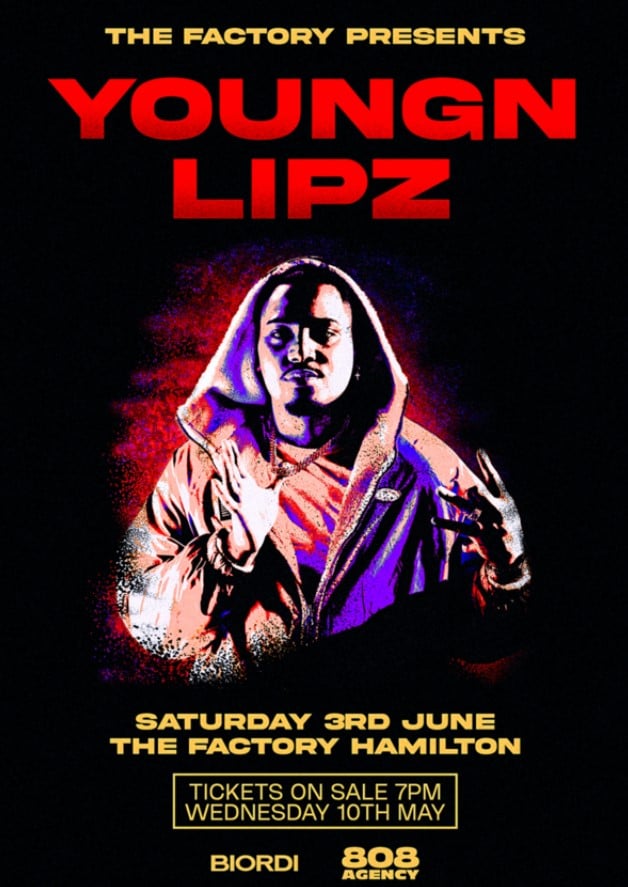 About the Artists
Hot on the heels of his most recent release, 'Amazing' on April 14 this year, Youngn Lipz is bringing the party to New Zealand, with not one, but two back-to-back shows this June. The hip-hop rising star first hit global radars with the release of his 2019 debut single, 'Misunderstood,' which currently stands at a whopping 35 million+ plays on Spotify alone.
Youngn Lipz (aka Lipo Faaolii) has had massive success in a mere three years, with a dedicated fanbase not just on his home turf, but across the world. Lipz has also been recognized as both a Gold and Platinum certified artist by ARIA (Australian Recording Industry Association), and his debut album, 'Area Baby,' ranked in the top tens in both Australian and New Zealand charts.
Supporting the hip-hop musician for the evening are frequent collaborators DJ Sir-Vere and MC Bigg Romez. Hamilton-based DJ Sir-Vere (aka Phil Bell) is a pioneer in the NZ hip-hop scene, donning multiple hats across the board, from being a live performer to promoting gigs. Having made appearances on both television and radio, with an extensive background in the Kiwi hip-hop industry, DJ Sir-Vere was awarded the New Zealand Order of Merit in 2018 for his contributions to music.
MC Bigg Romez is another Kiwi scene staple and is usually seen on almost every major NZ music event line-ups and top nightclubs. Romez (aka Jerome Bigg Romez Tugia) first collaborated with DJ Sir-Vere in 2016. Since then, the duo has been seen performing together countless times, with their most recent performance at The Yot Club in Raglan in April this year.
About the Venue
The Factory, Hamilton, is the New Zealand city's newest live entertainment venue located in central Hamilton's hospitality district, Victoria Street. The area of the venue is a combination of one of Hamilton's top nightclubs, The Outback Inn, and a former bar called Axces.
The Factory has hosted everyone from world-renowned talents like Sean Kingston and Netsky to Kiwi break-out sensations such as rock band Devilskin and singer/songwriter Kimbra. The venue is also a top pick for the country's best organizers and promoters, making it a frequent stop for artist tours and festival pre-parties and after-parties.
Get your tickets before they sell out and prepare yourself for a night like no other – Youngn Lipz in New Zealand for the first time ever!
Visit the official event page on The Ticket Fairy: HERE
Find Youngn Lipz on: YouTube | Spotify | Instagram | Facebook
Find The Factory, Hamilton, on: Instagram
You May Also Like: