Regarded as the birthplace of the Beat-Herder festival, the Toil Tress stage is all set to host some of the biggest names in dance music.
The European festival season is approaching at breakneck speed, along with line-ups that are spoiling us for choice, making it tough to pick the festival to attend. In the middle of a jam-packed festival schedule for June and July is the weirdest, wildest and most joyous party in the UK festival calendar, having recently announced its roaring return.
Described as 'the best party of the Summer' by The Mirror and 'One of the best 100 events in the world' by DJ Mag, Beat-Herder's reputation precedes it as a haven of hedonistic joy; and it's all set go down in a four-day affair at the Ribble Valley in Lancashire from July 13 – 16.
After a heartbreaking two years away, Beat-Herder returned to welcome back its loyal family in 2022 with one of its best parties to date. Now, for its sixteenth year, Beat-Herder has announced the names that will be setting the party alight at its technicolor escapist bolthole in Lancashire.
While the entire festival line-up is flooded with some of the biggest and most respected names in dance music, the Toil Trees stage, which is regarded as the birthplace of the festival, is usually where the hardest of sets go down.
Keeping up with their yearly tradition of the Toil Trees stage, Beat-Herder has confirmed one of the UK's best-loved selectors, Skream, who brings his decades of dubstep to this magical space. Joining him are Scottish DJ and music producer Ewan McVicar, who came to prominence in 2021 with the release of his debut single, 'Tell Me Something Good,' and one of house and techno's finest DJs and Running Back label head, Gerd Janson, alongside Dublin house duo Obskur.
A DJ leading a new generation of high-speed ravers addicted to jungle, drum & bass, footwork and juke is Sherelle, who is also confirmed alongside Shermanology, the Dutch-Caribbean brother & sister duo and house music stronghold. Also announced is soulful electronic/psychedelic producer, DJ and cosmic energy Cici and BBC Radio 1 broadcaster and DJ, Jaguar, alongside Radio 1's Future Dance DJ, Sarah Story, who'll be spinning some of the best emerging, new-wave talents.
A Toil Trees institution, this is a genre-spinning set not to be missed: Mr Scruff invites MC Kwasi to a 4-hour session of hip hop, funk, disco, deep house, reggae, afrobeat, and everything in between. Also joining them is Melbourne-born, London-based producer DJ Boring, who will showcase a variety of inspirations from Chicago house and Detroit techno through to trance and funk.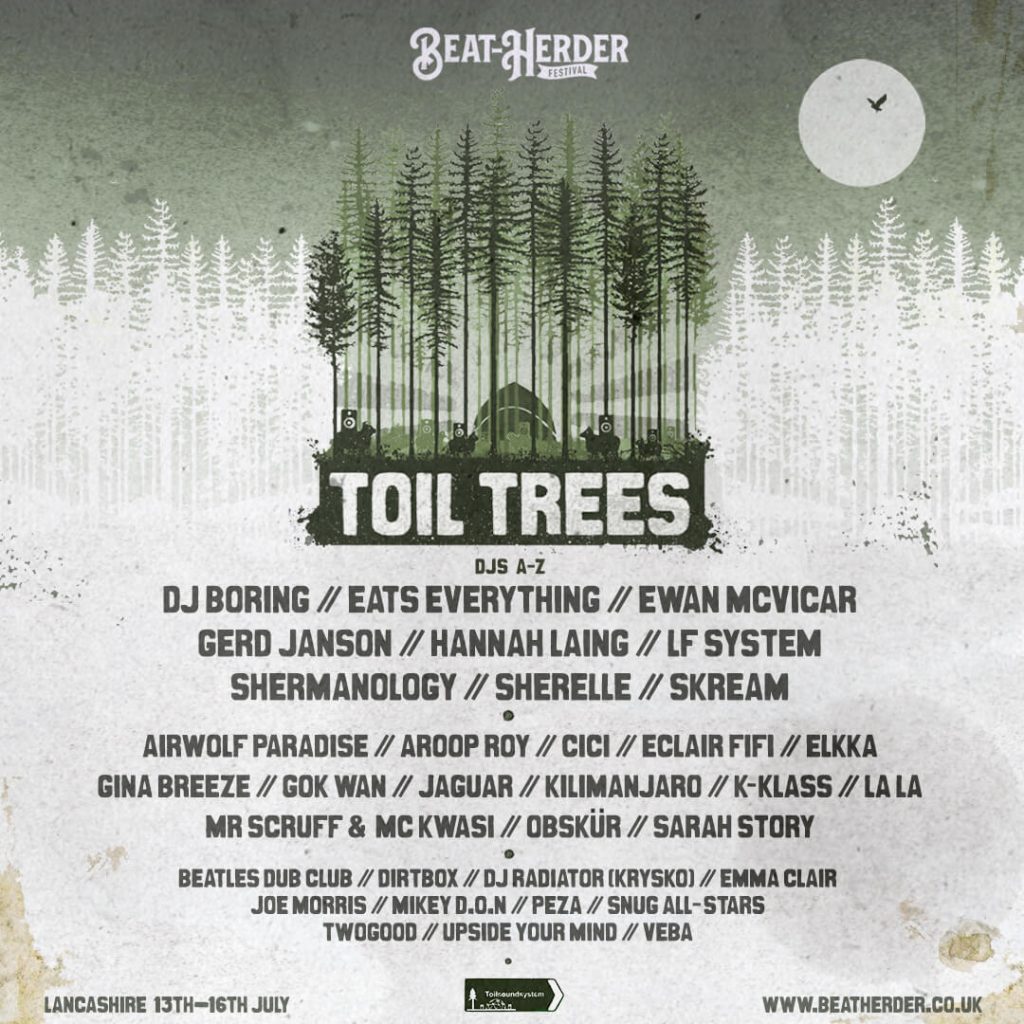 Glasgow's finest, La La, cited by Mixmag as 'one of the most exciting up-and-comers,' joins stylist, presenter, and DJ Gok Wan, who will bring uplifting club beats alongside the much-loved Airwolf Paradise, whose 'Don't Hurt Me Baby' was one of the biggest tracks of 2022. 
Top-notch music is what Beat-Herder has been known to offer over the years, and it's unsurprising that the festival is deemed a favorite by so many. To experience Beat-Herder, grab your tickets HERE.
You May Also Like: