Netflix's 'Wham!,' a 1-hour 32-minute film directed by Chris Smith ('Sr.,' 'Jim & Andy: The Great Beyond'), chronicles British pop duo Wham!'s meteoric rise to success and fame and is a testament to the sweet friendship of two young boys who went on to become one of the biggest pop acts on the planet.
Do you believe in fate? Do you think you would be where you are if that one incident, decision, or moment hadn't occurred in your life? Would Wham! have been formed had Andrew not met George or raised his hand to "take care of the new boy" on Michael's first day at the school?
Would Wham! be as successful as they are today had they not performed at Top of the Pops at the last minute when another act pulled out of the British pop music television program? Although luck does help us, talent, determination, and hard work also play a major role in life.
'Wham!' takes viewers through the duo's formation and their split in 1986. It begins with footage of George Michael and Andrew Ridgely at the Bushey Meads School in Hertfordshire, England, where they first met when they were 12, and ends with their final concert at the Wembley Stadium in London in June 1986, where they bid farewell to their fans as Wham!
With 4.4 million Netflix users tuning in, this documentary stood at number 8 on the platform's Global Films (English) chart from July 3 – 9, 2023. The film highlights George's ambitions of becoming a star, his songwriting and producing prowess, and how Ridgeley was the driving force behind Wham!
It features the first demo of 'Careless Whisper' that they made even before Wham! was formed. We also see George Michael, born Georgios Kyriacos Panayiotou, take the song to Jerry Wexler, a renowned music producer who had worked with the likes of Aretha Franklin and Ray Charles. However, they didn't like the track and ended up having English jazz saxophonist and composer Steve Gregory play the saxophone for 'Careless Whisper' while George produced it.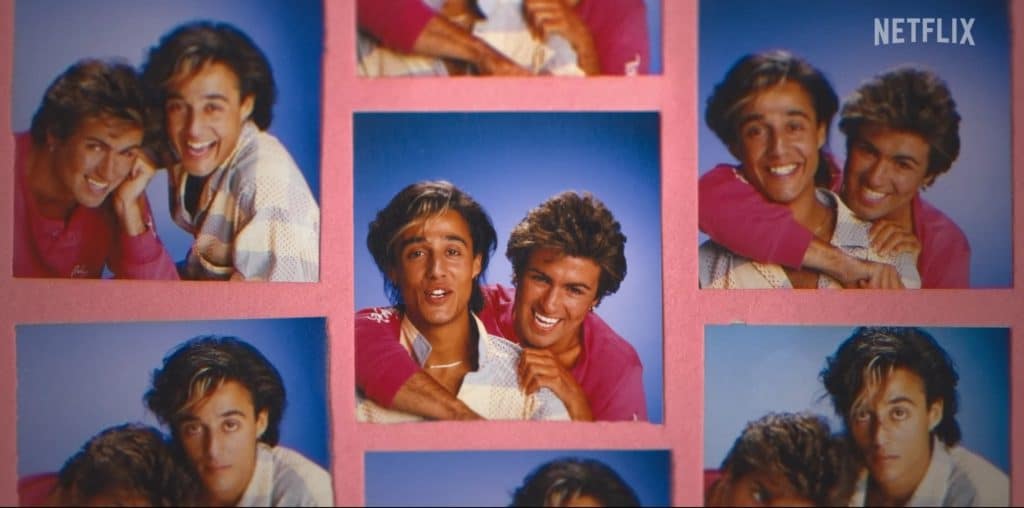 This documentary is narrated by Andrew Ridgeley and George Michael. Andrew never appears in the documentary except through archival footage, just like his late friend George Michael, who died of natural causes after suffering from heart and liver disease at age 53 in 2016. The director and the team behind this Netflix film were fortunate enough to have never-before-seen footage, rare interviews, and the scrapbooks Andrew's mother had been making since day 1! It included reviews, chart positions, as well as newspaper clippings, which helped shape the documentary.
Ridgeley's current interviews are skillfully presented alongside George's archival interviews. The film doesn't touch on life after Wham! after George and Andrew amicably parted ways.
In the span of four years (1982-1986), the duo sold 30 million records worldwide. They hit the road in England, Wales, and Scotland in support of their debut album 'Fantastic,' which was released 40 years ago in July 1983. With a new album 'Make It Big' in 1984, came a new tour that took George and Andrew to Australia, Japan, Ireland, the US, the UK, and China. They also made history as the first Western pop act to have a concert in China!
'Wham!' the film also puts a spotlight on George's talents, and his desire to make it bigger, and score a fourth no.1 single in the UK. 'Everything She Wants,' 'Wake Me Up Before You Go-Go,' and 'Careless Whisper' was all no. 1 hits in the country. However, 'Last Christmas' earned a no. 2 spot as the star-studded Band Aid charity song 'Do They Know It's Christmas?' released on the very same day. Wham! donated all their royalties from the Holiday single to famine relief in Ethiopia.
For new fans and old, this Netflix film does a brilliant job of introducing the British pop artist to its viewers. A tale of perseverance, friendship, and personal struggle, 'Wham!' underlines their innate talent as artists and their friendship doesn't fail to bring a smile to our faces.
'Wham!' is streaming on Netflix: HERE
You May Also Like: