KH Productions brings to you The Circuit Jungle Market Days Chicago 2023 on August 14, 2023! Get on board for Market Days 2023 after-hours special from 7 AM to 1 PM with music from Kardona and Adrian Dalera. Tickets to this one-year anniversary event are up for grabs at The Ticket Fairy.
"IT'S OFFICIAL we're celebrating our 1 Year Anniversary Monday Morning August 14th 2023 ???? closing out Market Days Chicago??Step into the captivating world of the Circuit Jungle, making a stop on the Circuit Train in our Circuit Station (Chicago) where the pulsating energy of the urban metropolis meets the untamed spirit of the jungle," said KH Productions, announcing this show earlier this month.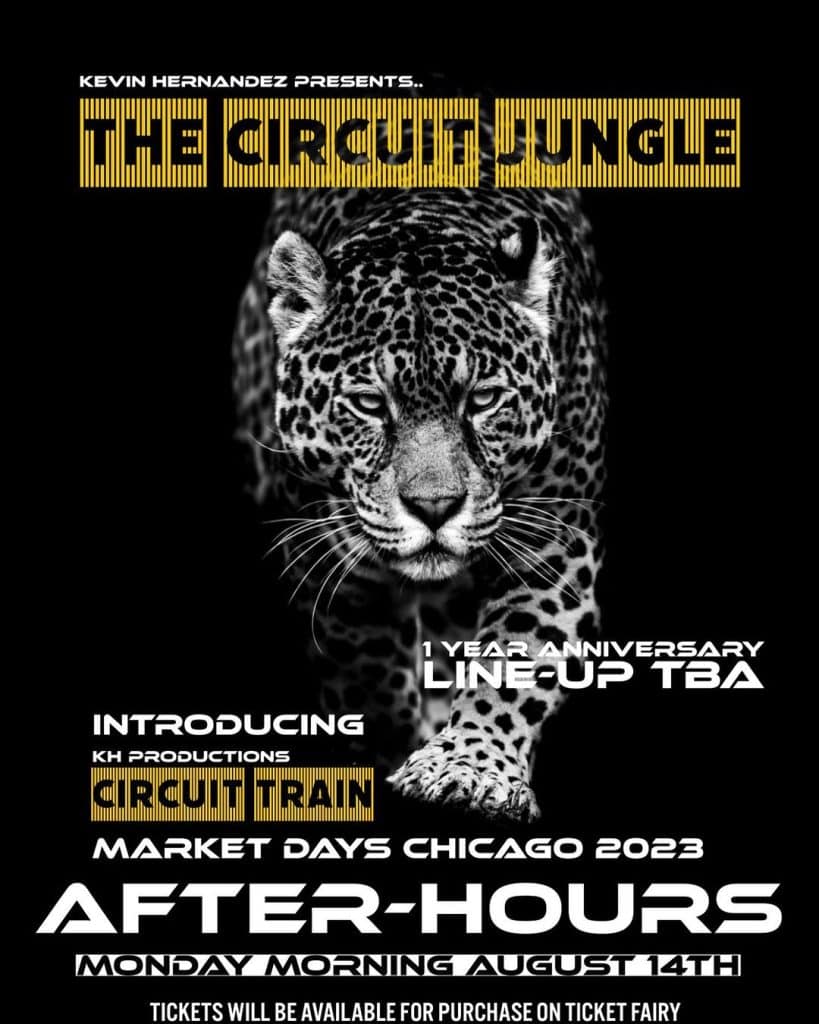 They continued: "Descend into the depths of the underground, and as you enter this hidden realm, you find yourself immersed in a fusion of vibrant beats and lush greenery. The rhythmic pulse of the city intertwines with the wild rhythms of the jungle, creating an electrifying atmosphere."
The soundtrack to this spectacular show will be provided by Kardona and International DJ/producer Adrian Dalera. Kardona has mesmerized revelers at WEPA! Party Reflections in Chicago, Future nightclub in Atlanta, Atlanta Pride 2023, and WEPA! Pride Party! "Chicago Circuit Jungle is coming. Buy your tickets now," he shared on his Instagram.
End the Market Days 2023 weekend in style at The Circuit Jungle with incredibly talented DJs Adrian Dalera (Mexico) and Chicago's Kardona. Don't forget to show off your best moves at this party!
Please Note: This is a 21+ event.
Early Bird tickets have SOLD OUT! Get GA Pre-Sale tickets for Welcome to the 'Circuit Jungle' Market Days 2023 After Hours from the Ticket Fairy: HERE
Artists performing at this event: Kardona | Adrian Dalera
KH Productions on: Instagram
Kevin Hernandez on: Instagram
You May Also Like: