Gear up for three days of partying over the first weekend of September in Austin, Texas, at Tidal Wave! Presented by Haus of Slut, this will be a weekend to remember from September 2 – 4, 2023, with surprise celebrity/guest performances and over 20 hours of house music taking place at a secret members-only club, yachts, as well as a mansion. Tickets for Tidal Wave are available at The Ticket Fairy.
"Ride through Splash Labor Day Weekend on Haus of Slut's biggest, wettest, and wildest three day weekend event yet: TIDAL WAVE" Haus of Slut announced on Instagram.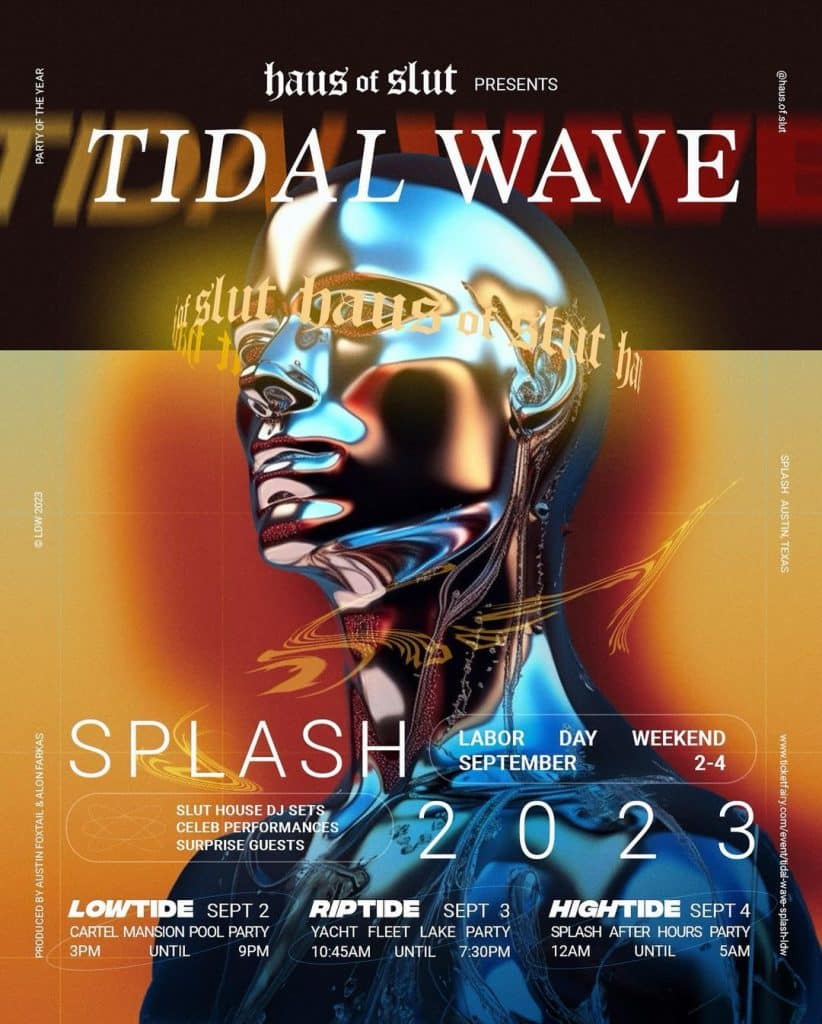 September 2 – Low Tide: Mansion Pool Party
Tidal Wave begins on September 2 with Low Tide, a pool party at the Governor's Mansion from 3 – 9 PM. Get ready to bust off your best moves to numerous DJ sets and promised surprise guest performances as well! Keep your eye out for more surprises at Low Tide as you move amidst some of Splash's most handsome men.
September 3 – Riptide: Yacht Fleet Party
Day 2 is Riptide – a yacht fleet party at Hippie Hollow Lake Travis on September 3. This is the biggest yacht party takeover in Splash history, beginning with a "complimentary wild party bus ride" starting from Downtown Austin, which will stop at Lake Travis. The party will run from 10:45 AM to 7:30 PM. Have the time of your lives at Hippie Hollow (Lake Travis' Nude Beach) and enjoy the delicious food and amazing drinks.
September 4 – High Tide: Splash After Party
The Splash After Party called High Tide will begin at midnight and last until the early hours of the morning! Exclusively set up at Austin's epic members-only club Highbrow Lowbrows, High Tide brings effervescent visual performances, DJ sets and surprise guest appearances! RuPaul's Drag Race Season 15's alumnae Sugar and Spice will be the special guests at the final showdown. DJ Ryan McClure will also get behind the deck at Low Tide and High Tide this September.
Get tickets for Tidal Wave Splash Labor Day Weekend from The Ticket Fairy: HERE
Special guests at this party: Sugar | Spice | Ryan McClure
Haus of Slut on: Instagram
Highbrow / Lowbrow on: Instagram
You May Also Like: