Amidst the deluge of day clubs or beach clubs that Bali has to offer, selecting the best one to your liking can be a bit of a task. From the vast list of family-friendly clubs, luxurious stays, and picturesque views that come with each establishment, we list out the best options for beach clubs across Bali for you to experience in 2023!
Desa Potato Head Beach Club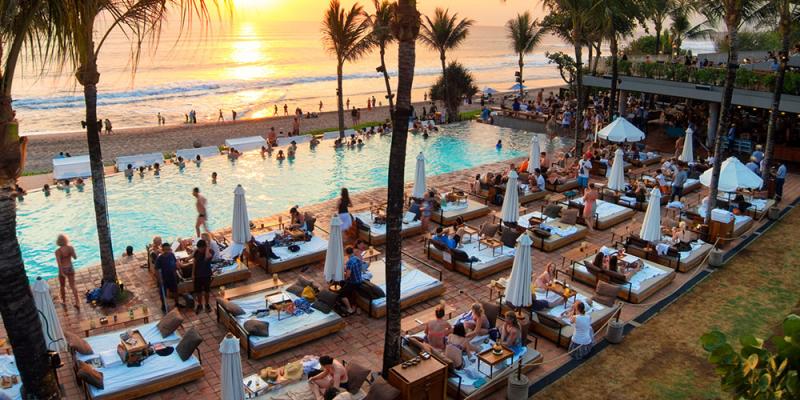 With sustainability at its forefront, Seminiyak's most beloved Desa Potato Head is Bali's must-visit beach club on every list. Surrounded by an atmosphere built with sleek cement and reclaimed wood designs, Potato Head welcomes you into a world of opulence – from its impeccable service to its top-notch amenities. Replenish yourself at the infinity pool, beachfront cabanas or chill beds at the club with elaborate options of international foods, cocktails infused with local spirits, fruits and spices, Potato Head Jamu, Indo mocktails, and much more.
Despite having carved its name as one of the finest day clubs in Bali, Desa Potato Head transforms into a mammoth attraction for live electronic music gigs by night. It also offers a variety of wellness activities and facilities, a separate experience space for music and the arts, and a delectable abundance of feasts.
Savaya
Perched 100 meters atop the limestone cliff of Uluwatu above the Indian Ocean sits Savaya, the ultimate coastal hideaway with a jaw-dropping view. Its encircling jungle provides a sheltered atmosphere, perfect for enjoying Savaya's architecturally stunning focal point, The Cube. The open-air venue has cabanas, sunbeds and sofas that bind together Savaya's shapely swimming pool, local and international cuisine and signature drinks that overlook the breathtaking panorama of the ocean.
La Brisa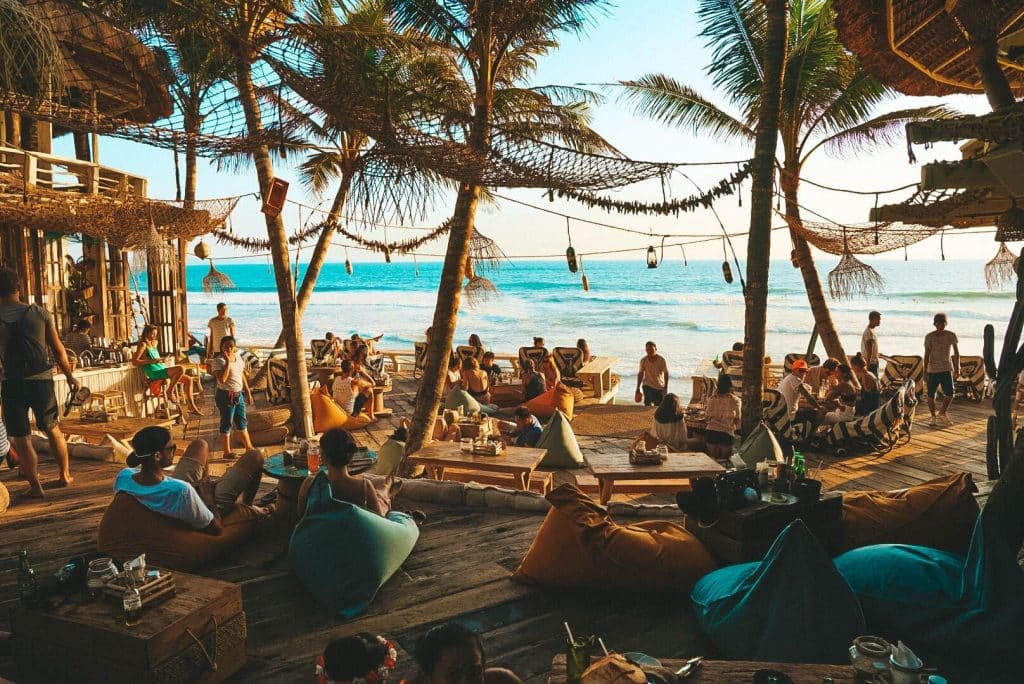 La Brisa in Canggu's Echo Beach gave life to the remnants of 500 old fisherman's boats, refurbishing its wood to bring in a rustic, boho and hipster ambiance. This eco-friendly venue offers up an assortment of activities for its beachfront serenity, including beach yoga, low-key parties, Sunday markets, and live music. The nautical theme of La Brisa is a surefire way to lighten your mood, with its cozy bean bag seats, secluded tree houses, and top-of-the-line selection of music, brought together by their specially crafted seafood cuisine and tropical cocktails.
The Lawn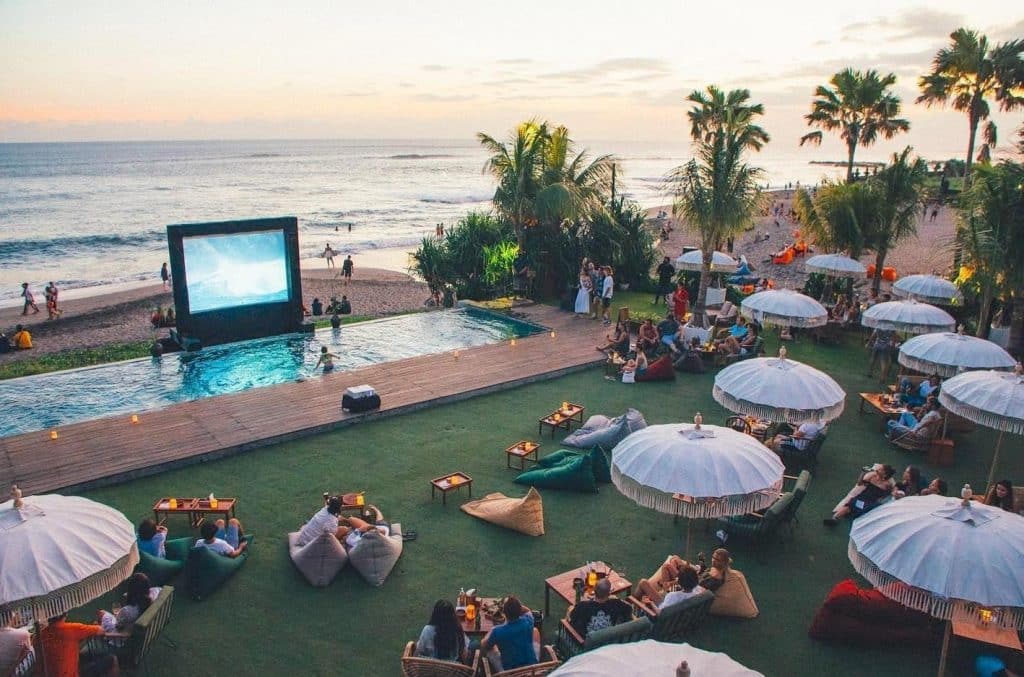 Another must-visit beach club in Canggu is the revamped and upscaled version of The Lawn! What started as a meet-up place for beachgoing locals and tourists to sip margaritas while they basked in the setting sun turned into a world-class destination for Bali visitors. Let The Lawn take care of your gastronomical and aesthetic needs as they serve up a concisely curated menu featuring gourmet delicacies and day-sippers that infuse your holidays' overall tranquility. Sit back and relax with your friends or family, gazing at the black sandy beach from your loungers and daybeds or by the infinity pool at The Lawn.
Atlas Beach Club
Touted as "the Biggest Beach Club in The World," Atlas Beach Club is situated on the shores of Bali's Berawa beach, sprawled across a massive 29,000 square meter area. Island daybeds, VVIP and VIP sofas, lagoon daybeds, pool bars, and sliding pool daybeds are some of the leisure options for beach club visitors at this colossal venue. Atlas Beach Club offers an extensive sea and land food spread to go with its equally wide-ranging beverage list.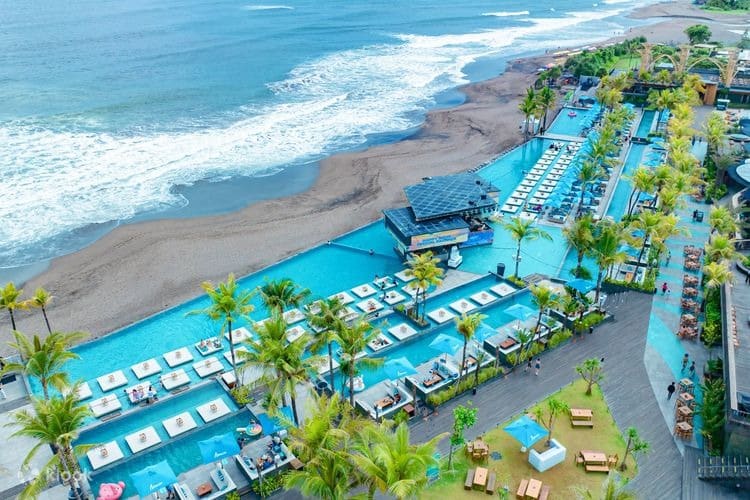 Traditional Kecak dances, magicians, stilt walkers, fire jugglers, fire dances, paramotorists and more provided uninterrupted entertainment for those seeking to take in a glimpse of Bali traditions at Atlas Beach Club. The venue also brings in acclaimed electronic musicians to the beach club, with upcoming performances from Martin Garixx, Mashd N Kutcher, Andrew Rayel and more! The stunning, state-of-the-art venue by day turns into one of Bali's hotspots for nightclub thrill-seekers.
KU DE TA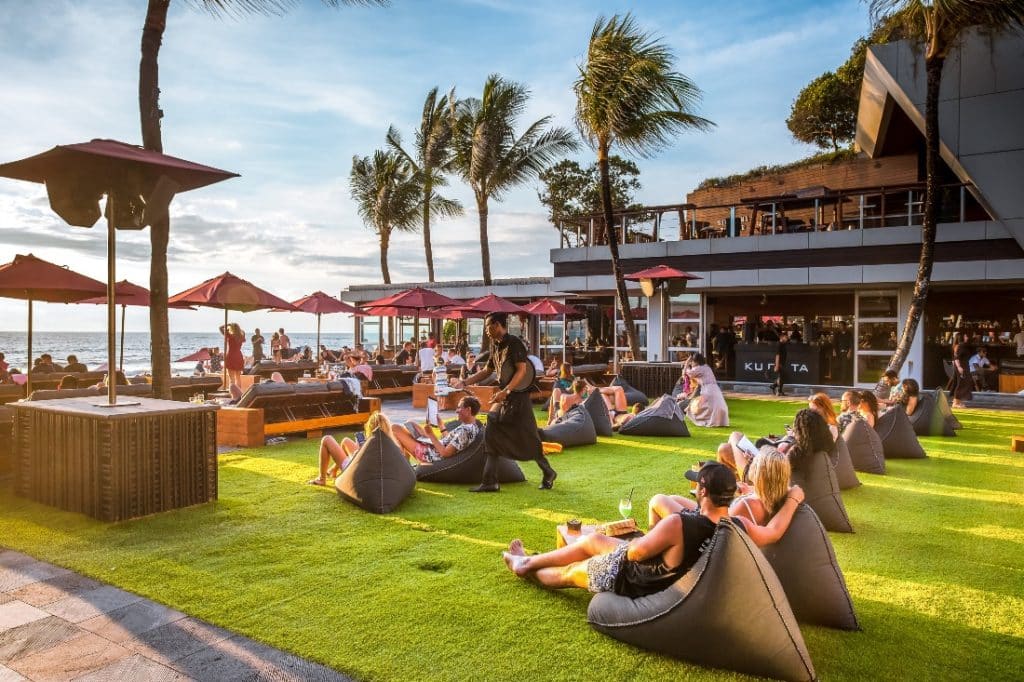 KU DE TA reigns as one of Bali's most luxurious beach clubs, even two decades after its launch. With a front-row view of the Indian Ocean, exceptional fine-dining cuisine, and curated soulful soundtracks, KU DE TA in Seminyak seamlessly blends contemporary architectural motifs and traditional Balinese hospitality for a truly unique and elevated experience.
Single Fin
Yet another clifftop beach club in Uluwatu that overlooks the scenic coastline of the region is a surfer-favorite, Single Fin. This quintessential bilevel establishment draws visitors with its famous brewed coffee, ice-cold Bintang, cocktails made from freshly-sourced fruits, and an array of healthy global delicacies. Take in the mesmerizing view from the clifftop at Single Fin while listening to acoustic jams and catching stellar performances from international DJs and live acts.
Café del Mar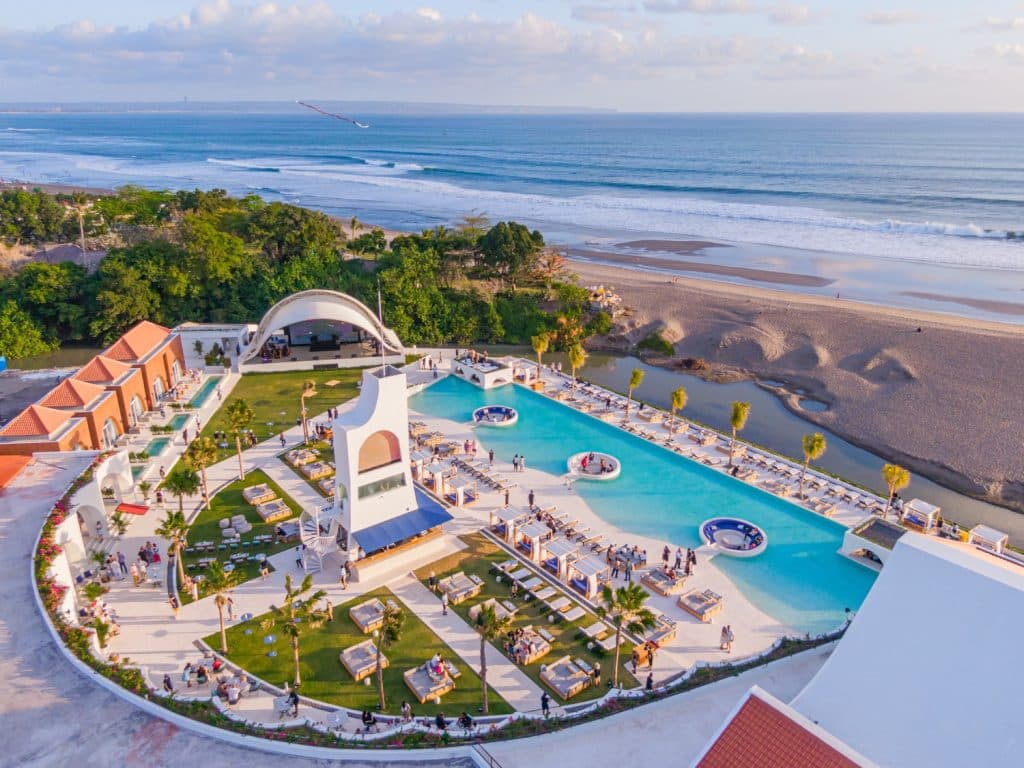 Ibiza's iconic Café del Mar made its way to Canggu in Bali, brandishing its signature Mediterranean lifestyle experience. The vastness of Café del Mar neatly segregates the many varieties of lounge options one can pick from, including an exclusive Master Suite with a private pool and services, a state-of-the-art Deluxe Suite, an immersive pool booth, daybeds and more! Café del Mar sets its menu apart with its Mediterranean and Asian blended cuisine, premium dining and bar set-ups, and curated chill-out music.
Find events and parties in Bali via The Ticket Fairy: HERE
Get tickets to some of the world's biggest and best music festivals, concerts and parties HERE!
You May Also Like: