New Zealand-based artists Sweet Mix Kids are coming to town with their Stargazing Tour! The duo will head on a multi-city tour of Aotearoa in September and October, with stops in Christchurch, Wellington, Napier, Whangarei, Greymouth and more! Get your tickets to Sweet Mix Kids' Stargazing Tour from The Ticket Fairy.
The Stargazing Tour by Sweet Mix Kids is an album tour that'll celebrate the sixteen electronic-dance tracks at sixteen different venues between seventeen shows, displaying and gathering fans from all around New Zealand. Following their inaugural stint of the Stargazing Tour in Australia later this month, the pair will commence their tour in New Zealand at Fat Eddie's in Christchurch on September 1, 2023.
Sweet Mix Kids will later head to Greymouth (September 2), Arrowtown (September 9), The Print Room in Ashburton (September 15), Lulu Bar & Restaurant in Wellington (September 16), Brew Co in Mount Maunganui (September 22), Maungatautari (September 23), Mission Estate Restaurant in Napier (September 24), Butter Factory Lane in Whangarei (September 29), Misty Cove Wines in Renwick (October 8) and Kismet Cocktail & Whisky Bar in Nelson (October 28), among other shows.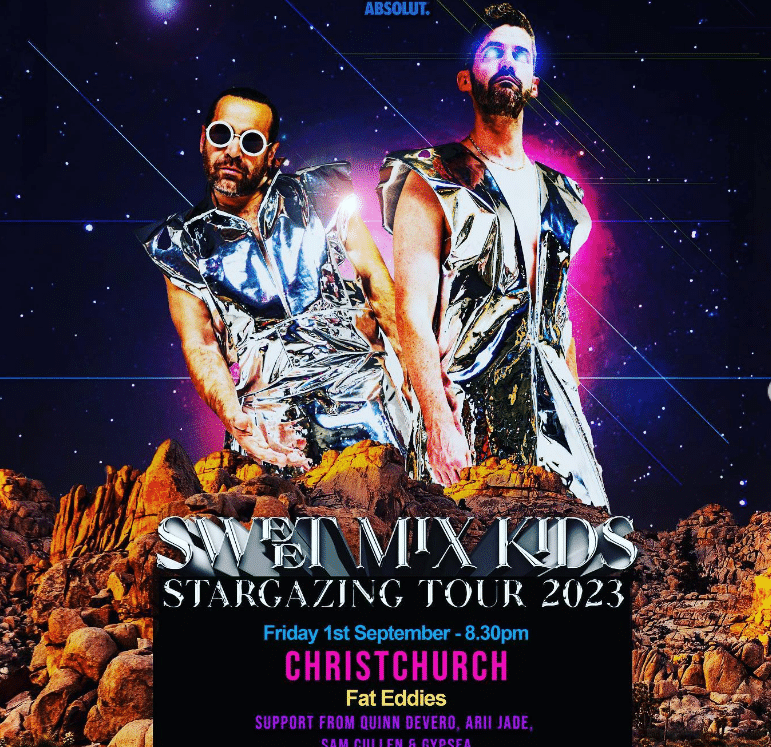 The duo's live performances have always been a show you wouldn't want to miss, with incredible mixes that incorporate electronic drums and samplers, live instruments, live dancers, and even vocalists, all in the hopes of making an unforgettable experience for attendees.
Although the headliner is the artist you'll be waiting for all night, the supporting act line-up set in place will get you in the right mood at the right time for Sweet Mix Kids to take the stage. Some of the artists who will join Sweet Mix Kids at select stops are alternative and indie pop musician Sam Cullen, multi-genre DJ/vocalist Arii Jade, indie DJ Gypsea, LA-based multi-faceted musician Quinn Devero, DJ/producer Art Heist, Afro-dance-pop artist InDuna, and rapper/producer Rei.
For tickets to Sweet Mix Kids – Stargazing Tour 2023, visit The Ticket Fairy: HERE
You May Also Like: