Beast Of A Feast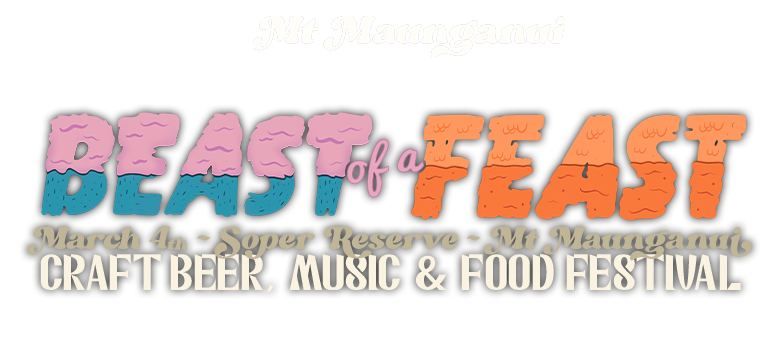 C I
Cooper N
Alice T
John C
Lucy G
Jason N
Kayleigh C
Brooke C
Remma M
Sammy H
Mitchell H
Grace C
Kirst R
Murdoch L
Su M
Carly H
Katrina J
Steve S
Natasha O
Carlos R
Beast Of A Feast is back for 2023!
Your not so typical beer festival is returning to Soper Reserve, Mt Maunganui, March 4th with an extravagant lineup of beverages, food and music.
The company for the day includes:
Artists: Goodshirt, The Grogans (AUS), Fleetwood Mac Tribute Band (Landslide Show), Frank Booker, Jaimie Webster Haines & Nathan Haines (DJ/Live Set), Cassie Henderson, Aunty El, Harrison Jupe.
Brewers: Behemouth, Panhead, Urbanaut, Mount Brewing Co, No. 8 Wired, Good George, Slab Brewing, The Island, Buzz Club, Puhoi Beer, Yeastie Boys, Morning Cider & more to come.
Foodies: Karaageboy, FTP Vegan Eats, Cuore Di Giandomenico, Smoothe Operator, Rye Kitchen, Rice Rice Baby & more to come.
Whether you're a craft beer aficionado, a music connoisseur, or a fairy bread lover, BOAF is here to please.
So if you're keen to join us in singing the kiwi classic, 'Sophie' at the top of our lungs, pre-register now to lock in your spot for cheaper tickets and your chance to WIN.
Tickets on sale November 30th 6pm.
C I
Cooper N
Alice T
John C
Lucy G
Jason N
Kayleigh C
Brooke C
Remma M
Sammy H
Mitchell H
Grace C
Kirst R
Murdoch L
Su M
Carly H
Katrina J
Steve S
Natasha O
Carlos R