After two years of abrupt cancellations, the festival season is finally upon us. It's time to escape the mundane and lose ourselves in the music on the field with our best mates.
Festivals like Coachella, Lollapalooza, Glastonbury have already announced their dates and like other major genres in the world, bass music festivals like Let It Roll, Outlook, Hospitality In the Woods, Boomtown and many more have their year mapped out. But what the head honchos at Ticket Fairy are about to bring us an expedition North America and Latin America are yet to experience.
Drum & bass has made small-scale appearances at major festivals like EDC and Ultra. However, a full-blown spectacle dedicated to the genre has never taken place in the Western Hemisphere.
Cutting through the scene like a hot knife through butter, comes in LOCUS – a drum & bass paradise in Tulum, Mexico. Curated by the founders of Ticket Fairy, Ritesh Patel aka Rit Locus and Jigar Patel, LOCUS will be a 4-day spectacle from April 7 to April 11, placed in the incredible setting of Tulum Beach. It will also be a first of its kind festival in a place where house and techno often reign supreme.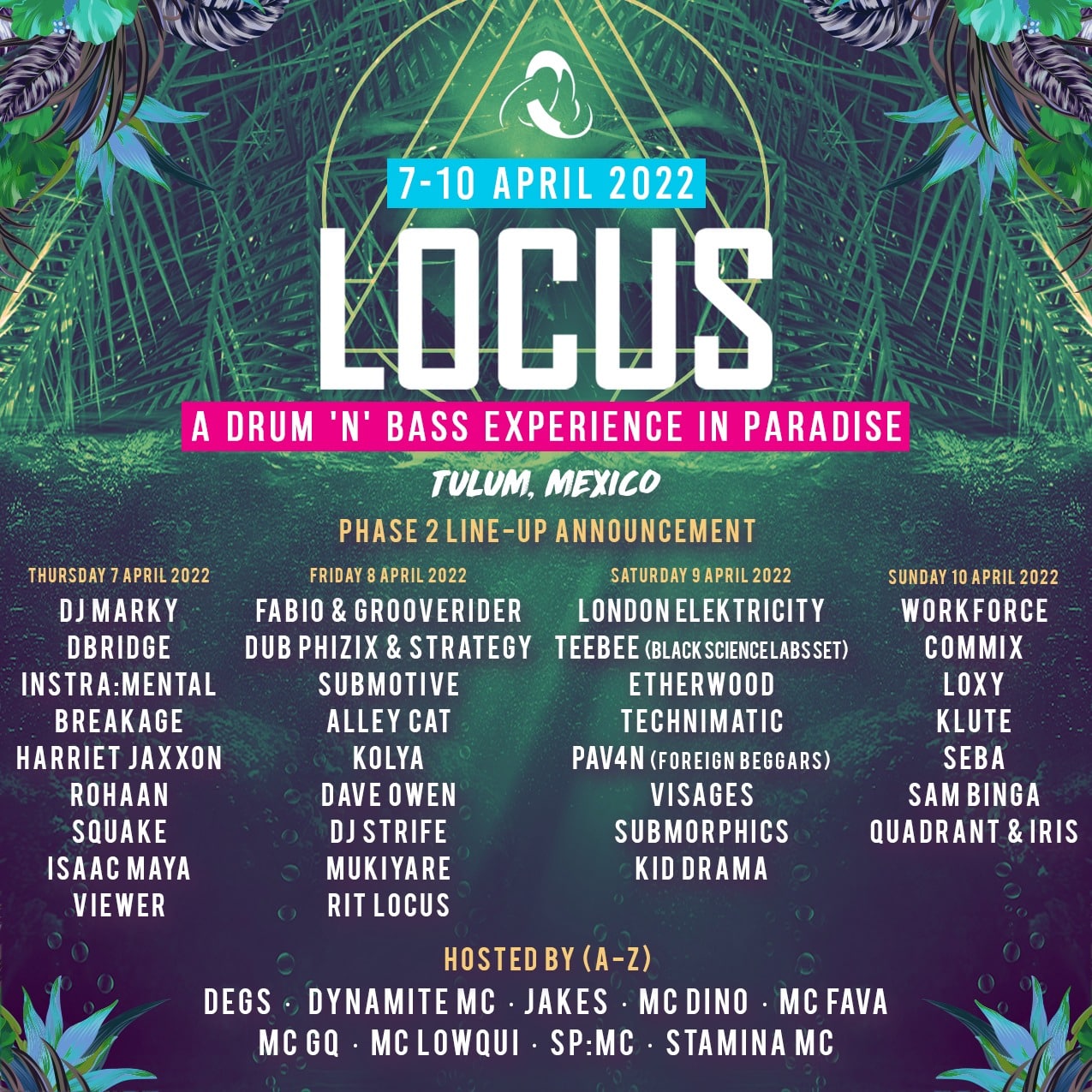 This is where it gets better; the meticulously curated line-up of the LOCUS Festival represents the past, present and future of drum & bass. Day 1 kicks off with legends like DJ Marky, DBridge, Instra:mental and Breakage taking over the beach, followed by the absolute queen behind the decks, Harriet Jaxxon, and Rohaan who is one of the hottest talents in the scene right now.
Day 2 brings in one of the godfathers of drum & bass in the form of Fabio & Grooverider, who will be complemented by the likes of Dub Phizix & Strategy, Dave Owen, Submotive, Mexican DnB talent, Mukiyare and Rit Locus himself. Day 3 is when LOCUS goes all guns blazing with London Elektricity, TeeBee, Etherwood, Technimatic, PAV4N, Visages, Submorphics, and Kid Drama set to take over the decks.
Day 4 will perhaps go down as one of the best drum & bass nights in the Western Hemisphere with Workforce, Commix, Loxy, Klute, Seba, Sam Binga, and Quadrant & Iris slated to bring the deepest and darkest bass frequencies into Tulum.
This incredible line up will be supported by some of the finest drum & bass hosts like Degs, Dynamite MC, Jakes, MC Dino, MC Fava, MC GQ, MC LowQui, SP:MC, and Stamina MC.
Buckle up because LOCUS promises to go down in the drum & bass history books. Get your tickets and more information about the LOCUS Festival HERE