SET Underground's Tierra De Los Muertos Festival 2023 – MX
Ximena Z
Jesus A
Victor Hugo P
Jorge Esdras R
Laura L
Cristopher Z
Briant A
Leonel Dassaev S
Omar A
Baalachi V
Join us for SET Underground's Tierra De Los Muertos Festival 2023 in the beautiful city of Oaxaca, MX! Get ready to immerse yourself in a vibrant celebration of life and death, taking place on Fri Nov 03 2023.
Experience the rich cultural heritage of Oaxaca as we bring together a diverse community of artists, musicians, and performers. This year's festival promises to be a feast for the senses, with mesmerizing live music, captivating dance performances, and stunning visual art installations.
Explore the enchanting streets of Oaxaca and discover the hidden gems of this mystical city. Indulge in the tantalizing flavors of traditional Mexican cuisine and savor the finest mezcal, a local specialty.
Whether you're a seasoned festival-goer or a first-time visitor, Tierra De Los Muertos Festival 2023 offers an unforgettable experience that celebrates life, creativity, and the spirit of Oaxaca. Mark your calendars and stay tuned for more details about the event location in Oaxaca, OAX!
Friday, Nov 3rd: 🌵 Mitla Noon to Sunrise
Take in the beauty of Oaxaca valley in the town of Mitla, a cultural landmark. We'll welcome the sunset on an agave field tucked against the mountains in Fortaleza Fields. We will have music, food, and drinks. It's sure to be a magical night.
Location: Fortaleza Fields (Mitla, Oaxaca)
Address: San Pablo Villa de Mitla, 70439 Oaxaca, Oax.
Katrina Main Stage
A-Z
DIXON - LEE BURRIDGE - WHOMADEWHO (Hybrid Live)
Anthony Middleton - Chambord - D´ witches - Hunter/Game - MalaKita - Mystery Affair - Parrallelle
The Dome 2nd stage
Afrodisco, Alexandthere b2b Chesare, Dogma, Mene, Mike Anthony and many more tba
Oaxaca 2023 Festival Program
Time: 12:00 PM - 5:00 PM
Immersive Interactive Experiences and Holistic Workshops:
12:00 PM - 3:00 PM - Holistic & Wellness Welcoming
Traditional organic juices, local teas, non-hallucinogenic mushrooms, Cocoa ceremony, and more.
Welcome ceremony guided by local native Shamans.
1:00 PM - 1:45 PM - Activation: Yoga Workshop (Limited seats, subscription required)
2:00 PM - 2:45 PM - Activation: Sound Healing & Sound Bath Workshop (Limited seats, subscription required)
Other Workshops Available Throughout the Day:
3:00 PM - 5:00 PM - Culinary Journey By Rodolfo Castellanos "Restaurante Origen".
Lunch in the agave field
Banquet Reception & Pairing
Interactive lunch with local performers
Evening Entertainment:
5:00 PM - 8:00 PM - Mezcal Tasting
Music Program:
12:00 PM - 3:00 PM - Chill Out Zone
Local live DJs with instruments
Main Stage - Katrina:
3:00 PM - 5:00 PM: TBA
5:00 PM - 7:00 PM: Chambord
7:00 PM - 9:00 PM: Parallel Live into the Sunset
9:00 PM - 11:00 PM: Anthony Middleton (Audiofly)
11:00 PM - 1:00 AM: Lee Burridge
1:00 AM - 3:00 AM: Who Made Who
3:00 AM - 5:00 AM: Dixon
5:00 AM - 7:00 AM: Dixon into the Sunrise
Second Stage TBA - Nationals and Local Artists Showcasing Their Sounds
All Night Performers:
Theatrical Performers
Side of Stage - Tripod with Acrobats
Additional Attractions:
Activations:
Art Showcase by Local Artists
Oaxaca City and History Projections
Local Food Stands
Ferris Wheel
Traditional Día de los Muertos Makeup
Dynamical Installations:
By Local Artists
Alebrijes
Día de los Muertos Decor
This revised program layout provides a clear schedule and separates the different elements of your festival, making it easier for attendees to navigate and enjoy the diverse offerings.
SET Underground invites you to transport your mind, body, and soul to La Tierra de Los Muertos – the Land of the Dead. Join us in Oaxaca, Mexico, for a Dia de Los Muertos celebration unlike any before. The 19 Hours music & arts festival will introduce you to the best of Oaxaca.
This is an intimate experience at a boutique festival. So, act quickly. LIMITED SPACE.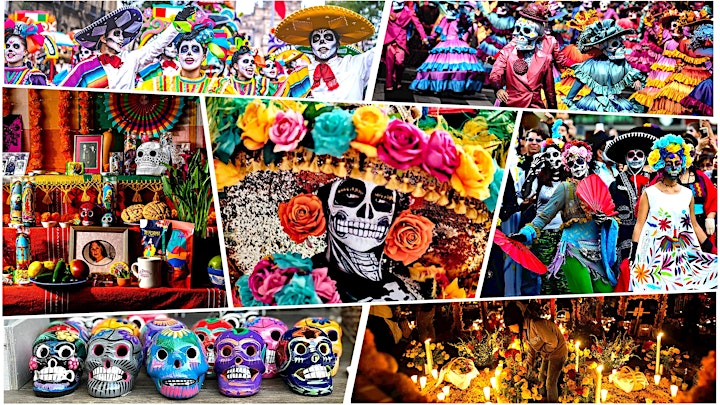 Day of Dead (Dia de los Muertos)
A colorful Mexican holiday where families welcome back the souls of their deceased relatives for a brief reunion that includes food, drink and celebration.
More information
ALTARS
We will be setting up an altars at the event, for those who want to show respect for their loved ones who have passed away, please bring a picture (Must be 4x6). You can also frame it if you want to bring a bigger or different size. We'll be providing some frames for your convenience. 🙌
VIP Private Tables & Concierge
All our events will host a full bar and serve top-shelf liquor. If you would like to arrange for backstage tables, private shuttles, and concierge services, contact us directly:
Christian +1 (415) 305-7169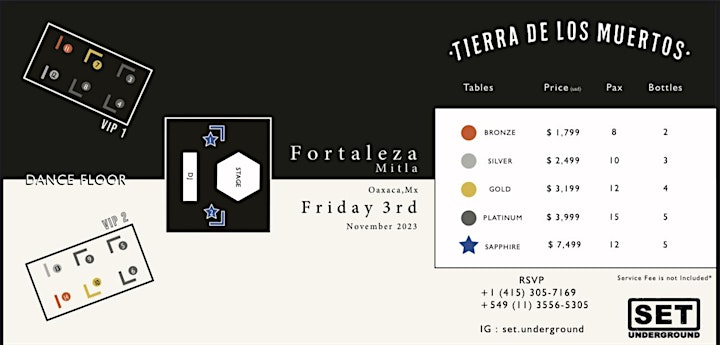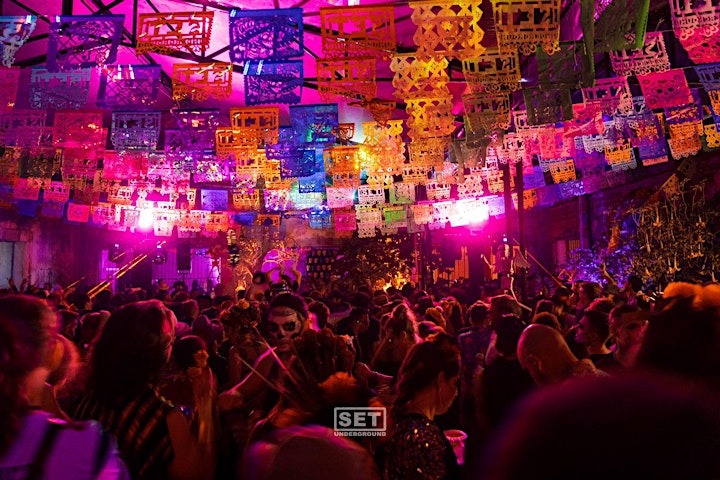 Information for Visitors
Flights
Direct flights from California, Florida, New York, really most states are hard/impossible to find. All the flight options from the US go primarily through Texas, Mexico City, or Guadalajara before Oaxaca. Oaxaca airport has a number of flights in and out daily, but given it's the busiest travel week of the year for Oaxaca, it's recommended you line up flights as early as possible – because prices are rising fast!
~~~
Hotels & Accommodations
Housing is stretched thin because of Dia de Los Muertos. But, we recommended booking something now, early, to have something via Expedia, hotels.com, and Bookings.com, Airbnb, and VRBO. At the bottom of this page is a short list of Airbnb options we found.
NOTE: We have confirmed that many hotels are holding rooms for Dia de Los Muertos, but show as having no-availability online. We recommend emailing or calling hotels directly to see if they have availability. With select hotels, we've been able to hold rooms specific for this event. Most are holding for a limited time, so book now.
🏨 LIST OF HOTELS & RESERVED ROOMS: USE "SET UNDERGROUND" AS BOOKING REFERENCE.
~~~
The City
Oaxaca is a big city with a large footprint. But, as a visitor, the area of interest is confined primarily to Centro.
Centro is a centrally located historic neighborhood. It's what you typically expect to see of Oaxaca: stone-paved streets, colorful buildings, churches, parades, and all of that. Centro is where everyone visiting wants to stay, drink, and eat – and during the week of Dia de Los Muertos, it's going to be swamped with visitors. This also means it's going to grow increasingly difficult to find places to stay.
It's also worth noting that, even on a chill week, it's not typical to find large multi-room houses (4+ bedrooms) available for rent. They are out there, but limited. It's more common to come across houses with 2-3 beds. I know we're spoiled by 30 room mansions for Blue Magic events, but for Muertos, it's more realistic if people teamed up in smaller groups and tried to find places near Centro. We're going to be spending most of our time out in Centro or partying outside the city. So, it's more about just having a place that works, but not one that's perfect.
North of Centro is a neighborhood called Reforma. Even further north of Reforma is San Felipe del Agua. Both these neighborhoods are safe and might offer more options for accommodations. However, you'll need a taxi to get into Centro – walking from here isn't an option.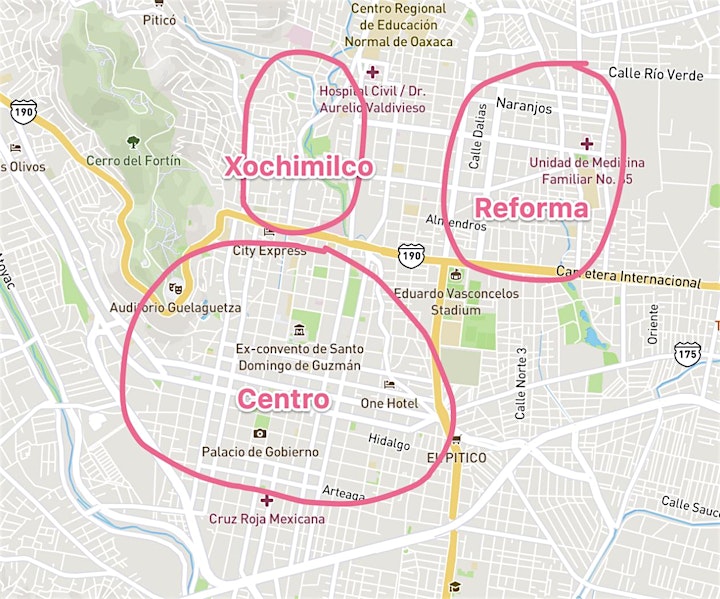 Ximena Z
Jesus A
Victor Hugo P
Jorge Esdras R
Laura L
Cristopher Z
Briant A
Leonel Dassaev S
Omar A
Baalachi V