GLOW Fest 2021: A Circus Arts & Lifestyle Gathering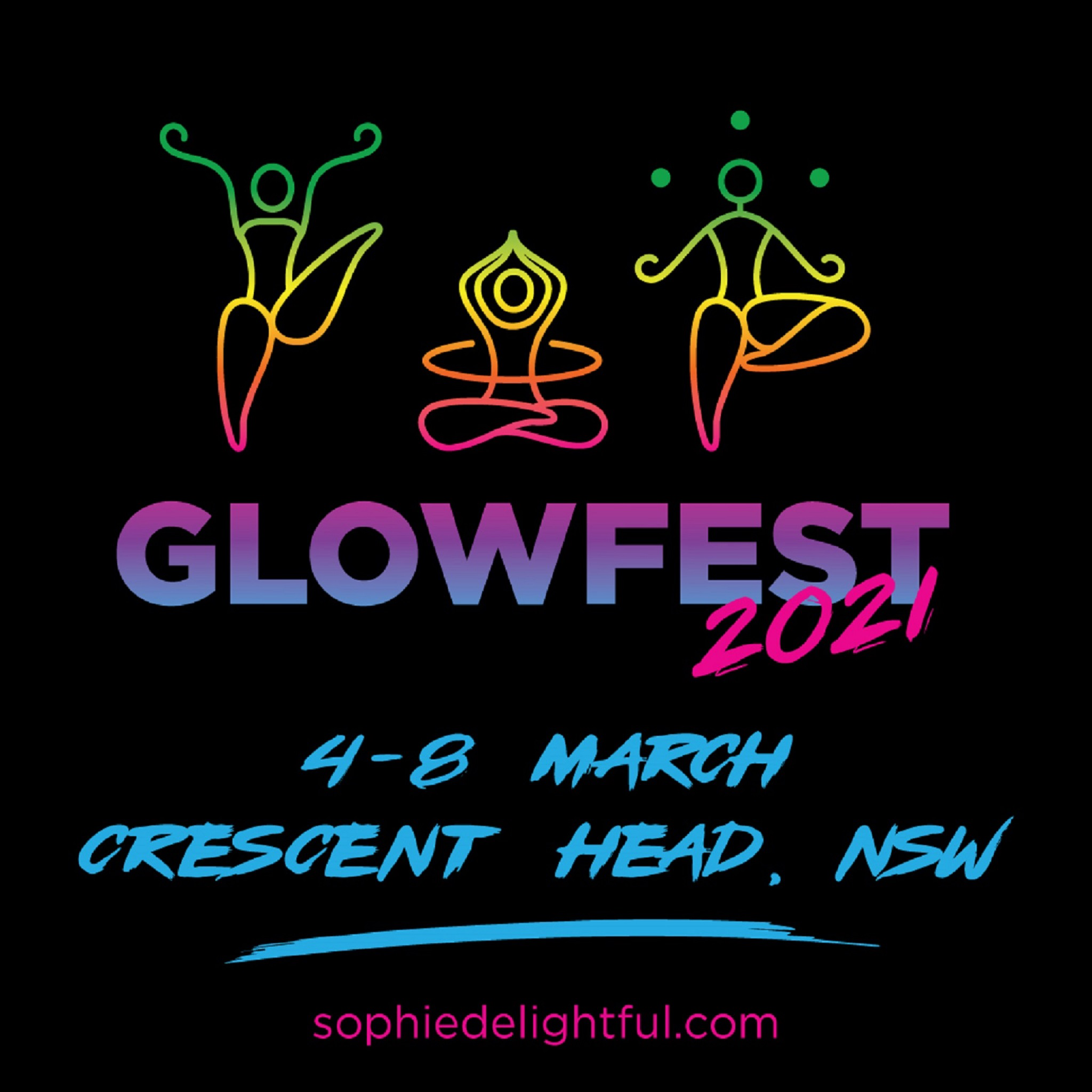 . Waves Campground , Crescent Head
Elisabeth S
Steve B
Sybil J
Lucas M
TANYA S
Joseph D
Thomas B
Andrew B
IMPORTANT INFORMATION
Covid requirements:
In order to comply with GLOW Fest's Covid-19 safety plan and capacity limitations, every attendee must register their information via this ticketing site prior to arrival (including those selecting free tickets). There will be no admittance without this registration.
Event Terms & Conditions:
Further information regarding Covid Safety, and event Terms & Conditions, is available at Waves Campground's website and the event website.

Ticket pricing & compulsory volunteer shift requirement:
We know this year has been tough for many people, and like many in the GLOW crew, a lack of work has made finances pretty tight. So we're happy to provide great value tickets for our people in exchange for a bit of help on site (1x 4-hour volunteer shift). You even get a GLOW Fest t-shirt as a thank you!
Not keen? If you've worked hard through Covid, we offer a Play Pass in the Add-on section so you can just kick back and take a well-earned break. No volunteer shift required!

Please ensure you read ALL inclusions on the ticket type you select (click the 'i' symbol in the menu on the left) and you answer all the required camping and volunteer related questions, as they apply to you. This information is all very important in helping us plan and coordinate all attendees, and ensuring you have the most comfortable, enjoyable GLOW Fest experience.


*****************************************************************************

So what is GLOW Fest?

GLOW Fest is a new circus arts and lifestyle event launching in March 2021, in the relaxed surf town of Crescent Head on the mid-north coast of NSW. It will offer circus and flow arts workshops, showcase performances, fire spinning circles, children's activities and entertainment, and art installations, performances and displays.

Combining the best parts of a circus arts festival with Burning Man culture and creativity, this will truly be a multi-faceted arts event. Family-friendly and community-driven, it will also include a strong focus on sustainability, participation, inclusion and connection.

The daytime program will feature almost 100 workshops across 3 jam-packed days, taught by some of the top flow and circus arts performers across the Tasman, alongside stimulating discussions focused on the arts, festivals, professional development and the environment.

Nightly showcases will deliver mind-blowing skills and feats of amazement, uniquely programmed and presented just for GLOW Fest.

And wait, there's more... but you'll have to see it to believe it! This is a limited capacity, boutique gathering - so don't miss out!

DONATE:
If you're in the position to help us with a donation, please do so via the crowdfunding link below. An event like this takes a whole community - and we value all of your support, financial or otherwise :)
https://australianculturalfund.org.au/projects/glow-fest-2020/

Presented by Sophie deLightful, with the assistance of Marnie Lane and Timbadim Pixie.

*****************************************************************************

A note on CV19: The organisers of GLOW are observing the effect of the pandemic on health and safety restrictions, and are constantly monitoring the fast-changing landscape of social interaction. We thank you for your patience and understanding of any changes to the original schedule.

For more information, please check out the FAQ section or the event website. For special access requests, email [email protected]
FREQUENTLY ASKED QUESTIONS
Covid-19 - What's the deal?
How do you plan to run GLOW Fest in the middle of a pandemic?
The GLOW Fest team is constantly monitoring the situation surrounding Covid-19, consulting with specialists from Service NSW and the authorities as well as Waves Campground and the council. If the event goes ahead, it is because GLOW Fest has assessed that it is safe to do so. It is, of course, every person's own prerogative to attend during these troubled times, and if you no longer feel safe to do so, you can resell your ticket via Ticket Fairy at no extra cost to you or the new buyer.

How are you going to keep patrons safe?
As an operating tourist business during the pandemic, Waves Campground has already implemented a Covid Safety plan to ensure its customers are provided a safe camping environment. GLOW Fest has been working alongside Waves to ensure the additional activities offered by this event will also be carried out as safely as possible, and has created an additional Covid Safety plan. Of course, being "Covid-safe" is a joint effort - so it's up to each and every person to bring their A-Game (A-Game translating to hand sanitiser, 1.5m distancing, 20-person groups, staying home if sick and wearing masks where necessary).
More information about GLOW's Covid Safety plan coming soon.
What happens if I buy a ticket then can't make it due to border closings or other Covid-19 related issues?
All ticket sales are non-refundable but can be resold via Ticket Fairy. Full Terms and Conditions can be found here.

What if Covid-19 restrictions mean it's no longer safe or possible to hold GLOW Fest?
In early August, GLOW Fest announced a move to 4-8 March 2021, due to rising concern about the pandemic. All tickets and add-ons purchased from Ticket Fairy are for this new date. However, the situation is constantly evolving and GLOW will continue to plan for all possible outcomes. There is no intention to cancel this event, only postpone. If you can no longer attend the event on its current dates or any alternative dates, it is possible to resell your ticket via Ticket Fairy.

Ticketing & Other Purchases on Ticket Fairy
Where can I find the inclusions for tickets on the main page?
To find out what's included in each ticket type, hover your mouse over the 'i' symbol to the right of the ticket type and a text box will appear.
What kind of accommodation is included in the standard GLOW Fest pass?
Non-powered camping. To find out what's included in each ticket type, hover your mouse over the 'i' symbol to the right of the ticket type and a text box will appear. If you prefer powered camping or a bunkhouse, select your age-appropriate GLOW Fest pass type and upgrade options will be available on the next page.

Are tickets and/or add-ons refundable?
As stated on the ticket platform and on the tickets themselves, purchases for GLOW Fest tickets and add-ons are non-refundable. If you can no longer attend the event, it is possible to resell your purchases via Ticket Fairy.

Why do I have to complete 1x 4-hour volunteer shift if I bought a GLOW Event Pass?
We know this year has been tough for pretty much everyone, and like many in the GLOW crew, loss of work has made finances pretty tight. So we're happy to provide great value tickets for our people in exchange for a bit of help on site (1x 4-hour volunteer shift). We'll even throw in a free GLOW Fest t-shirt to say thank you!
If you're someone who has worked hard through Covid, we offer a Play Pass in the Add-on section to remove this commitment - so you can just kick back and take a well-earned break at GLOW.

What will be involved in the 4-hour volunteer shift, as part of the standard GLOW Fest pass?
Don't worry, it's nothing too stressful! You can choose to help us with traffic management, check-in, gate, first aid tent, rangering and Covid safety monitoring. Among GLOW Fest's core values is Community and Participation. By being a valuable cog in the ever-turning wheel that is GLOW, you get to help others and the hardworking GLOW crew, potentially learning new skills and meeting new friends along the way! You also get a sweet GLOW T-shirt to keep once you complete your shift. Sign up for your shift at check-in to receive your event wristband.

Can I choose which volunteer shift I do?
Shift sign-up happens at check-in, so it's first in, best shifted! You can look through all the available jobs and timeslots, and buddy-up with a friend or... throw caution to the social wind to be partnered with someone random.

Do I need to buy a Car Pass?
Yes, if you plan on attending GLOW Fest on a Day GLOW ticket. There is limited parking for Day GLOW Pass holders on site and no option to park along the road. Capping the number of vehicles via the sale of passes encourages attendees to arrange an alternative form of transport or carpool with a Car Pass holder. GLOW Fest 2020 ticket holders do not need to buy a Car Pass.

What kind of vehicle can I park with a Car Pass?
A Car Pass is valid for a vehicle with a maximum of 12 seats. GLOW Fest encourages attendees carpooling, however there is a restriction on parking space on site. Larger vehicles will be asked to drop off passengers and park in Crescent Head town.

Tickets are sold out! What do I do?
Don't lose hope! Add your name to the Waiting List on Ticket Fairy and as tickets become available through the platform's Ticket Resale system, a notification will be sent to each person as they move up the list.

Can I buy day tickets and attend each day using Day GLOW Passes?
You are welcome to attend GLOW Fest in this manner, however as there are limited options for accommodation nearby, this option would be suitable for locals more than out-of-towners. Passes only allow attendance until the end of Friday and Saturday night showcases, and the workshops on Sunday. You will still no doubt have a wonderful time at GLOW but there are activities and social interaction you will miss out on doing it this way. If you can, grab a GLOW Fest 2020 pass to 'stay n play'!

General GLOW Bits n Pieces
What important items should I bring to GLOW Fest?
* ID
* All your camping gear including cooking gas - be totally self-reliant!
* All your props, plus spares to share with friends
* Food for the big potluck cook-up on Thursday night
* Sunscreen and a hat
* Reusable water bottles
* Swimsuit and towel (for the beach and a hot shower!)
* Cash (no ATM/cashout on site)
Illicit drugs, alcohol, pets, fireworks, larger-than-personal sound systems, wood for campfires (on-site purchase only, no foraging please!), single-use bottles, poor quality camping equipment you'll throw away after GLOW Fest... and an awesome attitude with an open mind to GLOW like only you can!

If you're referring to alcohol, the answer is no. GLOW Fest is a drug and alcohol-free event. It's time to get high on life!

Can I bring my dog? Promise he's well behaved!
Even if you've got the best trained dog in the world, there is a strict "no pets" policy at Waves Campground. Not even if you lock them in the car. Especially if you lock them in the car.

Can I choose where I camp?
During ticket registration, you will be asked a series of questions which will help us determine the ideal place for you to camp. This includes access to power, size of setup, camping with children or needing to be in a quiet zone. The site is small enough that if you're not right next door to your mates, it won't be very far to find them. Waves Campground will be as considerate as possible of your needs - please be considerate of their need to arrange camping in a particular way.

What are the gate/check-in hours?
Camping check-in:
Thursday 12pm - 6pm
Friday/Saturday 9am - 6pm
Sunday 9am - 6pm
Day pass check-in:

Thursday 12 - 8pm

Friday/Saturday 8am - 8pm

Sunday 8am - 6pm
Checkout time: Monday 12pm
Don't want the good times to end? Pre-book an extra night or two when you purchase your tickets, and enjoy beach hangs with your newfound friends on Monday.
Are there pass-outs to come and go during gate hours?
Everyone should come fully prepared to set up camp and stay put for the duration of GLOW Fest. As a GLOW Fest 2020 pass holder, it is not possible to move your car around during the event so if you need to drive somewhere unexpectedly, you'll need to find someone with a car in the day parking area. If it's an emergency, tell a crew member and they will assist you as soon as possible. As a Day GLOW pass holder, it is advisable to avoid coming and going from site, as it is likely to cause traffic management issues. Any attendee who knows they need to leave temporarily during any part of GLOW should advise event crew for the best parking option upon initial arrival.

What happens if I arrive after the gates close?
It is not possible to enter the campground after the gates have closed. Patrons are asked to return when the gates re-open, if they hold a valid ticket to enter on that day. No refunds will be issued for unused tickets.

Can I bring my sound system to play some fully sick campsite beats?
While it is encouraged to bring all the supplies you need to make your campsite super comfortable, it is important to also respect the comfort of those around you. Please bring only small-scale sound systems and take note of the 11pm curfew for amplified music. There will be amplified music played in the main workshop areas during scheduled activities. Please email [email protected] if you feel your fully sick beats should be played on the main sound system.

I'm up for some crazy all-night party antics! Are you with me?
Nah mate. GLOW Fest is a family-friendly, drug and alcohol-free event that encourages positive social interaction through circus and flow arts. The focus will be on making new friends, watching amazing performances, having a boogie with Bhima the Dragon and learning something new in the workshops. Waves Campground's noise permit runs until 11pm only.

What hours will there be programmed activities?
Thursday: 4pm - 11pm
Friday/Saturday: 8am - 11pm
Sunday: 8am - 6pm
(These are also the times Day Pass holders are permitted on site)
Programmed activities are not permitted beyond 11pm due to noise restrictions.
On-Site Facilities
Is there an ATM or cashout?
No. There is also no ATM in Crescent Head. The closest ATM is in Kempsey, so remember to stop in before you take the turn-off from the A1.

The only EFTPOS facilities on site are at the Surf Cafe and reception, with no option for cashout ($1 surcharge per transaction). All other sales on site are cash only (unless an arrangement can be made directly with a vendor for larger or custom orders).

Are there water refill facilities?
Yes, Waves does drinking water refills if you BYO bottle (cost dependent on bottle size). All other taps contain water that is not recommended for human consumption. It is advised you stock up at Kempsey with all your water needs for the duration of the event.

Are there showers available?
Full bathroom facilities are available for GLOW Fest 2020 pass holders. Showers. With hot water. We're getting bourgeois up in here!

What's the deal with power?
Waves Campground has a number of powered campsites on offer, so no need to bring the genny! Simply add a powered camping option (dependent on your vehicle size) when buying your ticket on Ticket Fairy.

Is there phone/internet reception?
There is very limited phone and internet reception on site (so let's call it a 'no'). You can get a bar or two at the beach across the road but if it's super important, you just might need to drive towards Crescent Head town until it gets better. Bottom line: If you can, turn your phones off and just GLOW!

The only place you can buy food at Waves Campground is the Surf Cafe, which serves coffee, tea, full meals and snacks. Payment methods are cash and EFTPOS. It is recommended to bring your own food supplies as well.

Will there be a marketplace?
There will not be a specific marketplace area, however a handful of vendors will be selling locally made circus and flow arts goods at various times throughout the event. Each vendor will have their own payment arrangements. GLOW Fest is an environment that fosters community connection, participation and inspiration, with a focus on workshops, showcases and communal activities more than retail.

I have special access needs - how do I find out more?
GLOW Fest has taken steps to ensure this event is accessible for those with a range of special access needs, however some specifics may not be fully catered for. More information will be provided in due course. If you have questions, please email [email protected]

Getting There
What is the best way to get to GLOW Fest?
By car. Do NOT believe the GPS if it asks you to take a ferry (legit!). There is a public bus that runs 3 daily services into Crescent Head but then it's up to you to get to the campground (about 15 mins from town down a dirt road). Keep in mind there aren't a lot of Ubers out there.
If you need help arranging a rideshare, check out the Facebook pages for GLOW Fest and GLOW Fest Community.
Can I take public transport to GLOW Fest?
Yes and no. There is a public bus service that will take you as far as Crescent Head town and then you'll need to get to the campground (about 15 mins drive from town down a dirt road).
If you need help arranging a rideshare, check out the Facebook pages for GLOW Fest and GLOW Fest Community.
Is there a GLOW Fest shuttle?
Not this year, but it's certainly something organisers will consider for future years if necessary. Feedback welcome!

How long does it take to drive to GLOW Fest?
Waves Campground is approximately 6 hours from Brisbane and 5 hours from Sydney. The nearest bigger-than-a-village shopping centre is in Kempsey. GLOW Fest encourages carpooling to be more sustainable and save parking space on site, particularly for Day GLOW Pass holders. It is recommended to avoid driving after dark or during heavy rain - the dirt road doesn't take kindly to a beating.

Wanna Get Involved?
How can I volunteer for GLOW Fest?
At GLOW Fest, things are done a little differently. There is a handpicked volunteer crew who will handle set-up and pack-down, and all other volunteer shifts will be covered by GLOW Event Pass holders. It is a condition of entry with this type of ticket to complete 1x 4-hour volunteer shift during the event, unless you opted out through the purchase of a Play Pass. If you're a Day GLOW Pass holder who would like to volunteer or simply want to be more involved, please email [email protected] to find out how you can help.

I sent in an EOI for facilitating workshops. When can I expect to know its outcome?
If you have sent an EOI and have not yet been contacted with an outcome, please contact [email protected]. The program has been finalised and organisers are not looking for any more performers or facilitators.

How do I find out more about GLOW Fest?
Elisabeth S
Steve B
Sybil J
Lucas M
TANYA S
Joseph D
Thomas B
Andrew B