Grillstock London 2015
In partnership with Waltham Forest Council

Chestnuts Field, Walthamstow , London [Ages 12+]
Sales for this event are closed.
Emma Sophie N
Edward U
Jared M
William E
Simon W
Alex K
Tom D
Rohini S
Daniel P
Marc K
Gareth L
Matt C
Rachel H
Nikki W
Claire T
Cennydd B
Mark R
Alex C
Charlie B
Charlotte R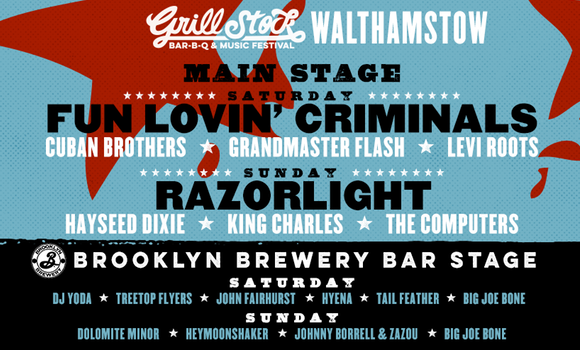 Please note it is expected that Waltham Forest Council will be releasing a certain number of free tickets to Waltham Forest residents through a ballot in the near future.
What does a ticket include?
Your ticket includes entrance to the Festival for the day or whole weekend (as applicable) and includes all music entertainment. It also gives you access to sample the competition food from some of the rounds and the BBQ Academy masterclasses. Please note these are based on a first come first served basis so arrive early to avoid disappointment.
Pit Crew tickets are a great way to get the most out of Grillstock Festival. Amongst other goodies, you'll get access to the Friday night Firestarter party as we kick off the weekend in style with all our guests and the BBQ teams.
Each Pit Crew ticket gets you:
Access all weekend
4 beers
2 meals
A £15 Merch voucher.
*Please note, children aged 12 and under are free, but must be registered when booking and accompanied by a ticket holding adult.*
GRILLSTOCK BBQ AND MUSIC FESTIVAL
Grillstock, the biggest BBQ and music festival in Europe, is bringing Kansas to London for a rowdy weekend of Meat, Music and Mayhem on the 5th and 6th of September 2015.
Set to be the biggest weekend of supercharged Grillstock mayhem yet, festival goers can expect a smouldering hot US style low 'n' slow BBQ competition, chilli-pepper, hot-dog, and hot wing eating competitions, over 25 bands and DJ's playing across 2 music stages and the very best BBQ food, this side of Kansas City.
The US style King of the Grill BBQ competition puts the teams through 7 different rounds as they show off their culinary skills over the smoky coals and battle it out to be crowned Grand Champion. The competition allows festival goers the chance to interact with the teams, taste the food and experience their passion for authentic barbecue.
Rockabilly, soul, hip-hop, blues, rock and country will be the soundtrack to the weekend, alongside the Weber BBQ Academy, Brooklyn Brewery's imported craft beer & New York Dive Bar, bourbon dens and village of BBQ traders –That's before you discover the huge Grillstock Smokehouse on site, serving up pit-smoked meaty treats and Grillstock's very own Pale Ale, which was created especially for BBQ.
To find out more about Grillstock London visit: www.grillstock.co.uk/london-festival
Cant wait until the festival? BBQ fans can get their Grillstock fix all year round at the Walthamstow Grillstock Smokehouse now open on Hoe St, London, E17 4BF.
Notice: Purchase of a ticket to this event constitutes the attendee's agreement that his/her image may be used in Grillstock Ltd. works and/or promotional material - in any form in any medium - according to the full terms of use stipulated on Grillstock's website (www.grillstock.co.uk/model-release)
Emma Sophie N
Edward U
Jared M
William E
Simon W
Alex K
Tom D
Rohini S
Daniel P
Marc K
Gareth L
Matt C
Rachel H
Nikki W
Claire T
Cennydd B
Mark R
Alex C
Charlie B
Charlotte R