Krunk Presents: Daisuke Tanabe (Japan), CEE & Kumail | Mumbai
. Khar Social , Mumbai [All Ages]
No tickets are currently available for this event.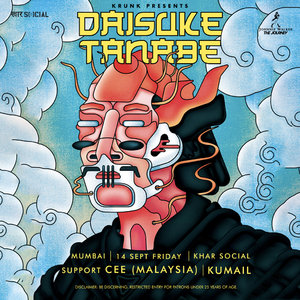 Mrunal S
Anmol B
Devarshi G
Karan P
Vidit N
Viraaj B
Brij D
Krishanu R
Sivakami S
Pranav V
Krunk Presents Daisuke Tanabe India Tour, Mumbai

Support:
CEE & Kumail
Venue: Khar Social, Mumbai
Date: 14th September '18 (Friday)
Time: 10 PM Onwards
*Venue Rules Apply

Artwork by: Nikhil Acquilla

-------------------------
About Daisuke Tanabe
-------------------------

Daisuke Tanabe is an electronic musician and producer based in Chiba, Japan. A former art student who spent some time living in London, Tanabe originally came from a techno/breakbeat background before developing the unique experimental compositions he's become known for. While still living in London, he released his 2006 debut EP, Gas, which brought him to the attention of well-known British DJs like Gilles Peterson and many. He continued to develop his unusual mix of hip-hop, electronica, jazz, and folk through various EPs and singles, all leading up to his debut album, 2010's Before I Forget. A collaboration with Britain's Kidkanevil under the name Kidsuke followed in 2012. Two years later in 2014, he released his second album, the intricately detailed "Floating Underwater".

-------------------------
About CEE
-------------------------

Jungle dweller, producer, jet-setter, sound designer, DJ, booking agent, Red Bull Music Academy affiliate, and all around maverick. Over the years, spotted sharing stages with Missy Elliot, Modeselektor, DJ Vadim … Currently based in the heart of the jungle, right outside of the Berembun rainforest, in Malaysia. His latest project is called Bass Sekolah: the sonic equivalent of the taste of reddened, ripe mangos dripping with thick, syrupy tang – that! cut with a hint of spicy lime-orange. The project features multi instrumentalist-crooner Darren Ashley, and the two of them are on a mission to make honest, soulful, forward thinking Electronica. The duo are currently working on their debut LP and you will be hearing more from them soon.

If you're about to see this brother play live, expect something soulful, deep, layered, bass heavy, dub inflected, eclectic – expect to be massaged by warm low ends, startled, and surprised.

-------------------------
About Kumail
-------------------------
Kumail is a musician from Mumbai who has been experimenting with music that can be classified under the ambiguous label of electronic music. His music comes from a myriad of influences, particularly Jazz & Hip-Hop, while exploring the more ethereal regions of sound.

Heavy manipulated live recordings with atmospheric synths, meticulously panned rhythm sections and vocals form the fundamental characteristics of his live performances.

Kumail has played at India's major festivals such as Magnetic Fields, Goat Festival Goa, Bass Camp Festival, Echoes of Earth Festival and more where he's shared the stage with acts like Shigeto, Four Tet, DJ Koze, Teebs, Ratatat, Kutmah, Garden City Movement, Jordan Rakei, Om Unit & Eprom.

Over the last two years he's played India's second edition of Boiler Room and has opened for Lapalux, FKJ, Emancipator & Khruangbin.
Mrunal S
Anmol B
Devarshi G
Karan P
Vidit N
Viraaj B
Brij D
Krishanu R
Sivakami S
Pranav V