Tulum Cenote Experience with Shall Ocin, Sis, Upercent and more
Undisclosed Location

, Tulum
Ages 21+
Sales for this event are closed.
Michael M
Kseniia B
Nael R
James H
Brittany T
Sapna P
Hannah F
Jeff M
Alex D
Sepand N
We welcome you to one of the most beautiful sites in Tulum. This private event will feature an incredible line up in the Cenote/Jungle.


SET Underground welcomes you to immerse yourself in a music experience with a limited space to 300 guests.
Come and enjoy this gorgeous site with top shelf liquor in the middle of the jungle.


SHALL OCIN (ELLUM/DRUMCODE/CLASH LION)
SIS (Crosstown Rebels/Get Physical)
UPERCENT (Kompakt/Watergate Records)
LANDIKHAN (LNDKHN)
RICO LOOP Live (Feathered Sun/Bar 25)
SHOUTSCIRE (LDN/TRAX)
Masks required - Social Distancing required - No Pictures, Videos or Phones 📵 allowed.
Saturday, May 1st
9PM until 9AM
Shuttle transportation only. We will share the pick up locations with you via email after your ticket purchase.
FOR BACKSTAGE TABLES, PRIVATE SHUTTLE AND CONCIERGE SERVICES CONTACT:
Christian +1.415.305.7169
Fernando +52.155.4017.8677
Masks required | Social Distancing required | Temp check upon entry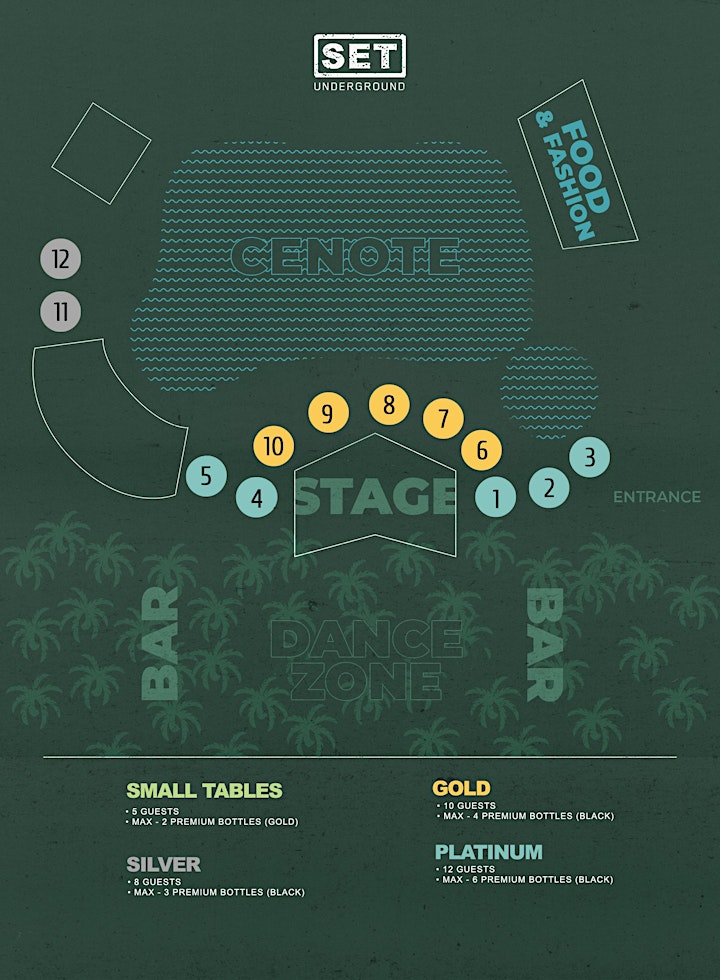 TICKETS & TABLES SALES ARE NON-REFUNDABLE. ALL SALES ARE FINAL.
OUR EVENT IS RAIN OR SHINE.
Our event is in compliance with all TULUM and local Authorities COVID-19 Guidelines and recommendations
Everyone must follow TULUM AND MEXICO's guidelines that are posted throughout the property.
Masks are required as you enter the site and arrive at your table or pod.
Everyone must practice social distancing at all times.
Assumption of Risk and Liability Waiver
While attending the event, you may be exposed to the risk of contracting a communicable disease, including but not limited to COVID-19. While we have put in place preventative measures to reduce the spread of COVID-19, we cannot guarantee that you will not become infected with COVID-19. By attending and/or participating in the event, you assume all such risks related to any illness (including COVID-19), injury or harm and are deemed to be given a full release of any liability to SET UNDERGROUND, City of Tulum, and all associated producers, sponsors, including their directors, officers, employees, and volunteers, to the fullest extent permitted by law.
Michael M
Kseniia B
Nael R
James H
Brittany T
Sapna P
Hannah F
Jeff M
Alex D
Sepand N