Dharmesh Parmar, better known by his stage name MC Tod Fod, has sadly passed away. In his musical career, he was noted for realistic lyrical reflections of everyday life and its struggles. His final live performance was at Swadesi Mela on March 19, 2022, alongside with his band Swadesi.
The news of his death was confirmed by his record company Azadi Records via their Instagram page. Born in 1997, Mumbai-based hip-hop artist was 24 years of age.
View this post on Instagram
He was a key member of the multi-lingual hip-hop group Swadesi, which also included MC Mawali and MC Mayavi. Swadesi is considered to be one of the country's foremost socially and politically conscious groups, with their music and lyrics openly calling out hypocrisy in society. With strong beats and heavy themes, his vocals echo from humble beginnings and perceived artificial freedom.
MC Tod Fod called his rapping style "conscious wrap" and rapped in his native language of Gujrati. He credited late activist and speaker Rajiv Dixit to be the inspiration for his revolutionary style of writing lyrics. Coming full circle to his music and storytelling, his home area of 'BD Chawl' was actually a prison for Indian freedom fighters when the country was ruled by the British.
[youtube https://www.youtube.com/watch?v=wVl10xuOSqc&w=853&h=480]
MC Tod Fod wrote a number of songs, including 'Plandemic', released in 2020 – speaking of the Global Pandemic and its adverse effect on the common people, and 'The Warli Revolt', speaking of the corrupt politicians taking advantage of the local Adivasi people. His most recent single 'Truth & Bass' was released on March 8, 2022.
MC Tod Fod collaborated with many artists over the years. They include such as MC Altaf, Noxious D, Bandish Projekt, among others. He also made a cameo appearance in the semi-biographical film 'Gully Boy' released in 2019 based on gully rap in India.
Many in India's rap and hip-hop industry have been affected by the news of his tragic demise, with condolences and tributes flooding in from artists, record labels, and news anchors alike.
https://www.instagram.com/p/CbWuyQAAav3/
I don't have words to express what I am going through ? KATHORE SATYA – Dharmesh Parmar
RIP @mctodfod (1997 – 2022) #ripbrother #ripmctodfod pic.twitter.com/YHygsYHFIQ

— Bandish Projekt (@bandishprojekt) March 21, 2022
This is a shocking! 24 Year old @mctodfod passes away

What a talent he was! Heard him on @viveick_r's Ta Dhom project first and also caught glimpses of him in 'Gully Boy'

Cause of death still unknown! 🙁#MCTodFod #RIP https://t.co/PIwcqLCbHj

— Mangalam Maloo (@blitzkreigm) March 21, 2022

Comment under Azadi's Instagram post by Musician Ankur Tewari.
Instagram story by FTS member Specter.

Comment under Azadi's Instragram post by Indian rapper Raftaar.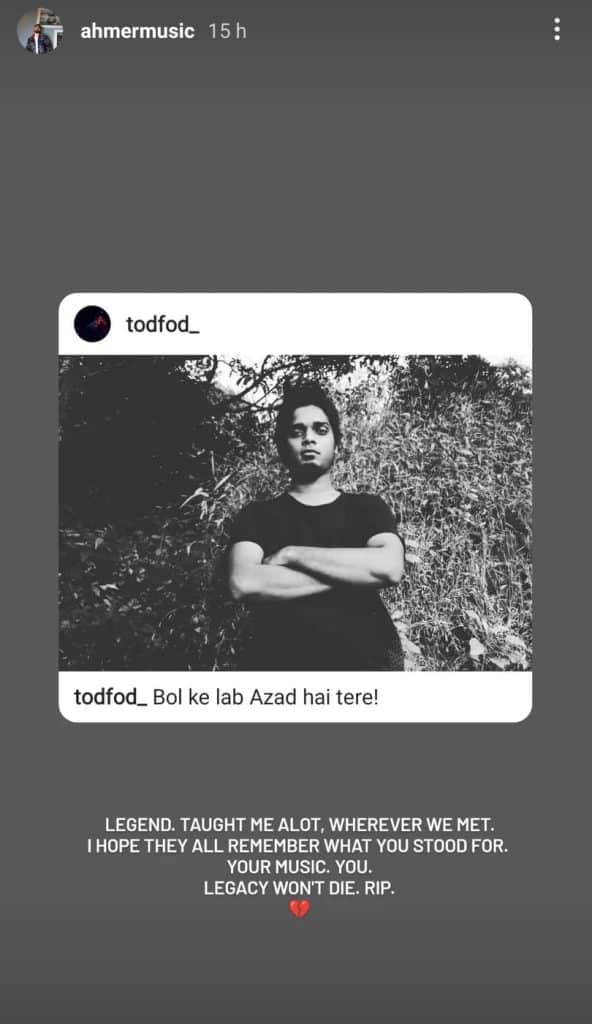 Instagram story by Rapper/Producer Ahmer.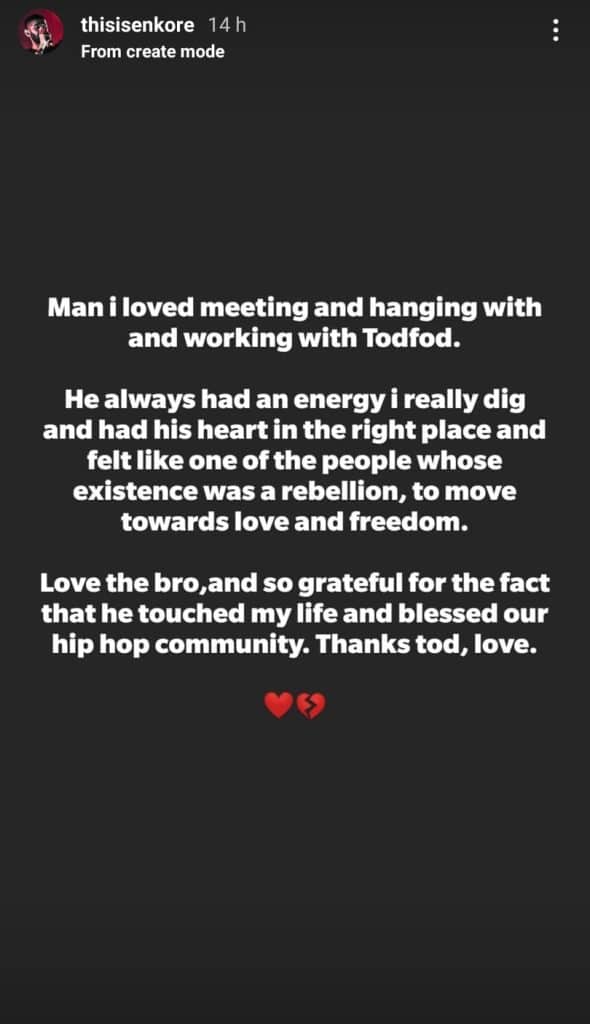 Instagram story by Hip-Hop Musician Enkore.
According to the Indian Music Diaries, the cause of this death is reportedly due to a stroke he suffered on March 20, 2022. His final rites will be administered at his residence on March 21, 2022.
Listen to MC Tod Fod with Swadesi on: Spotify | Youtube
Feature Image Via MC Tod Fod's Facebook, shot by Sudhir Dasgupta.