Get a taste of paradise at Majahuitas in Mexico! This beachfront setting offers the most laid-back vibes and positive energy, to the soundtrack of some of the finest DJs. Soak in the sun, sip on cocktails, and be mesmerized by the infectious sets from DJs. Gastronomy, music, and nature come together to give you an experience that you will always remember at this venue. You can dance in the sand, walk by the beach, and take a dip in the ocean! This is a wonderful place to party, relax, and unwind – you are guaranteed to leave with an unmatched experience. Partygoers can have the time of their lives connecting with electronic music fans and dancing to international DJs as well as rising talents.
Party every weekend in style in Puerto Vallarta! From Tom & Collins to Aaron Sevilla, find a list of artists who'll have their shows at Majahuitas in September.
September 9 – Laolu, Jorge H
DJ/producer Laolu will be taking over the Majahuitas stage this weekend! The artist has cemented himself as one of the rising terrific talents in the electronic music scene, boasting releases on esteemed labels such as Get Physical, German record label Compost Records, Defected, Innervisions and German electronic music label Fraude am Tanzen.
Queen Rami, the founder of Ancestral Soul, is also on the bill. She played alongside the Grammy-nominated Italian electronic music group Meduza in Cancún last month. This DJ/producer has also had shows in Tulum, India, Dubai, Ibiza, and Barcelona in the last few months. Jorge H, who got behind the deck at Majahuitas back in May, returns to this venue on September 9!
Get tickets for this gig via The Ticket Fairy: HERE
Artists performing at this event: Laolu | Jorge H | Queen Rami
September 15 – Aaron Sevilla, Augusto Yepes, Mystery Affair
On September 15, you can dance all day to Aaron Sevilla, Augusto Yepes, and Mystery Affair. Mexican DJ/producer Aaron Sevilla is influenced by Afro and Latin vibes, and he has established himself as the hottest talent in the Mexican underground scene. He has taken his music to France, Istanbul, Greece, Toronto, Medellin, Thailand, Bali, Tunis, and more this year alone!
Colombian DJ/producer Augusto Yepes, who "blends melodic-house, house, afro/Latin-house, and tech-house" is also on the roster! Following his appearances at EDC Mexico, Day Zero Festival, Garbicz Festival, and DGTL Guadalajara this year, Queer DJ Mystery Affair is scheduled to appear at Majahuitas this September!
Tickets for this party are up for grabs at The Ticket Fairy: HERE
Artists performing at this gig: Aaron Sevilla | Augusto Yepes | Mystery Affair
September 16 – Tom & Collins, Mandrake, Harvy Valencia
Brace yourself to witness mind-boggling sets from house and tech house DJ/producers from Mexico Tom & Collins, Mandrake, and Harvy Valencia at Majahuitas on September 16.
Tom & Collins have captivated audiences with their enticing sets at the hottest venues and in-demand festivals like Ultra, Ushuaia, Tomorrowland, and EDC. They have also displayed their remixing skills by remixing for renowned artists like Madonna, English electronic music duo Gorgon City, Years & Years, Florida-based musical duo SOFI TUKKER, and English DJ/producer Duke Dumont. Also catch Harvy Valencia and Mandrake, who complete the stunning line-up for this show.
Tickets for this show are available at The Ticket Fairy: HERE
September 23 – Concret, Giorgio Stefano, Jorge H
The electronic music project of Italian-Mexican musician and DJ Diego Angelico Escobar and Italian producer, sound designer, and keyboardist Q-pha called Concret is heading to Majahuitas to take charge of the picturesque venue on September 23! They will be joined by Spain-born and Cordoba-raised DJ/producer Giorgio Stefano and Jorge H.
Get your tickets to the show from The Ticket Fairy: HERE
Artists performing at this concert: Concret | Giorgio Stefano | Jorge H
September 30 – Salon Acapulco, Liam Fitzgerald, Fresco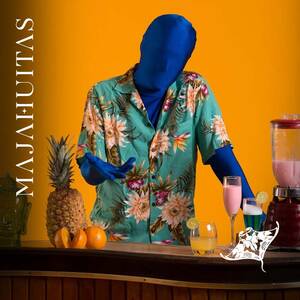 Salón Acapulco's blend of house and techno with elements of tropical and Latin music will be on full display at his forthcoming performance on September 30. Following his shows in Mexico, London, Los Angeles, and Chatsworth, Liam Fitzgerald will join Salón Acapulco at Majahuitas with Yambak PV and Yambak Sayulita resident DJ Fresco.
Purchase your tickets for this concert from The Ticket Fairy: HERE
Artists performing at this gig: Salon Acapulco | Liam Fitzgerald | Fresco
Visit the Majahuitas website: HERE
Majahuitas on: Instagram
You May Also Like:
Catch Dave Seaman and Anthony Pappa in Mexico on September 15
DJ ANNA Heads to Mexico City This September!
2023 Music Festivals in South America You Cannot Miss!