Heart, Sex and Connection
. Soul Centre , Titirangi [All Ages]
Sales for this event are closed.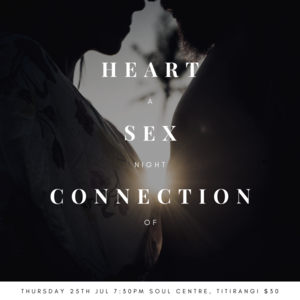 Join us for an evening of heart, sex and connection. After the success of the gendered workshops, it feels time to bring us all together to explore the realms of love exploration.
This workshop will involve conversation, movement, breath, dance and meditation and use a variety of modalities to journey within. Individual, partner and group activities will be facilitated for the evening and personal boundaries will be honoured and respected at all times.
This is for you if you are interested in opening up the discussion between men and women surrounding conscious connection and are open to learning new ways of relating.
Your facilitator:
Nikki is a mother of three wildly embodied daughters and the co-founder of NZ Spirit Festival. She lectured at the University of Auckland in Ancient Greek and Roman Medicine specialising on issues surrounding women's health and sexuality in the ancient world. A life-long dancer, she ran her own dance school in Auckland for children before discovering her love for empowering adults through movement. A burlesque and pole dancer herself, she now teaches yoga and meditation to teen mothers, educationally excluded youths and women in prison. A devoted traveller and student of life always, she has recently returned to New Zealand for a short while after studying traditional Tantra in India. She lives in New Zealand during the Summer months and Bali with her beloved and three children for the Winter.