Technological advancements are making a huge impact on the event industry. Event organizers are seeing how event technology is transforming the way events are being organized from the way how they are structured to how they are marketed toward prospective attendees. The advancement of industry technology has left a tremendous mark on how people view events, and since the onset of Covid-19, event organizers have seen how technology has allowed events to adapt to change. Even within the remote aspect of the pandemic, event technology, like the metaverse, has allowed event organizers to bring the thrill and excitement intrinsic in events to attendees despite restrictions. The metaverse has transformed the landscape of events, shifting perspectives to a more technologically based world while bringing joy to attendees despite the signs of change.
Although not an entirely new concept, the metaverse has taken root in pop culture these past few years, exploding with new users every year. When implemented in events, the metaverse allows attendees to interact with technology and the event in a fulfilling way. A metaverse event is catching interest fast and people are curious about what these types of events will have to offer in terms of excitement and originality. According to statista, 45% of adults are interested in attending a music event hosted in the metaverse, and in another research, there are already 400 million active metaverse users globally. The metaverse is surely only going to grow in the coming years and has already been a large presence in the event industry.
Understanding what is a metaverse event
Before we get into the different types of events hosted through the metaverse, we first have to understand what exactly is the metaverse. Although a vague concept, the metaverse is at its root the combination of different technological tools coming together to create a completely virtual (or hybrid) environment where meaningful interaction can take place. Most often, the metaverse combines VR (virtual reality) technology, social media, etc. in order to create a digital space that allows for communication to take place. When implemented for events, the metaverse provides attendees a virtual event experience that is on par with in-person events.
It is no surprise that through these past few years alone metaverse events have increased in popularity. More people are interested in how virtual technology can bring them unforgettable events that are just as exciting and engaging as in-person events. Attendees might even have more opportunity to interact with the event through metaverse technology such as VR goggles or haptic gloves, bringing a more immersive experience as opposed to in-person events. Event organizers are heeding these interests and bringing metaverse events to their target audiences. The potential for growth exists in taking on metaverse technology and it will only bring attention and success to your events.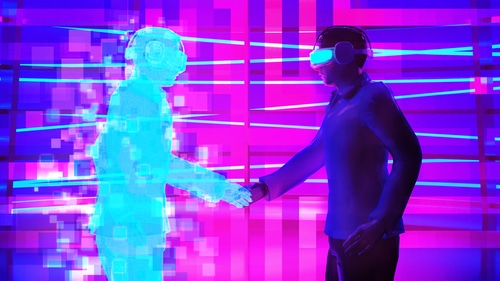 The different ways to implement metaverse technology for your event
Now that we've gone in depth about what exactly is the metaverse and how it affects events, let's get into the ways that it can be used for your events. As mentioned, metaverse events have already become extremely populare. Event organizers have been using the metaverse to bring people and community together and the possibilities for what you can do are endless. Here are four ways that the metaverse has been used for events.
1. Online game competitions
Many people have probably seen metaverse technology used for game competitions. It's a fan favorite and feels right at home with a virtual reality aspect. By hosting game competitions in the metaverse, event organizers bring a platform to users to participate in and interact with. Through the metaverse, competitors have access to a space that builds community, allows for their hobbies to take center stage, and provides them an opportunity to have fun while doing something that they enjoy. Metaverse technology such as VR headsets, goggles, and haptic gloves supports a digital environment that allows for video game tournaments to take place.
2. Music events
The music scene is now eyeing metaverse technology and its benefits. Although metaverse technology hasn't had a long presence in music spaces, progress is being made. More people are becoming aware and interested in the opportunities that hosting in the metaverse brings. The potential of what metaverse technology could bring to concerts and other music events is endless. They could be hosted within video game tournaments, create metaverse avatars for performing artists, and even go completely digital with VR. It's still an ever-growing process but the future of metaverse music events is gaining momentum.
3. Virtual conferences
The metaverse is making virtual conferences come to life. Attendees are able to access conferences through the metaverse and stream them in real time, all virtually. The metaverse enables an interactive experience where presenters could share and discuss compelling topics with their audiences. Other virtual tools will also allow conversation and communication to take place, creating a highly involved and unique event, all made possible through metaverse technology.
4. Webinars
Webinars are popular events that prompt interactive conversation in Q&A format between participants. Through the metaverse, that interaction is maintained and nurtured even well after the session ends. They could also be recorded and streamed by users to consistently come back to.
How you benefit from metaverse events
Now that you are familiar with a few ways that the metaverse has been creatively used, you're better informed of how much technology has improved the attendee experience and opened a path for event organizers to create organic and exciting events. Event organizers will find that the metaverse is transforming the way people approach and interact with events. By implementing metaverse technology in your events, you will find that:
Attendees will enjoy a more immersive and interactive experience
Events become more accessible and available to people despite distance and physical limitations
People will be more interested in the excitement that a virtual landscape will bring to an event
The metaverse is a tool of the future that is transforming how events are made. As people become more aware of metaverse events, it's best to stay focused and informed on all the ways that you can use advanced event technology to bring mesmerizing events to your attendees.
You can set up NFT token gating with unique rewards for the metaverse through Ticket Fairy.
FEATURED IMAGE VIA INAUGMENT