ABunDance The Art of Love
. Lure , Los Angeles , CA [Ages 21+]
Sales for this event are closed.
Nelson G
Amanda L
Lauren S
Taryn M
Zoe M
Soto J
Emily P
Rachelle A
Fabian R
Renae B
Amanda K
Kristy S
Megan I
Giancarlo U
Clinton T
Hailee E
Stephanie B
Eleanor R
Andrew A
Courtney K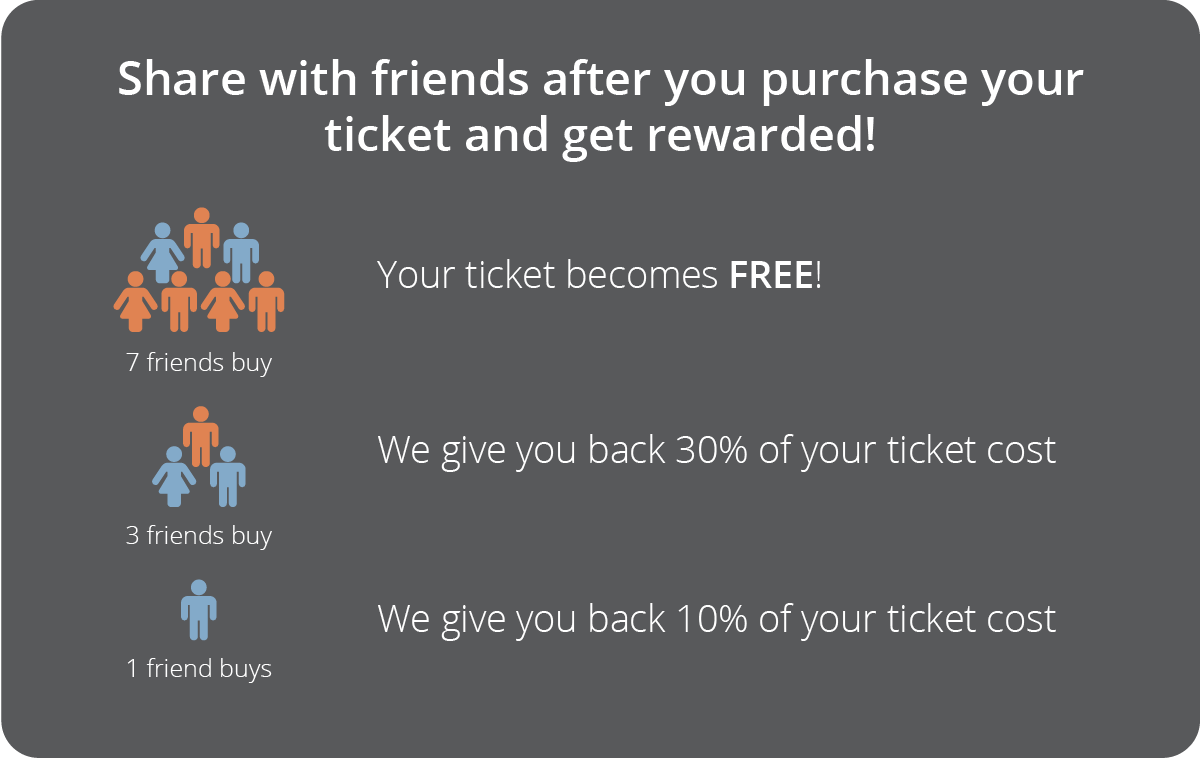 ABunDance NOW Art of Love

Experience A-Bun-Dance NOW! Where Art, Music, and People become ONE! https://www.facebook.com/events/1680924578857226/Explore the indoor and outdoor wonderland & Bohemian Burner Bazaar while getting down to 2 stages of amazing music. Lure will be hosting the Bass stage inside and Le Jardin will be hosting the Outdoor House Stage.Get Love and Connection. Explore all the possibilities of being love and become your inner He(art)ist that transforms into the Gift that you are to The World as your very own work of Art!

Posted by Grateful Generation on Thursday, February 11, 2016
Get Love, Connection, and Elation. Come explore all the possibilities of being love and expressing your inner Artist as we transform into the Great Gift that we are to each other and The World as our very own work of HeArt!

Experience A-Bun-Dance! Where Art, Music, and People become ONE! Explore the indoor and outdoor wonderland & Bohemian Burner Bazaar while getting down to 2 stages of amazing music. Lure will be hosting the Bass stage inside and Le Jardin will be hosting the Outdoor House Stage.
Come inspire, and be inspired by:
♥ DJ's
♥ Live Performance
♥ Vendors
♥ Live Artists
♥ Healers
♥ Belly Dancers
♥ Mermaids and Mischievous Fairies

♥ Stilt Walkers
♥ Costumes
♥ Organic Treats
♥ Festive Drinks
♥ Expression
♥ LOVE
♥ Dance

DRESS CODE- Come in your most festive attire that allows you to fully express yourself. If you want to wear a banana suit, PLEASE DO.
However, you still must follow the dress code of the venue- so NO FLAT OPEN TOE SHOES, SHORTS or GYM WEAR. Thank you!

Artists Featuring:

Random Rab
https://soundcloud.com/random-rab

Emerging from his own distinct corner of the West Coast electronic music scene, Random Rab offers a powerful and unique contribution to sonic exploration. Often referred to as "The Master of Emotion" his music is patently beautiful and melodic. With diverse influences ranging from trip‐hop, classical and Arabic to bass driven compositions, his songs are considered anthemic and timeless. As a multiinstrumentalist and singer, his tracks are organic, uplifting and stand on their own as a distinct genre. Listeners of all types of music can find something they can relate to in his sound.

Kaminanda
https://soundcloud.com/kaminanda

Coming from the mossy forests of the Northern Lands on the west coast of Elven Country, Kaminanda's ever evolving sound is a playground of original deep Midtempo grooves, tribal rhythms, creative trip hop,complex Dub and lush downtempo textures. Kaminanda's ever evolving sound is a kaleidoscope of warm melodies and twisting ,winding compositions. He has shared the stage with Bluetech,Shpongle,Tipper,Ott,Bird of Prey and Kalya Scintilla. Kaminanda is excited to share this adventure with you.

Govinda
https://soundcloud.com/govindamusic
Govinda is the alter-ego of Austin based producer/composer Shane Madden. He began studying violin and composition at the age of eight and went on to study classical violin at the University of Texas where he fell in love with electronic music production. It was in Madden's pursuit of his gypsy roots that he opened his ears to music from around the world. From experiences learning violin with mysterious masters on his journeys across the globe and his passion for modern design and technology, the current sound of Govinda was born.

Doorly (Dirtybird)
https://soundcloud.com/doorly

Presiding over an electronic melting pot of techno, electro, Future Garage, drum'n'bass and dubstep doused with hip-hop and splashes of indie; Doorly's movement behind the decks is relentless. Scratching and splicing riffs, loops, beats and bass to form a sonically seamless, mash-up masterpiece as seen on his recent Radio 1mini-mix for Annie Mac; it's understandable that Doorly is often described as 'an old school block party DJ using new school technology'.

Huglife
https://soundcloud.com/huglifeofficial

(Previously "Slink") He is more than a producer. He is a musical pioneer.To party with HUGLIFE is to have so much $%&*@ fun, it hurts. With over 15 Years of experience behind the decks, this guy knows how to rock a crowd. Not constrained to one genre, in his sets' he veers into Moombahton, Bass Music, Trap ,Electro, & Mashups.

Lee Reynolds (Desert Hearts)
https://soundcloud.com/lee_reynolds

Lee Reynolds focus' on the ambient and psychedelic sounds mixed with house. Lee is heavily involved in the Southern California tech/house movement, co-hosting the popular Desert Hearts, City Hearts & Moonshake parties, playing at the legendary Moontribe and Lightning in a Bottle events, and often DJing south of the border. With well over 20 years of experience under his belt Lee has never had more fun DJing!

Soohan
https://soundcloud.com/soohan

After a wildly successful debut year, SOOHAN is ready to take on 2016. The widespread popularity of both albums earned him his first national tour and sets at 11 different music festivals in 2015, including sets at Camp Bisco, Infrasound Equinox, Great North a main stage set at Camp Question Mark's Emissions West Coast Bass Festival.

SOOHAN's remixes pay homage to the mighty 808 kick and utilize a unique and extensive sample selection that make his work truly memorable. He takes us on a multi-faceted journey across the globe, pulling from the traditional music of various cultures and from the depths of our nostalgia. His unique sound sets him apart from many popular bass music acts, and has earned him a cult following across the US. Where else are you going to find trapped out Turkish folk music? Do yourself a favor and press play.

The Schmidt
https://soundcloud.com/theschmidtmusic

Launching his music career from the Bay Area, the now San Francisco-based producer/DJ, The Schmidt, has been seeing a lot of recent success. His productions have put him in the spotlight on club and festival stages across the country, from Lake Tahoe's SnowGlobe Music Festival to official SXSW performances. His unique House sound encompasses everything from classic house, G House to UK House while infusing a lot of energy. The Schmidt runs into 2016 with a lot of momentum, continuing to build his career one step at a time, not taking any shortcuts and remaining humble.

divaDanielle (Camp Charlie Unicorns)
https://soundcloud.com/divadanielle

Known for her dynamic performances, divaDanielle started her life as a DJ after catching a record that Darren Emerson threw into the crowd in 2003. What she lacks in height, she makes up for in spunk and red-headed fury. Combining a love of unicorns with a fierce desire to promote women in EDM, she has risen to the top of the California underground, unleashing rainbow-infused beats through a wave of mischief, music and artistry. Her most recent release, "I Got A Man" with DJ Dan spent 4 months in the Beatport House 100 and hit the Top 10! Let's just say, they don't call her The Diva for nothing!


Gr8ful
https://soundcloud.com/cdj777

Gr8ful aka Chris Jackson, Los Angeles native of the Underground & Commercial Nightlife, and Festival Scene. Eclectic Bass Heavy Luv/Dub/Trap/Electro/House. His musical styles incorporate iconic music from classic rock, hip-hop, and funk to contemporary pop mixed with saucy dubstep, glitch, house and trap, pumping dancefloor favorites remixed for new flavour, and sexy grooves that he calls 'Cosystep'.


Live Painters:

Eric Tresback
www.facebook.com/3.bak.art
www.instagram.com/3bak

Peter Goode
www.petergoodeart.com
www.facebook.com/peterdavidgoode
https://www.instagram.com/petergoodeart/

Mai Lill
http://www.mailillart.com/
https://www.facebook.com/mailillpony

Jef Logan
http://www.jefloganartiste.com/
https://www.facebook.com/pages/Jeflogan-artiste/236856506356973
@jef_logan_artiste

Caro Caro
www.carocaroo.com
www.facebook.com/compulsiveline
@carocaroo

Brad Rhadwood
www.rhadwood.com
www.facebook.com/BradRhadwood
@bradrhadwood

Jacob Hanover
www.jacobhanoverdesign.weebly.com/illustration
@hanoverjacob

Tom Ambrose Denney
http://www.tomdenney.com/blog/

Jamie Janett Graden
www.meowiewowieart.com
www.facebook.com/jamiejanettgradenart
@jamiejanettgraden

Andrew Coulter
https://society6.com/andrewcoulter
@acoulter425

Steve Downs
https://www.facebook.com/Steve-Downs-190646924309251?__mref=message_bubble

Darcie StarSeed
https://www.facebook.com/doartstudios
http://www.darcieodom.com/

*LIVE PERFORMERS*
LA Sirenes - Www.facebook.com/lasirenes
Alex Iverson
Alexa Rae
Andrea Pazols
Aradia Sunseri
Arielle Lowe
Austin Amorphous Bevis
Brittany Quidang
Caroline Moonie
Celina Anderson
Chris Stuart
Crystal Meil Cossey
Hannah Dye
Hannah Fraser
Hannah Lee
Ileana Zayas
Jessica Ann Hunter
Leany Bear
Lorelei Hawkins
Madison Orange
Morgan Jenkins
Nichole Lynn Hanley
Nicole Luevano
Olivia Kemp
Rachel caselli
Rachel Kadish
Roger Fojas
Ruby Chase
Samantha Ceora
Sheldon Springs
Surka Noelle

You are The Grateful Generation!
Nelson G
Amanda L
Lauren S
Taryn M
Zoe M
Soto J
Emily P
Rachelle A
Fabian R
Renae B
Amanda K
Kristy S
Megan I
Giancarlo U
Clinton T
Hailee E
Stephanie B
Eleanor R
Andrew A
Courtney K