Martin Dupont, Xeno & Oaklander, Drab Majesty (DJ)
Sales for this event are closed.
Benjamin W
James G
Alejandra H
Zachary M
Perla C
Lauren H
Kiana L
Amicia G
Cassandra C
Alyssa G
Rebecca C
Carl G
Meghan B
Madi W
Martin Dupont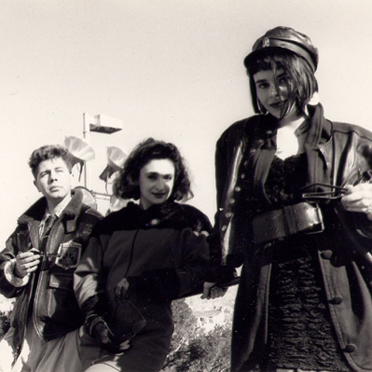 Martin Dupont is a band that produces beautiful, heady electronic, has a mysterious French name, and vocals that are sung in English. A hard-to-classify group from Marseille with a cult following, Martin Dupont has inspired some of the luminaries of the contemporary music scene crossing many genres from hip-hop to electro to techno. Tricky, MadLib, Mick Wills, Marcel Dettman, and Theophilus London are just a few of the artists who've been touched by the beauty that is Martin Dupont.
Martin Dupont was formed in Marseille in 1980 and consisted of Alain Seghir, Brigitte Balian, Beverley Jane Crew, and Catherine Loy. They were immensely talented with a rare dynamic between them that was likely inspired by a combination of their magnetic personalities, creative vision, and the home studio where they recorded. The music they made was colorful, enthusiastic, and delicate, but also melancholy and mysterious. A mixture of hot and cold, light and dark. They made electronic music that incorporated guitars and clarinets and is described by many as New Wave yet they truly transcended genres. They had mainstream success finding themselves opening for legendary bands like The Lotus Eaters, The Lounge Lizards, and Siouxsie and the Banshees, without any intention of ever being a commercial enterprise. In Beverley Jane Crew's words, "the songs just tumbled out in a completely organic and spontaneous way and as soon as they were recorded on the four-track, they were shared with friends on tapes, openly and excitedly." By 1987, they disbanded but left behind three cult albums: Just Because, Sleep Is A Luxury, and Hot Paradox, one cassette entitled Inédits 1981-1983, and one 7" single entitled Your Passion. Martin Dupont remained under the radar for over thirty years, but since achieving unexpected success in the US, championed by the New York label Minimal Wave, first with the 2008 release Lost and Late and more recently with The Complete Collection 5LP box set, the band is now making a comeback. They will perform live again supported by additional musicians Sandy Casado and Thierry Sintoni, of the band Girls Like You, along with Ollivier Leroy. They will be returning to the very stages that hosted their first gigs, bolstered by their ever-increasing fan base. They will then embark on a major international tour in 2023.
Stay tuned for a new album by Martin Dupont called Kintsugi due out on February 7th, 2023. The album features lush re-works of their old songs, and will be available on CD via Infrastition, vinyl, and cassette via Meidosem, and digitally via Minimal Wave.
Xeno & Oaklander
East Coast minimal electronics institution Xeno & Oaklander are French-Norwegian conceptual artist Liz Wendelbo and Maryland-native Sean McBride and met in 2004. The duo started recording music in an abandoned factory building near the East River in Brooklyn NY; its debut album, Vigils, recorded in a single take, was released in 2006. The band then signed to Wierd Records, which released 2009's Sentinelle. Following its 2011 record Sets & Lights, which was also released on Wierd and showcased elements from darkwave, Italo disco and techno. Xeno & Oaklander signed to Ghostly International for 2014's Par Avion, which featured Serge synthesizer and was inspired by synesthesia. Sessions for Par Avion produced 2015's Movements, a 35-piece commissioned by National Center for the Arts, Grenoble and Ecole du Magasin. Following 2016's Topiary on Ghostly International, the duo released Movements II, which was only available on their tour that May; in October, the bossa nova-tinged single "Moonlight" appeared on a split 7" released by the UK magazine Electronic Sound. Shortly thereafter the duo signed to Dais Records, which issued the album Hypnos in 2019 and Vi/deo in 2021. Vi/deo is Inspired by ideas of synesthesia, scent, star worship, and obsolescent technologies.
Sacred Skin
Los Angeles-based duo Brian DaMert and Brian Tarney explore the vastness of heart-wrenching, anthemic pop music under the name Sacred Skin. Their first single, "Colder," was released in March of 2021 and stole the hearts of dark souls everywhere with their melancholic undertones and perfectly produced songwriting. Subsequent singles released in 2021—"Eyes Closed" and "Far Away"—landed them live shows at LA's Substance Festival and at famed venues the Hollywood Palladium and Saint Vitus in Brooklyn. 
 The succession of singles and live dates have led to the announcement of their first LP, The Decline of Pleasure. With its dreamy new wave structures and DaMert's vocals induced with lust and longing, the album is unlike any other released so far in 2022. Their use of classic digital outboard gear, namely the Sequential Prophet VS and the EMU Emulator II, retains a vintage, yet timeless studio feel that is totally unique to their sound. The Decline of Pleasure brims with love and hope, transporting the listener to a more innocent and carefree experience, as we boldly move forward from the era of isolation.
DJ Sets by:
Drab Majesty
DJ Maldoror
DJ Ding Bat
Robert Lane
Benjamin W
James G
Alejandra H
Zachary M
Perla C
Lauren H
Kiana L
Amicia G
Cassandra C
Alyssa G
Rebecca C
Carl G
Meghan B
Madi W