SAFE SPACE - Laguna Seca

. Laguna Seca Estates , Bermuda Dunes [All Ages]
Sales for this event are closed.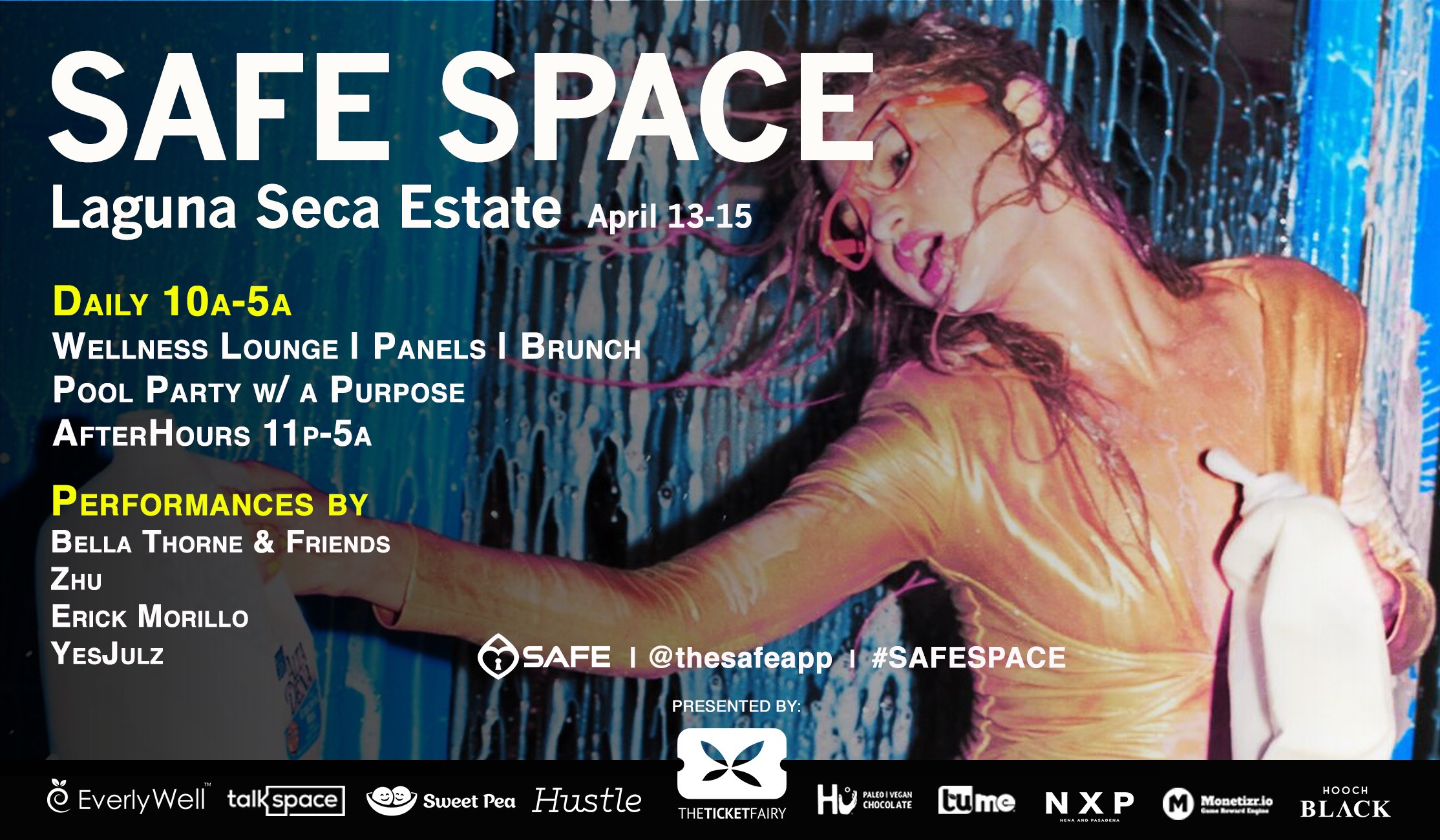 SAFE SPACE @ Laguna Seca Estate is a 3-day luxury experience offering a mix of daytime wellness lounge, panel discussions, brunches, poolside parties, and afterhours lounge featuring world class DJs and intimate surprise performances.
Performances by: Bella Thorne, Erick Morillo, ZHU, Moag, Yes Julz, and other surprise guest performers and DJs.
SAFE SPACE celebrates thought leaders, influencers and activists working to empower women and the LGBTQ+ community to express themselves, protect themselves, be safe, and feel safe.
SAFE SPACE is produced by Safe Movement, nonprofit 501(c)3, in partnership with Teen Vogue, the CNN Freedom Project, Hollywood Records, and The Ticket Fairy.
Safe Space tickets include:
All entertainment and activation entry, side viewing area for V-VIPs to watch performances with a celebrity green room lounge experience, exclusive cabana access and full food and beverage included.
Schedule:
FRIDAY, APRIL 13th
11p | Welcome drinks and culinary delights
12p - Late | Bella & Babes Party featuring Bella Thorne
SATURDAY, APRIL 14th
10a | Sound Bath Meditation by The Alucinari Project
11a - 2p | Let's Talk about Sex' Influencer Brunch, featuring Amber Rose & Teen VOUGE
Sponsored by SweetPea Dating App
11:30a | Slut Claiming: Movements to End Shame with Amber Rose & SAFE
Vera Papisova, Teen Vogue
Amber Rose, Founder, SlutWalk
12p |
F*ck the Stigma: Breaking taboos in Sexual & Mental Health
Vera Papisova, Teen Vogue
Julia Cheek, Founder, Everlywell
Head of Sex Therapy, Talkspace
12p – 4p | Pool Party with a purpose / Deep Space Presents Erick Morrillo
11p - 5a | After Hours MOAG Presents "A Night in the Desert" featuring Zhu

SUNDAY, APRIL 15th
11a - 1p |
Wellness Lounge
Featuring sound bath meditation and tarot readings by the Alucinari Project, Crave Build Your Own Vibrator station, Lemonhead glitter makeovers, EverlyWell nutritional and STD testing, Hi-Lites Glasses, GTs Kombucha tastings, sexual wellness stations, NXP Apparel, elixirs, teas and healthy treats by Hu Chocolate, REBBL, Tempo, Tu Me Turmeric Water, Detox Water, Suja, and more.

12p – 6p | Capitalism 2050 Disruption Summit
12p - 4p | Pool party with a purpose w/ YesJulz
11p | After Hours with special guest DJs