Bali teems with tourist attractions, beach clubs, historical monuments, and fun things to do! It is common to feel perplexed about what to do first in destinations like this. If you're in Canggu, the south coast of Bali, you can go to beach clubs, restaurants and bars along Canggu and Echo Beach. Visit some of the venues we've mentioned below, have a flavorful meal and drinks, party with friends, and dance your hearts out to some energizing electronic dance music!
If you're looking to go bar-hopping in Canggu, here are eight venues you need to visit!
Café del Mar
Feel the energetic vibes of Ibiza and have an unforgettable beach club experience at Café del Mar in Canggu. Bask in the sun, relax on loungers and daybeds by the pool, sipping delicious cocktails. This beachfront venue also offers a pool booth, master suite, and deluxe suite. You can also hang out with friends or loved ones on grass daybeds, sink into bean bags and enjoy the ocean breeze. Treat yourselves to Café del Mar's luxurious suites, enjoy the Mediterranean and Asian cuisine and wines that will elevate your culinary experience.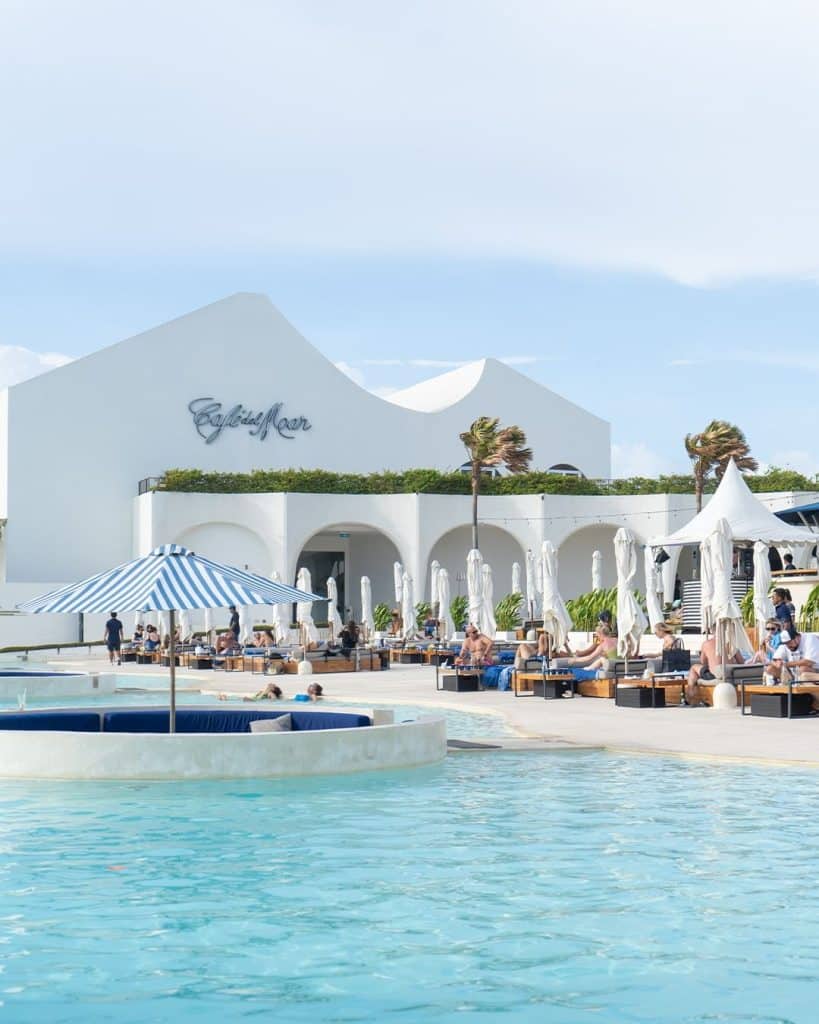 Take a dip in the infinity pool and see the sun disappear into the sea. In addition to the mesmerizing sunset, this beach club sprawled across 10,000 square meters on the Canggu coastline also sees stellar DJs bring the house down with their performances with Dutch DJ/production duo Blasterjaxx soon to set the Café del Mar dancefloor ablaze in October this year. Apart from Valentine's Day and New Year's Eve, you can also experience other events held at this stunning venue on the Canggu beach throughout the day.
Black Sand Brewery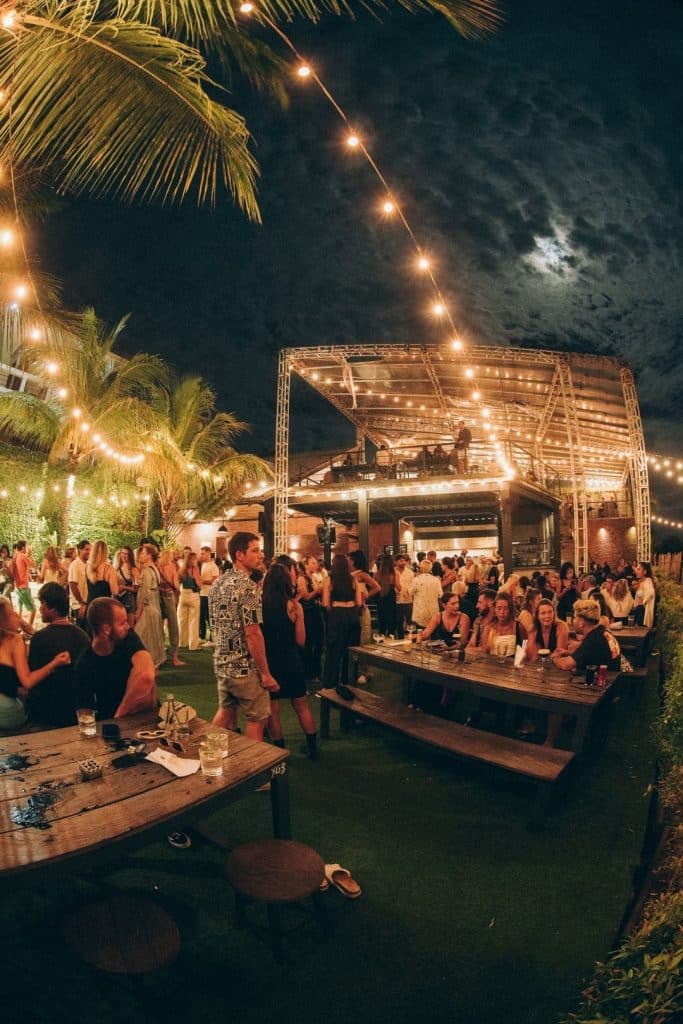 Black Sand Brewery in Canggu crafts some of the finest beer in Bali and also offers remarkable food to go with it. At their Backyard Saturdays, you can listen to live acoustic music from local artists while the chefs grill. Jukebox Sundays & Aperitivo let you choose your vinyl tunes. You can also get an aperitivo (free bites) on Sunday. Dance to the tunes of vinyl DJs on Fridays and build your own margaritas, get access to a secret taco menu at Black Sand Brewery's Monday Margaritas. This is a must-visit stop for beer lovers!
Ji Restaurant Bali
Want to experience Japan while in Bali? Ji Restaurant is the perfect place to unwind, enjoy mind-blowing views, and dig into scrumptious dishes designed by renowned chefs. Located a few minutes from Canggu Beach, this restaurant is housed in a reconstructed 300+ year-old temple. The 4305.56 sq feet terrace is on the second and third floors of the restaurant. Sip on their cocktails that include fruits and flowers from the island, exotic Asian roots, local leaves, and spices and kick off the evening with sweeping views of Canggu Beach from the terrace.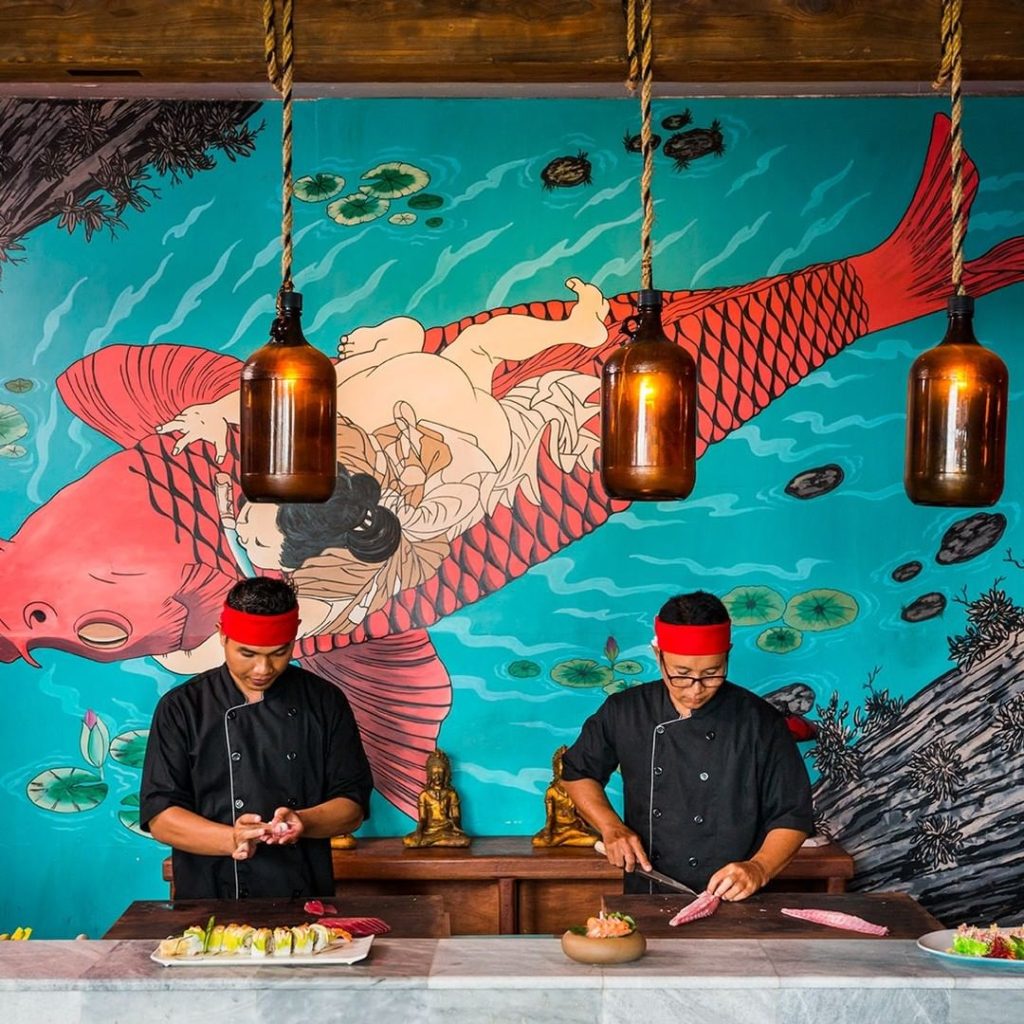 Your visit to Ji is not complete without trying the Coco Sexo and the Tutu Gin & Tea. The latter is infused with Javanese tea and other herbs. On Friday nights, you can move to the beats of the DJ while the sun sets. Attendees can also grab some sushi prepared by Japanese methods, which also include flavors and ingredients from other Asian countries. Mekatoro Nigiri with avocado and ceviche sauce and salmon smoked with burnt stalk of Balinese heirloom rice are some of the mouth-watering dishes you can have for dinner at the restaurant, and end the night with a sweet treat banana crémeux with caramelized miso cream or chocolate cigars – a smokey dark Javanese organic cocoa mousse.
Old Man's
Old Man's is a popular beachfront venue that offers something for everyone. This bar plays host to live music events featuring bands that play rock, reggae, and more, as well as DJs dishing out energetic tunes that set the tone for the night. Barcelona DJ/producer Guille Placencia, English DJ/producer and singer Eliza Rose, Australian singer-songwriter Xavier Rudd, Australian electronic music musician Partiboi69, and DJ Salute have rattled the dance floors at Old Man's this year.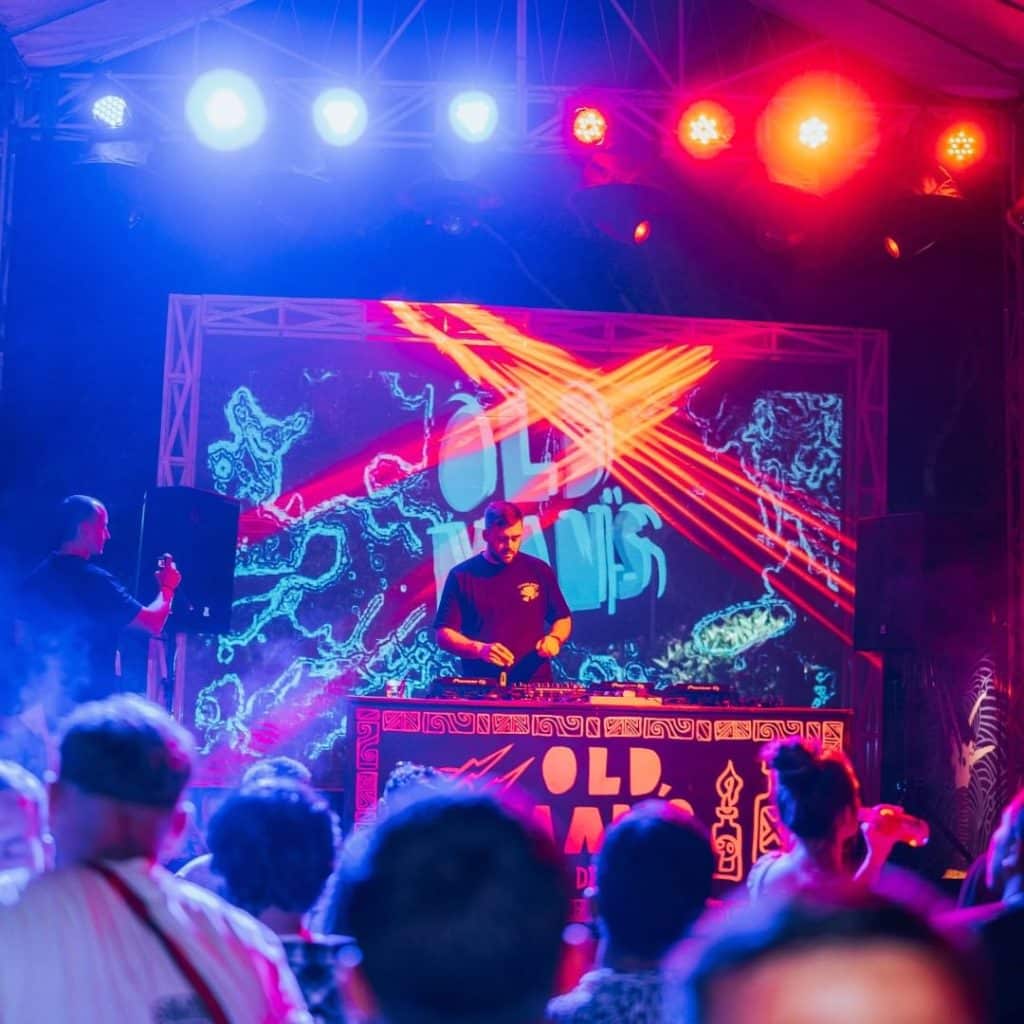 LA-based alternative pop music duo Neil Frances and the iconic Andy C will be heading to Old Man's this September! The last Saturday of every month sees a Canggu market at the venue, where visitors can shop for swimwear, crafts, jewelry, and more! Old Man's is open daily from 8 AM to 1 AM.
You can get breakfast items like eggs, English muffins, croissants, smoked salmon, sausages, waffles, cheesecake, snacks, pasta, dessert, salad and more. Kung pao fried chicken, Yakitori chicken kebab, beef rendang quesadilla, and tuna sashimi are also on the menu. Old Man's serves wines, beer, craft beer, cocktails and more. Old Man's goes from a chill place to hang out with friends and family to a lively venue with local artists, bands stellar DJs, and people partying as the sun sets.
The Barn
Stop by The Barn if you visit the epic Old Man's in Canggu! This gastropub with old-school vibes features rustic fireplaces, vintage photos, and more, giving you the complete pub experience. Visitors can catch live sports and sip on cocktails, craft beer, wines, or spirits upstairs at the cocktail bar. There's live music every Tuesday, Wednesday, Thursday, and Sunday, and you can also see DJs dish out some seriously good house and soul music.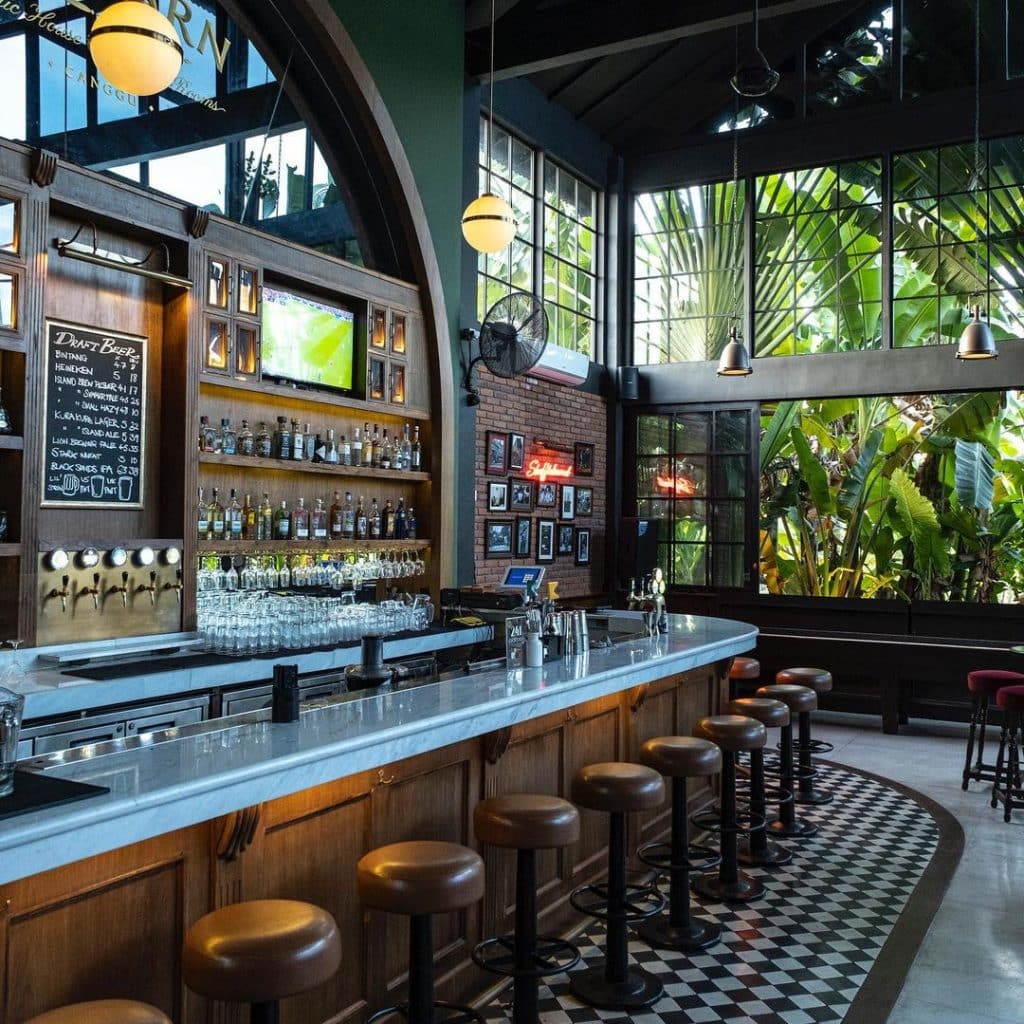 The Barn also offers bar games and is family-friendly, with a football table, shuffleboard table, board games, and a pool table. From bar snacks like sausage rolls and sea salted crisps, to pub classics like fish & chips, chicken tikka masala, and bangers & mash, and salads, seafood, and pizzas, you can munch on delicious food and snacks while catching a variety of sports on their six massive HD screens, not including the projector screen! You can complete your meal with desserts like apple and custard crumble or a banoffee pie. Their Sunday Roasts are a must-try if you're in Canggu! Beer Pong competitions are held at Old Man's' Dirty Ol' Wednesdays.
The Lawn
Take in the stunning views of the Indian Ocean, watch the surfers, swim, or chill in the infinity pool while sipping on margaritas at The Lawn. Daybeds have been set up by the pool, and you can catch up with friends there, listen to the waves, and relieve yourself of any stress and worries. Some of the most celebrated acts in music head to Canggu's premier beach club – The Lawn. French singer and musician FKJ, Australian indie rock band Sticky Fingers, and British rapper Aitch have all performed at The Lawn's stage this year alone!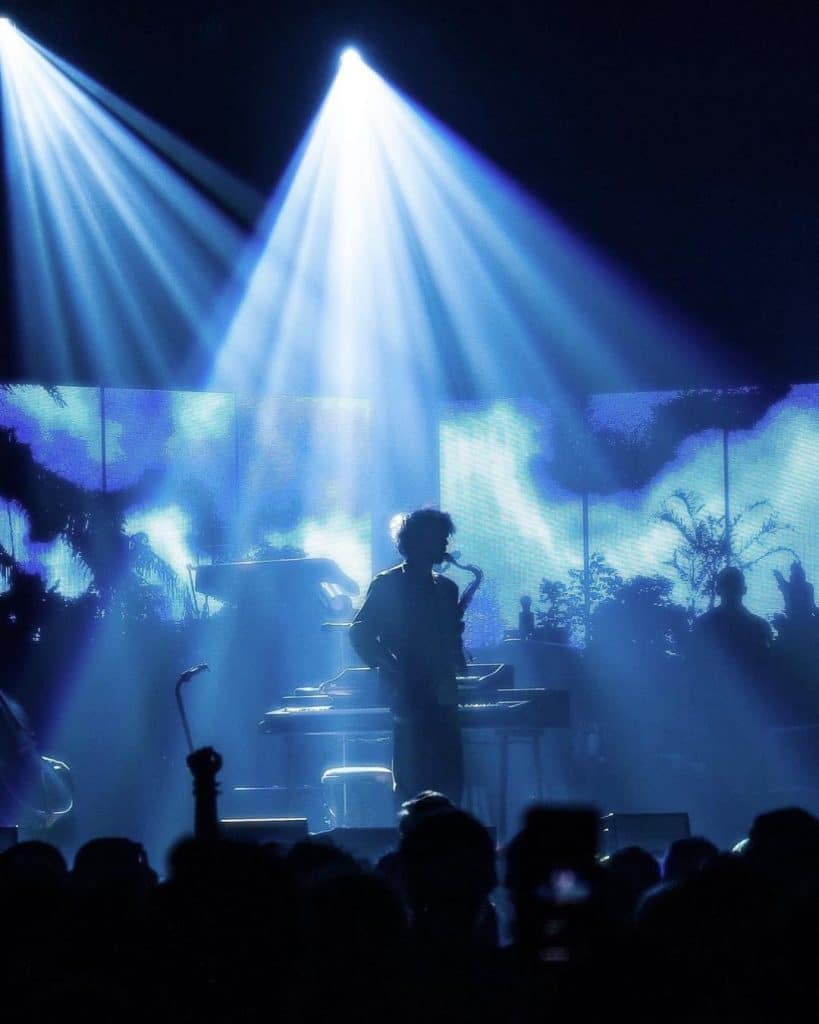 The Lawn also hosts surfing competitions and screenings! If you're into surfing, you'd be delighted to know that world champion surfers like Stephanie Gilmore – the eight-time world champion on the Women's WSL World Tour, World Surf League champion Kelly Slater, Kelia Moniz, and WSL World Championship winner Gabriel Medina have all visited this first-class restaurant overlooking the black sandy beach!
La Brisa
Party lovers who are looking for a sustainable, eco-friendly venue can't help but fall in love with La Brisa! Constructed using reclaimed wood from over 500 fishermen's boats, this restaurant features spectacular decor. Their drink menu is among the best in Bali, with cocktails crafted using a variety of spirits, kombuchas, beers, teas and wines from all over the world!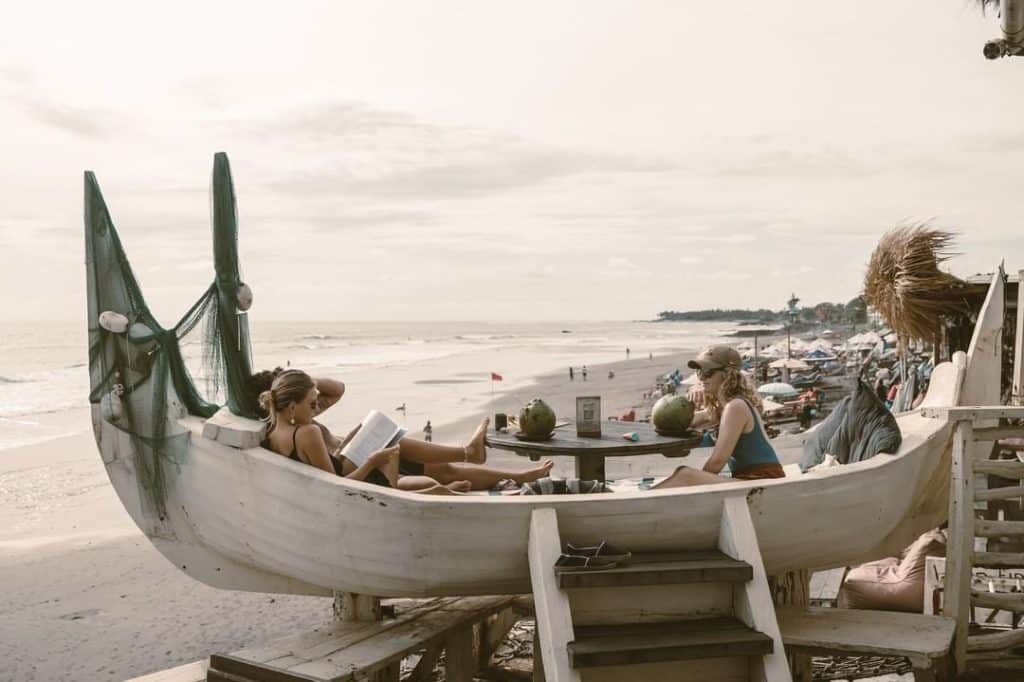 DJs hitting the decks against the backdrop of the waves rolling in while the sun sets is a regular sight at La Brisa! You can also have the complete experience of chilling by the beach by booking a boat table. Fresh and organic produce from Lyd Organic Farm is available on Sundays at this beach club. This is an initiative to support local farmers. Zero-waste products, baked goods, and more are available for purchase at this market to support small businesses. Sustainably sourced food, seafood, and hand-made popsicles made with real fresh fruits are all part of the menu.
Located on Echo Beach in Canggu, this venue has something for everyone! From morning to evening, visitors will be mesmerized by the breathtaking ocean views and the hippie design style. You can also begin your day with a yoga session here and end your evening with a rave at La Brisa!
Finns Beach Club
Head to Finns Beach Club for the ultimate party experience. Host to some of the biggest names in music on the planet, this state-of-the-art beach club will leave you stunned! The Finns Beach Club boasts four swimming pools, nine bars, underwater speakers, seven kitchens, two swim up pool bars, among other amazing amenities. Vocalists and their resident DJs will keep you occupied every day!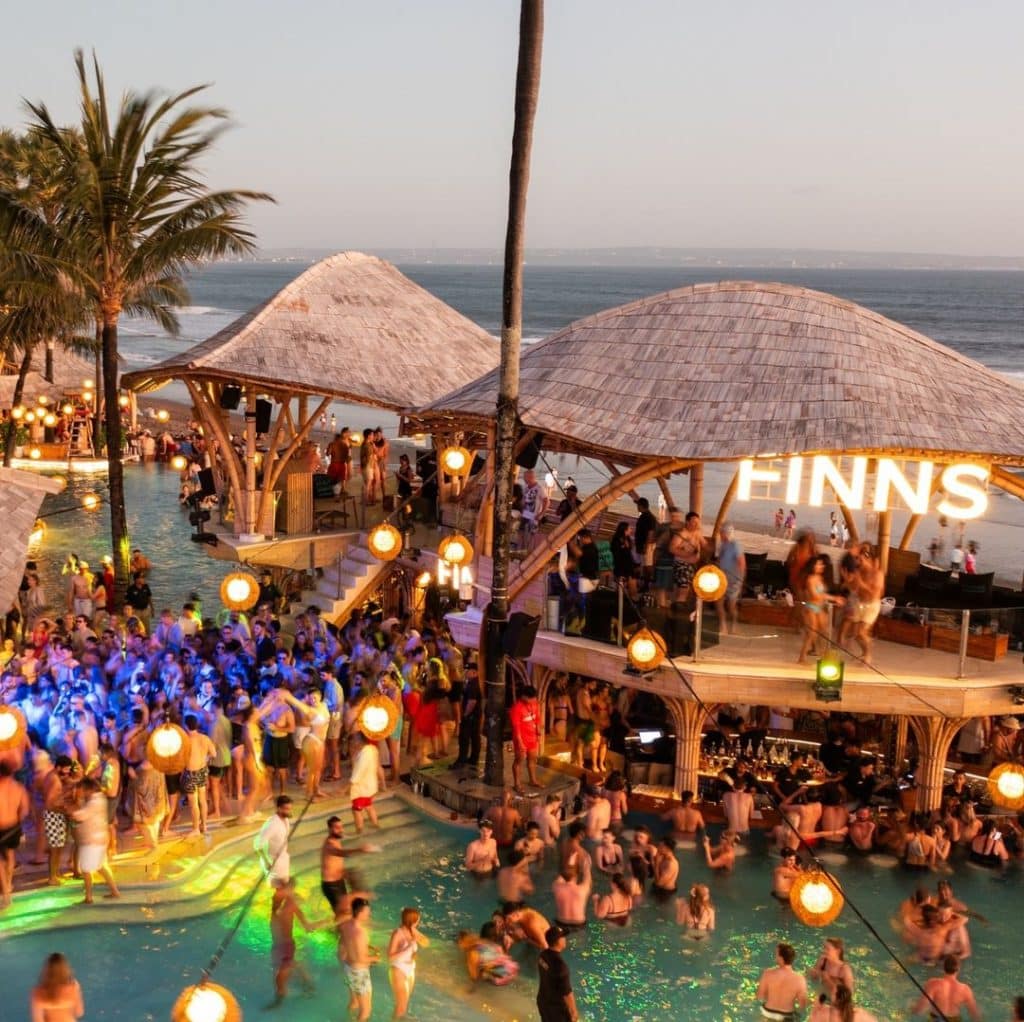 Finns Beach Club is gearing up to welcome superstar Skrillex, American producer Kenny Beats, and Jyoty this September for Finns Day Out and Fatboy Slim, English DJ/producer and songwriter Jax Jones, and Kito are on their NYE 2023 Party's line-up! You can also celebrate special occasions, birthdays, get-togethers, and wedding functions here.
You May Also Like:
Best Beach Clubs You Can Go to in Bali
10 Unique Things to Do in Bali
5 Popular DJ Live Sets From Bali You Should Watch